Delhi
Dal Muradabadi, Galouti Three States & Tons More To Gobble Up @ Too Indian
Who doesn't love gourmet? Be it of horizons or pokemons? We being food fanatics, went on exploring the places serving the best artisanal dishes. Browsing through multiple outlets, we shortlisted a few and the most alluring one, which was a class apart, was this restaurant that opened its doors for its patrons in Rajouri Garden, going by the name of Too Indian.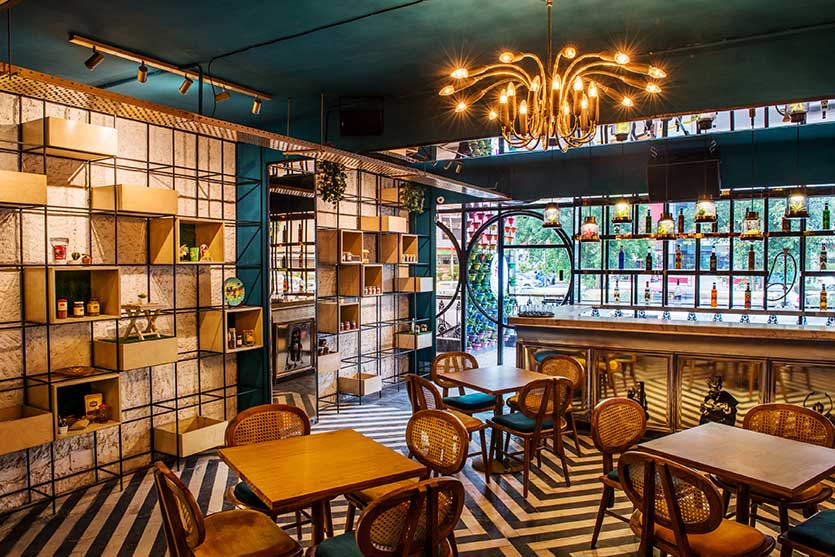 Positioned just opposite the TDI Mall, TI has a breath-taking entrance with more than 100 saplings installed at the entry gate. Upon entering, we were reinvigorated by the prima facie look of the place. Just at the entrance on the left is their massive bar and DJ, playing a medley of Hollywood and Bollywood songs and introducing remixes in between. The entire floor is divided into three zones, with the first zone giving a feeling of fine dining with the second being a tad elevated reflecting a lounge and the third zone, a step downwards to regale larger groups of customers, where natural light from the windows lights up the place. The right side of the wall is accessorized with the retail section that includes home décor items, kitchenware, beer mugs, oil free, little farm and non-veg pickles, along with namkeen, papad, granolas, spices, and a kid space with cute lil superhero stuffed toys and candies. We loved how they've strategically laid out the place with an astounding décor making every corner count.
Stupefied by the place, we were now even more excited to try out their food and our lunch started with an amuse bouche, which is basically mango sorbet served on a beautifully decorated plate resembling a garden and taking us back to our childhood when we used to crave for different flavoured chuskis!
Here's everything quirky and awesome we dug into here! 
Is This Dahi Bhalla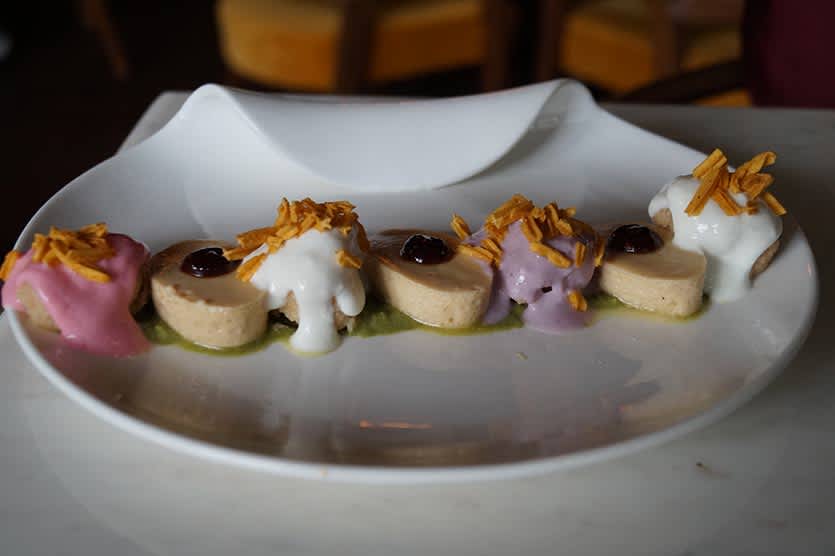 As the name suggests, this dish left us in confusion. A combination of dahi bhallas along with mishti doi (fermented sweet yogurt), garnished with Punjabi tadka namkeen, was presented to us. The dahi bhallas had three different types of yogurt smeared over them, strawberry, blue-berry and plain being the three flavors. The bhallas were soft and squishy and the idea of replacing the customary sauces with flavoured yogurt hit all the right notes making us ask, is this really dahi bhalla? It would be a shame to miss out on this dish for sure!
Top Trending Quinoa Salad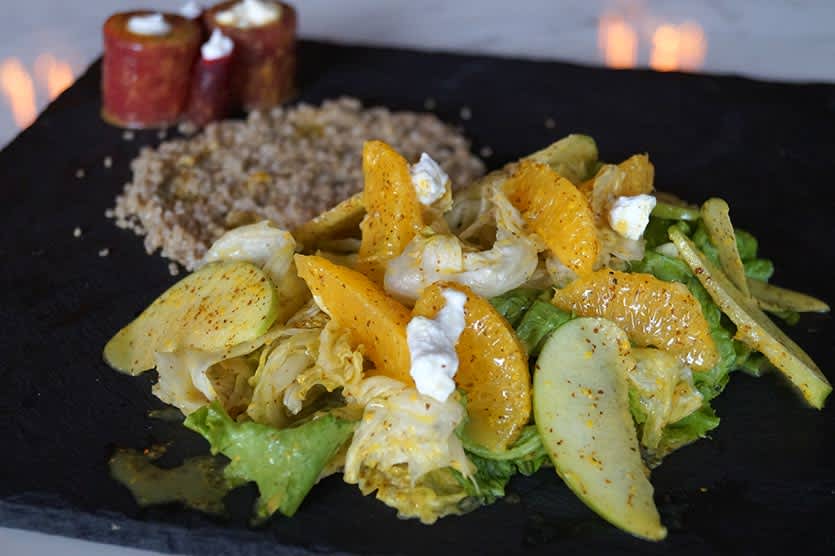 Lettuce, diced green apples and orange pulp whisked in olive oil, lime juice, cumin and salt, served to us with a portion of boiled quinoa and beetroot rolls was garnished with feta cheese before being presented to us. Needless to say, it was the healthiest item we had off their menu! The salad had a unique taste and was enhanced when a scoop of quinoa was taken along with the lettuce apple and orange pulp. Never thought we would say this for a salad, but this being an exception, was sumptuous to the core!
Indo Persian Kebab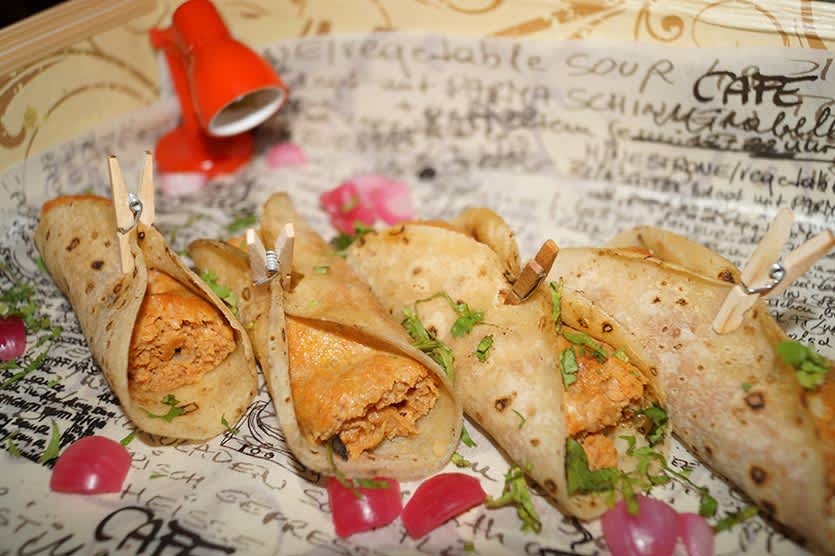 Soft succulent kebabs, evenly cooked with a unique blend of spices felt in every bite were presented to us in a box that represented a book from Persia. The kebabs were rolled inside a small chapatti made of wheat flour and clipped with small clippers. The USP of this dish was the presentation which just took our breaths away! The use of raw spices acted as a catalyst in enhancing the flavour of this dish.
Painter's Canvas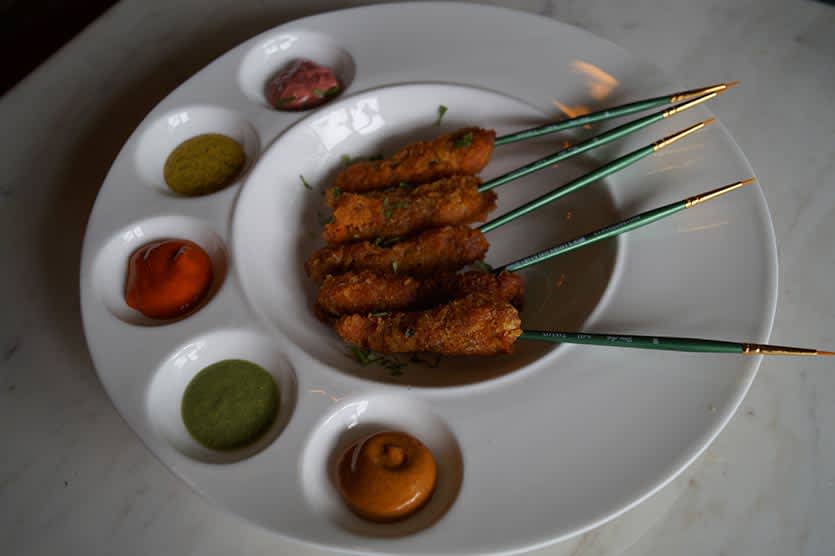 We were truly mesmerized by the presentation of this item. Fried fish tikkas were skewered behind paint brushes and the plate used for serving this item also resembled a painter's palette. Served with five different types of sauces, the fish had the perfect crunch, was pulpy inside and despite being deep fried, hardly left any traces of oil. Big thumbs up!
Galouti Three States
Three different shades of galouti kebabs were neatly served with a dash of tamarind sauce on the top. The first look of the dish had us salivating with the flavour of the kebabs being right up to the mark. The kebabs were soft, nicely cooked, apt on spices and perfect on flavour. All the three different flavours were easily felt, leaving us sated to the core!
Dal Muradabadi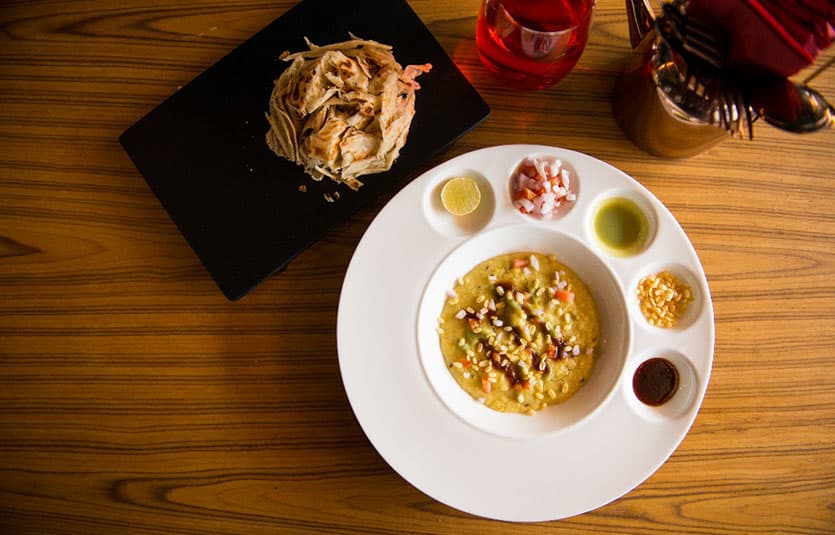 Our mains started with their famous Dal Muradabadi. The dal was evenly boiled and cooked to perfection with optimum levels of salt and a low spice quotient. This item was served with tamarind sauce, moong dal, lemon, diced onions, tomatoes and mint chutney! The actual flavour could be felt when all these were mixed together and scooped in at once - yum yum!
Paneer Makhani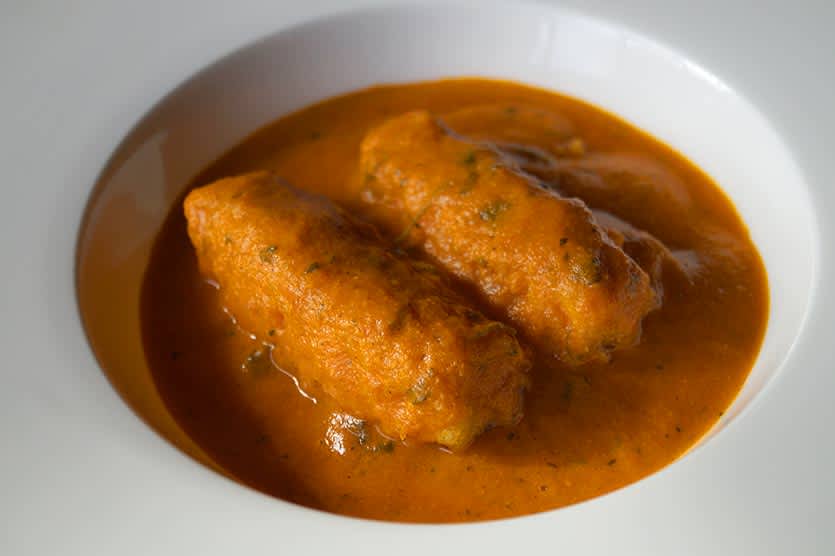 This item was again a delight to both our eyes AND taste buds. The tranquil aroma of its luscious gravy was making us grin from ear to ear. No wonder we cleaned the bowl in a matter of seconds! The paneer was soft, evenly marinated in spices and cooked decently. The texture, the presentation and the flavour of the makhani was enthralling, making this item a must try one.
Modern Sabzi Mandi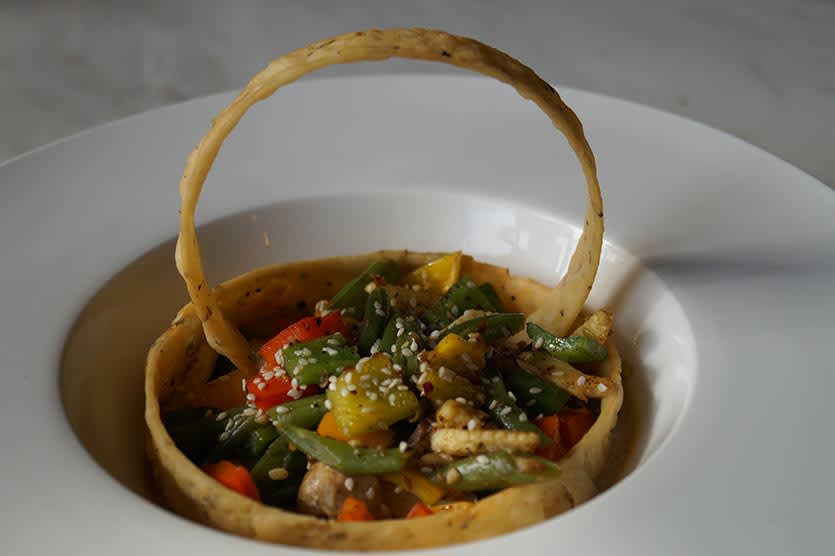 We loved the concept of this dish! The papad was used in such a way as to make this dish look like a basket of veggies. Mushrooms, yellow and red bell peppers, beans, baby corn and capsicums were evenly boiled and sautéed perfectly with a balanced combination of salt and pepper. Garnished with sesame seeds, the taste was nice and acted as a healthier option for the diet conscious people!
Kathal Quinoa Biryani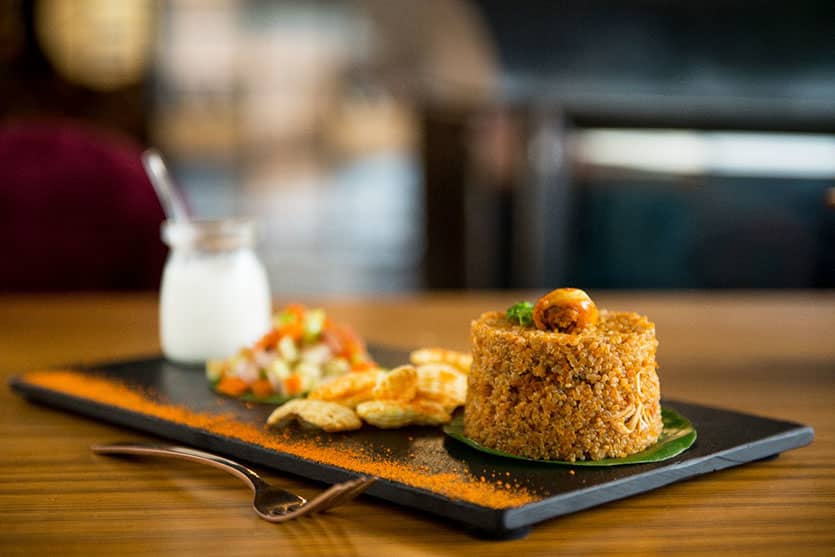 This was something we were trying for the very first time. Quinoa was given a desi touch by cooking it in biryani style along with kathal (jackfruit). Served with a portion of curd, sautéed cucumbers, carrots and wafers, we were amazed by this concoction. Though it cannot supplant the rice version, we still appreciate the taste and texture which was almost congruent to the one we are used to!
Milk Cake Pie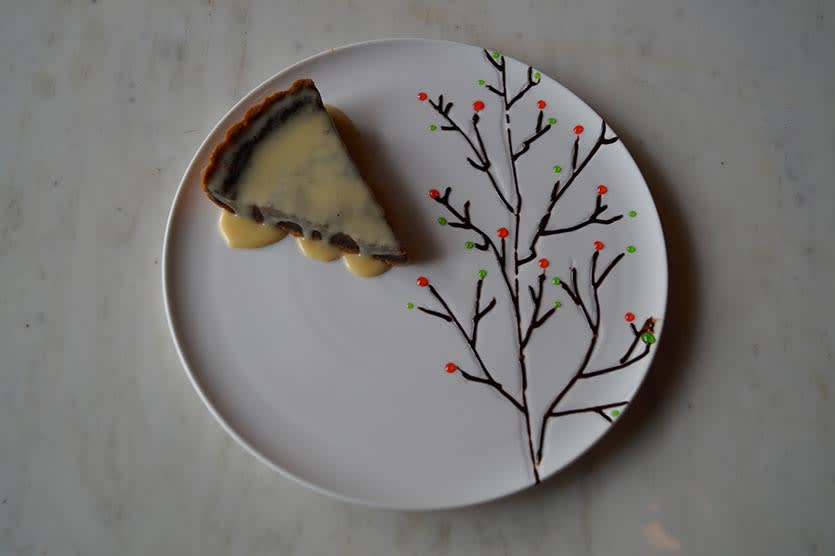 With every item, we witnessed something aesthetic, never knowing that the trump card had yet to be dealt! Their Milk Cake Pie was presented with an astounding work of art displayed on the plate, made by the chef from chocolate ganache and chocolate and strawberry sauce. The design could have been easily mistaken for a printed one. The pie was made with a crusty pastry base filled with customary milk cake cooked to dark brown and topped with Milkmaid sauce. Bliss just found a new meaning y'all!
Overall speaking, the place is supercalifragilisticexpialidocious and yes, we mean it. The ambience of the place is dazzling and magnetic and would make you come back again and again. Spend you evening with your loved ones, or your family or hang out with friends, they guarantee happiness to all. See you there, and don't forget to be too Indian! Ciao!
Meal For Two | Rs 1,200
Location | A 39, Vishal Enclave, Rajouri Garden