Delhi
Curly Cut Peri Peri & Maggi Magic Fries: 5 Kinds Of Crazy Fries Under Rs 150 @ Californian Classics
This little joint in Netaji Subhash Place is true to its name - it serves classic dishes from typical American cuisine (read: burgers, fries, shakes, tacos, nuggets and waffles). It has a bear as its logo, which also happens to be the official state animal of California.The menu is totally Western, and the only Indian touch is that this place serves only vegetarian food.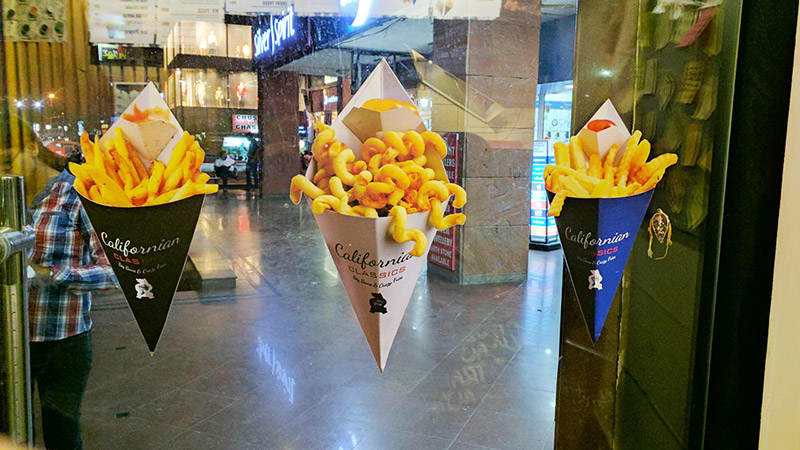 The tagline points to its menu specials - 'Big Buns and Crazy Fries'. This place has many unique selling points - it claims to be the only place in India to serve curly fries. The other two cuts they produce are the simple/regular hand cut and the crinkle cut. The decor is modern - the wooden panelling gives it a contemporary feel. There are a few seats outside the joint and two seats and a table inside with special inbuilt cone holders *aww*. Prominent menus are everywhere - on the wall, over the counter. There is also a feedback whiteboard with comments on coloured stickies. A big bear cut-out stares at you from behind the counter - the bear seems hungry, looking for its 'Gold-i-locks' (curly fries). 
Without further ado, this is what we tried at this cute joint:
1. Nacho Jalapeno Fries (Hand Cut)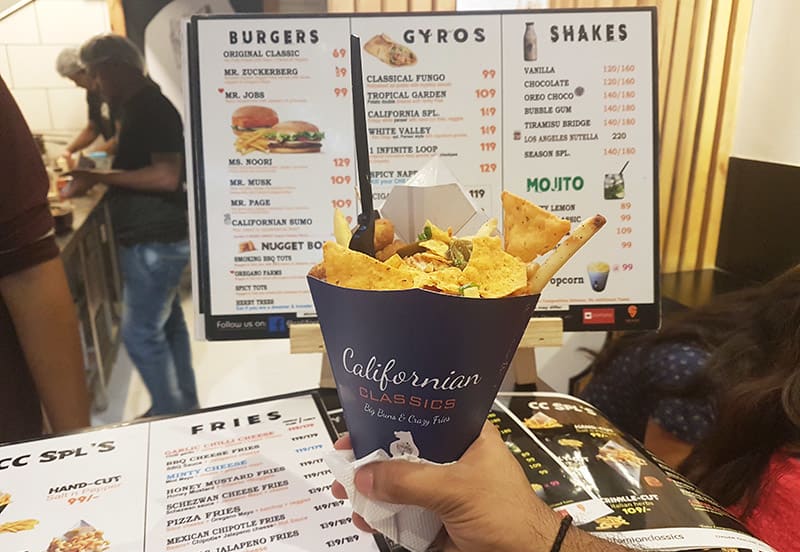 A perfect blend of nachos, baked beans, white cheese *omg yass*, jalapenos, veg nuggets and fries. They were yummy to begin with - crunchy too, but they soon became soggy once the gravy seeped in. They were heavy and filling and most important point - you can eat just one cone in one go - it's that filling!
Price | Rs 160
2. Curly Cut Peri Peri
Since this particular pack had only dry Peri Peri masala sprinkled on top, it seemed crispy in comparison to the other gravy laden fries. The taste was as different as the shape and we happily munched away to glory with this one *still going crazy over the cool AF shape*. Defo go for this one, folks!
Price | Rs 130
3. Maggi Magic Fries (Crinkle Cut)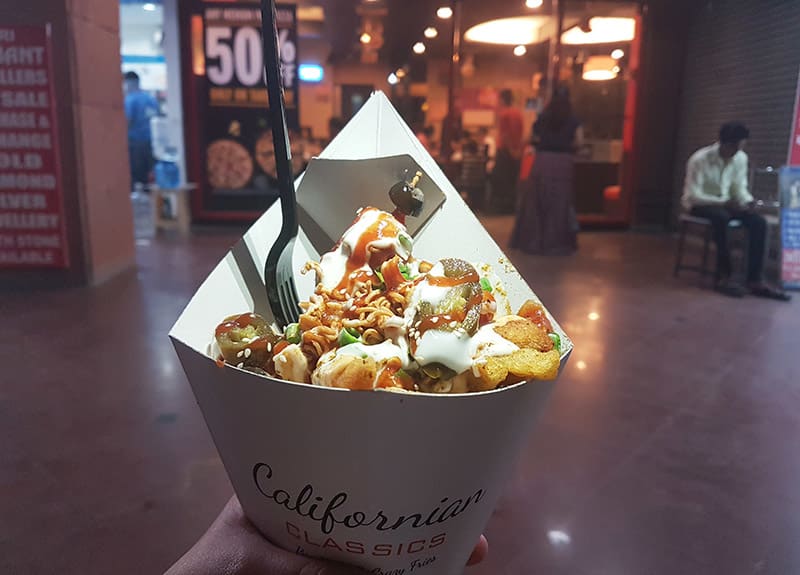 Crinkle cut fries topped with jalapenos, melted cheese, ketchup, nuggets, olives, fried Maggi *drools*, sesame seeds and masala, these were delicious and immensely satisfying! Maybe it was the Maggi masala magic or the sweet taste of crinkle cut fries that are made using a sweeter potato that blends so well with the cheese. The fries are hand cut, made in-house just like the gravy - yum yum!
Price | Rs 150
4. Pizza Fries (Crinkle Cut)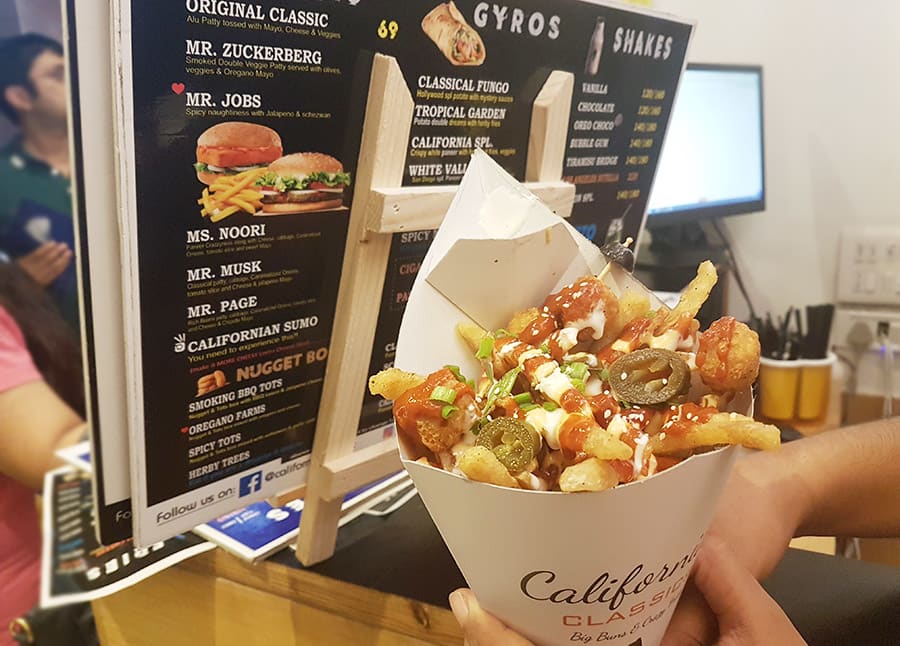 This seemed to be the deadliest combination on the menu. Crinkle cut fries are zig zag in shape and sweeter than the others. After tasting these, we couldn't decide if we were in pizza heaven or fries la-la land! Either way, you get our point - you MUST gobble these up when you land up here!
Price | Rs 150
5. Hand Cut Salt And Pepper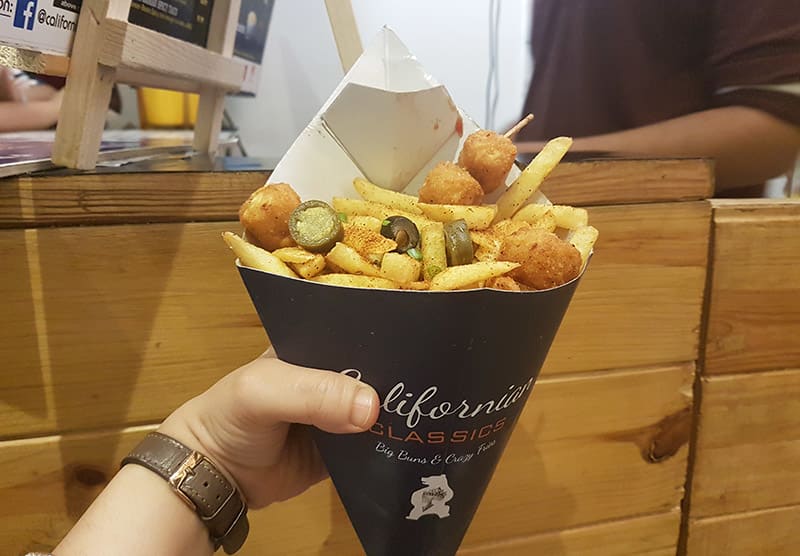 These were the most basic fries on the menu and came with jalapenos, nuggets, masala and a sauce dip. Since these are fried in peanut oil, it makes them cholesterol free which earned them brownie points, and made our tummies happy!
Price | Rs 110
The menu includes burgers and gyros (wraps), soft shell tacos, shakes, mojitos, waffles and Ice Popcorn. There are also ten varieties of dips and sauces to go along with the fries. Overall, the prices seemed reasonable and there are no additional taxes, which is a relief. One cone is enough for two as it's heavy and very filling. 
A cheerful vibe, an interesting menu and a well researched concept makes it a place to watch out for. Many aspects have been mulled over - right from the design of the cone (great grip to prevent it from falling, a separate corner for dip) to the cute bear. Come on by!
Location | Californian Classics - G1, Ground Floor, Aggarwal Millennium Tower 1, Netaji Subhash Place