Delhi
Confluence of Two Worlds: Veda & Djinggs Have Arrived in GGN And We Just Got The First Look!
Recently the food industry is seeing a lot of new and innovative concepts around food, even though this new range of presenting food that's fancy to the eyes, the traditional flavours and servings are highly appreciated in the long run. One such restaurant that has been standing tall is Veda, which has captivated Delhi for more than a decade with the decadent Indian flavours that they bring to the table! Now, Veda & Djinggs is all set to take Gurugram by storm with a unique concept of 'Confluence of two worlds - Indian & Chinese' under one roof.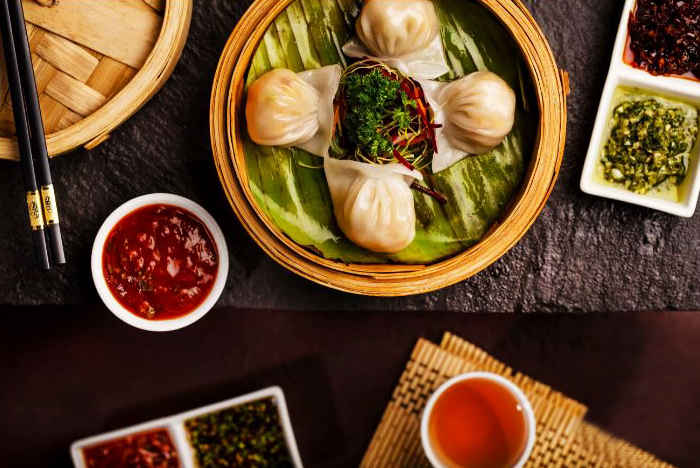 Apart from the well-thought menus from both Veda & Djinggs, right from the sumptuous authentic Pan-Indian cuisines to delectable Chinese dishes in Sichuan style, all are available at one place. The Kitchen is divided into two sections with expert chefs of the two respective cuisines bringing a perfect balance of traditional food with contemporary-style cooking in their respective domains. The introduction of fresh and unique concepts like 'clay pot' cooking with delectable herbs offer tenderness and richness to cooking, which is also healthy at the same time. 
We were invited for the very first exclusive bloggers table *swagger-ful smiles* to see the concoction and blend of two cuisines unfold before our eyes. The ambience and decor of the restaurant have been done up keeping in mind the two varied cultures. The contemplation of two different spheres has a clear reflection on the the ceiling and walls with trendy dim lights and beautiful sun-umbrellas on one side, whilst preserving the classic look of Veda with chandeliers and mirrors on the other. Read on to hear all about our foodie exploits!
Pan-Asian Medley:
Dimsums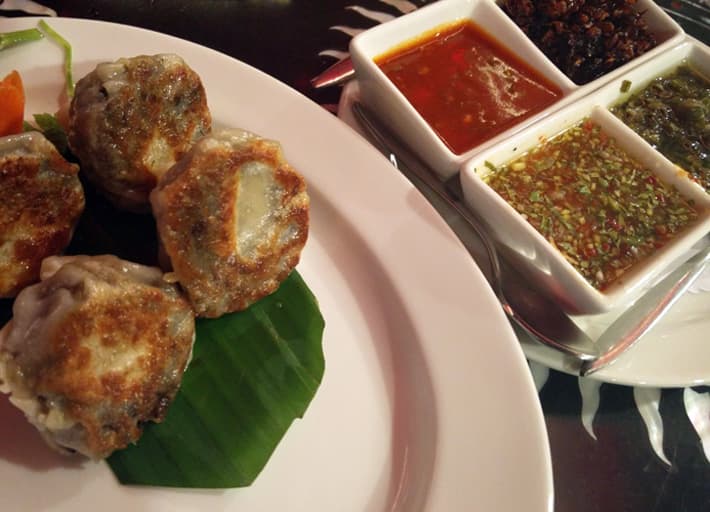 We were served three kinds of dimsums - Lamb, Chicken and Bok Choy Spinach Dimsums. The Sichuan Chinese style of cooking was perfectly reflected with liberal use of garlic, chilli and vegetables. The dimsums were served to us in a traditional steamer basket accompanied with three varieties of sauces; caramelised onion sauce, green chillies and garlic sauce, and the very popular red chillies and garlic sauce. Out of the lot, we especially loved the Veg Bok Choy Dimsums, which contained generous amounts of filling and left us wanting for more.
Prawns on a Toast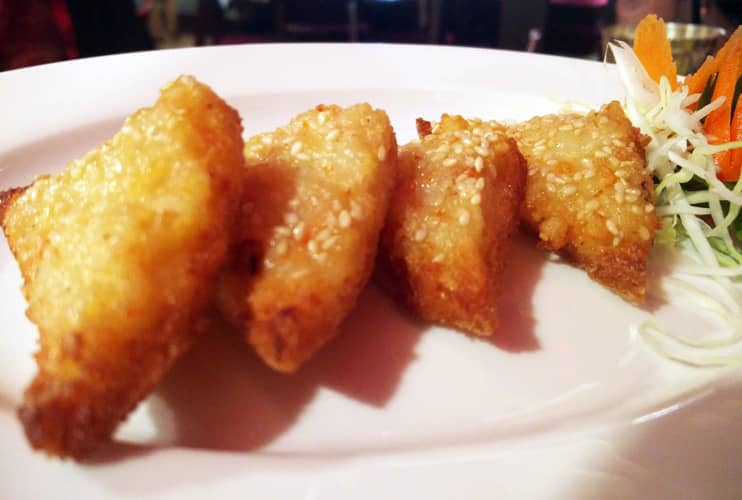 Not many people are aware that Prawn Toast is a Chinese Dimsum dish! It's made from small triangles of bread, brushed with egg and coated with minced shrimp and water chestnuts, then cooked by either baking or deep frying. A crisp base and a soft top with lots of sesame, the dish lay fresh and yummy on our taste buds! 
French Beans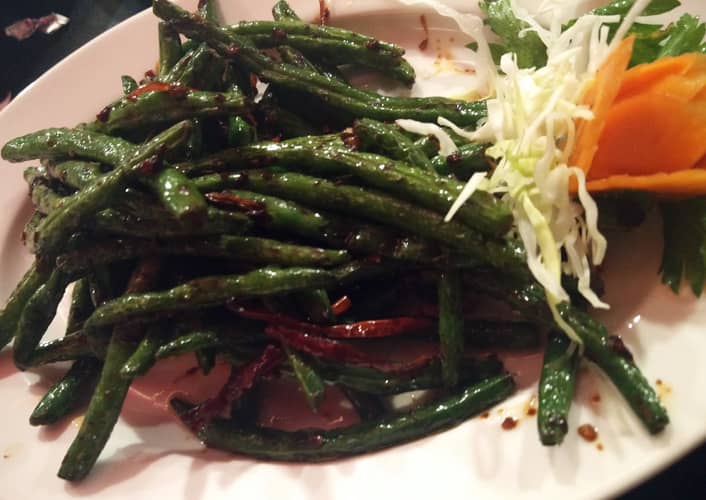 Stir fried green beans come from the Szechuan region in West China, and are very popular. Ordinary-looking French beans were fully packed in terms of flavours. We absolutely loved the heavy chilli garlic flavour of the dish, and this one's a great option for vegetarians.
Pork Bao
Fluffy, steamed bao filled with caramelised barbeque-flavoured pork was again served to us in a traditional steamer basket. The bread used for the bao was the perfect mixture of soft and sweet. Everything about this dish was precise and accurate, from the right colour of the bread to the perfect flavours - everything was on spot and we loved it! 
Indian Bonanza:
Palak Patta Chaat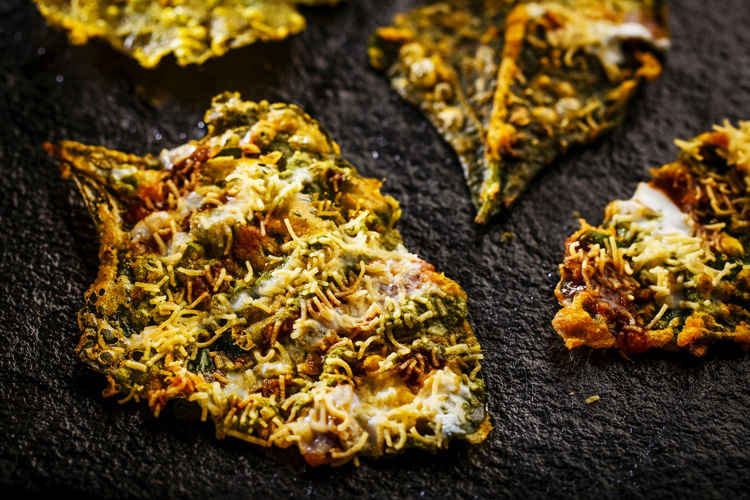 An utterly unique and delicious snack is their Palak Patta Chaat! Your basic papdi chaat is upgraded for a healthier option in this dish. The crisp palak pakodas were topped with sweet yogurt, tamarind chutney, pudina chutney and lots of sev. Crispy, tangy, spicy and a versatile complexity of flavours - we loved it!
Bhatti Ka Murgh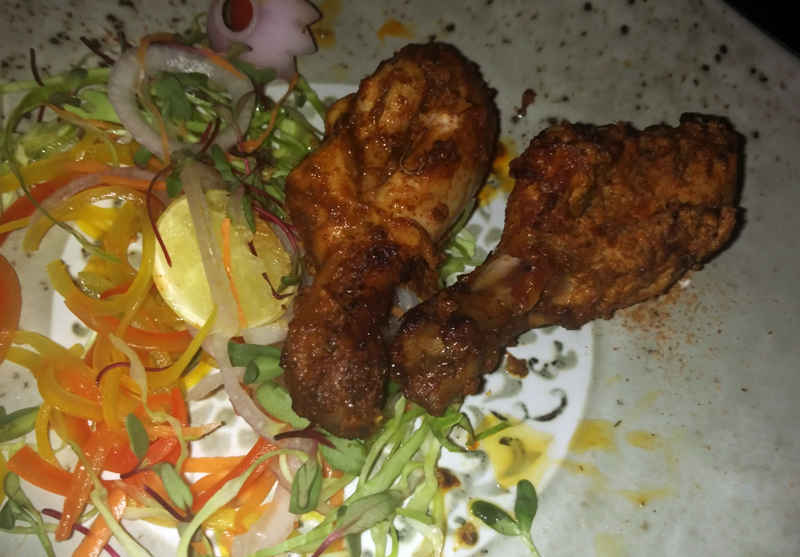 From the streets of Amritsar straight to your plate, with original Punjabi flavours! This dish was a total hit for our desi-fied taste buds. The beautiful aroma of the flavoursome tender chicken pieces was heaven to our taste buds, and needless to say, we stuffed ourselves silly! 
Shahi Tukda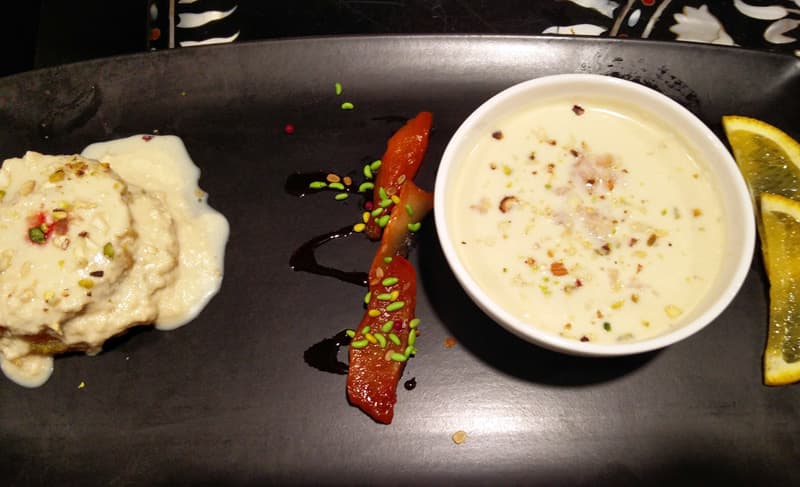 We couldn't leave the table before satisfying our sweet tooth now, could we?. Beautifully presented Shahi Tukda did the trick for us. This simple yet delectable dessert was served with a generous helping of rabri and canned fruits. It was a royal treat indeed, with a royal sweet ending!
Overall, the restaurant has grand and pleasing interiors. The concept of crowding together two cuisines under one roof, yet not mixing them has worked really well! The place is ideal for a quiet candlelight dinners or big, rowdy gatherings alike. You must check this one out!
Meal For Two | Rs 1,500
Location | SCO 53, Third Floor, Sector 29, Gurgaon