Delhi
Come With Your Band Baaja Baaraat & Try These 7 Yummy Dishes @ This Buffet-Style Eatery In Rajouri
The one thing we love more than food are buffets - the cornucopia of lip-smacking food that have us committing gluttony (call us a sinner, we don't care!) and gives us an excuse to loosen those belts a couple notches! Well, our love for buffets always has us on the lookout for more places to indulge in, and we may have found THE ONE in Band Baaja Baaraat!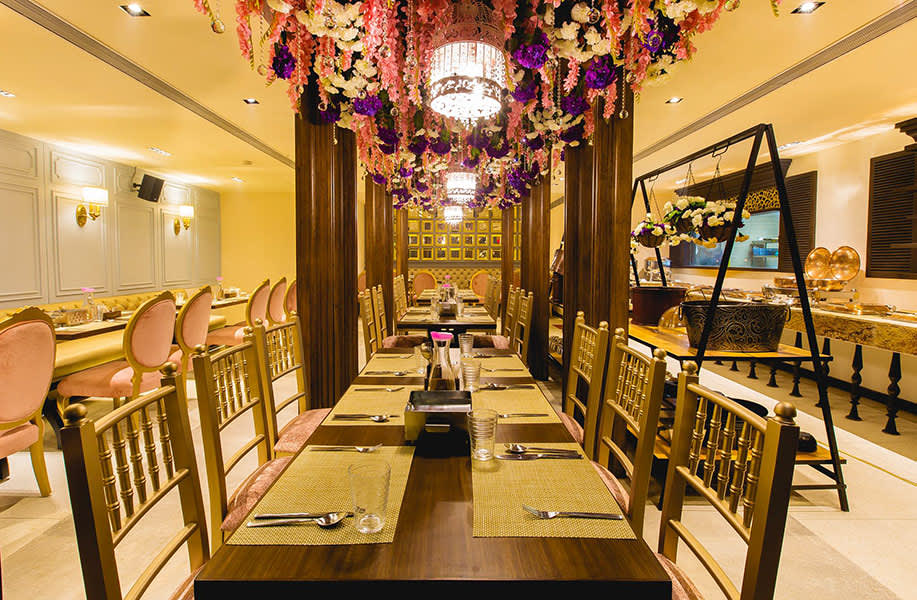 The restaurant is the marriage of splendid, all-out Dilli weddings' glamour (which we love) with amazing food. A stone's throw away from Rajouri Garden Metro Station, Band Baaja Baaraat has its banquet hall underneath with a spiral staircase leading you the wedding theme restaurant. The wedding feels are strong with this one - pink theme, flower decorations and delicate chandelier. Plunging into the fray with our plates, here's what we gobbled up!
1. Down Some Golgappe With Khatta-Meetha Paani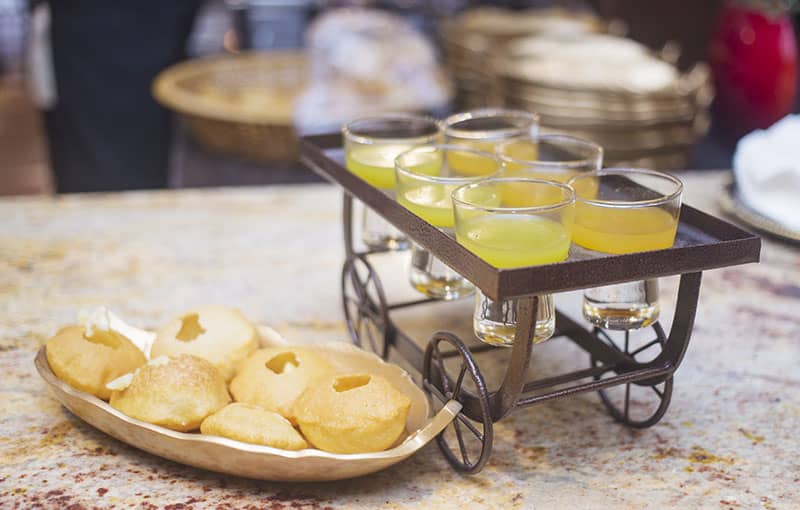 We were served a plate full of Golgappas with refreshing and zesty khatta and meetha paani! Our taste buds were pleasantly surprised by this one, as restaurants are rarely able to get street food right. The Golgappas were crunchy and the khatta-meetha paani packed quite a zing, which pleased us immensely!
2. Innovation Is Here With Their Palak Chat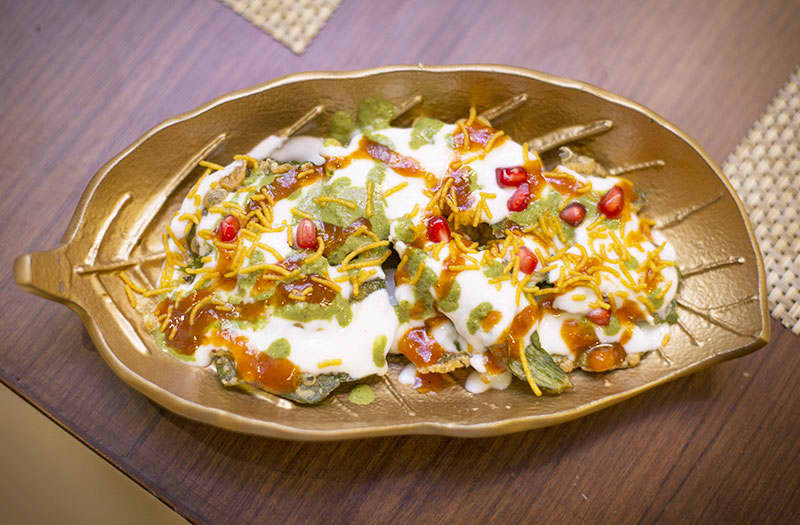 This little starter blew our minds and sent our taste buds swooning! We were befuddled when it served to us 'cause, what really is palak chat? But one bite and this unlikely combination of crunchy yet soft spinach topped with curd, saunth, green chutney and sev as garnish, had us floored. An innovative snack that revved up our appetite and we assure you - Popeye wouldn't be the only one who'll love this!
3. They Had Us At Spring Rolls!
After this, we were served the shaadi staple, the evergreen Spring Rolls. The spring rolls were quite decent and we definitely liked the crunch factor. Stuffed with fresh and juicy veggies, these rolls were nice and appetizing and we happily polished off our portions in a jiffy!
4. Chug Down Some Band Baaja Baaraat Specials!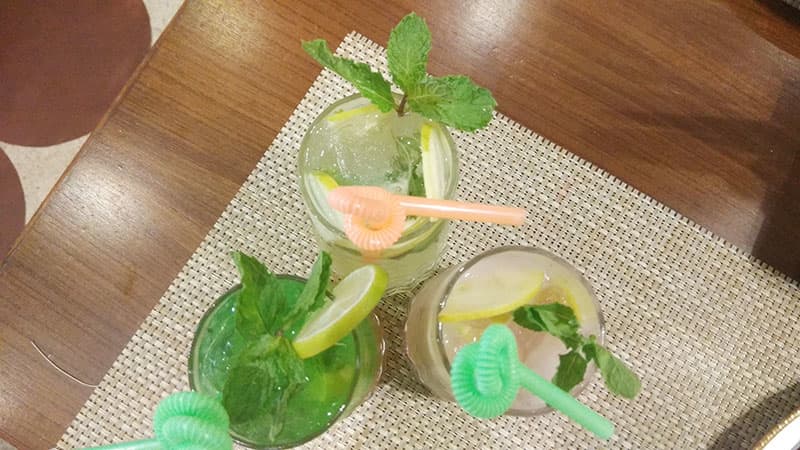 On the Manager, Mr. Vinay's suggestion, we ordered the Band Baaja Baaraat special drinks - BBB Mojito, Baaraat Special and Band Baaja and boy, did they look great! Some sips down and we had a clear winner in the Baand Baaja drink. It had strong cranberry undertones, sweet yet not too overpowering - the perfect vitaliser to our meal. We'd recommend it to all the thirsty souls *ahem* and throats out there! 
5. Forget Afghani Jalebi - Afghani Paneer Is Here!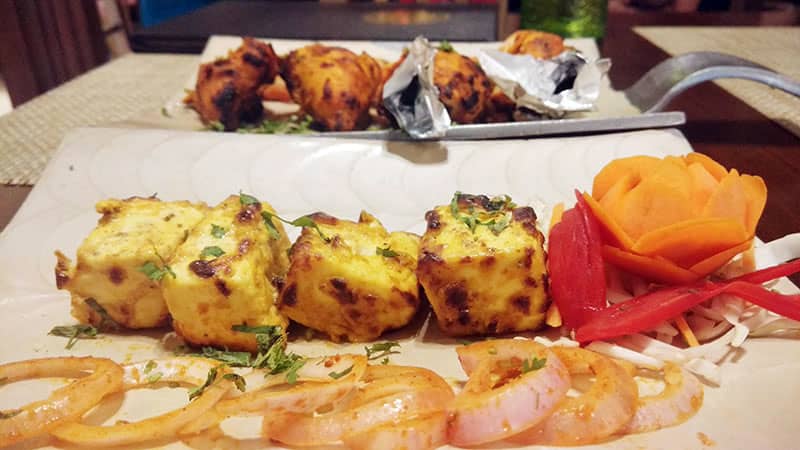 This little stunner had the softest paneer pieces that just melted in our mouths as soon as we plopped 'em in our mouths. The paneer in this was just bae and there was adequate masala rubbed in to make us reach for more. The green chutney here was totally delish and complimented the dish nicely!
6. The Pindi Cholle & Butter Naan Were Pure Love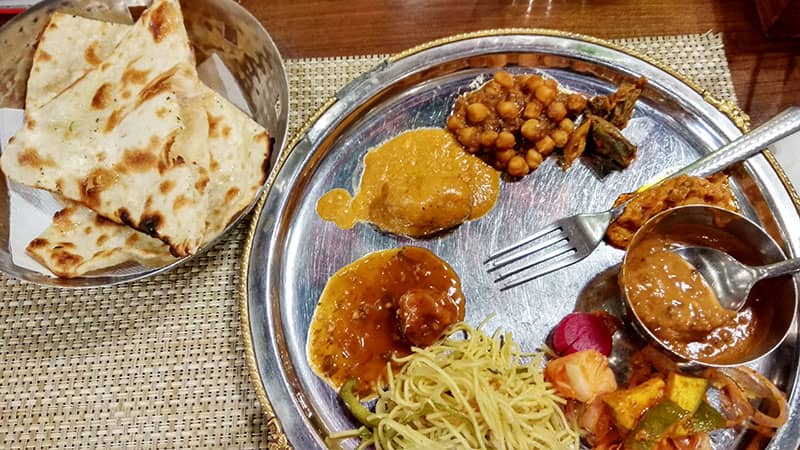 Their Pindi Cholle were the spicy cholle we all need and deserve! Everyone out there, you must save some space for this teekha tadka - we promise you, it'll be worth it! Also, usually the unsung hero of every good meal, the Butter Naan also made sure that it won't go unnoticed. The naan was soft, buttery and oh-so-good! 
7. Paan Ka Meetha - Yes, Please!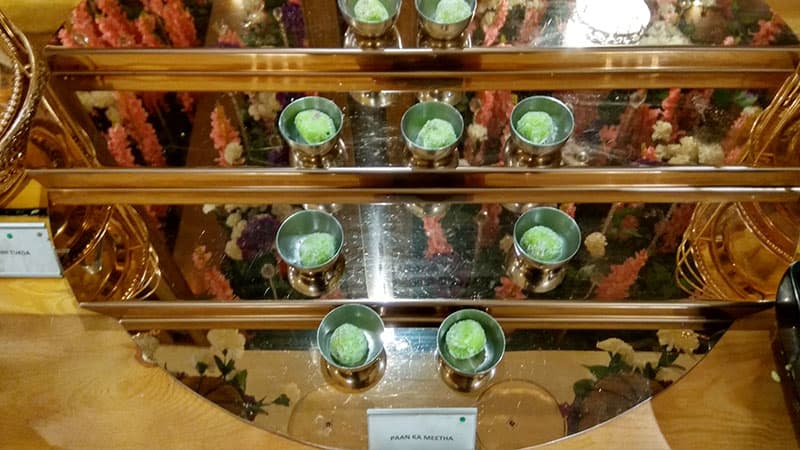 It caught our eye due to its distinctive green colour, which stuck out in the collection of the usual desserts. Paan Ka Meetha comprised lots of gulkand which is usually used in meetha paan, tucked away and wrapped in coconut shavings. We were sold by the coconut flavour and subtle sweetness that this paan delivered. A very pleasant end to our food journey here!     
Band Baaja Baaraat serves a wholesome meal along with a place that you can come with your friends and family alike! The food fares well on our scale and the liveliness here is unmatched, and if you love weddings and buffets as much as we do, you're in for a treat!
Price Per Head | Rs 549 Onwards
Location | A-6, Ground Floor, Vishal Enclave, Rajouri Garden