Delhi
Come Explore The Fairly Mysterious Mausoleum Known As Bijri Khan's Tomb In R.K. Puram
'The tomb belongs to the Lodi period. Nothing is known about Bijri Khan' - this is a signboard right outside Bijri Khan's Tomb. This tomb is one of those out-of-the-blue monuments that jumps suddenly into focus as you drive on the wide roads of South Delhi's R.K. Puram in Sector 3. The story, no one knows as it hasn't been recorded, but people believe that Bijri Khan was a nobleman during the Lodi Dynasty and that's pretty much it! 
The Lofty Structure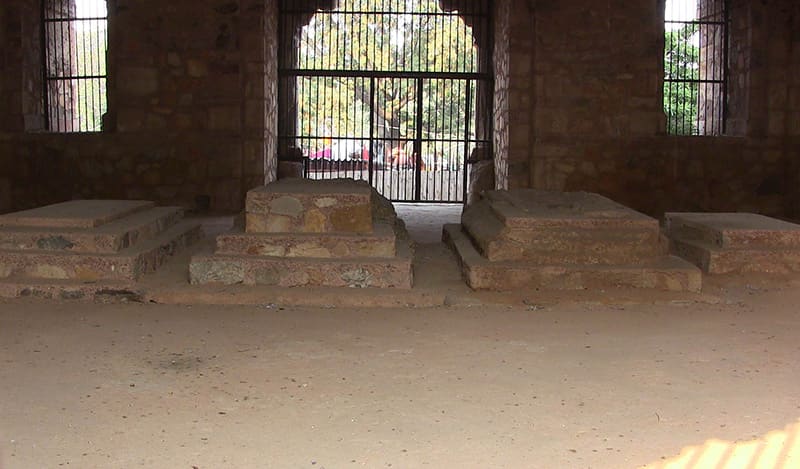 Bijri Khan's tomb is a mausoleum, a structure enclosing the interment space or burial chamber of the dead. The structure is square in shape, built on a raised platform. It is said to belong to the Lodi period, because it has three arched entrances with doorways with brackets on architraves (doorframes). This style is typical of structures built during the time of the Lodi Dynasty. The dome is both massive and impressive and the colour of the mausoleum is light cream mixed with brown, perhaps made out of stones cut from the Aravalli Hills. 
Entry Barred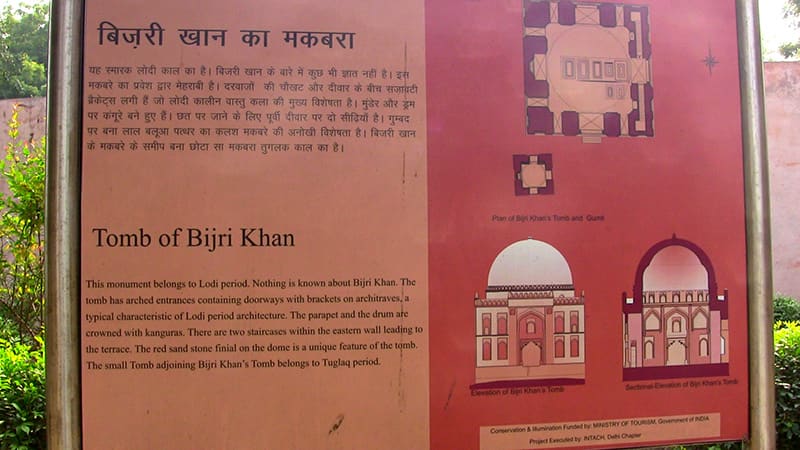 The mausoleum was in a dilapidated state not too long ago and was repaired some time back by heritage conservators. It is currently sealed hence no one can enter the inside the chamber to touch the tombstones. In fact, the entire structure, which stands on nicely trimmed grass is enclosed by walls. 
The gate is always locked and one needs to request the guard to open it. Depending on the mood, the guard may or may not comply.
Paint a Picture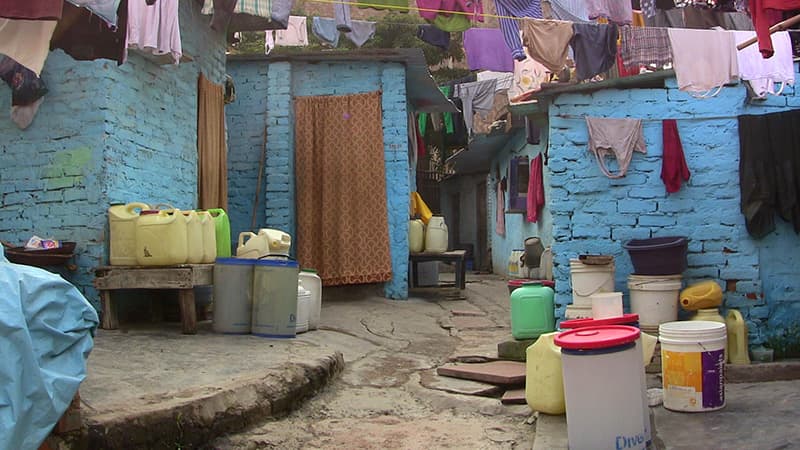 There is a beautiful little basti set up around the mausoleum where bright blue coloured brick huts are lined next to each other. On a winter afternoon, people can be seen sitting outside on wooden chairs and stools, soaking up the sun. Some would be hanging clothes, others washing them. You can see kids running about, playing hopscotch on the pavement. It is overall an odd place for residence – on the sidewalk of a busy road and next to a massive mausoleum but vibrant all the same.
Where To Find It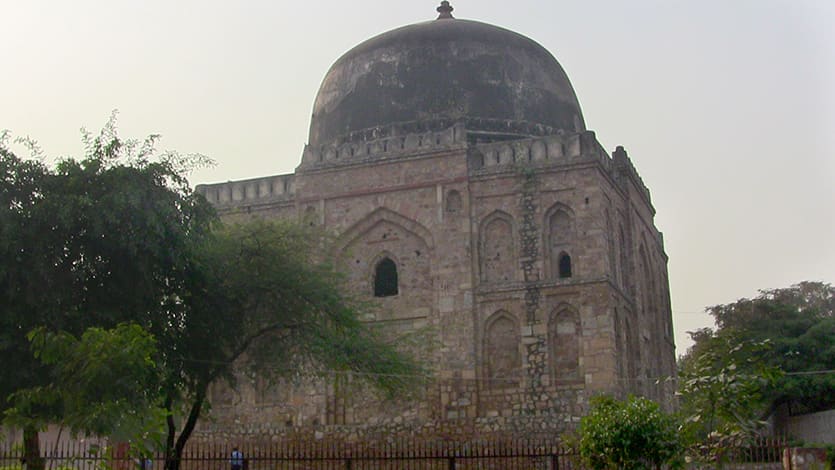 If you're using public transport, get down at AIIMS metro station on the yellow line (running from Jahangir towards HUDA City Centre) and take an auto rickshaw till R.K. Puram Sector 3. It will be on the road towards Sector 3 on your right. 
It's a repaired, beautiful, massive structure, and definitely worth a visit!
Location | Bijri Khan's Tomb In Sector 3 Of R.K. Puram