Delhi
College Seniors! Check Out These 5 Pretty Saris From Stage3 To Sport @ Your Farewell
It's that time of the year again. Some love it and many hate it, but regardless of how you feel, there's just no getting away from it! The 'Farewell season' is rollin' in real soon and we can sense the palpable excitement in the air. Some of you might be fretting over the syllabus as well as choosing the perfect sari for your graduation farewell - all at the same time! Well, we've figured out just the way to help you look your most splendid self on your farewell. Stage3 is here to fulfil your dreams!
The good news is Stage3 has a special sale from 4th - 6th April for saris only. You can get a FLAT 40% OFF on all their saris if you book during this period.
We picked out these 5 totally beautiful saris you can rent and be the talk of your college farewell party!
The pant-sari has been a rage over the years and it is definitely here to stay. Achieve that chic look with this coral concept sari in jersey material. The outfit comes complete with pants and a matching coral raw silk blouse with gold embroidery. With some gold toned minimal accessories, you'll look like a trendy princess!
Rent The Look Here | https://goo.gl/SdEhqx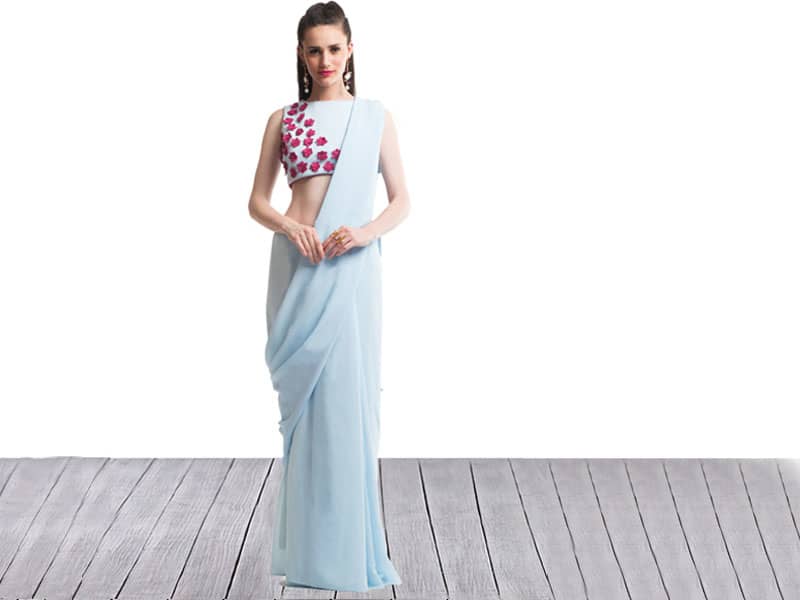 We know exactly how it feels like to have to attend your farewell during the peak of summers & so we chose this light, fun and vibrant sky blue sari for an afternoon farewell. Look simple yet elegant in this ensemble paired with a matching colour blouse with hand-stitched plum cascading flowers on the front!
Rent The Look Here | https://goo.gl/KE9eWN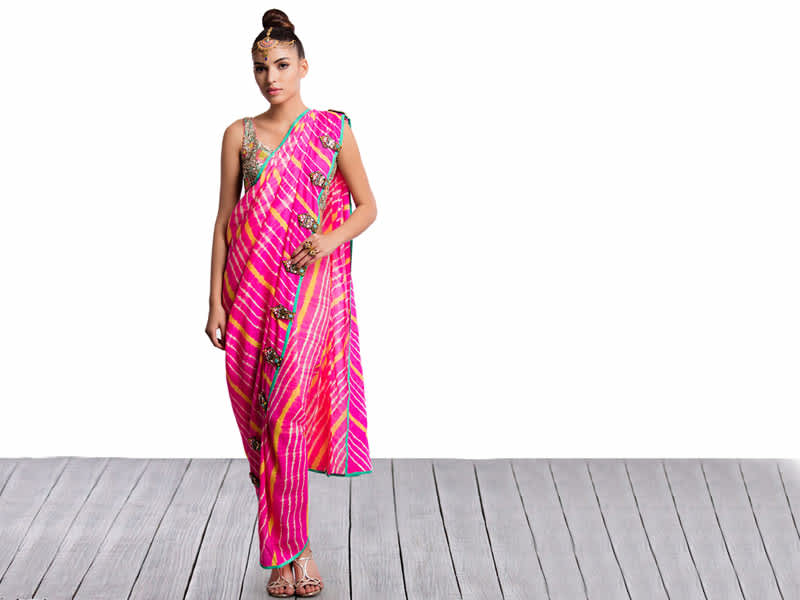 If playing with colours is your thing then this pink leharia silk draped sari with motif embroidery on the blue border hemline is perfect for you! With a fully embellished sleeveless blouse and golden tights, you'll look stellar in this pretty sari.
Rent The Look Here | https://goo.gl/e193gh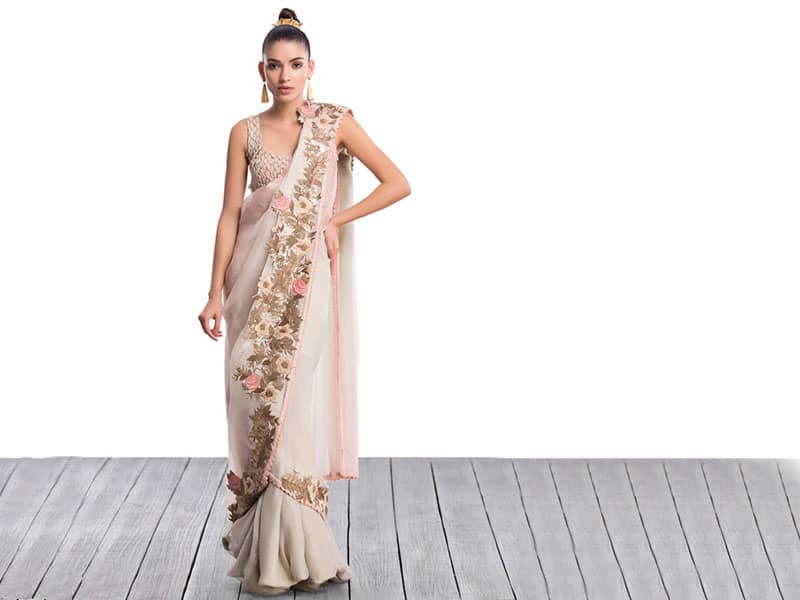 This is tailor-made for those of us who like to quirk things up a lil! Fusion wear is all the rage and here's the one worth a try. This grey and pink floral embroidered drape sari comes with a backless ivory blouse and has light pink scalloped border detailing. With a grey sharara paired with it, this ensemble looks just marvellous!
Rent The Look Here | https://goo.gl/K8EZGe
Hues of yellow on georgette with striped stud embroidery all over, this would look stunning for that evening farewell of yours. The blouse has a fully embroidered mirror work finish and the thin gold embroidery running from shoulder to bottom makes it flattering for all body types. The embellished blouse with pops of pink color makes it fun & gorgeous!
Rent The Look Here | https://goo.gl/IpNdlV
Check Out Their Website | https://stage3.co/
Browse Through Their FB Page | https://www.facebook.com/stage3social/