Delhi
Chuck The Usual Fish Fry & Puchka And Go Diggin' Some Chinese At These 6 Places In CR Park
CR Park - the mini Kolkata of Delhi, has long served us with its ah-mazing and finger licking Bengali delicacies. And while we love that hot steaming plate of Biryani from Kolkata Biryani House and that Fish Fry from Dadu Cutlet Shop, our inner bhukkads mange more! 
So after a fulfilling Bengali food binge, we set off on a Chinese food trail. Because hey! It's not only Bengali food that this mini Kolkata is known for, is it? Read on for you can score some delicious Chinese food in CR Park as well, check it out! 
1. Chinese chaat
 
We Dilliwalas love our Chinese food like we love our chaat but ever heard of chinese chaat? Now that's something to look forward to! Chinese Chaat is basically an out-of-the-world mixture of many chinese dishes put together, to make something absolutely scrummy. So, go mixing and matching as you add those yummy Chicken Manchurian in a plate of steaming chilli paneer *drool, drool*! 
These guys have been around for more than 15 years *WOAH* and are famous for their Chicken Manchurian, Honey Chilli Potatoes, Noodles, Fried Rice and more! 
Meal For Two | Rs 200
Where | C-449, Bipin Chandra Pal Marg
Timings | 10 AM - 11 PM
2. Cafe Green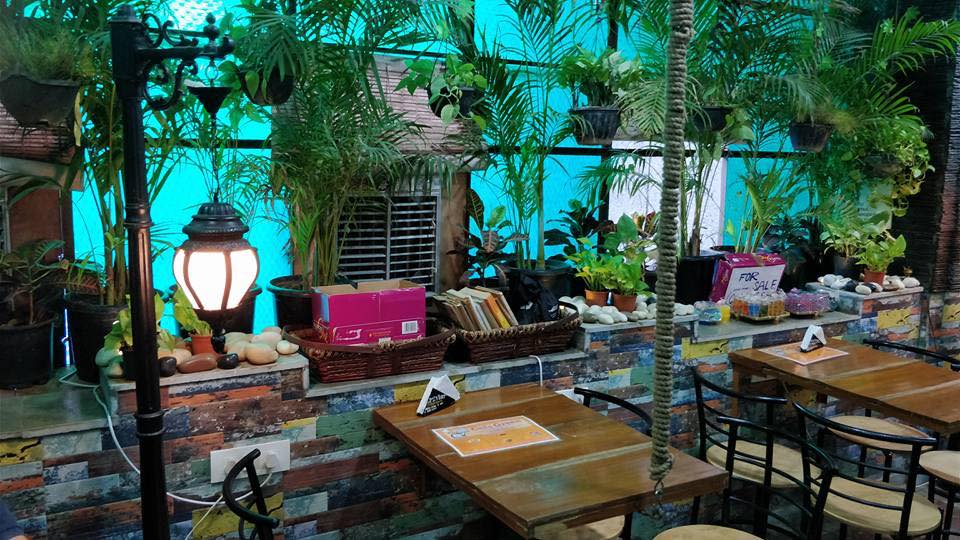 With novels, plants and the aroma of yummy food, this place is huddled in the busy Market No 2. Sitting in one corner of the market, it does some of the best Chinese that we ever had! 
You have to try out their crispy Fried Chilli Fish, Golden Fried Cheese Mushroom and Paneer Pepper and Salt - they're delicious! And to cool yourself on a hot and sweaty day, there's nothing better than their yum yum Cafe Frappe! Don't forget to add a scoop of ice cream to it peeps, it's simply perfection!
Meal For Two | Rs 400
Where | Shop 145, 1st Floor, Market 2
Timings | 11 AM - 11 PM
Call Them | +91 9811 035 508
Check Out Their FB Page | https://www.facebook.com/cafegreendelhi/
3. Mr. Momos Express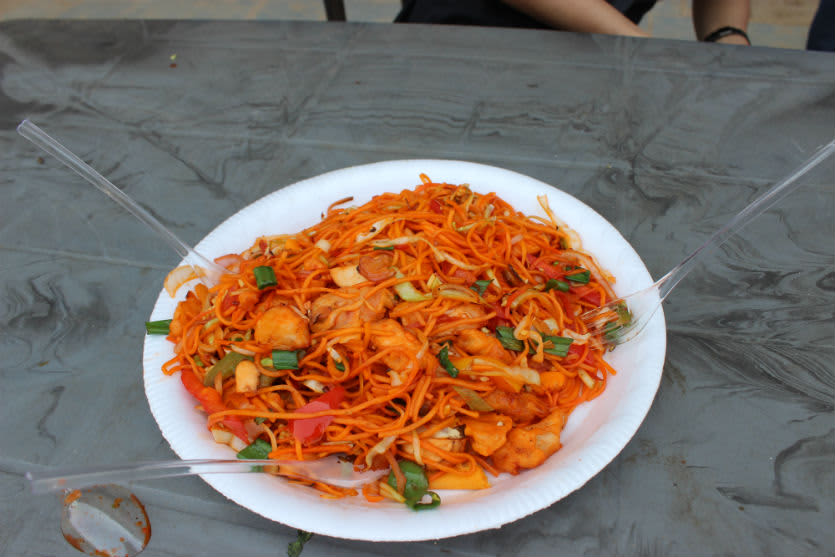 If you're one of those who thinks that Mr. Momo Express is all about momos, then we have a little surprise for all you foodies. This place does some mouth-watering Singapori Chicken Chowmein, Chopseuy and Chilli Chicken. We bet that by the end of your meal, you'll be licking those fingers! 
So while these guys do amazing momos, the Chinese here is worth the moolah!
Meal For Two | Rs 350
Where | 13, Market 2
Timings | 12 Noon - 11 PM
Cal Them | +91 8800 269 817
4. Juneja's Fast Food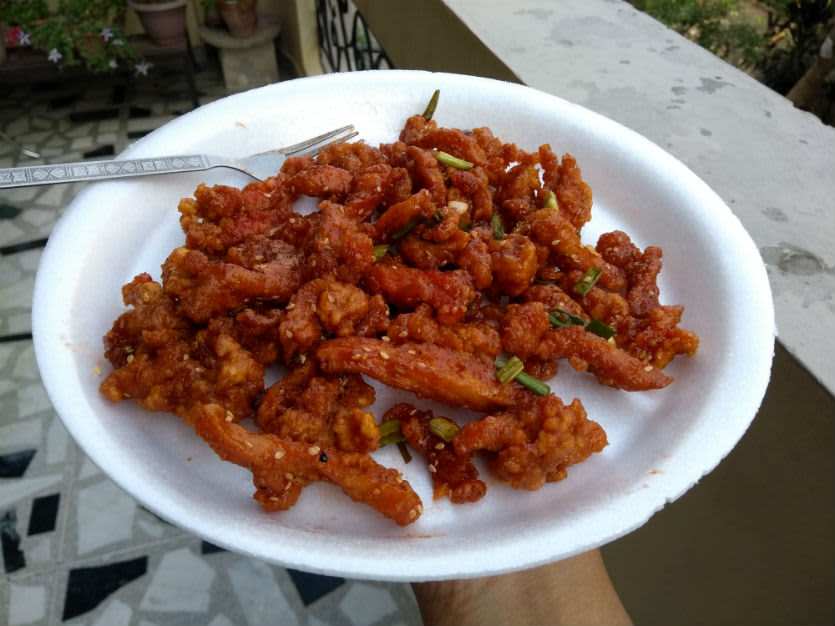 A favourite of all the CR Park wallas, Juneja's has been giving us a gastronomic treat since ages now! And we just love them for it! Their Shredded Chilli Chicken with that perfect balance of chilly and honey is a treat for the taste buds! You CANNOT miss out on their Chilly Chicken Garlic Chowmein, Cheese Spring Roll and Boneless Chilli Chicken *yum, yum*! 
These guys don't have sufficient seating arrangement but the scrumptious food here sure makes up for it!  
Meal For Two | Rs 700
Where | K 1/102
Timings | 1 PM - 4 PM & 6 PM - 11 PM
Call Them | +91 9711 835 500
5. Horn Please Restro Cafe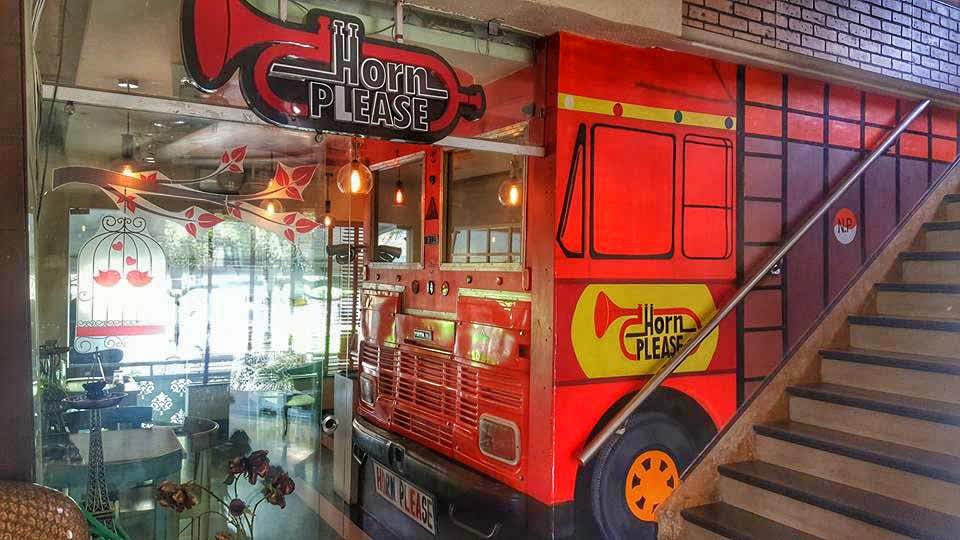 Ever thought about eating out of a truck? Yes, this place in CR Park's Royal Castle Hotel has a really quirky ambience with a truck placed right in the middle and a beautiful outdoor seating. 
Try out their Drums Of Heaven, it will defo take you to the seventh heaven & the Golden Fried Prawns and Egg Pan Fried Noodles are just what you need to satiate all your Chinese cravings! The BEST part, they're open 24/7 for deliveries *YAY*!
Meal For Two | Rs 750
Where | D 616, Hotel Royal Castle Grand
Timings | 24 Hours
Call Them | +91 11 4177 5417 
Check Out Their FB Page | https://www.facebook.com/hornplease.restocafe/
6. Roll N Roast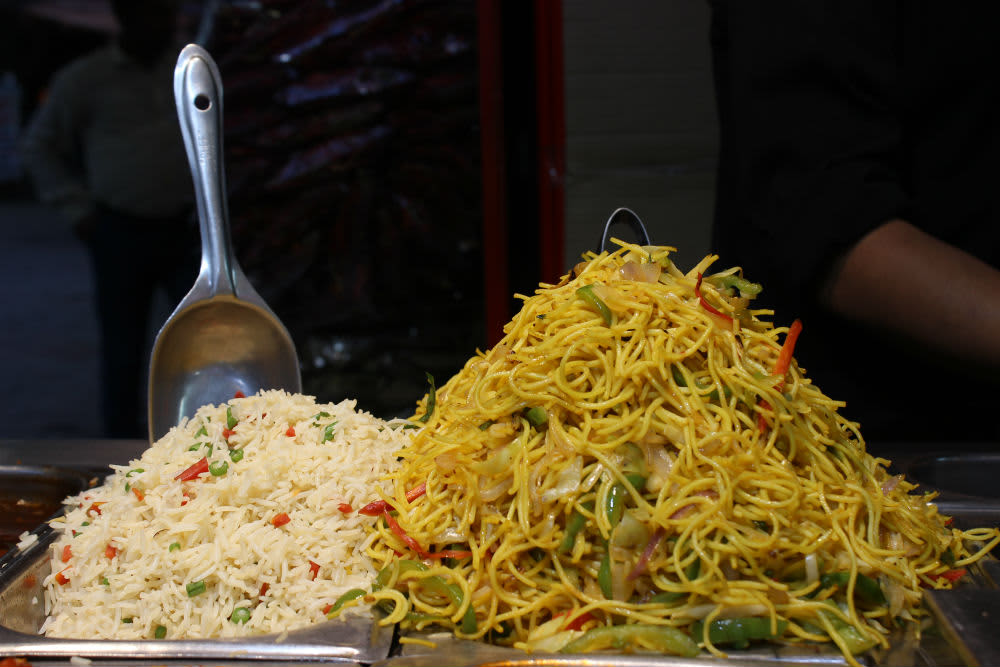 Don't fall for its name 'cause this place is so much more than the scrumptious rolls! We bet you've not paid enough attention to the lip-smacking Chinese dishes of this place, so here goes! Order up their yummy Egg Chicken Fried Rice or perhaps a plateful of Chilli Garlic Veg Noodles *wipe away the drool buddy*! So skip the rolls and go for something hatke the next time you go to Roll N Roast.
Meal For Two | Rs 250
Where | 7, Market 1
Timings | 12 Noon - 11 PM
Call Them | +91 9810 721 702
So chuck all those mainstream khana and dig into some scrummy Chinese the next time you're in CR Park!