Delhi
Chole Bhature, Amritsari Chur Chur Naan And More @ The Legendary Prem Di Hatti In Rajouri Garden
Delhi is the crowned king of mouth-watering street food and Chole Bhature is the uncrowned ruler. No perfect Sunday meal can be complete without a hot plate of Chole Bhature. Hailing all the way from Punjab, this snack has been ruling the streets of Delhi for generations now and we still can't get enough of it!
West Delhi is renowned for its quintessential Punjabi food and Rajouri Garden is considered a hub for it which is where Prem Di Hatti swoops right into view.
Located on the main road, a few shy steps from the Rajouri Garden Metro Station, this place is a must visit for all Chole Bhature lovers, although you should try its other popular and equally delicious delicacies; some of which we tried below so let's take you on an eating spree, shall we?!
Amritsari Chur Chur Naan

A signature Punjabi dish - Amritsari Chur Chur Naan at Prem Di Hatti is so worth the calories. Dipped in butter, the naan acquires a divine and delicious crisp texture and the stuffing of potatoes and onions elevates the dish to a whole new level. Also served with a portion of onions and pickles, one can choose the side gravy from either Chole or Dal. 
Price | Rs 100 (2 Pieces), Rs 70 (1 Piece)
Chole Bhature
Served with a small portion of onions, green chillies and lemon wedges this plate of hot and crispy Chole Bhature does not disappoint. The Bhaturas were fluffy, crisp and fresh, exactly the way they should be. With just the right amount of spices, the chole were nice and zesty. All in all, you wouldn't be able to stop yourselves from licking the plate clean!
Price | Rs 60 (2 Pieces), Rs 40 (1 Piece)
Rajma Rice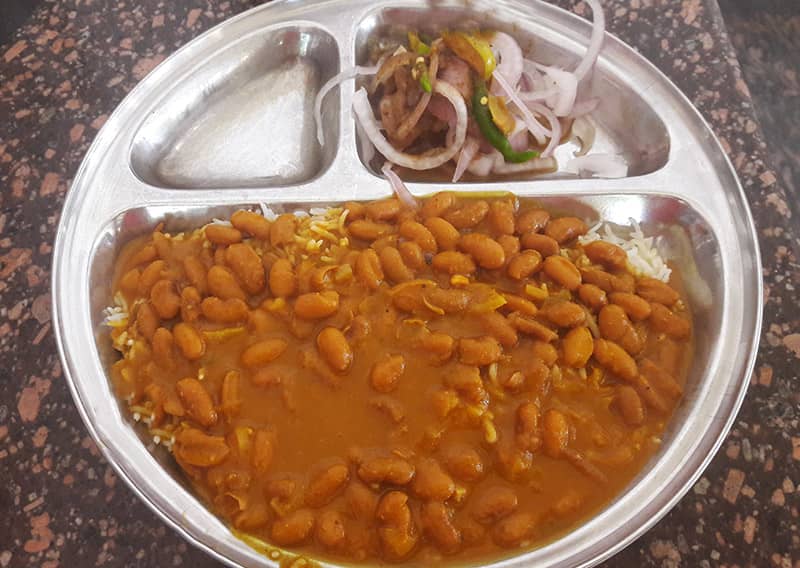 The place also serves rice combos with Rajma, Channe and Kadi and we went in for the Rajma Chawal which was accompanied with onions and pickles. The plate of Rajma Rice was generously topped with a fulfilling serving of Rajma and if you run out of the curry for the rice, you can always ask for an extra helping! Appealing to both the eyes and the tongue, Rajma Rice at Prem Di Hatti is definitely worth a try!
Price | Rs 80
Special Kulhad Wali Lassi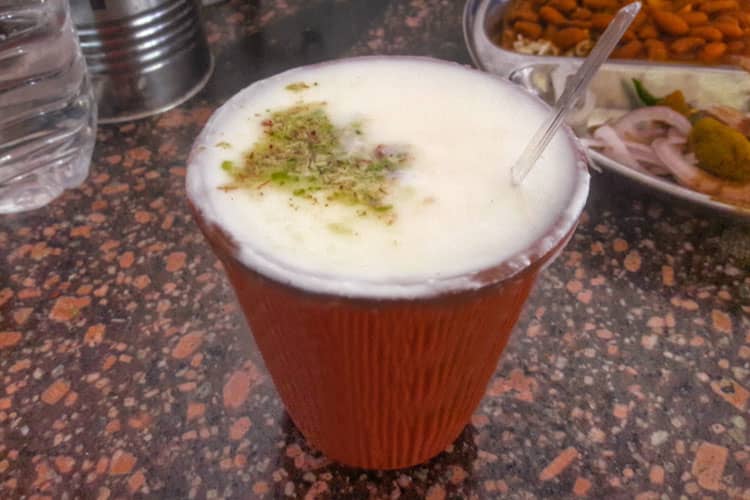 A perfect meal can never be complete without a glass of thick and soothing sweet Lassi however as much as we were looking forward to this, the lassi here did not quite reach up to our expectations. The consistency was all wrong and the sugar content level was way too high. This glass of lassi was nothing special and gets a thumbs down from us. One can instead order a bottle of coke to go with the meal!
Price | Rs 50
Take note that the area has at least three or four outlets with the same name and menu, however this is the authentic one (a unit of Param Di Hatti as its hoarding). 
So the next time you're on a shopping spree at Rajouri Market don't forget to swing by Prem Di Hatti and enjoy a scrumptious meal of Chole Bhature and Chur Chur Naan!
Location | J1/162, Main Red Light Chowk, Opp. Metro Pillar No. 402, Rajouri Garden