Delhi
6 Incredibly Yummy Dishes You Gotta Order @ Hashtag Foods Fosho!
Netaji Subhash Place is an iconic location with an array of offices, immense footfall and a food culture of its own. From shopping malls to coffee stores and even movie theatres, NSP has everything you need to have a good time.
The place has a great deal of food joints which cater to every hangry *hungry + angry* bird in the area and every nook & cranny of this place is covered in a high ratio of deliciousness per square metre *bible swear*. 
The entire lane of Aggarwal Millennium Plaza behind Bittu Tikki Wala is known to be the best for heavy duty snacks and shakes. Billu's Hut was the undisputed king of the area but because of frequent fluctuations in their quality, others have swooped in and one such place is Hashtag Foods. 
The place serves snacks that double up as complete meals, full of cheese and sugar wherever necessary. Presentation is a huge part of their marketing strategy because everything looks on point!
In A Nutshell
Everything is loaded with calories so throw your diet chart out before getting here! 
There is no proper seating but like everyone else you can use the stairs to chill out. 
The portion size is quite large so don't over order! 
They don't have too many options for drinks and they need to expand in that section.
The quality and taste of food is very comparable to that of Billu's Hut but the shakes do act as their USP! 
So now that we've given you a snippet of what to expect, for those who still wanna delve into the details, here's what we devoured:
1. Baked Pasta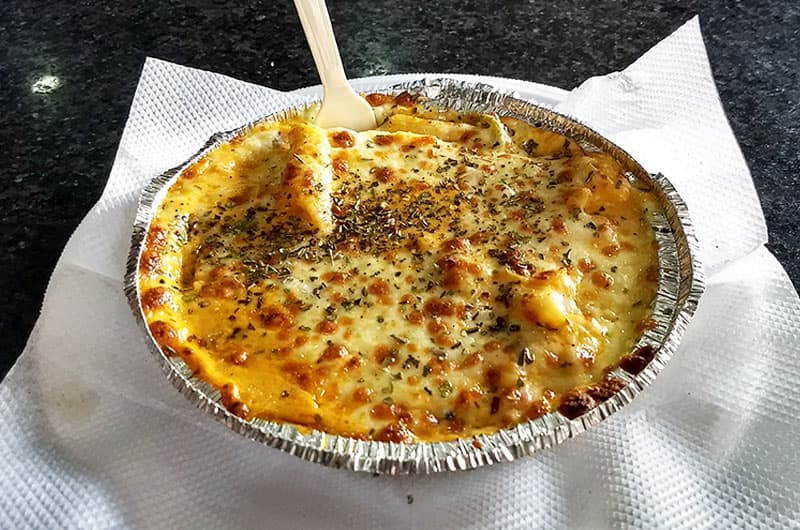 The tastiest dish of all! This is a mixed sauce penne pasta overloaded with cheese; it was a nice blend of all things creamy and tangy. This pasta left us with no complaints. Everything including the cheese layer on top was perfectly cooked and it was quite filling too because of its loaded ingredients but the indulgence was delightful nevertheless! 
Price | Rs 170
2. Afghani Sandwich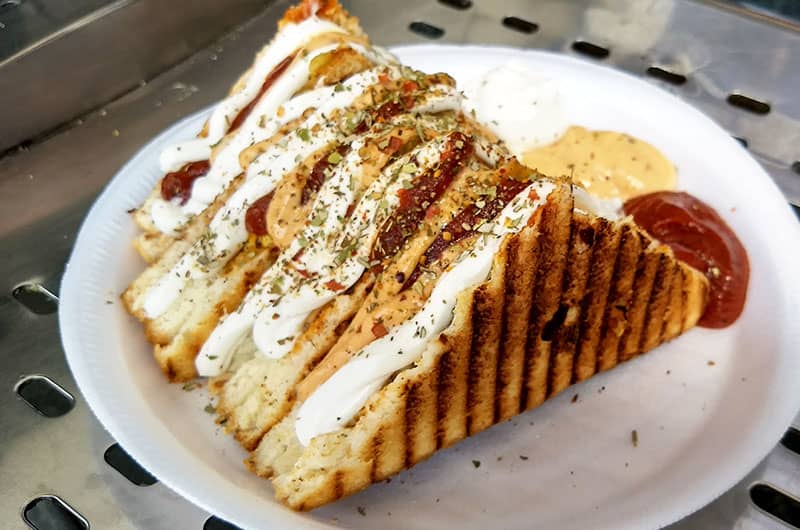 People often say life is like a sandwich, the more you add to it, the better it becomes. This dish made the quote a reality for us. Nicely toasted bread filled with spicy cottage cheese and veggie filling, all of it is covered in creamy mayo, a tangy ketchup and a flavourful tandoori delight sauce. The toppings made it very rich and high in calorie content. It was very sinful yet delicious! 
Price | Rs 150
3. Chocolate Legend Shake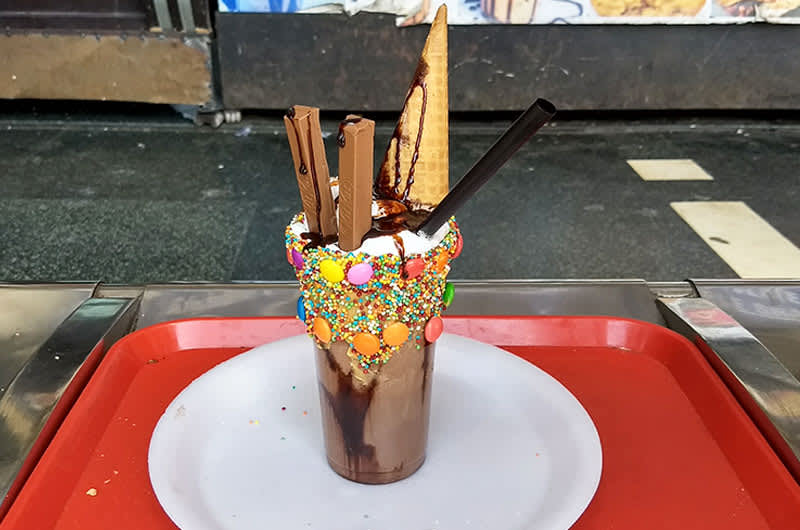 This signature dish has become the poster boy for Hashtag Foods. It has been misleadingly called a shake because it is a complete dessert in its own right. Basically a Kitkat shake, it is topped off with a heap of whipped cream, an actual ice cream cone and a few pieces of chocolate. Even the glass is covered in peanut butter and sprinkles that add that extra oomph. It tasted good but not as good as the presentation which is usually the case with such drinks! 
Price | Rs 180
4. Double Decker Pizza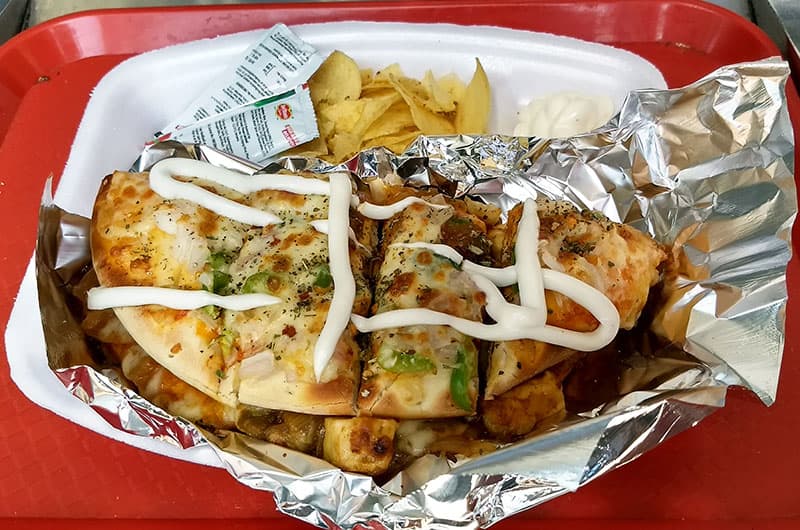 We are yet to find a person who can say no to Pizza! And when someone gives you a double deal how can you deny it?! The name sounds interesting but the pizza was not. It was just two pieces of pizza cooked on top of one another. The topping was that of paneer and other was veggies, but the bready-ness overpowered it completely. The spices could have been a little more amped up and the crust should be a lot thinner. 
Price | Rs 200
5. Nachos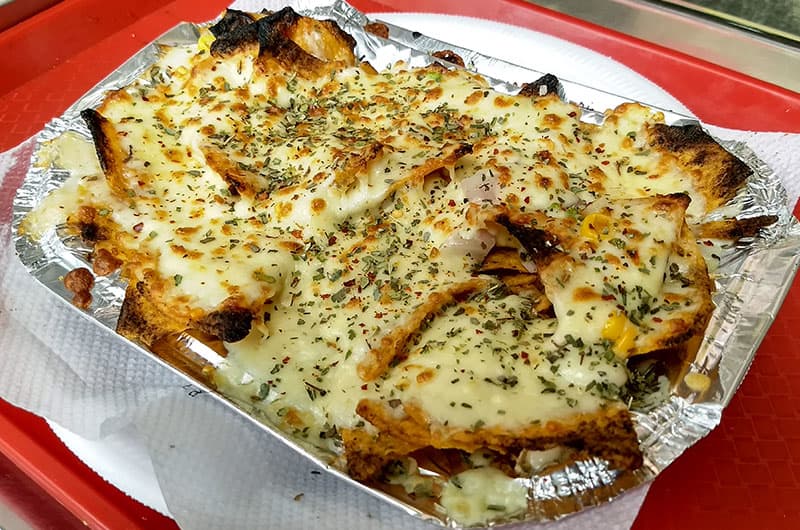 One cannot leave NSP without having a plate of nachos because it's insanely popular here however we were a bit disappointed with the kind we had here. Hashtag Foods overcooked our nachos and the charring was visible on the upper edges also. On the inside however, the cheese was still solid and it ended up being dry nachos with some corn and capsicum thrown in. 
Price | Rs 170
6. Chocolate Shehenshah Shake 
The staff's recommendation was very similar to the Chocolate Legend Shake in presentation but it tasted much better than it! It was heavier and more flavourful; the Oreo chunks in the middle was a nice surprise. If we line up both the shakes in comparison, the Shehenshah defeats the Legend by a small margin. 
Price | Rs 180
So now that you know what to have here, go devour!
Location | Hashtag Foods - NSP, GTB Nagar & Other Outlets
Meal For Two | Rs 300
Here's Their FB Page | https://www.facebook.com/hashtagfoodsofficial/