Delhi
Chicken Tikka Trilogy, Pizza Basilica & More: What We Devoured @ Trend Bar & Kitchen
With the presence of cafes and lounges all around, the concept of dining has evolved drastically. We're glad there still exists some fine dining places that are keeping the traditions alive. However, we came across a fine dining place that acted as both, a fine dining AND party place! Going by the name of Trend Bar and Kitchen, we just discovered a place which is a perfect amalgamation of both!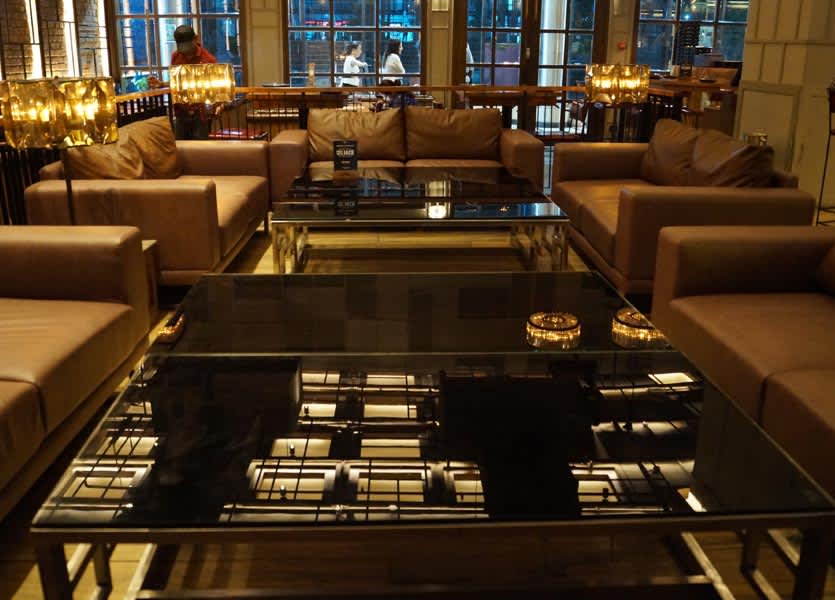 Nestled in Ansal Plaza, flaunting its name proudly, Trend is situated on the ground floor possessing a lavish entrance from two opposite sides of the property. The café is strategically bifurcated into two parts, one representing the fine dining area with a live kitchen and the capacity to accommodate couples and larger groups of hungry souls. The other area gives the feel of an opulent lounge having comfy couches and long chairs and tables for its patrons. Apart from its swank interiors, they are also proud owners of an alluring outside area that comprises a mini amphitheatre and the remaining area dedicated towards the seating of its customers who like to have a hint of nature around while devouring their food.
Here's what we hungrily and happily dug into here!
Mutton Kebabs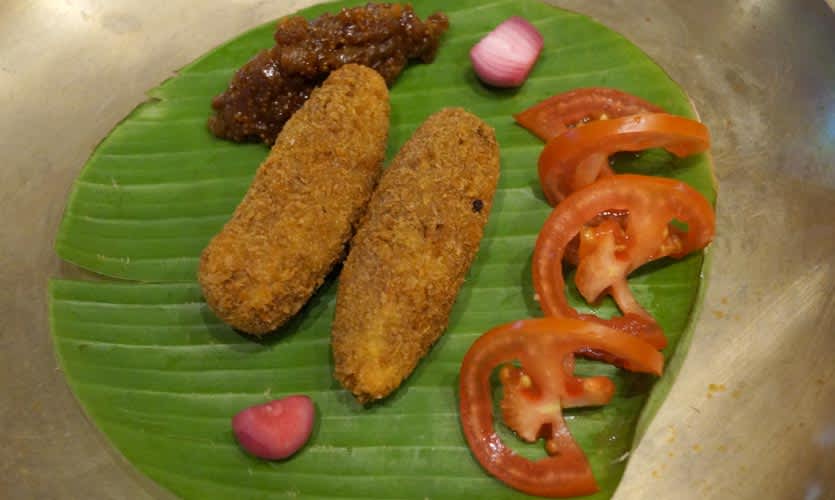 Minced mutton mixed with finely ground onions, ginger, garlic and parsley leaves along with salt were mixed well before being deep fried. Served on an actual banana leaf, we had two bullet-shaped mutton kebabs served along with sweet tamarind chutney and garnished with tomatoes and onions. 
The mutton was perfectly crisp on the outside and pleasantly soft and squishy on the inside. Despite being deep fried, the kebabs hardly left any traces of oil. The taste was enhanced due to the apt presence of garlic and onion and the tamarind chutney was a delicious add on!
Chicken Tikka Trilogy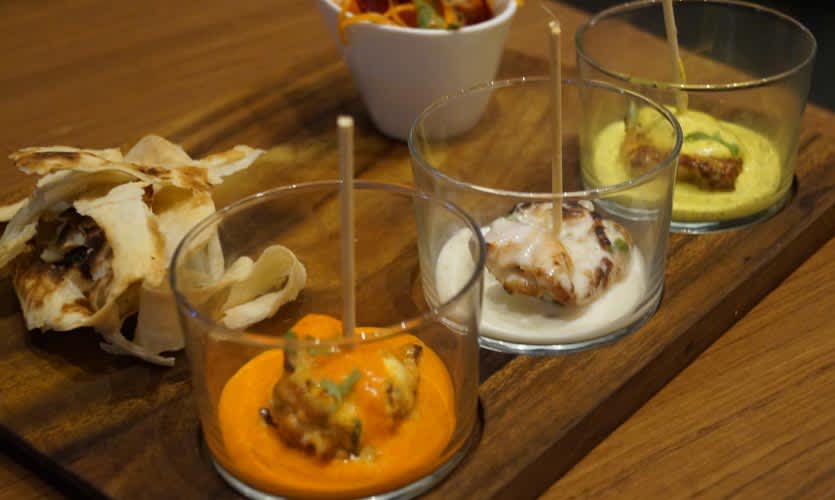 We loved the concept of this dish where we had one piece each of three variants of chicken tikka dipped in their respective sauces along with crunchy naan served with a portion of salad. The three versions included Masala, Malai and Sarso (mustard) with the chicken being succulent, tender and amazingly marinated in their respective sauces. The naan was baked till crispy and crunchy and acted as a papad in this appetizer. This trilogy is well worth splurging on, we can tell you!
Goat Cheese Tikki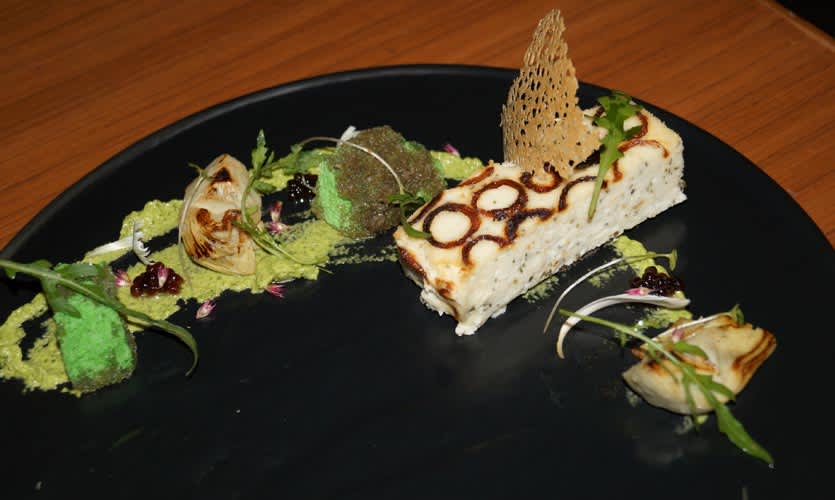 Very few dishes are healthy and scrumptious at the same time and this item was just the epitome of the same. A serving of processed goat cheese on a crunchy base was presented with tandoori Asian pear and baby arugula salad *yumm!*. The tikki was utterly soft, fluffy and moist and had an unusual flavour owing to the milk used to prepare the dish and the presence of varied spices. Nom nom!
Kanjivaram Idli Sambhar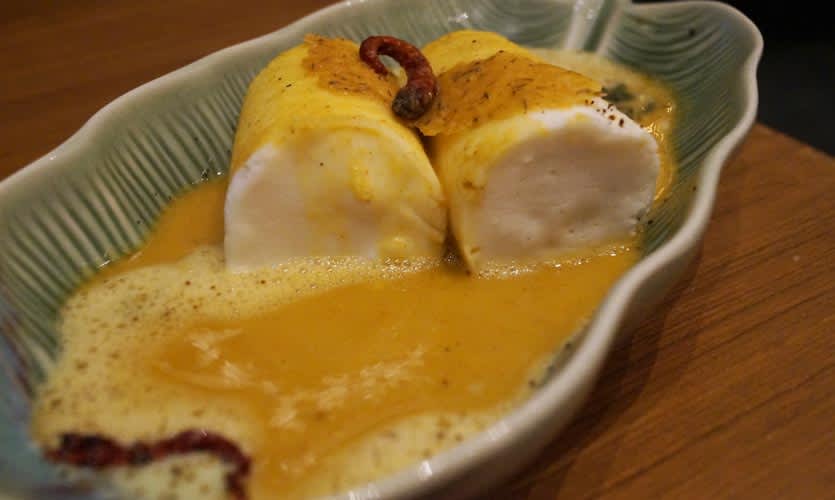 On a plate shaped like a banana leaf, we were presented with two gigantic portions of idli in a log-like structure on a bed of tomato chutney along with coconut chutney and ample madras gunpowder and garnished with a sautéed red chilli. Searing hot sambhar was then poured right in front of us drowning the idli partially. 
The chutneys were then mixed with the gunpowder, enhancing the essence of the sambhar and the dish overall. The essence of the dish lies in the spices such as curry leaves, asafoetida and dry ginger, which were liberally used while preparing the idlis. With the hint of South Indian in this dish, missing this item off their menu would actually be a sin!
Butter Chicken & Aloo Kulcha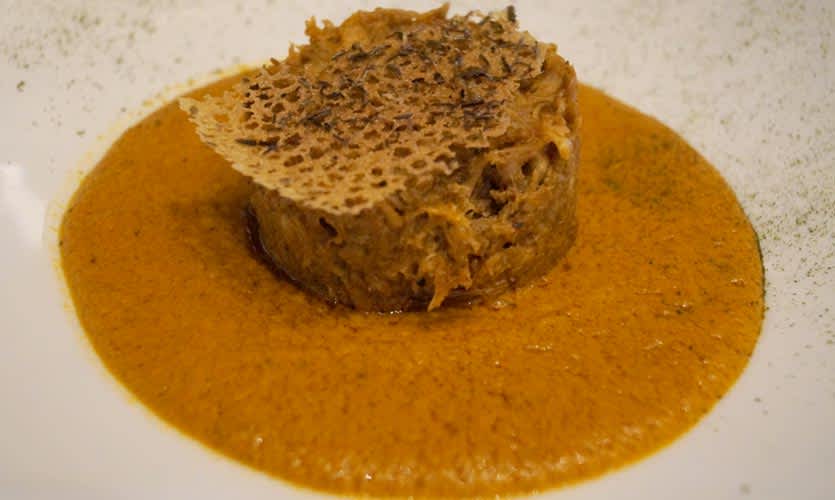 Love for butter chicken never fades away and thus this became our mandatory order. We were in awe of the presentation of this dish. Finely minced chicken was pan fried along with chopped onions in a unique blend of spices, with pepper being the most dominant, before being served on a bed of luscious gravy having a distinct sweet and sour flavour of its own. 
The aloo kulcha was soft with an amazing filling of mashed potatoes, onions and dried coriander. The true essence could be felt only when you scoop the sumptuous kulcha with chicken and the gravy together. We polished off every last morsel of this one!
Pizza Basilica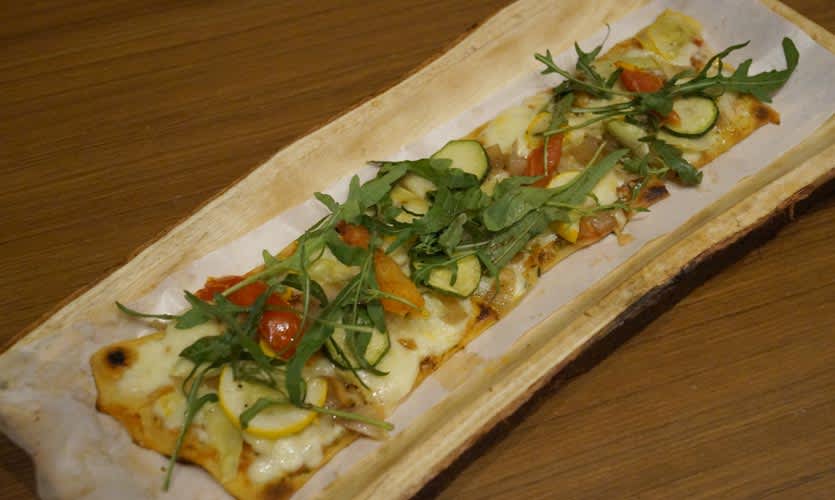 Pizza is bae and especially when it's thin crust! This pizza, unlike the regular ones, was rectangular! The base was ultra-thin and amazingly crispy with diced cucumbers, tomatoes, onions, red and yellow bell peppers along with basil forming its topping. The coalition of mozzarella and cheddar cheese was brilliant! The spices used were minimal with oregano subjugating the others. Needless to say, our love for pizza just reached a notch higher with this one!
Three Cheese Soufflé In Potato Skin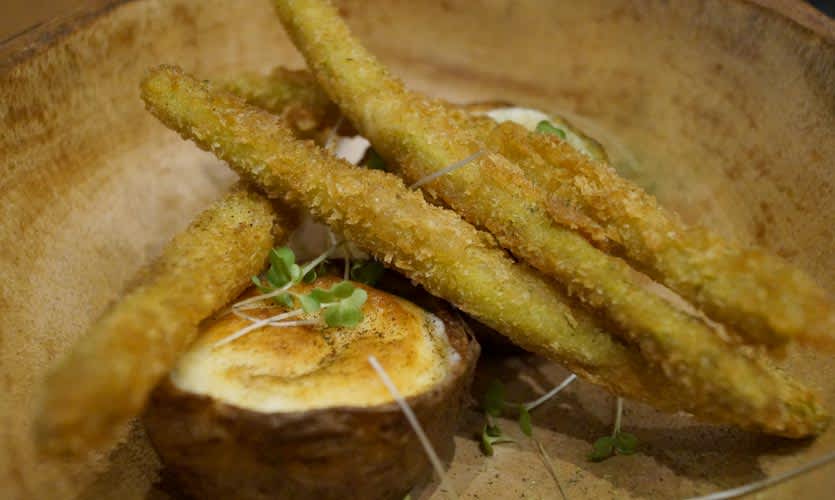 Trend has a way of experimenting and the same can be vouched for by this dish where a three cheese soufflé was presented to us in potato skins. Delectable cheese, parmesan and goat cheese were baked in hollow potato skins along with mild spices till it turned golden brown *starry eyed*. Two skins were served along with pickled asparagus which had a hint of mustard and were deep fried. The crunchiness of the asparagus and the moistness of soufflé satiated us to the core!
Classic Crème Brulee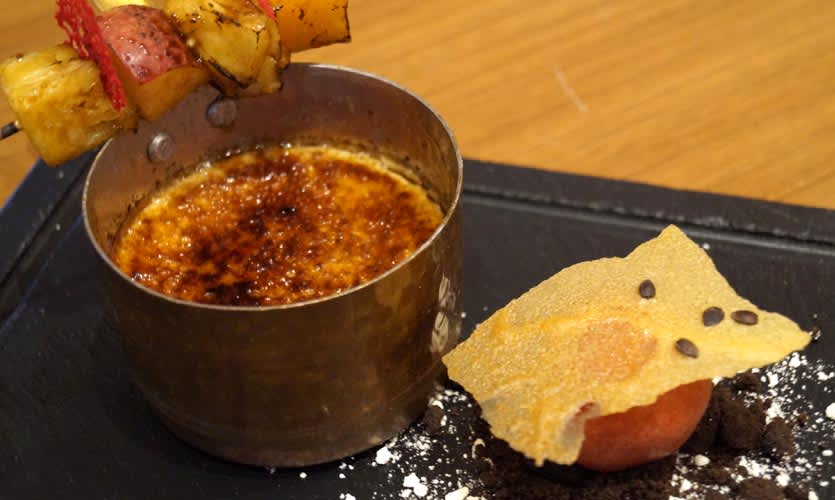 We had the chef's special sweet dish, as recommended. Egg yolks, white sugar and vanilla extract forms the basic ingredients to form the crème. The top of this crème, once settled, is a combination of white and brown sugar that's heated to caramelize over the custard below before cooling the same till the custard is set. Garnished with caramelized diced apples and pineapples in a skewer, this unusual dessert rejuvenated our taste buds and left us wanting more!
Overall speaking, the place is extravagant with lush interiors as well as ostentatious exteriors serving some of the best cocktails in town, and not to forget the lip smacking food! Bring in your family or your loved ones or friends, Trend is set for all! See you there?
Meal For Two | Rs 2,000
Location | Trend Bar & Kitchen - Ansal Plaza, Khel Gaon Marg