Delhi
Chhole Bhature, Lassi & What Not! Join Us On Our Foodie Voyage To Raj Bhature Wala In NSP
While we all run towards pastas, pizzas and what not, the old favourites like Chhole Bhature haven't lost their charm. Be it breakfast, lunch or dinner, we can have this heavenly dish any time of the day without even thinking twice! And we know just the right place for such cravings - Raj Bhature Wala it is!
Hidden amid a sea of food joints, Raj Bhature Wala is what you need to visit in NSP for scrumptious, piping hot bhaturas in the city. With a widespread menu, majorly serving some delectable street food, it is THE go-to joint in NSP to savour mouth watering grub. Not only the menu, but the pricing is also what attracted us as they're super pocket friendly with no compromises on taste! Here we go:
Chhole Bhature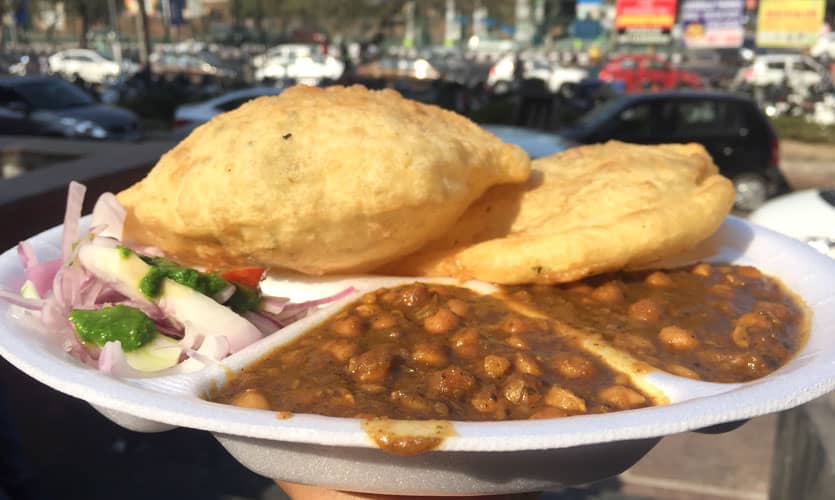 This eminent dish from Punjabi cuisine is what Raj Bhature Wala is best know for! Crispy yet light bhaturas are a must on a cozy winter afternoon, or really any time of the year *wink wink*. And you definitely need not worry about rivers of dripping oil because it has none (yay!). With a filling of grated paneer and spices, the bhatura alone is full of taste *starry eyed*.
And when served with boiling hot chhole, it defines pure bliss! The perfect blend of condiments and the notable taste of anardana cranks it up a notch. Neither too bland nor too spicy, it's just perfect! And the side of mint chutney with slices of onions is the cherry on the cake. They are fulfilling and will satisfy your foodie soul without being heavy on your pocket!
Price | Rs 60
After a plate-full of bhaturas, we thought of trying something new and decided to go for their Tandoori Mix Platter, as the name intrigued us quite a bit!
Tandoori Mix Platter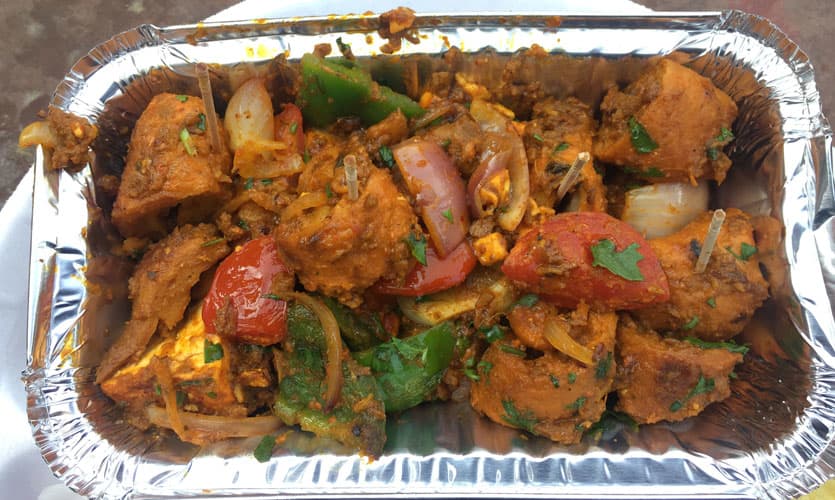 Succulent, diced soya chaap, paneer and mushrooms (although we didn't find any) marinated in a mixture of spices and cooked to perfection in a tandoor is the perfect platter in our book! Plus, the grilled capsicums, onion and tomato really amp up the taste. The lingering taste of black pepper makes it even more delectable, and when devoured with the rudimentary mint chutney - just completes the dish! Defo try this one, folks.
Price | Rs 130
Since this was a spicy dish, we thought of toning down the chilli factor with some sweet lassi!
Lassi Malai Wali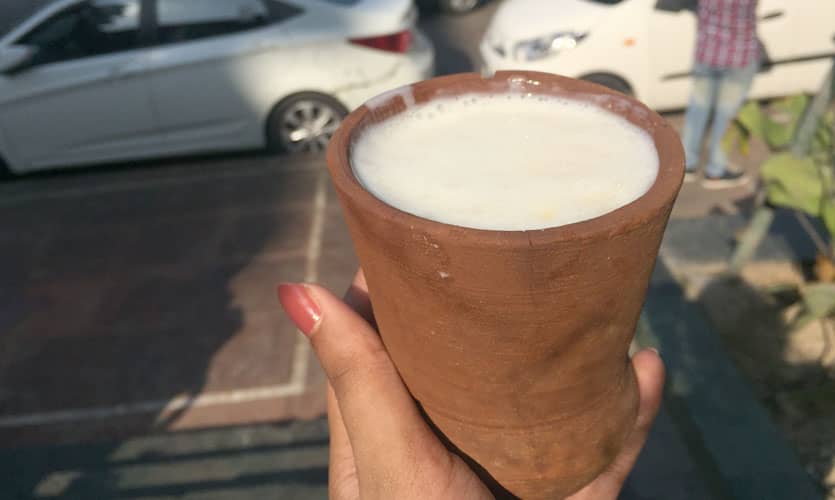 As we all know that lassi is a must have with Chhole Bhature, we unhesitatingly pounced on this! Served in small earthen pots, called kulhads, this lassi was a Godsend for us. It really had us when we saw the cute little kulhad in which it was served. Thick, creamy and proportionately sweet is what it would describe this the best and if you visit them, do gulp it down!
Price | Rs 50
Although the absence of a seating area or table is a bit of a disappointment, the food definitely makes up for it! So whenever you have a sudden craving for Chhole Bhature, lassi or even a Tandoori Platter, Raj Bhature Wala in NSP is the one to serve you best!
Location | G-40, Aggarwal Millenium Tower, Netaji Subhash Place