Delhi
Cheese, Chocolate & Aloo Pudhina: This Samosa Joint In Ghaziabad Is Pure Gold
The Great Indian Samosa serves six kinds of samosas (for now), pioneering innovation by adopting recipes from western grub like pizza, sandwiches etc. This shop brings variety, the taste of cultures and of fillings you'd expect the least - like cheese or chocolate!
The place doesn't have any seating area, only a little space for a few people to stand and enjoy their samosas. They have two side tables attached to the walls for your plate to rest. The green chutney is their specialty; it definitely doesn't have the usual taste and is yummier and acts as the perfect accompaniment to your samosa!
Hybrid Tasting - Fusion Samosas
This category carries two kinds of samosas - called Veg Cheese Samosa and Sweet Corn Samosa. The former is a mix of a few veggies and cheese and with such a unique stuffing, having it only once is not enough. With jalapenos, onions, bits of carrot and corn dipped in cheese, it becomes the perfect fusion snack!
The second samosa of the category, the Sweet Corn Samosa, is simple and subtle in taste. Only corn and cheese work their magic here. No extra veggies or spices, just a basic mix with green chutney and you're good to go! Read it again if your mouth isn't watering yet!
Prices | Rs 20 (Veg Cheese Samosa) & Rs 25 (Corn Samosa)
Darker Triangular Turnovers – Chocolate Samosa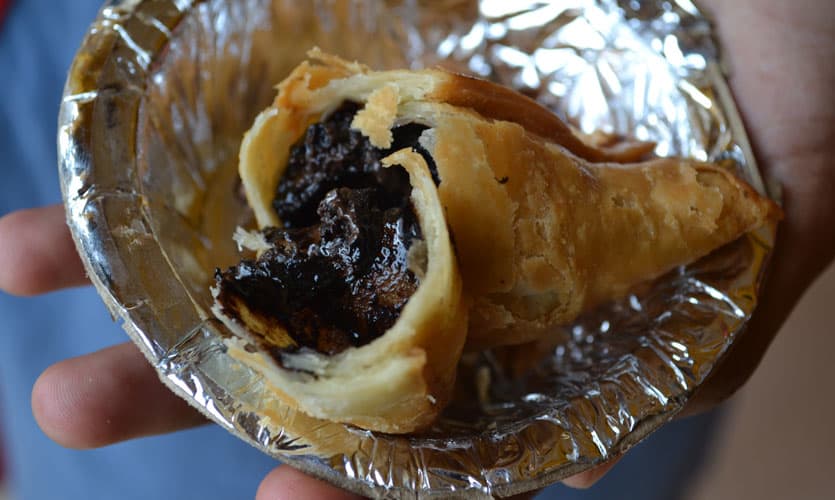 This is for those who embrace the undying love for chocolate. Seems like a volcano bursting with chocolate in your mouth till the last bite. No extra additions, just a traditional samosa covering with the crust making it yummier! Needless to say, this one is quite unique in taste and certainly worth a try!
Price | Rs 20
Thoda Hatke - Aloo Pudhina Samosa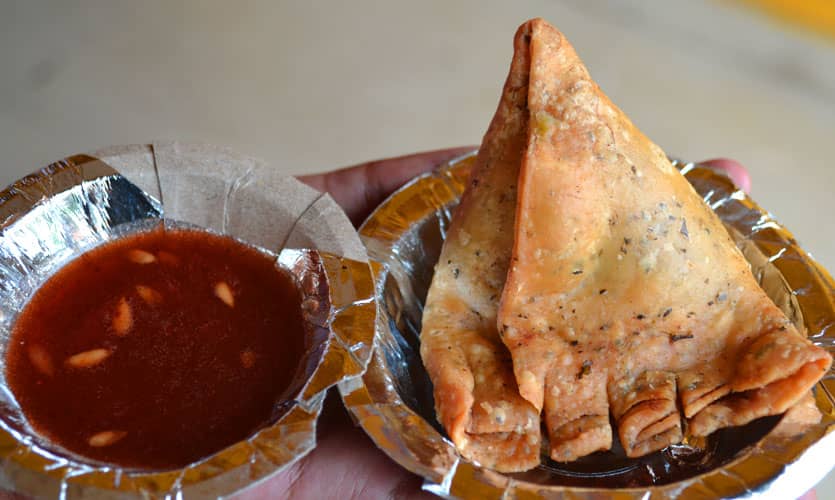 Not forgetting our customary samosas, our aloo filling ones, TGIS also brings you the same - just a yummier version of it! With aloo, pudhina and very few other light spices, the samosa is extremely delicious. When you're not in the mood to experiment, this would be the perfect choice!
Price | Rs 15  
Peas Out - Matar Samosa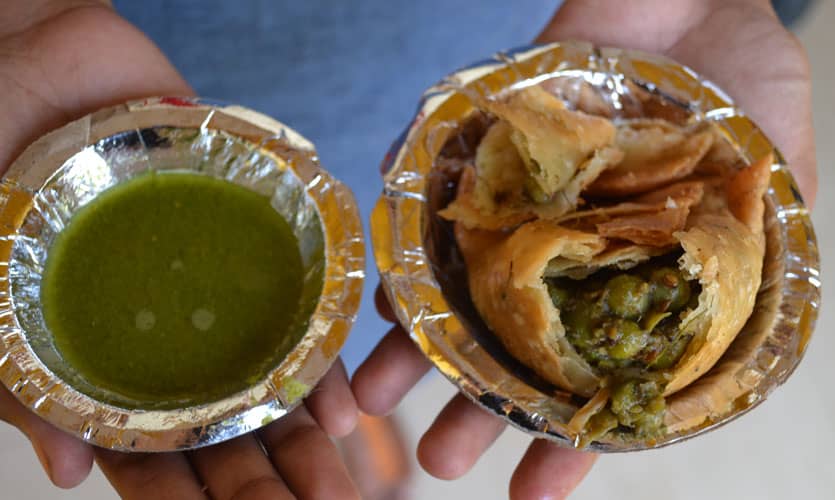 For all those who love matar in every dish, here is a whole samosa for you! No aloo inside, no veggies, no fusion – just matar with masala for you to feel satisfied! Tastes better when every bite is either dipped in sweet chutney or the green one!
Price | Rs 15  
There you go - a nice evening snack joint in Ghaziabad, head to TGIS on any day and gobble some hybrid samosas!
Location | The Great Indian Samosa, C-73, Near Indian Bank, RDC, Raj Nagar, Ghaziabad