Delhi
Check Out Handcrafted Ruffle Sarees, Striped Mugs & More HERE In Shahpur Jat
We're all looking for the perfect amalgamation of modern and ethnic quotients in the clothes we wear as that's what's modish these days. So give us pretty handcrafted sarees or dresses with a little touch of contemporary to it and we'll be more than happy. Agree with us, don't you? Then read on as we've got you the haven of pretty apparel and more! 
Your OOTDs Are Now Sorted, Peeps! | Have you heard of this store called Peeli Dori that's based in Shahpur Jat. These guys have a store, as well as a webstore and their products are gonna blow your minds for sure. These peeps do handcrafted stuff which boast of the ideal blend of ethnicity and modernity!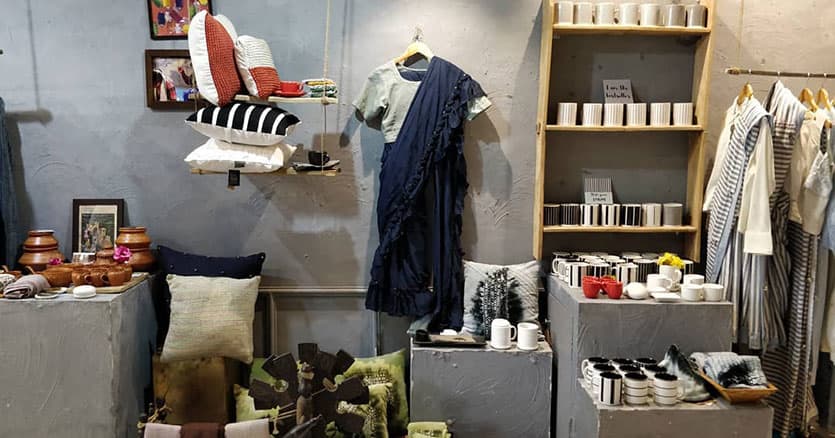 These folks are especially known for their graceful hand block prints on sarees and dresses & their bold and colourful stripes on almost everything. So you've defo got to check out their super pretty striped and ruffle sarees available in a varied range of colours. Also, look for their really amazing Ghungroo sarees, that has taken the concept of this attire to a whole new level. Yep, these sarees actually have ghungroos attached to them. And if you're looking for more pretty stuff, then do go through their collections of breezy dresses with checked jackets, graceful stoles, ponchos and much more! 
And you know what? These guys even have cute and unique striped mugs & cups that'll just steal your hearts away if you're a tea or coffee person. Their super classy table lamps, handloom cushion covers, kulhads and many other products are making us go crazy! 
So, we're gonna start splurging right away and we'd advise you to do just the same. Head over to their store in Shahpur Jat or if you're too lazy to travel, just hoard online. Happy shopping! 
Pssst - They're currently having a summer sale of upto 60% off, so make the most of it!
Where | Peeli Dori - 5K/2, Jungi Lane, Shahpur Jat
Price | Rs 199 Onwards (Mugs) & Rs 4,999 Onwards (Sarees)
Call Them | +91 11 6888 8557
Shop Online Here | https://peelidori.com/
Check Out Their FB Page | https://www.facebook.com/peelidori/