Delhi
Chatpati Bhalla Papdi & Buttery Pao Bhaji: Raaju Chaat Bhandar In Bharat Nagar FTW!
Popularly known as 'Gande Naale Pe Chaat Wala', Raaju Chaat Bhandar serves one of the best chaats in Delhi. You'll always find people standing outside the shop having a plate or two in their hands. No wonder the road on which it's situated is always busy with traffic!
It was disappointing to see that there wasn't any seating area. But the good thing is that you can eat your food in your car as there is ample space on the side of the road for parking vehicles. Coming to the famous chaat, what we tried here was finger-licking good, and we're gonna be gushing!
Here's what we dug into here:
Aloo Tikki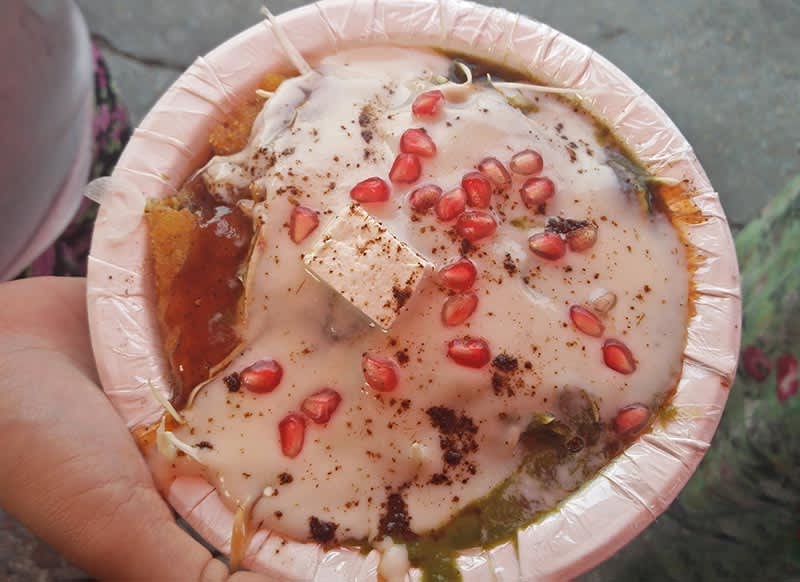 Don't worry; you're not the only one who thought that this dish was some kind of chaat. We thought so too when it was served to us! The tikkis were dipped in curd, imli chutney and coriander chutney and that's what brought out the taste of this delight of a dish. The tikki was fried perfectly, and mixed with some grated ginger. Garnished with paneer and pomegranates, this spicy tikki tasted delicious *nom nom*!
Price | Rs 80
Bhalla Papdi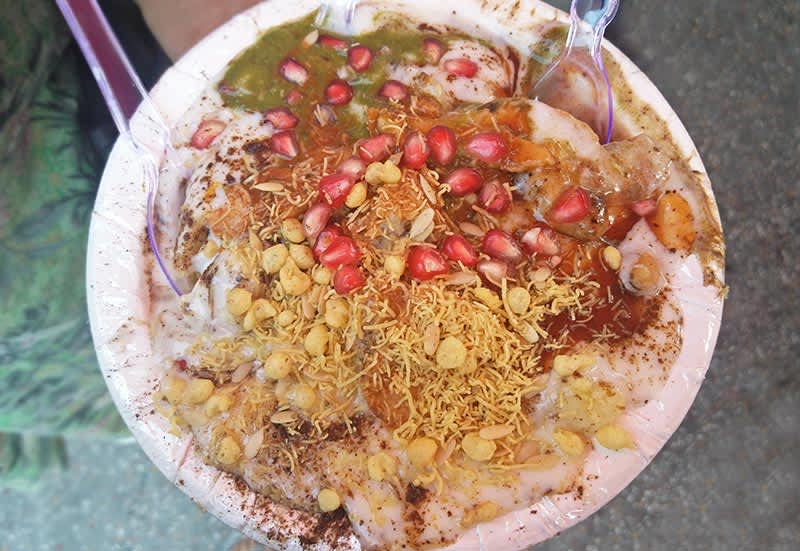 Every street food trail begins with a good ol' plate of bhalla papdi, right? Raaju Chaat Bhandar's signature dish, Bhalla Papdi, tastes just as good as it looks. Sprinkled with some pomegranate, bhujia and boondi, it was doused with curd, imli chutney, and a little green mint and coriander chutney. We even found some grapes and sweet potato in the mix! One plate will give you ample quantity and we bet you won't be able to stop hogging because it tastes aahhmazing!
Price | Rs 90
Pao Bhaji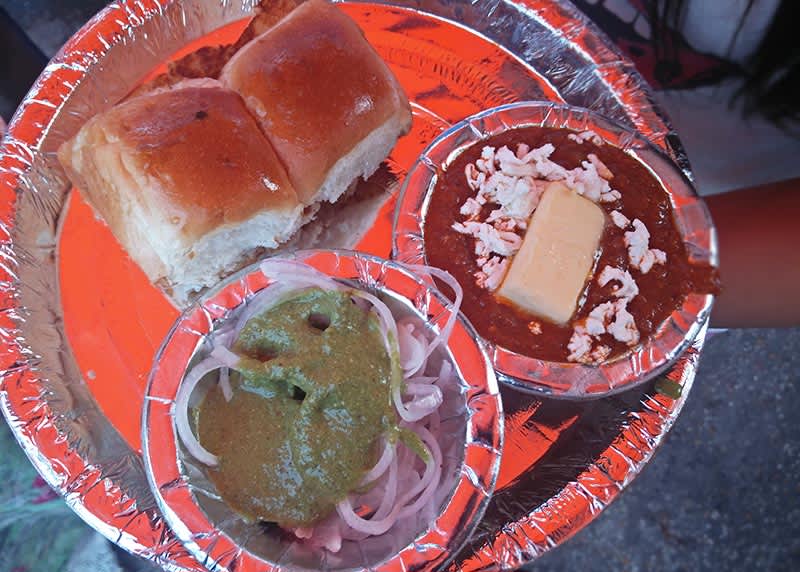 Pao Bhaji never gets old. Be it breakfast, lunch or dinner, we can have it anytime. We couldn't resist the Pao Bhaji here and thankfully, we did not regret it. One plate of this yummy dish got us two whole pieces of pao, a cup of sabzi alongside some onions and mint chutney. The bhaji was served with grated paneer on top with a huge slice of butter. 
Also, they didn't go overboard on the spices, which was a definite plus! The mint chutney on the side provided a tasty contrast to the spicy bhaji. One bite and this utterly butter-licious dish had us licking our fingers. We're drooling over here just by writing about it!
Price | Rs 80
After eating all the spicy street food, you can also have some Badam Milk or a Kulfi to soothe your mouth - each of these items will cost you 35 bucks. Thass it! This place has our heart set on it, people. Fun historical fact, they've been serving these amazing chaats for over 30 years now! The owner of this place, presumably Raaju, used to go around nearby areas selling chaats on a thela. And now he not only has a fully fledged shop, but also provides catering services. 
Check this place out if you're in the mood for some golgappas or chaat!
Location | Ganda Naala, Bharat Nagar