Delhi
Char Siu Chicken Bao, Salmon Sushi & Dumplings: We Feasted Away @ DAO In GK I
Wandering around town, this time we found ourselves searching for a fine dining place serving authentic (operative word here) Thai food. After many dull moments and a few rejected places, we finally found one which was about to fulfil our dinner goals. The place was called DAO!
 
Located in posh N Block Market of GK I, this multi-level restaurant has a fine dining, sushi and cocktail bar on the second floor and a beautiful sky bar and terrace. The interiors of the place are inspired by Thailand's traditional craftsmanship in wood, and the outlet has an upscale, yet unpretentious atmosphere which mirrors the warmth of Thai hospitality. As you enter, you will witness beautifully laid out furniture that you will absolutely end up adoring! Just adjacent to the entrance is their enormous cocktail bar serving a wide variety of cocktails to its patrons.
 
Still stupefied by the rich interiors, we got a glimpse of Thai cuisine in the following:
Roasted Chicken Cheung Fun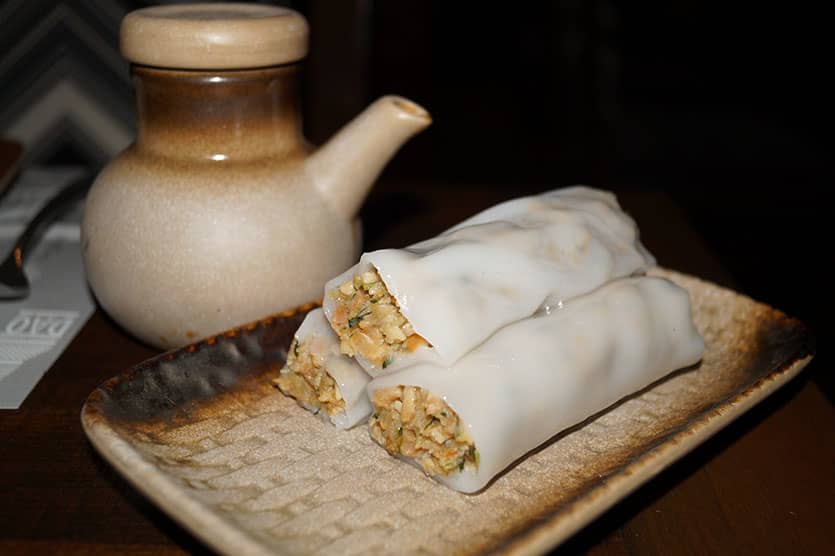 Bizarre as it sounds, this was also a sort of dim sum. Served as a snack, this variant was a roll made up of rice noodles which was filled with minced roasted chicken, coriander and sautéed veggies. Served with soy sauce, the outer layer was smooth and glossy. The actual taste of this genre of dim sum could be felt only when it's seasoned with soy sauce. The smoky flavour of the chicken was easily felt in every bite. Needless to say, it was exceptional and defo not to be missed!
Char Siu Chicken Bao
DAO just kept on impressing us with every dish presented to us. This one was bread buns with sweet and spicy chicken fillings which were steamed perfectly. The bao was made using both yeast and baking powder for leavening which gave the dough the texture of a slightly dense, but fine soft bread. Encased in the center of the bun is tender, sweet, slow-roasted chicken which is diced, and then mixed into a syrupy mixture of oyster sauce, hoisin sauce, roasted sesame seed oil and rice vinegar. We loved every last bite!
Chicken & Chive Dumpling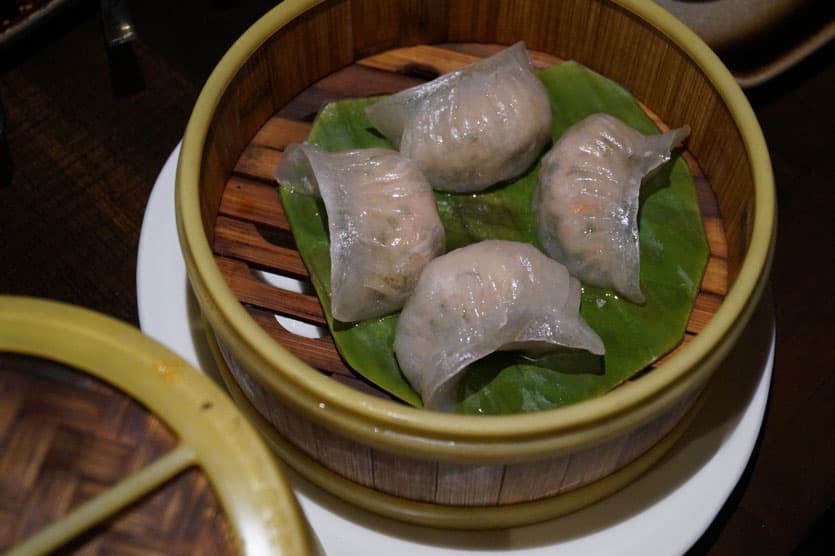 One of the most sought after dishes was this one, hence making this our obvious next choice. The filling consisted of minced chicken, chives, sesame oil, soy sauce, ginger and garlic. The dumplings were evenly steamed and covered in a delish pouch made of rice noodles. They had a unique taste, very different from the regular chicken ones mainly due to the presence of garlic and chives whose essence could be felt even in the aroma of this dish. No wonder this item is on the priority list of the guests heading here!
Spicy Chicken Dumpling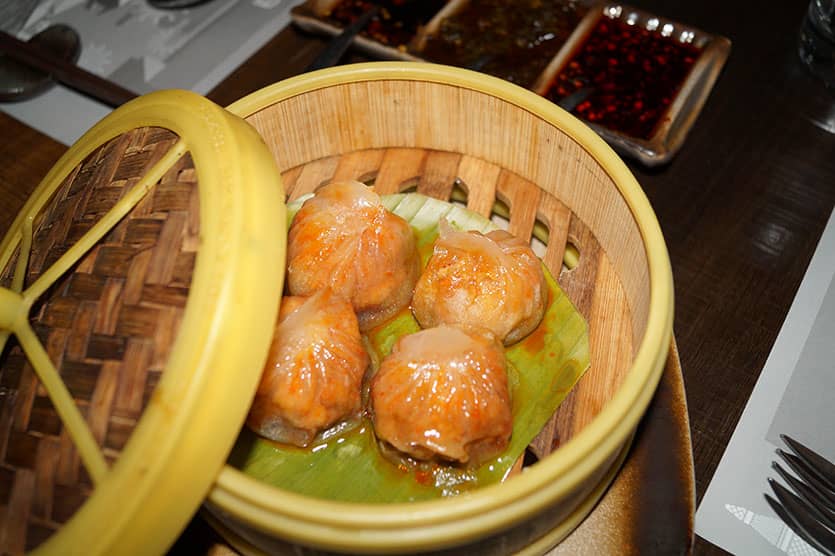 Our evening started with this dish - perfectly shaped soft dumplings, steamed to perfection, covered in chilli sauce were presented to us searing hot. The filling comprised minced chicken, bamboo, ginger, chilli, coriander and a dash of fish sauce. The dumplings were squishy and zesty with the essence of spices lingering on. This being Thai cuisine, the dumplings were low on their spiciness quotient.
Phad See-Ew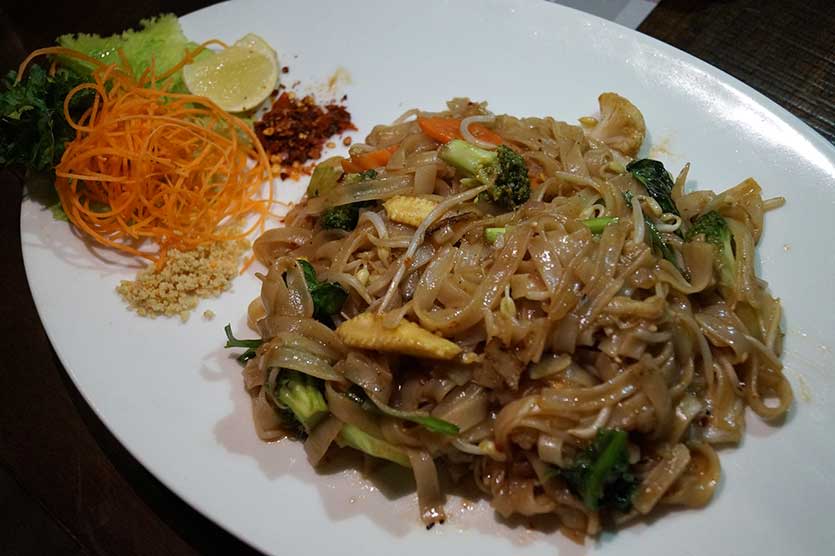 These were Thai stir fried soy sauce flat rice noodles. Diced chicken, capsicums, onions, red and yellow bell peppers, carrots, broccoli, sautéed baby corns and flat rice noodles were stir fried in a sauce made of dark soy sauce and light soy sauce along with ginger and garlic paste and salt. The scrumptious taste of the dish was basically derived from the use of soy sauce. Served with finely crushed peanuts, chilli flakes and carrot shavings, the noodles were appetizing to the core.
Stir Fried Chicken On Spinach Bed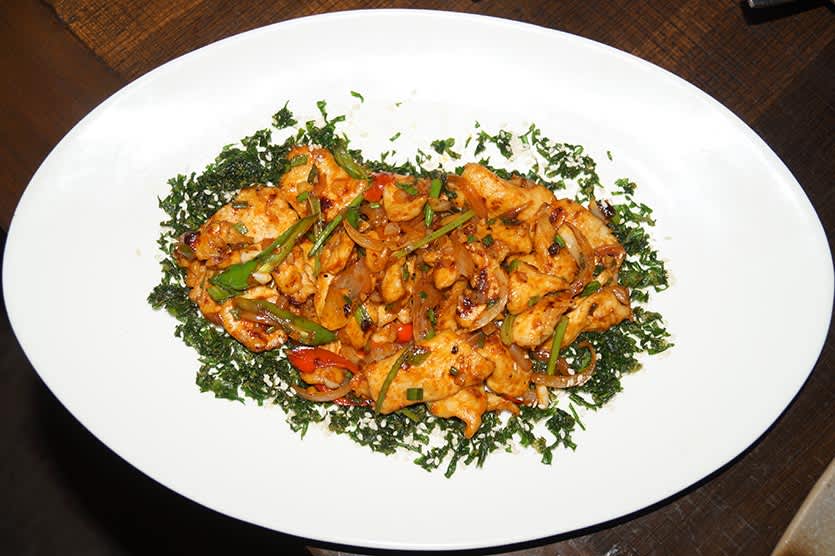 We were actually mesmerized by the look of this dish. Enormous chicken pieces, evenly marinated in a unique blend of Chinese sauces and spices were stir fried along with spring onions and Chinese broccoli before being served on a bed of minced spinach. The use of soy sauce and pepper acted as catalyst in enhancing the taste of the dish. The chicken was succulent, tender and juicy. The essence of spices was felt with every bite, leaving us utterly satiated!
Salmon Sushi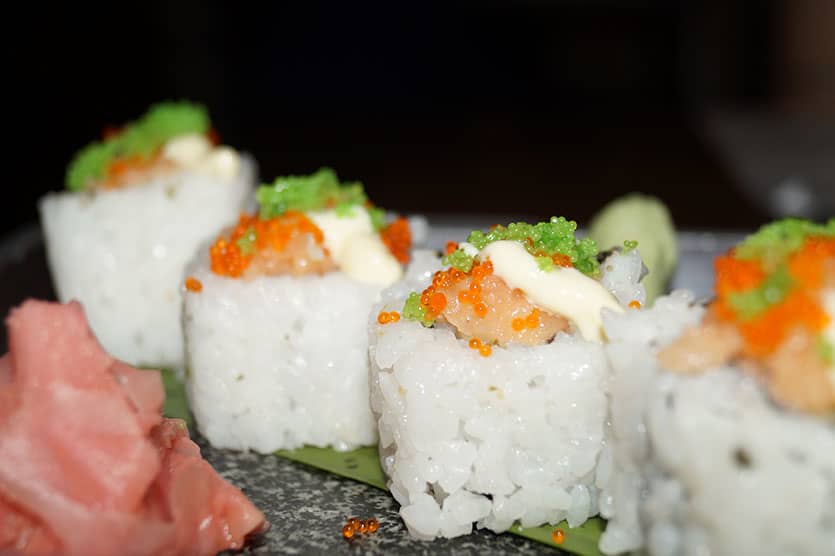 The most awaited item was presented to us and we were already drooling all over it. Four pieces of sushi rolls were served to us. Cucumber, avocado and smoked salmon was neatly arranged and covered with rice to form rolls. Served with gari - sweet, thinly sliced young ginger marinated in a solution of sugar and vinegar, this item is one of their signature dishes and a must have for y'all!
Coconut Ice-Cream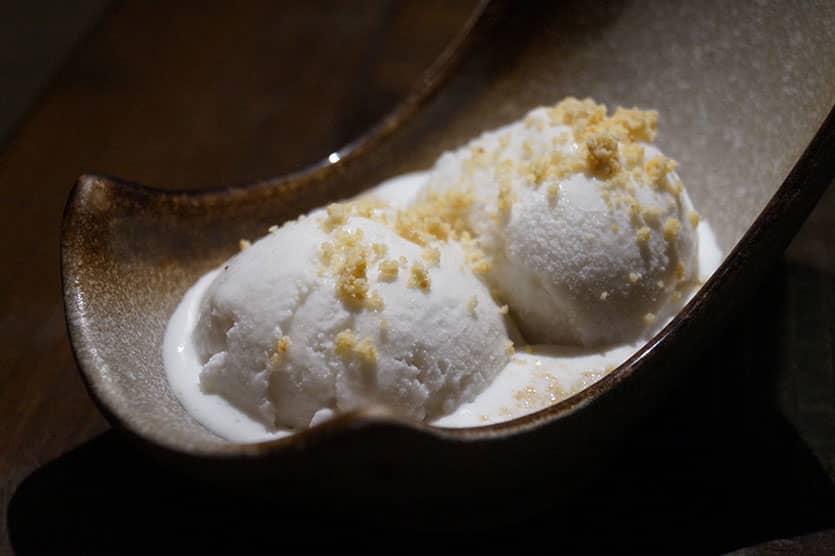 Being home-made ice cream, this became a mandatory item to be ordered. Two dollops of coconut ice cream, garnished with finely crushed peanuts was served to us which left us salivating. We ended up gorging on this item before one could even say "ice-cream". With ideal sweetness, the essence of coconut was easily felt due to coconut shavings. The flavour was intensified due to the peanuts that brought a bit of saltiness to the dessert. A unique combo, yet a tempting one.
Death By Chocolate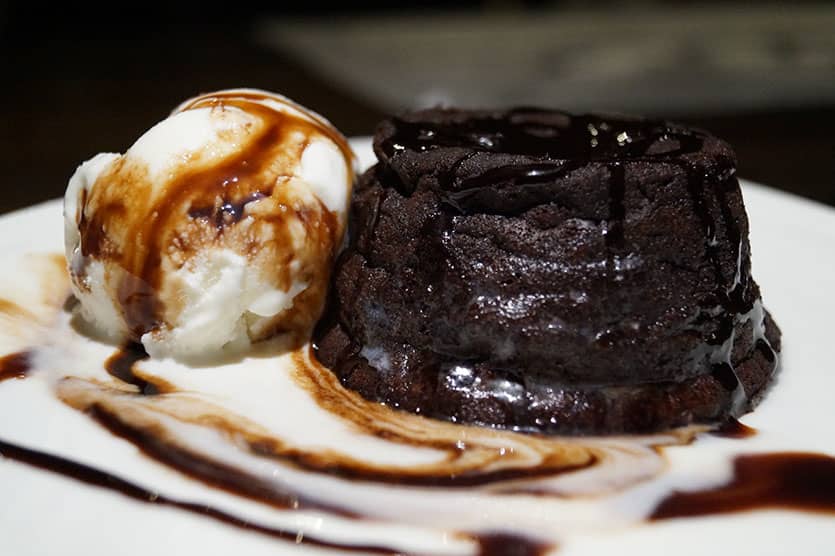 This dish never goes out of style! A fudge style chocolate cake made of cocoa and dark chocolate was served with a dollop of vanilla ice cream and garnished with homemade chocolate sauce. Due to the presence of dark chocolate and moderate sugar content, the cake had a slight bitter taste which was further complemented by the sweetness of vanilla ice-cream. It's actually THE authentic way to have Death By Chocolate!
LIIT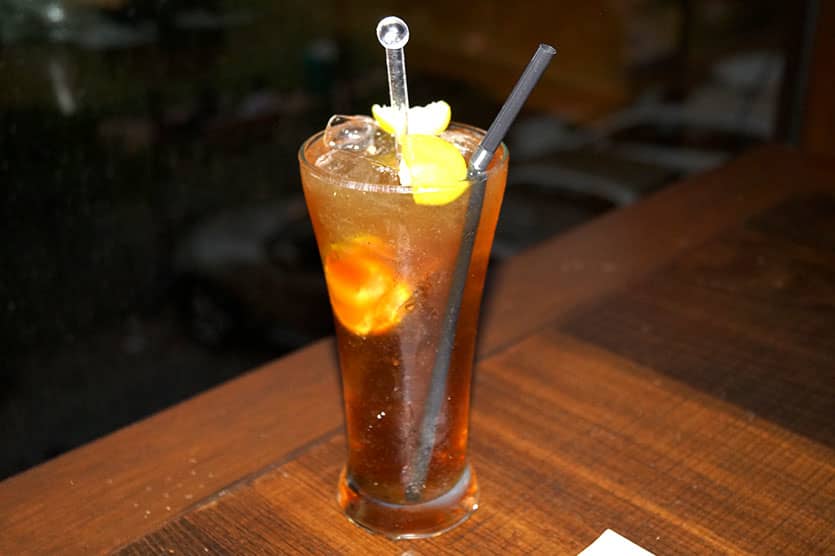 Hearing about some of the amazing cocktails being served here, we tried the famous LIIT. Gomme syrup along with triple sec were added in apt proportions along with gin, vodka, tequila, white rum and lemon juice. All we can say is, this was one of the best LIITs we've had till now *hand to God*. Feeling a new high, we relished this one.
All in all, this outlet is ideal for those seeking authentic Thai flavours, along with dim sums and sushi. The menu has a wide range of vegetarian, tofu, chicken, seafood and prawn dishes. With the menu perfectly balancing the sweet, sour, salty and fiery flavours of Thai dining, the ambience is perfect for a romantic evening with your special one or a celebration with your family!
Meal For Two | Rs 1,950
Location | N-17, 1st Floor, N Block, GK I