Delhi
Challenge Your Buds To Finish Off This 8 Ft Long Dosa At This Pitampura Restaurant!
So, just when our foodie soul thought that it had possibly tried out every dish in the city, we came to know about this place serving dosa of a monstrous size. We bet you'll be super hyped about it too and will be bound to give this place a shot when we tell you more about it. So read on and put on your stretchy pants!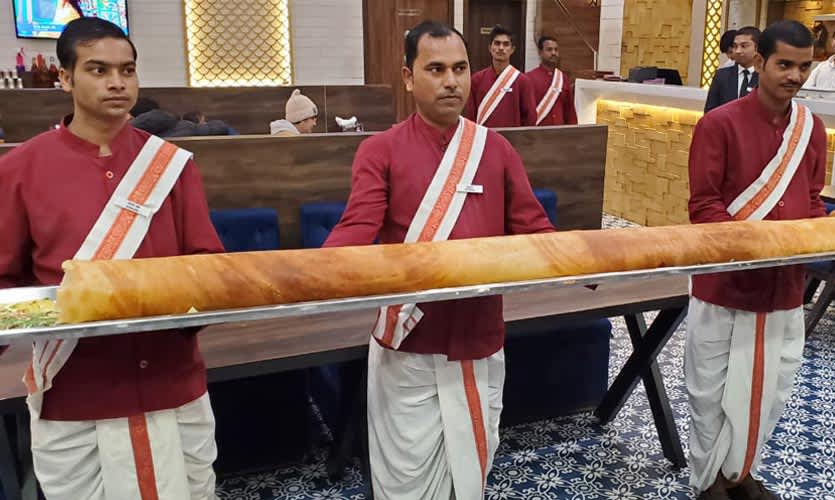 Monster Alert! | So we came to know that Sankalp Restaurant that boasts of multip-le outlets scattered all around town, whips up an uber massive 8 feet long dosa and we're literally on our way to have it as we tell you about it. This humongous dish comes served with various chutneys and it seems like the belly of your entire group will be full after gorging on just one dosa alone. Apart from this massive treat, this place also doles out other yummies like Veg Cheese Roll, Kaikari Biryani, Capsicum Rava Dosa and Nilgiri Special Dosa, which too, you should defo try!
Next time you swing by this eatery, try to finish off this enormous delight and tell us how it went!
Where | Sankalp Restaurant - Pitampura, Ashok Vihar Phase II, Punjabi Bagh & Other Outlets
Price | Rs 1,890
Call Them | +91 9643 868 868
Check Out Their FB Page | https://www.facebook.com/SankalpRestaurantDelhi/