Delhi
Carting Our Joey's Belly Over, Here's 7 Absolutely Scrumptious Dishes We Tried @ How You Brewin?!
Does the phrase "How you doin?" ring any bells? Of course - that was Joey's line! Who hasn't heard about F.R.I.E.N.D.S. and when you find out that a similar themed restaurant has popped up in the city, you HAVE to try it out! Being super excited about this dinky café, we finally paid a visit to relive our fave Joey moments.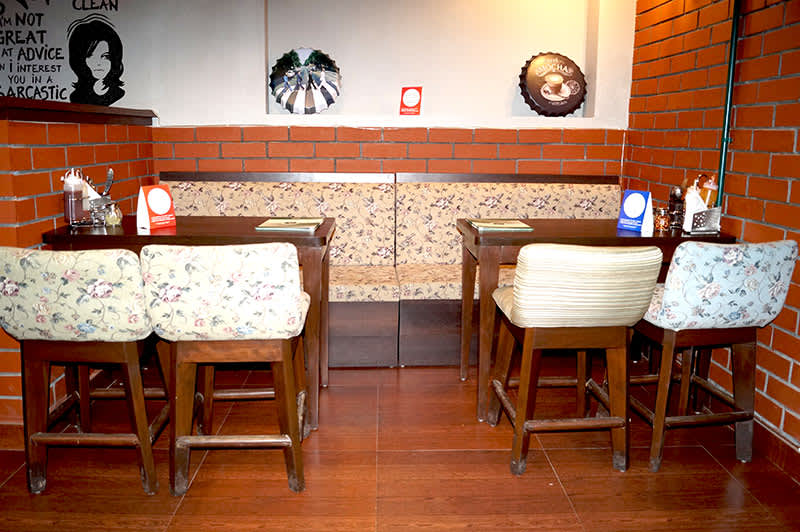 Going by the name of How You Brewing?, the ambience of the café is almost congruent to what we used to watch in our favourite sitcom. As you enter, on the right side is a small area dedicated to the counter and on the left, they've installed seats and chairs manifesting the look of Central Perk. As you move forward, on the right is the famous couch laid out in a manner resembling the actual image from the sitcom. If that wasn't enough, they also had foosball tables and other PS4 games in the café *yass!*.  
Grinning from ear to ear and super excited to see what was in store for us, we ordered the following:
Virgin Mojito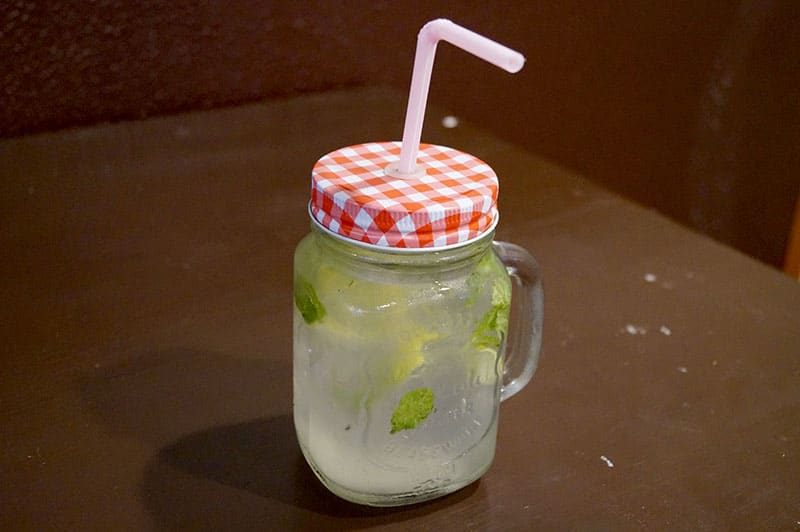 To start off our F.R.I.E.N.D.S feast, we ordered the original and most sought after drink as a test and they passed with flying colours! Diced lemons were crushed with mint leaves and mingled well with lemon soda water along with sugar syrup before being served to us in a mason jar. Needless to say, it tasted perfect as the proportions of all the ingredients were right up to the mark! (Yay!)
Joey's Pizza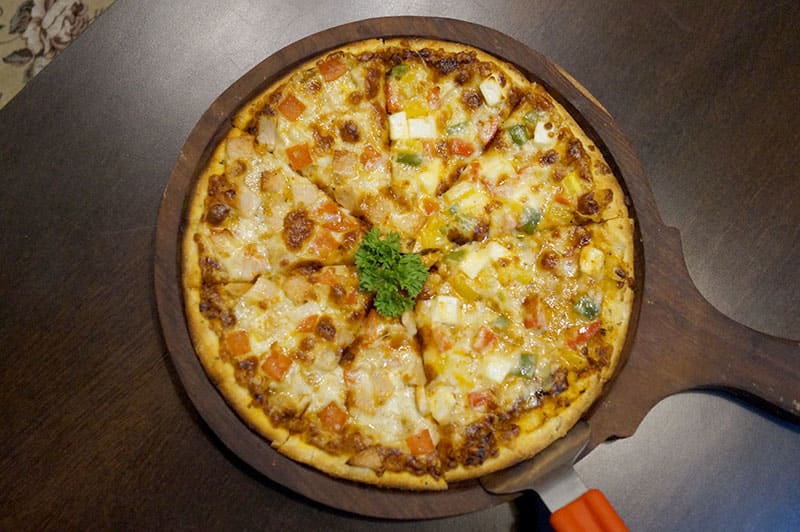 Joey doesn't share food and after getting a prima facie glimpse of the pizza, we seconded him! Half of the pizza was veg and the other half was non veg. The veg portion had toppings of diced cottage cheese, red and yellow bell peppers, onions and capsicums along with ample amount of mozzarella cheese, while the non-veg portion comprised tender chicken chunks and pepperoni. Needless to say, we were left utterly satiated!
Chicken Lasagna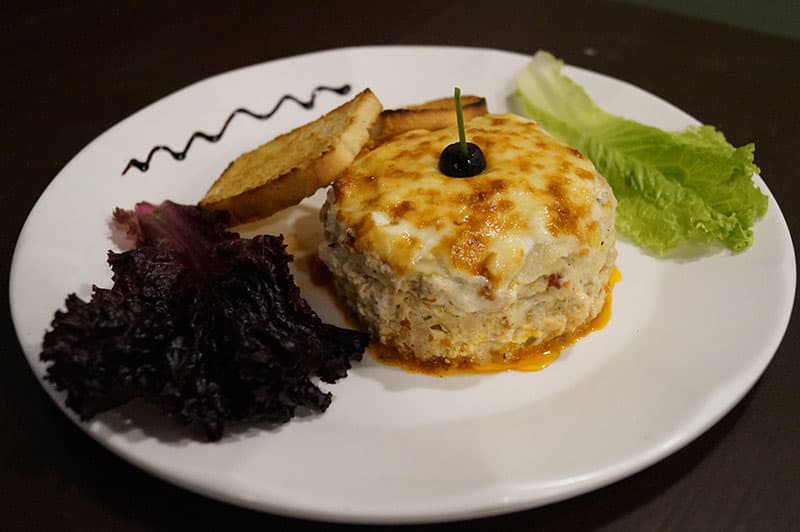 Next on our list was the most sought after dish of this place - their Chicken Lasagna! With two layers of minced chicken in an astounding blend of spices which were baked to perfection with mozzarella cheese oozing out, this dish was served with two portions of garlic bread and garnished with black olives. The chicken, being lush and juicy, was evenly marinated in oregano, salt and black pepper which tingled our taste buds when coupled with mozzarella cheese. Yum yum!
Chicken Burger
On their recommendation, we ordered the Chicken Burger which, to our amazement, was a pretty wholesome dish. We were startled to see the size of the burger comprising sliced onions and the cutlet of minced chicken slathered with mint mayo and Thousand Island dressing. The combo of the sauces along with the peppery flavour of chicken was worth splurging on. Served with a portion of baked nachos and a sweet and sour dip, we happily gorged away!
Chicken Pasta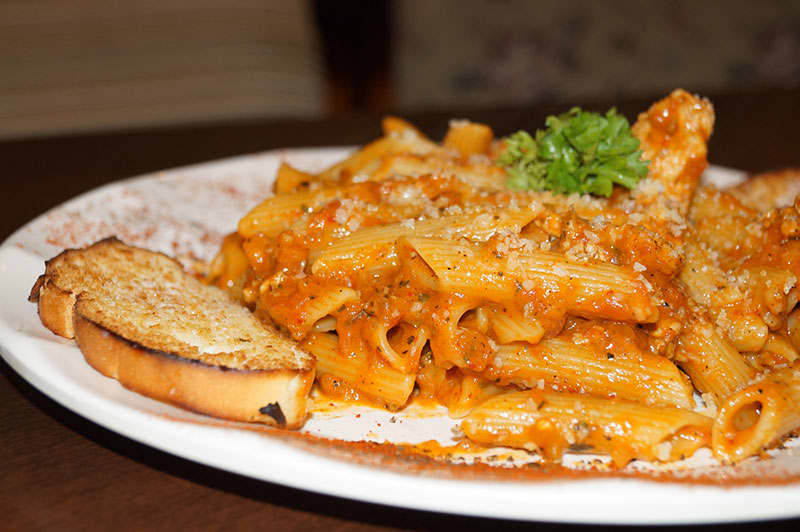 We were so mesmerized by the chicken dishes that we ended up ordering this item as well. Penne pasta, cooked al-dente, was stirred beautifully in arrabiata sauce with the flavour of garlic being the dominating essence along with diced grilled chicken pieces. The soul of the sauce was properly absorbed by the pasta and the chicken, which had an apt spicy quotient and a tangy touch overall. Served with two pieces of garlic bread and garnished with shredded mozzarella cheese, this dish was superlative!
Veg Bruschetta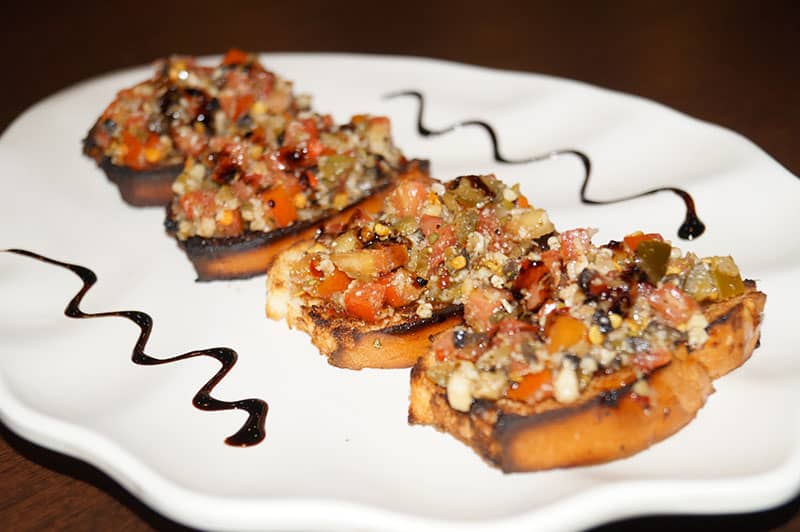 We shifted our focus to vegetarian items and our first veg order was their Bruschetta. Finely diced onions, capsicums, tomatoes and pickled olives mixed in apt amount of salt and pepper were baked on bread slices before being garnished with a dash of chocolate syrup and shredded mozzarella cheese. With a sweet and spicy flavour and the perfect crunchiness of the bread, this turned out to be a remarkable snacky dish!
Veg Panini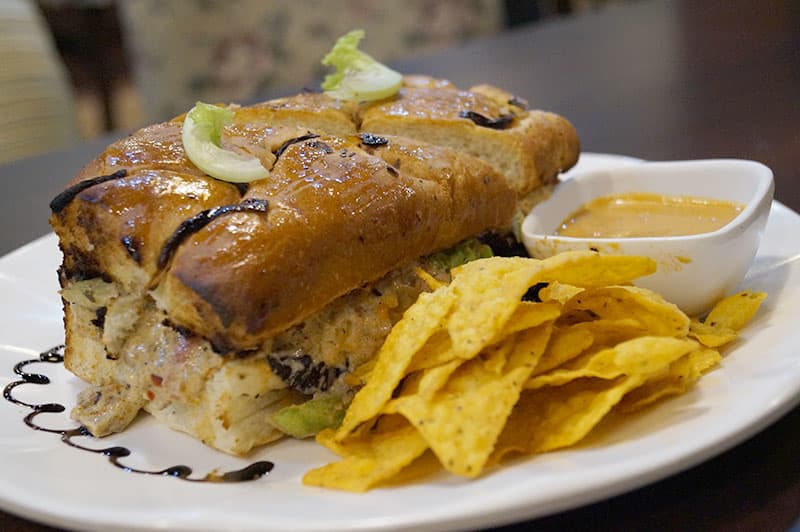 What stole our hearts next was the Veg Panini. Focaccia bread was baked before being filled with an enormous amount of diced cottage cheese mixed in with Thousand Island dressing along with black olives, lettuce, crushed onions and oregano. The bread was evenly baked and the cheese used was amazingly infused with a unique blend of spices, thus enhancing the overall experience of the dish. Defo try this one folks!
All in all, the USP of the place is the ambience and with the back-to-back runs of all the seasons of F.R.I.E.N.D.S, the overall dining experience was supercalifragilisticexpialidocious! Just like Chandler would say, "Could it 'be' more fun to visit this café?"!
Meal For Two | Rs 600
Location | E-125, Near Tagore International School, Amar Colony, Lajpat Nagar IV