Delhi
Can't Get Enough Of Breakfast? Here's 12 Best Eateries That Serve Breakfast All Day Long!
Waking up to a good, delicious and hearty meal makes for a great start to the day! Bacon, pancakes and a cup of rich, refreshing coffee make a real good foodie combination for kickstarting our mornings merrily. But what about the rest of the day? Worry not, we've listed all the best places in Delhi that serve the most scrumptious breakfasts - ALL DAY LONG!
1. Smoke House Deli @ CP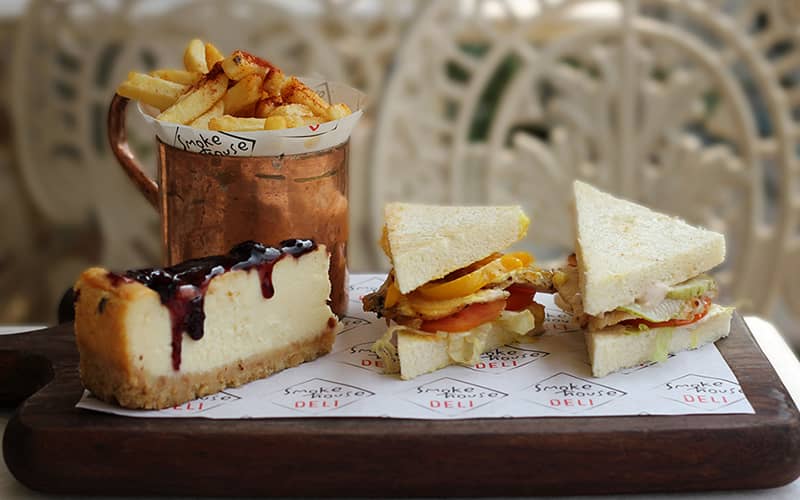 Think of some classy, Lutyen-style interiors and good food, and that's where Smoke House Deli in Connaught Place sneaks in. Not only do they serve drool-worthy pizzas and pastas but also serve a bevy of healthy breakfast dishes that entail bowls of freshly cut fruit, Buttermilk Pancakes, French Toast with Cranberry Compote and lots more - go gorge away! 
Timings | 10 AM - 10 PM 
Meal For Two | Rs 1,600 
Location | 23, Ground Floor, Odeon Building, D Block, CP
2. All American Diner @ India Habitat Centre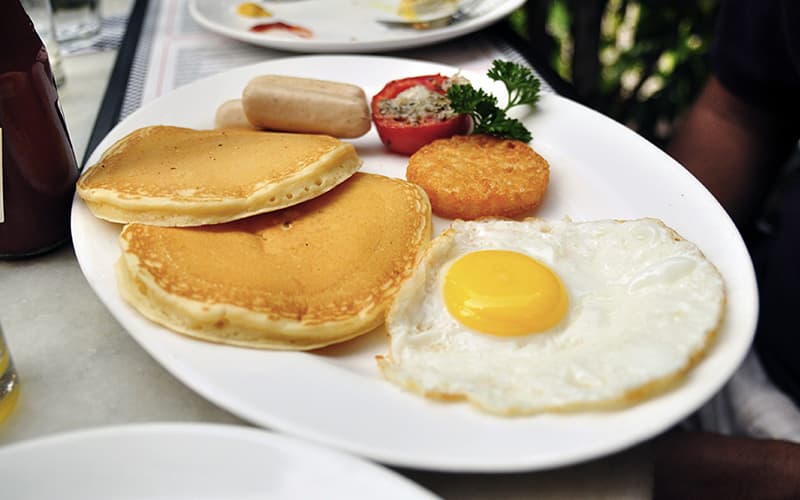 Known for their waffles, pancakes and everything breakfast, the All American Diner looks like a true American classic and serves real delectable delicacies that pull us towards it, over and over again. We love their Omelets and their concoctions of waffles, besides a boatload of other dishes. So head here, and devour your favourites - just like you always have! 
Timings | 7 AM - 12 AM 
Meal For Two | Rs 1,000 
Location | Ground Floor, India Habitat Centre, Lodhi Road
3. Getafix @ GK I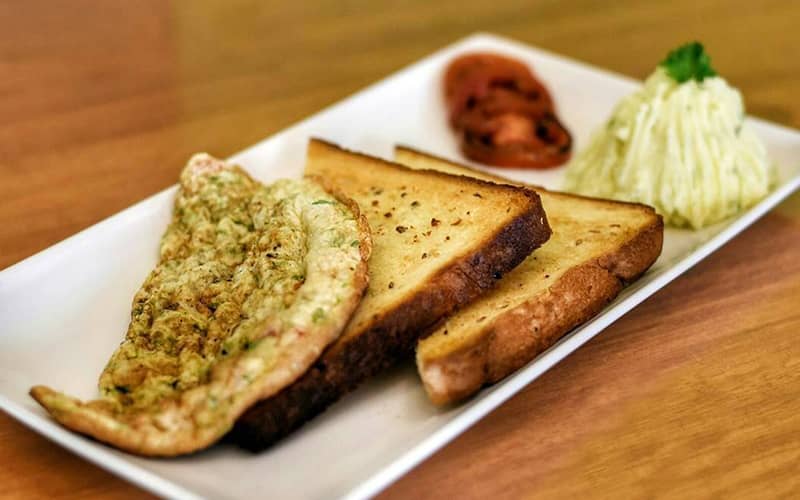 Needless to say, Getafix has won us over with their healthy yet yummy food in no time! And the best part is that they serve their healthy breakfast all day long. So now you can go gorge on a nutritious plate of French Toast, a bowl of sprouts, your favourite smoothie (ours is the Morning Kicker) and much more. They have a pretty varied range of options to choose from, so head over and get your health fix!
Timings | 8 AM - 10 PM 
Meal For Two | Rs 1,000
Location | M-15, First Floor, GK I
4. Social @ HKV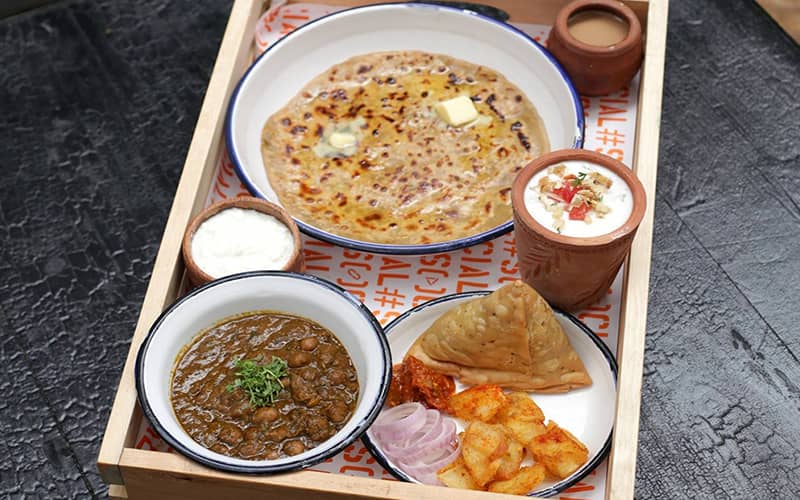 How can this one lag behind in anything?! You'll be glad to know that our beloved Social serves all day breakfasts too. This menu is up for gorging till 7:30 PM, and boasts of dishes like Blueberry Pancakes (ok wow!), French Toast with Peanut Butter, Pancakes with Bacon & Sausages and lots more sumptuous eats *reaches for the wallet right away*!
 
Timings | 11 AM - 7:30 PM 
Meal For Two | Rs 1,600 
Location | 9-A & 12, Hauz Khas Village
5. Sakley's The Mountain Cafe @ GK I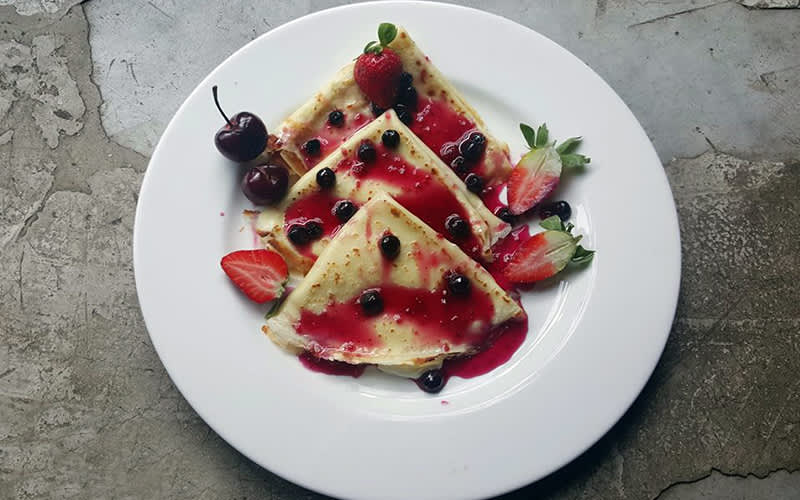 How about having your beloved palate of pancakes in the backdrop of a serene mountain ambience? Sound too good to be true? Well, Sakley's The Mountain Cafe provides you with everything hilly and dreamy! Their breakfast menu is vast and really different from others. Our favourite among their many dishes is their Pancakes with homemade cinnamon-infused peach preserve. So, head over (anytime!) and give yourself a much-needed break!
Timings | 11 AM - 11 PM 
Meal For Two | Rs 1,900
Location | M-23, M Block Market, GK I 
6. Chaayos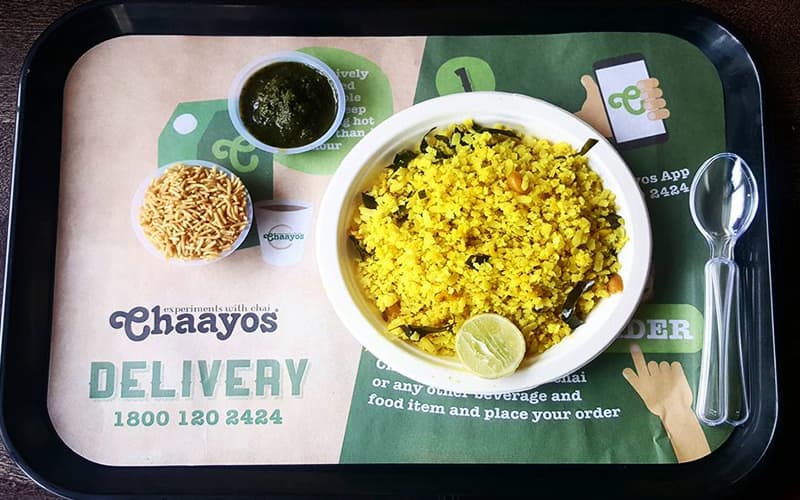 If chai makes you feel as refreshed as a bright & calm morning, then Chaayos has got your back! Serving people a thoroughly novel and awesome range of teas, Chaayos serves light and hearty breakfasts all day long too. Their menu boasts of Mom's Poha, Bun Bhujiya, Keema Pav, Homestyle Fresh Sandwich and oh so much more you gotta go check out!
Timings | 8 AM - 8 PM 
Meal For Two | Rs 400
Location | CP, HKV, SDA & Other Locations
7. Blue Tokai Coffee @ Saket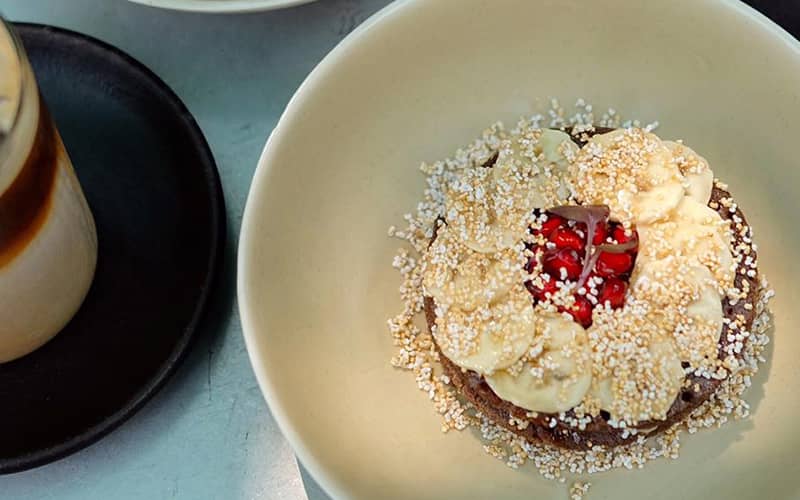 How about an amazingly refreshing cup of coffee along with some true-blue satisfyingly healthy breakfast options? Blue Tokai, the mecca of all coffee lovers in the city, serves drool-worthy breakfast options like Bacon & Cheddar Waffle, Pork Pao Sliders, Scrambled Eggs with Smoked Salmon and tons more yummy options!
Timings | 10 AM - 8:30 PM 
Meal For Two | Rs 350 
Location | Khasra 258, Lane 3, Saidulajab, Saket
8. Rose Cafe @ Saket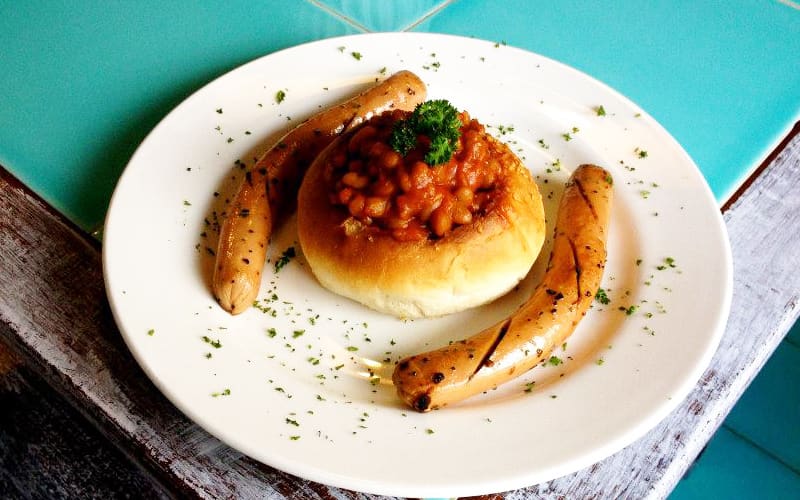 This pretty little whimsical cafe has the most soothing environment, much like morning sunshine. Channeling their happy and calm vibe, they serve delicious all-day breakfast servings like Eggs Benedict, Beans in a Bun, House Breakfast, Mushroom & Herb Omelet and loads more. Head on over for a side of coffee and the most perfect breakfast dishes right here!
Timings | 12 Noon - 9 PM 
Meal For Two | Rs 1,000
Location | 2, Westend Marg, Said-Ul-Ajaib, Saket
9. The Coffee Shop @ Saket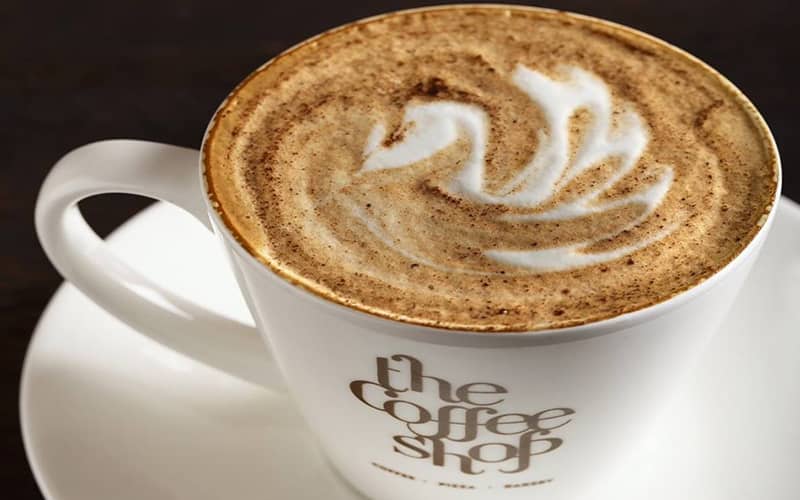 Their all day breakfast menu entails a Waffle Breakfast, Traditional American Breakfast, Egg and Toast and more. Our favourite is their English Breakfast which includes Grilled Chicken Sausages, bacon, kidney beans, grilled tomatoes, a bread slice and complimentary tea/coffee - making for the perfect satisfying treat! 
Timings | 9 AM - 12 AM
Meal For Two | Rs 1,000 
Location | 8, PVR Anupam Complex, Saket
10. Number 31 @ Defence Colony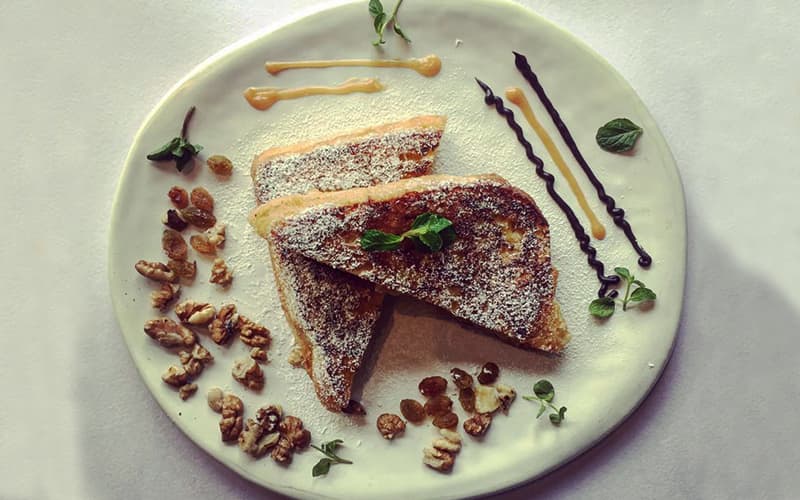 Got a thing for pretty rooftops, terraces and good food (of course!)? Then Number 31 at Defence Colony is the place to be. Their all-day breakfast menu includes the quintessential English Breakfast, Snicker Waffle (woah!), Zucchini Waffle and a bevy of delicious varieties of French Toast, among many other sumptuous options! 
Timings | 8 AM - 8 PM 
Meal For Two | Rs 1,600 
Location | 31, Defence Colony Market
11. Blue Door Cafe @ Khan Market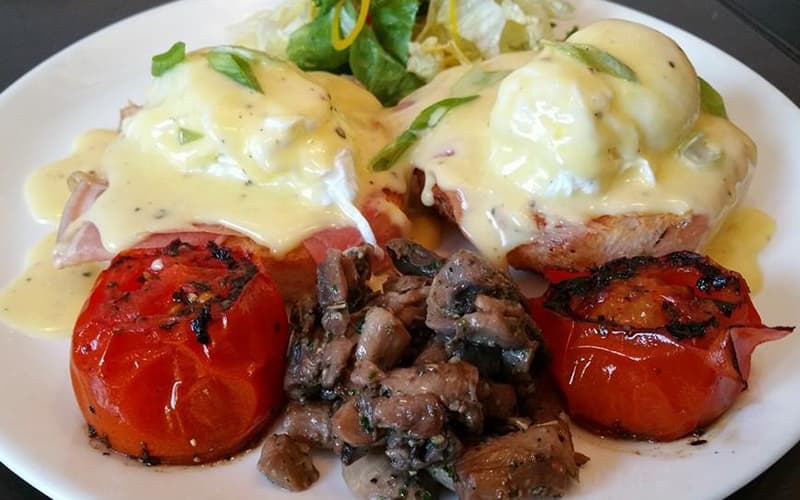 Now this one is well-known for their crazy breakfast options and a stunning & gorgeous ambience to boot. Their breakfast menu boasts of Banana Almond Bowl, Spicy Cheddar on Toast, Crepe Bretonne, European Berry Bowl and a whole slew of mind blowing breakfast options. Go cheggit! 
Timings | 7:30 AM - 11:30 PM 
Meal For Two | Rs 1,700 
Location | Number 66, Middle Lane, Khan Market 
12. Ivy & Bean @ Shahpur Jat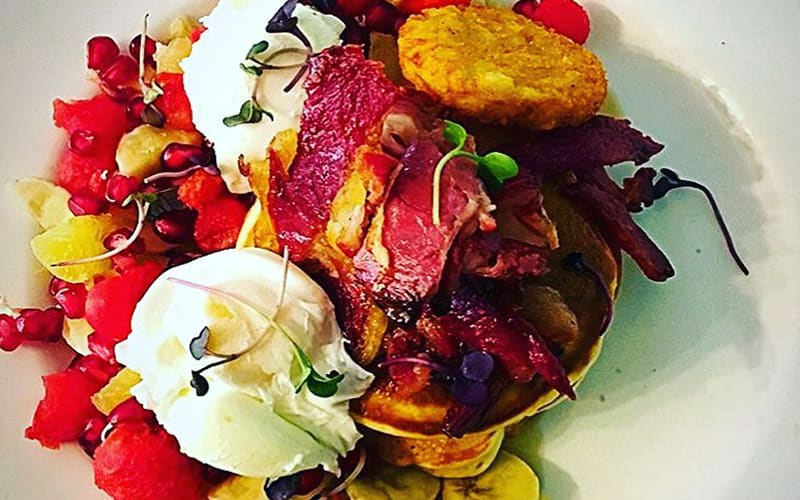 How about devouring your favourite breakfast along with books and a whimsical ambience? Well, that's the pretty Ivy & Bean Cafe for you! Their all day breakfast menu has dishes like Cereal Crusted French Toast, a couple of delectable bagel options, Banoffee Pancake (omg!), Scotch Eggs, Parfait and oodles of more yummies. 
Timings | 11 AM - 11 PM 
Meal For Two | Rs 1,200
Location | 119, Sishan House, Shahpur Jat 
Already mentally ordering your favourite waffles and pancakes? Grab your wallet and head on over peeps!