Delhi
12 Best Places Where You Can Score The Freshest, Prime Quality Fish In Delhi!
This Is A Representative Image
A visit to a Delhi fish market, although a smelly & noisy experience, can be worthwhile especially for all the fish lovers out there! Most of the fish in Delhi comes from the Gujarat seashore and transporting the fish in perfect storage conditions can be quite a challenging task. So we've culled out a list of the best fish markets in town. Read on and devour! 
1. Chittaranjan Park Fish Market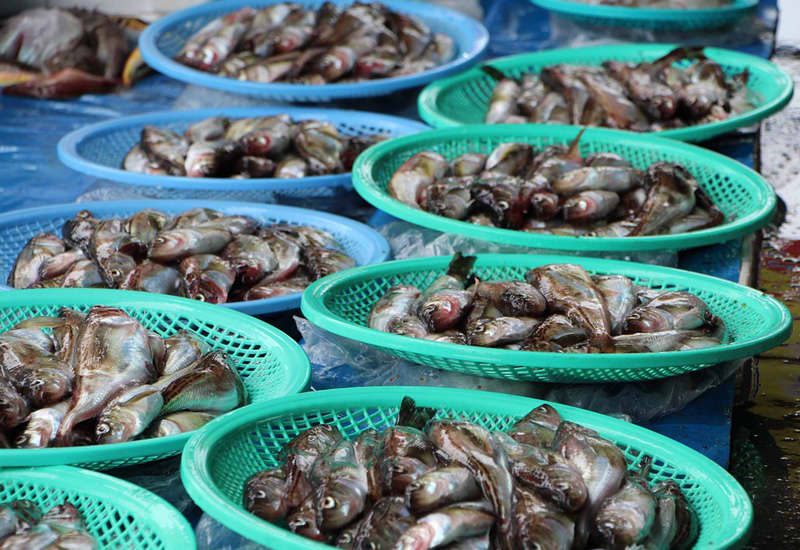 Delhi boasts of some famous fish markets and this locality tops the list! Located near Kalkaji in South Delhi, it's one of the most well-known fish markets where fish of different varieties are sold. As you walk into the market, which is wet everywhere, you'll see rows & rows of fish lined up. Once you select the fish, it is well cleaned and cut into pieces according to your preferences. Surmai (King Fish), Hilsa, pomfret, catfish, crabs, shellfish, prawns & other seafood are available in abundance here!
Where | Market No. 1, Chittaranjan Park
2. INA Market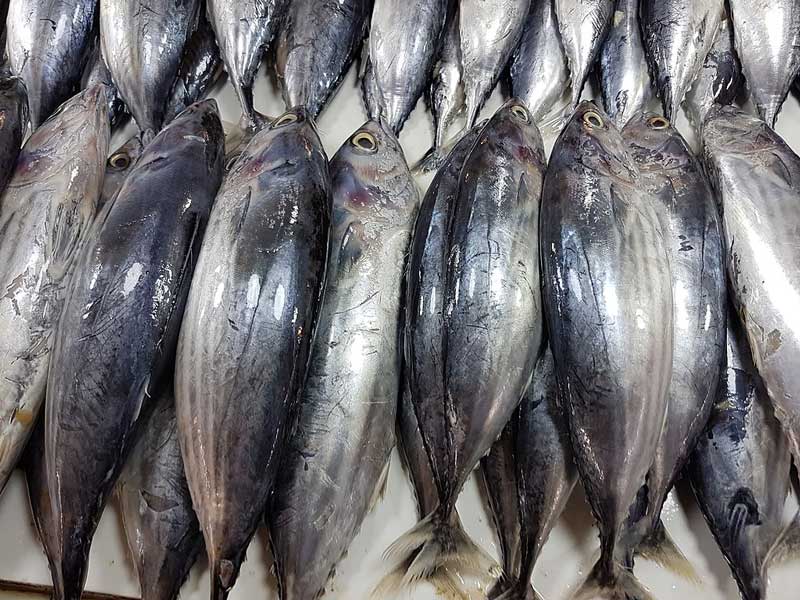 Right across from Dilli Haat, INA Market has quite a few fish stalls selling fresh seasonal fish. Shrimp, prawns, lobsters, crabs and other seafood variants along with freshwater fish like Rohu & Katla are all lined up neatly in the shops there. Another interesting shop sells dried fish of different varieties, a delicacy for many fish lovers. The fish pickles sold in these markets are also quite popular & much sought-after. 
Where | Aurobindo Marg, INA Colony
3. Gole Market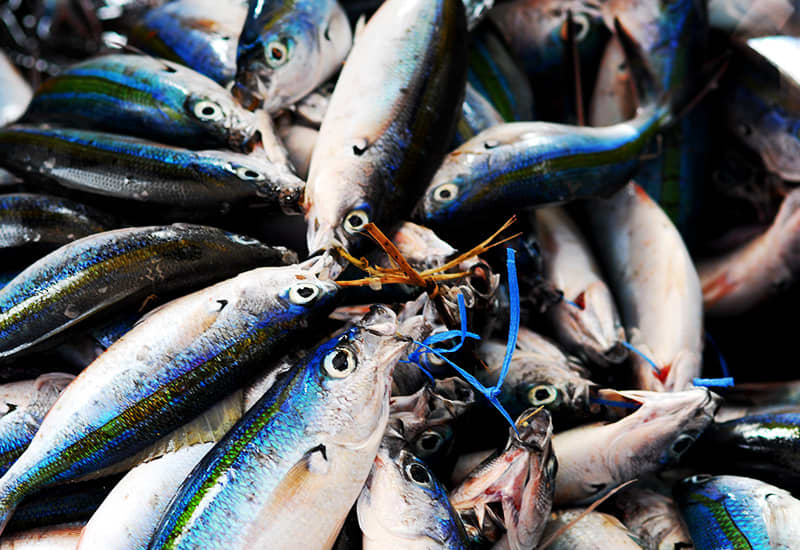 Gole Market is one of the oldest serving colonial markets in Delhi known for a variety of things such as its old-world architecture, stores, sweet shops, post office, nearby places of worship etc. but also its butcher shops selling freshly-slaughtered frozen meat, chicken and a variety of fresh fish in raw form. Go on by to get the freshest cuts and fish in town for that seafood spread you've been craving!
Where | DIZ Area, CP
4. Ghazipur Fish Market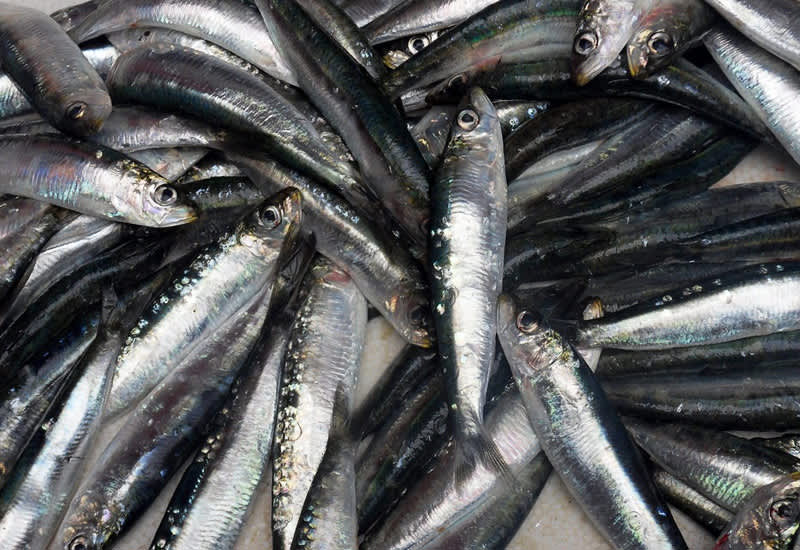 Also known for its Phool Mandi, the Ghazipur Fish Market is known as a wholesale market for fish of all manners and kinds. With the increase in the number of seafood and coastal restaurants in town, this market is doing extremely well and is the go-to place for buying fish in bulk, since you can easily negotiate a sizable cut in market rates when you end up picking up massive quantities!  
Where | Ghazipur
5. The Abhinav Frontier Fish Center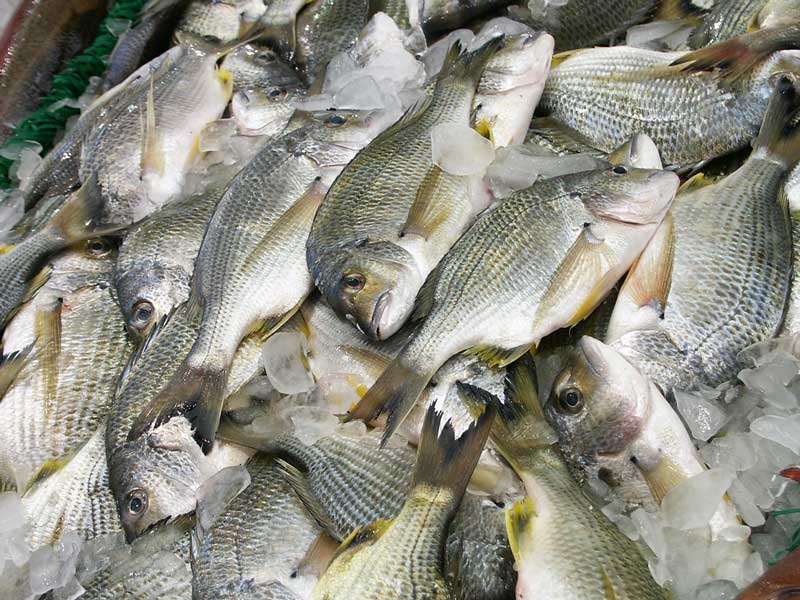 A premium shop selling fresh and frozen fish, The Abhinav Frontier Fish Center in Sarojini Nagar carries a great huge of fish - Hilsa, Pomfret, Surmai, Catfish and also seafood like prawns, crabs and many more stocked abundantly and displayed for the customers to choose from. A variety of frozen fish is also available which has been packed in hygienic conditions. This retail outlet has impressive options for those who love fish - go try them!
Where | Sarojini Nagar
6. Gujarat Fisheries Central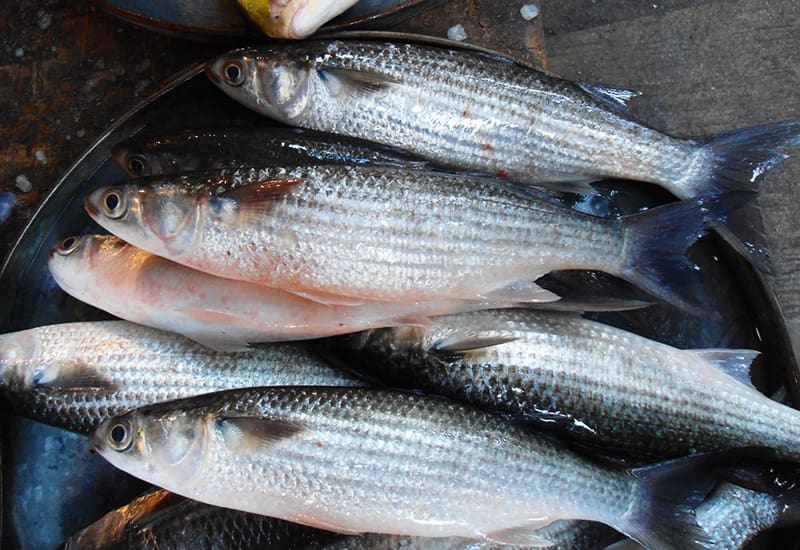 Based in Yusuf Sarai, this is a well-known market selling various types of fresh fish. If you are hunting for the freshest, it is definitely one of the best places to buy seafood in Delhi as everything is extremely fresh and hygienically kept and prepared. Plus, its proximity to the Green Park Metro Station also makes it a handy place to know!
Where | Yusuf Sarai, Near Green Park Metro Station
7. Le Marche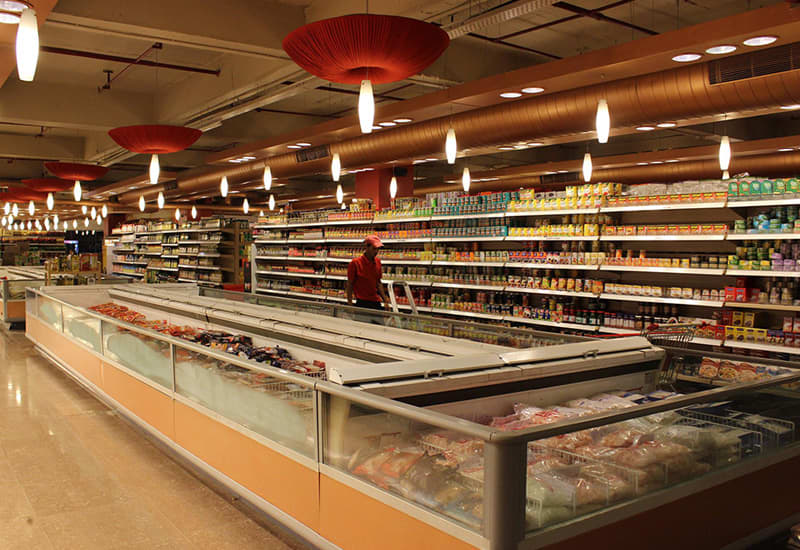 Located in DLF Place and DLF Promenade, Le Marche stores a wide variety of processed fish foods such as shrimp patties, fish cutlets & fish fingers - et al. These products are well-packed & hygienic, and ready to be doused in the gravy of your choice. Many imported brands & Indian premium brands are also sold here, so drop by!
Where | DLF Place, Saket & DLF Promenade, Vasant Kunj
Check Out Their FB Page | https://www.facebook.com/LeMarcheIndia 
8. Nature's Basket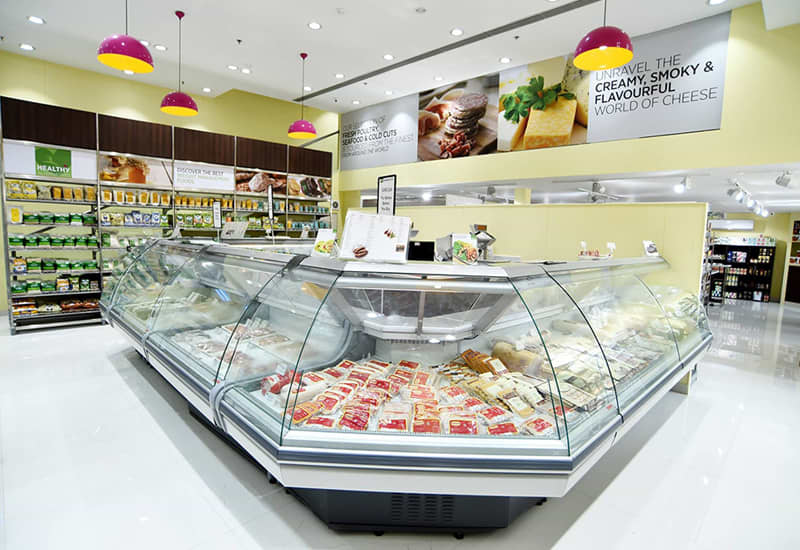 One of the best, most reliable supermarkets is Nature's Basket! The best thing here is that they don't just offer raw fish but instead a range of flavoured fresh fish like Lemon Pepper Basa fish, Tiger Seer Fish Surmai and many more. They have multiple stores spanning all over Delhi NCR, and they have an amazing online store as well. Go order!
Where | DLF Phase I, Gurgaon, 15-Community Centre, NFC & Other Outlets
Check Out Their FB Page | https://www.facebook.com/NaturesBasket
9. Foodhall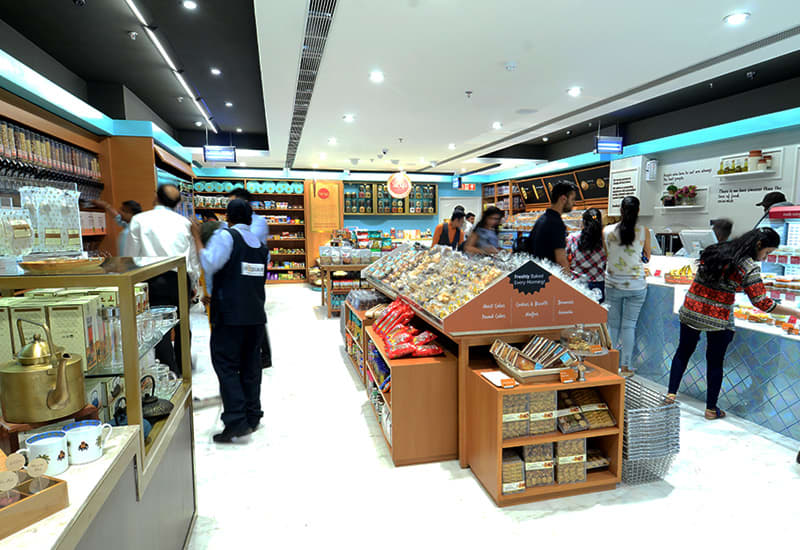 Giving all of us a premium lifestyle food superstore experience, Foodhall has everything you can ever need for your culinary excursion! From amazing herbs to international fruit and sauces, they've got it all. They've got one separate section for a wide variety of fresh fish, and the best bit is that it isn't even smelly here! See you there, shopping baskets in tow.
Where | DLF Place, Saket, DLF Promenade, Vasant Kunj & Other Outlets 
Check Out Their FB Page | https://www.facebook.com/FoodhallIndia 
10. Zappfresh 
Delivering raw and fresh meat, fish and seafood at our doorstep Zappfresh. Keeping your health in mind, they offer sparkling Omega-3-rich fish like Anchovy fish, Basa fish fillet, Catla fish, frozen Vietnamese basa fish fillet, Indian Salmon fish and loads more. Go take a look at their online store, choose what you need, and devour away!
Order Online Here | https://www.zappfresh.com
11. O-fish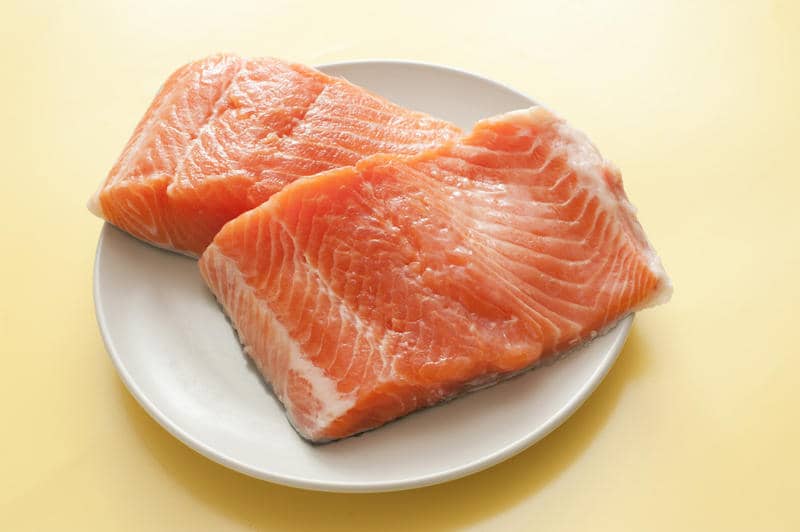 This Is A Representative Image
Selling fish all over Delhi & Noida is the online portal O-fish. They supply freshwater fish, sea fish, prawns, crabs and basically all other manners of seafood that you would want to buy from your local fish market. So browse through their online store, and order yourself your favourite fish and hog away in the comfort of your home! 
Order Online Here | https://o-fish.in/ 
Check Out Their FB Page | https://www.facebook.com/ofishdelhi 
12. LionFresh.com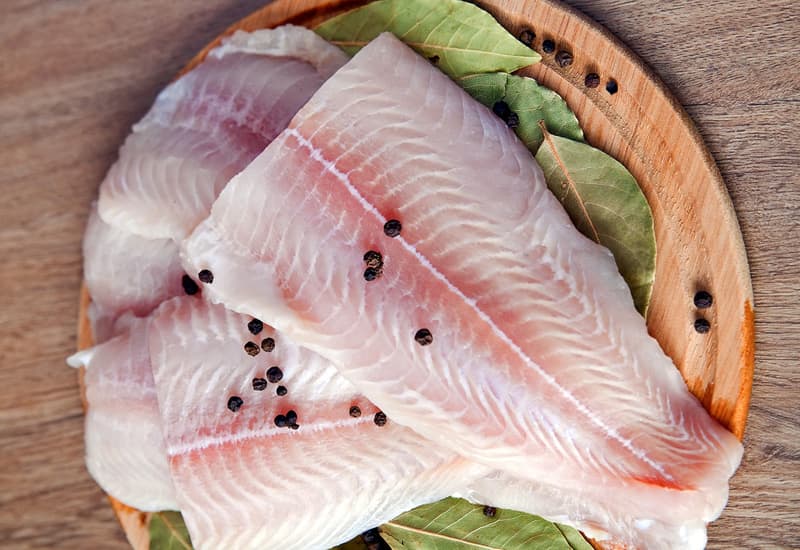 The master of delivering high quality, fresh and raw meats and seafood is LionFresh! They hygienically prepare and vacuum pack all their products to keep all the nasty germs at bay. They offer Red Snapper Fillets, Reef Cod, Emperor Fish Fillets and tons more options to choose from. Go scroll through their offerings and order yours - they home deliver!
Order Online Here | https://www.lionfresh.com/
So there you go - go drop by any of these awesome markets or online stores for your fresh fish supply and get cracking on your seafood extravaganza!