Delhi
Butter Chicken Samosa, Dark Chocolate Samosa & 80 Other Varieties @ Medley Samosa Lounge In Janakpuri
All of us have grown up relishing the street delicacy, that is Samosas. Stuffed with masala potatoes, peas and onions, many of us have stood in line to get the freshest batch of piping hot samosas! And with time, with the growing experimental palates of Delhiites, samosas too have taken on a unique twist with some crazy varieties available in town, including this one-of-a-kind samosa lounge serving up some 80 hatke and quirky samosa varieties! 
Here's what we tried at this joint with a few standing tables and what you must too:
Chicken Malai Tikka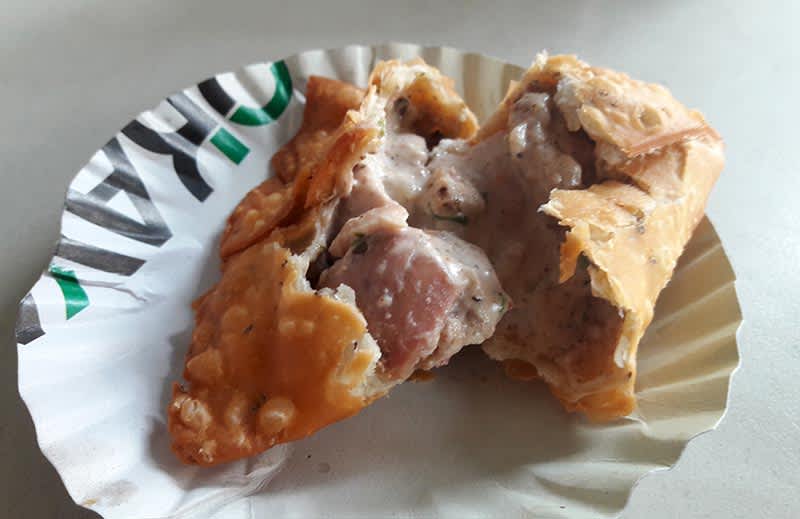 Yes, our favourite snack - Chicken Malai Tikka is available in an all-new avatar. This samosa is as delicious as it is unique. Stuffed with the richness of cream and chunky chicken, this one samosa is heavenly on the tongue. Devour this divine blend of Mughlai and Street cuisine at just Rs. 50. You will fall head over heels in love with samosas all over again! 
Price | Rs 50
** P.S. : Did you know? You can now download the So Delhi App for iOS & Android. Click Here **
Macaroni Samosa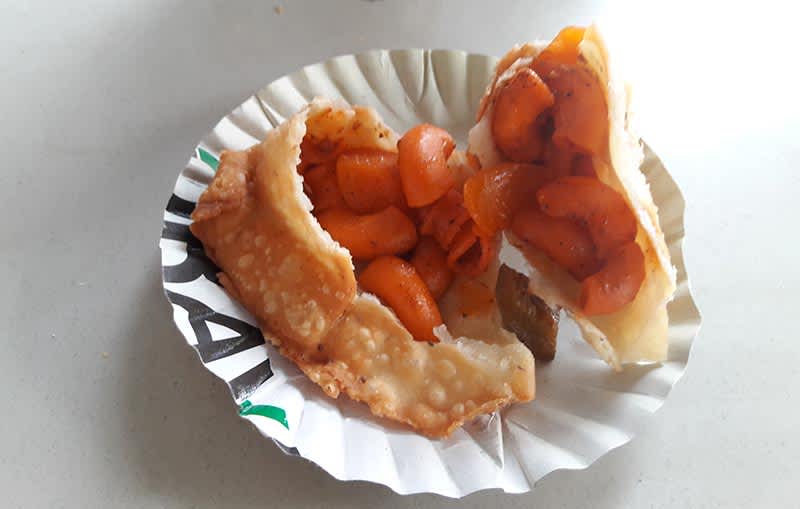 Macaroni Samosas are the most enjoyed unique variants of samosas available around Delhi. Stuffed with macaroni, diced onions and capsicum, this joint does full justice to this awesome fusion creation. The macaroni is a little on the sweeter side, but it didn't still ruin the whole experience for us. The crunchy outer coating of the samosa complimented the soft, succulent Macaroni, making it one appetizing dish. Gorge on this unique Macaroni Samosa at just Rs 25; it can't get better than this!
Price | Rs 25
Chicken Keema Samosa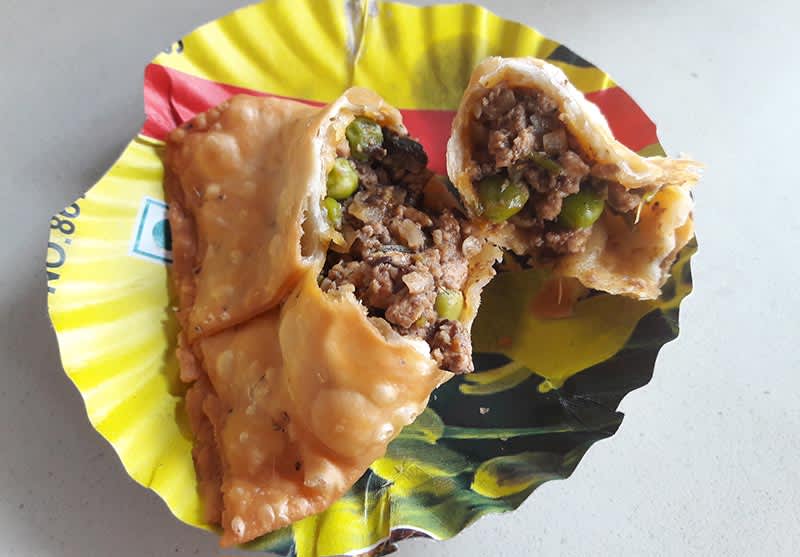 This Chicken Keema Samosa straight outta the oil is hot, fresh and downright yummy! Priced at Rs. 45, this samosa is filled with keema chicken, diced onions and peas making it the signature dish of this shop. The chicken is flavoursome and juicy and the samosa is fried to perfection. All it would take is just one bite to make you fall in love with this crazy innovation. Definitely one of the most delicious sells at this place!
Price | Rs 45
Chilly Chicken Samosa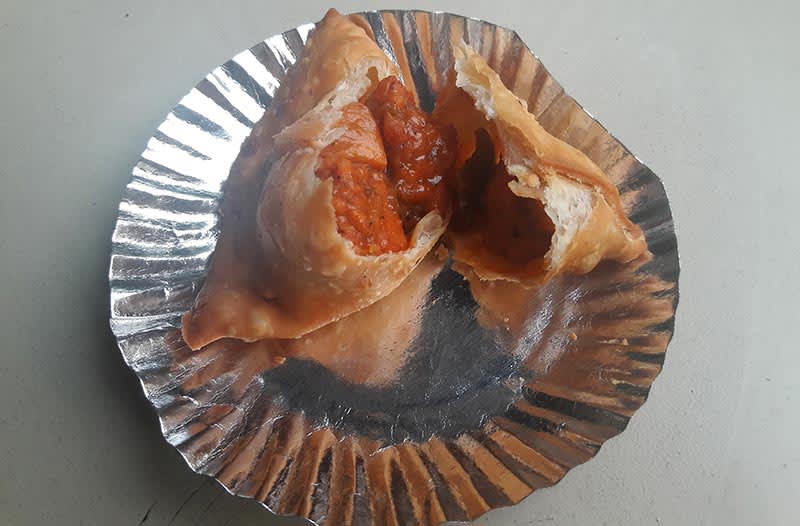 Taking the Indo-Chinese delicacy of Chilly Chicken and giving it a samosa makeover is a task in itself and we must give it to them that they have passed with flying colours. Devouring juicy, chunky and spicy chicken marinated in a classic chilly chicken style tossed with diced onions and capsicum stuffed inside the samosa is pure love!
Price | Rs 50
Veg Pizza Samosa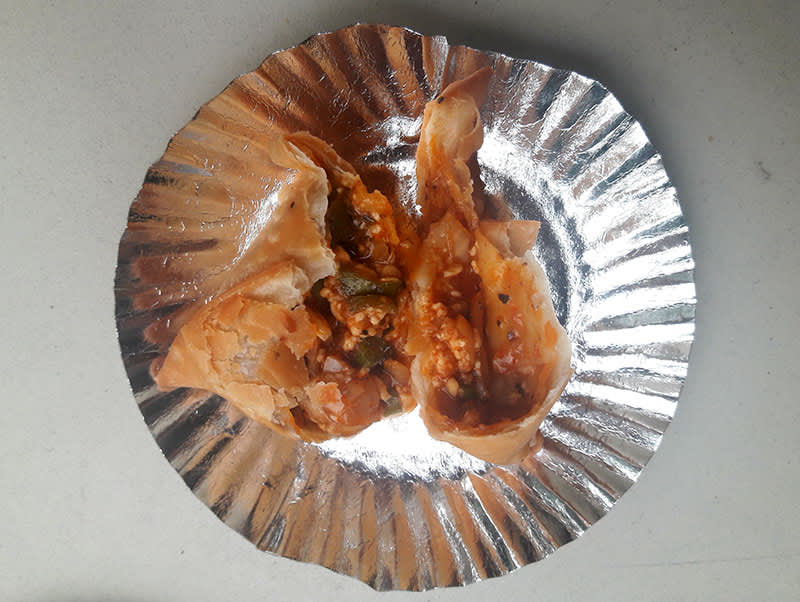 We were so excited when we found out that this place serves Pizza Samosa but alas, the taste was not quite up to the mark. Stuffed with a cornucopia of veggies like beans, tomatoes, onions and capsicum and loaded to the brim with cheese and ketchup, the taste was a bit overwhelming. The cheese had a weird smell and the whole array was on the sweeter side due to an overload of ketchup. You can give this one a miss, and rather try their other delectable range.
Price | Rs 45
Besides all this, you can munch on Butter Chicken, Kadai Paneer, Chowmein, and even Dark or White Chocolate samosas. So head on here to gobble up some exciting variations of samosas right away! 
Where | Medley Samosa Lounge, C-4B/308-A, Pocket 13, Janakpuri