Delhi
Butter Chicken, Mutton Seekh & More: Devouring Scrumptious Rolls @ Art Of Spices, Karol Bagh
Karol Bagh market is known for the variety of shops that do business there. From mobile phones in Gaffar Market to second copy clothes of luxury brands in Tip Top Market, Karol Bagh has it all. And since it's always crowded, numerous food joints have started popping up which sell mouth watering food items at REALLY inexpensive prices. These joints offer everything from street food items to proper North Indian meals.
We found one such joint called 'Art of Spices' which offers North Indian food, momos and rolls. With one heck of menu, this place is a delight for all you foodies out there! The place can be reached with a two-minute walk from the Karol Bagh Metro Station. Contrary to what you might think, their food isn't actually very spicy. *WHAT* Yeah, it seems they've mastered the art of using spices because their rolls have just the right amount of chilli and just the right pinch of salt. And the best part - the paranthas they make are the softest paranthas ever! We are not kidding, guys. The paranthas covering the rolls are so soft, they will actually remind you of pancakes!
We tried their most famous rolls:
Mutton Seekh Roll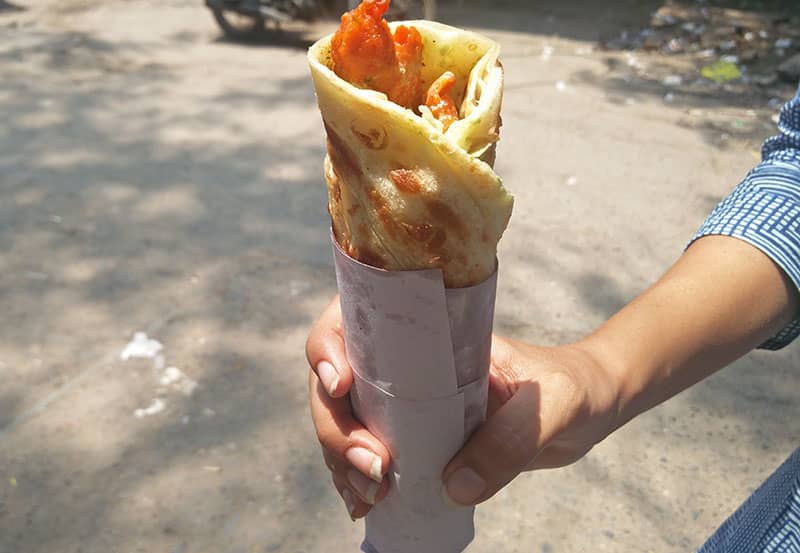 Next, we ordered their Mutton Seekh Roll. Eating the first bite of the roll was when we realised that Art of Spices has actually mastered the art of making perfect rolls! The flavour of seekh didn't overpower the taste of mutton at all. Stuffed with huge chunks of mutton, onions, green chilli and mint chutney, the roll was delicious!
Price | Rs 100
Butter Chicken Roll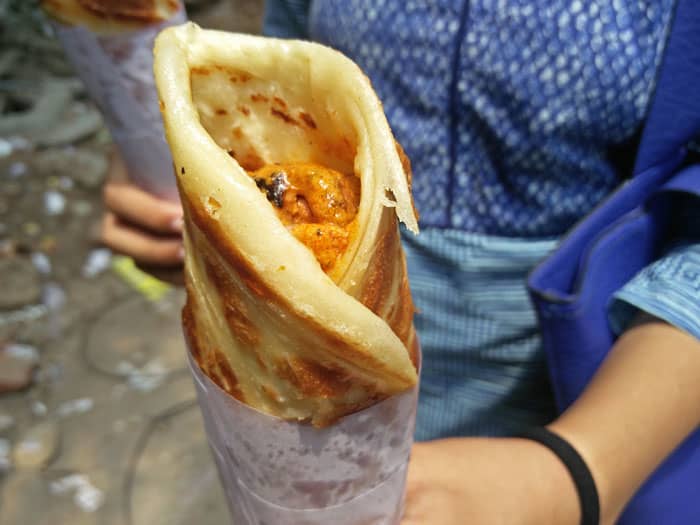 There's nothing better than our good ol' butter chicken, is there? And that's what we ordered. Their Butter Chicken Roll tasted even better than what we had expected! Soft balls of chicken cooked with the perfect blend of sauces, it was just what we needed. We're drooling over here just thinking about them!
Price | Rs 130
Tandoori Chicken Roll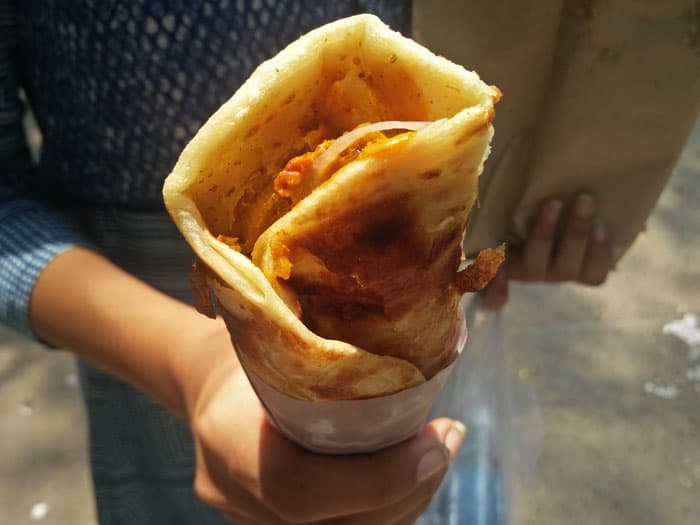 We tried their famous Tandoori Chicken Roll as well. Well, it's basically a chicken roll with the additional filling of their Tandoori Delight sauce. We felt that the tandoori sauce kinda overwhelmed the chicken. But it's still definitely worth a try. The stuffing included chicken (duh?) and onions along with some delicious gravy. Not their best, but still worth the price!
Price | Rs 80
Paneer Roll
Finally, we tried their Paneer Roll. The roll was stuffed with huge pieces of paneer along with some onions and a perfect pinch of masala. One bite and our taste buds were dancing in joy. Try it once with their mint chutney and we bet you'll be coming back for more of these finger-licking-good Paneer Rolls!
Price | Rs 70
If you're a little extra hungry, you can also have their Double Chicken Rolls or whatever filling you like. There's also an option of adding some mayo or Tandoori Delight sauce if you want your favourite roll to come alive even more. We were a little disappointed because there wasn't any seating area. The parking space is also very small and congested. But nevertheless, we give this place a big thumb up!
Location | The Street Behind City Hospital, Karol Bagh