Delhi
Butter Chicken Macaroni & 3 Other Scrumptious Things To Try @ Bhookhaa In GGN
This cutesy little café in DLF Qutab Plaza Market is quite popular owing to its unique name and we decided to give it a try. Honest to god, we couldn't find a flaw! Not in their service, not in their food, not in their ambiance, not in their décor, and certainly not in their music. The owner, Svetna, is almost always available at the outlet, taking orders, describing the concept behind their signature dishes, and sometimes even making a healthy detox cucumber ginger drink that doubles up as a palate cleanser! Their portions are decent, with flavours so heavenly, you'll be short of words. Our verdict - we came, we tried and we loved!
1) Hazelnut Mushroom Soup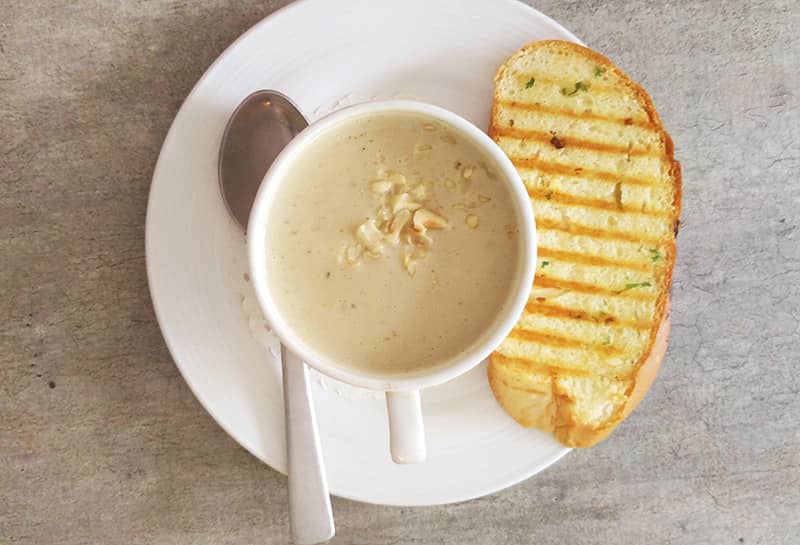 This thick, creamy cup of warmth with a side of scrumptious garlic bread is the perfect starter. Be careful though, it's much more filling than it looks and will completely fill your stomach and soul with warmth and happiness before you know it, so don't go by its small-looking portion size. The texture and consistency of this soup is practically flawless and the tiny chunks of hazelnut just make it all the more heavenly. Dip the generously seasoned garlic bread in the soup for an amazing crunchy yet soft treat!
Price | Rs 130
2) Dahi Roll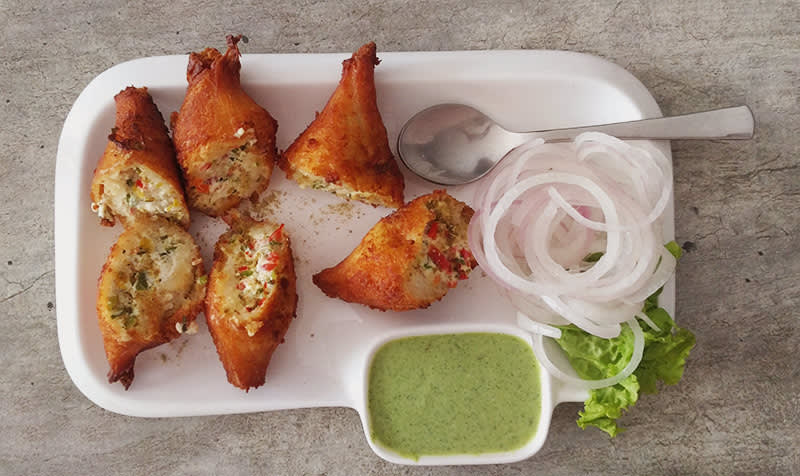 Our love for dahi ke kebab made sure we couldn't resist ordering this, especially after the owner told us that it is one of their bestselling dishes. Finally, a dahi kebab that wasn't just stuffed with hung curd and barely any coriander; Bhookhaa's Dahi Roll has a delectable stuffing of hung curd and red, yellow and green bell peppers with a flawlessly crispy coating that makes every crunchy bite melt in your mouth. However, the slightly sweet flavour that we so often get in dahi kebab was missing, but we couldn't complain because we actually liked this better than most other variants of the dish we've had so far!
Price | Rs 195
3) Butter Chicken Macaroni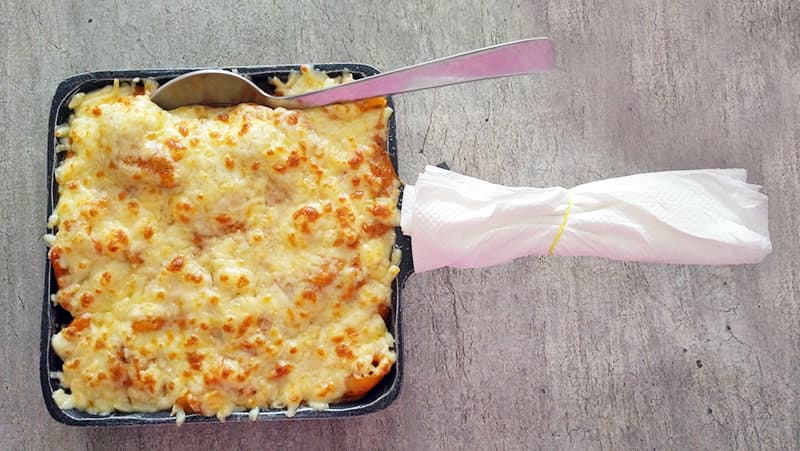 Picture this: baked cheese, butter chicken, and pasta cooked together to perfection! Who wouldn't go gaga over this dish? The succulent pieces of chicken in the lovely non-spicy butter chicken gravy that we love so much topped with more cheese than we could ask for, this dish is what heaven tastes like (and guilt, too)! There's no way we could leave even a single bite of this behind, that would have been a sin. Once we came back to our senses *groan* we realized how it would require a week's workout to burn away this yumminess from our belly!
Price | Rs 195
4) Chocolate Fondue
No matter how full you feel, there's always space for dessert, right? Yes! This luscious bowl of yummy molten chocolate accompanied by banana slices, chocolate cake, marshmallows, and tiny biscuits is probably the best way to end a meal (or even start one!). We'd almost forgotten how well banana goes with chocolate and this dish reminded us in the most delicious manner.
The chocolate cake, baked by the owner herself, is melt-in-your-mouth gooey and when you dip it in the fondue, you'll want to overdose on this addictive chocolaty combo! The tiny biscuits were a crunchy change from the other items we didn't realize we needed and the marshmallows were simply yum!
Price | Rs 195
We'd recommend you to totally try this café out because we're simply in love with it! There are so many other dishes on their menu that we can't wait to try and the lovely collection of jazz music that Bhookhaa has will surely make you feel like you're somewhere much more exotic than our most popular concrete jungle.
Where | N5, Qutub Plaza Market, DLF Phase 1, Gurgaon
Here's Their FB Page | https://www.facebook.com/bhookhaafood/
P.S. - Please note that prices here may be subject to change!