Delhi
Here's All About The Buddha Jayanti Park, Built On The 2,500th Anniv. Of Lord Buddha's Enlightenment
Gardens are the ornaments of a city and they have an important role in describing the lifestyle of its people. Delhiites are blessed with spectacular gardens that are spread over a large area, which helps people stay fit and adds to the crispiness and chirpiness of Delhi's aesthetic mornings! Some gardens in Delhi have marked their base since ancient times apart from a little renovation, while others are man-made. 
Buddha Jayanti Park is one of those man-made gardens built in memory and on the 2,500th anniversary of Lord Buddha's enlightenment. A sapling of the original Bodhi Tree, under which Lord Buddha meditated and attained enlightenment was brought from Sri Lanka and planted here (it was originally planted in Sri Lanka by Emperor Ashoka's son). Hence, it's an important place from the Buddhist religion's point of view. 
Lush Surroundings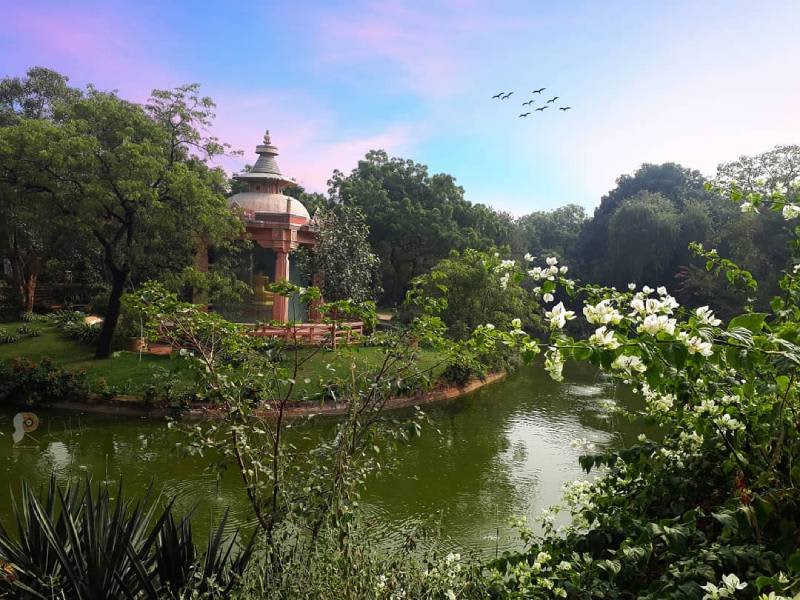 Picture Credits: rahulsuryavanshi4u
It's an absolute delight as soon as you enter this garden, as the lush green trees of Keekar and Jamun invite you to the retreat with big bushes surrounding the edges, and on the ground, there's a lush green carpet of grass that envelops you. This garden has almost all types of trees found in Delhi NCR such as Keekar, Babool, Gulmohar, Amaltas and Kareel, which therefore invite many species of birds like Woodpeckers, Barbets, Herons and Peacocks.
There is an elevated platform built resembling an island, right in the middle of an artificial lake which has a beautiful golden statue of Lord Buddha surrounded by water and long shadows of trees, which makes it a mystical sight. The park organizes Buddhism classes for people who want to get to know more about the religion.
Main festivals like Buddha Purnima and Buddha Jayanti are celebrated with great joy, as this garden transforms into a place for understanding the Buddhist culture and traditions. Many people often come here with children and they love it instantly, as the garden offers a big playground for kids and engages them in their world. One of the major problems here is the lack of any food stalls close by, hence it's better to carry some snacks along. Restaurants available are in the neighbouring areas of Satya Niketan and Chanakyapuri. 
Bear In Mind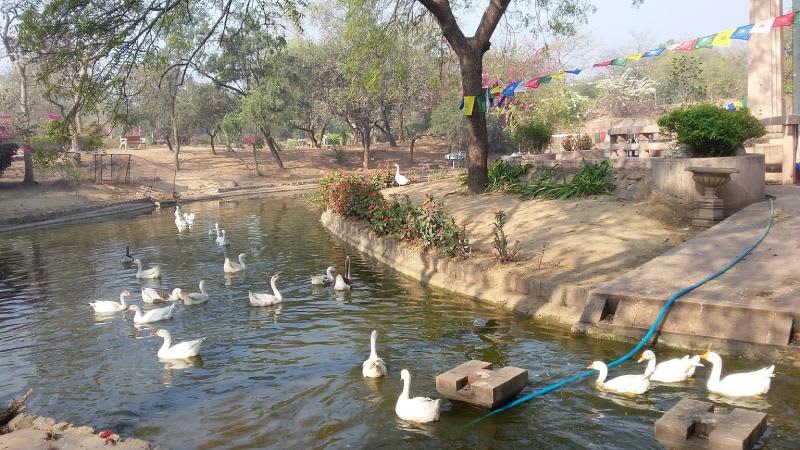 Picture Credits: Anil Gadi
A word of caution: During the afternoons, in the soaring temperatures, this place turns into a couple's paradise as people from all age groups come here to declare their love in their own little ways, however, for some it could become a little uncomfortable and awkward as after all, that's not the sole reason you visit a park or garden. Sadly, some eve-teasing and rape cases have also been registered in this area, although there is the proper deployment of police, so one needs to be careful, especially during the late hours of the night.
It's situated on Sardar Patel Marg, near Dhaula Kuan and Talkatora Stadium. The surrounding area is Central Ridge, an extension of the Aravalli ranges which is 860 hectares in area and offers varied flora and fauna. The park opens up at 5 AM and closes at 7 PM, and there are no entry charges.
A park fraught with religious significance and a place of comfort and introspection - come drop by Buddha Jayanti Park once the current health crisis improves! Till then, stay home and stay safe! 
Where | Buddha Jayanti Park - Vandemataram Marg, Central Ridge Reserve Forest