Delhi
Bracketed in Luxury, Casual Elegance & True Fusion: Why We're in Love With Niche in CP
We turned our wheels to the always-bustling and sparkling din that's a quintessential Saturday night in Delhi's CP. Not a random night out, this! We were on a mission, and so, clutching our quivering pens and rumbling bellies, we made a beeline towards Niche Bar & Lounge! Step in and you rap up straight against their spectacular, long and glowing bar, at which point our heart promptly told us 'This is my kinda place!'.
Sauntering in further, we were thunderstruck by the cozy, thoroughly leather-studded (in every nook and cranny) ambience of this beautiful gem of a place sitting pretty in CP. With each piece of furniture carefully plucked and sourced from a different corner of the globe and strategically placed strobe lighting paving our way, we were already halfway in love! Adding fuel to our infatuation, their absolutely cutesy stage complete with old-style mics (which made us want to boogie!) plus their awesome outdoor seating areas: one with pretty white cabanas and white wicker-work patio couches, and the other a stunning wooden deck with its very own bar area, simply made us beam with anticipation!
Come take a peek into everything we sampled here!
True Blood 2.0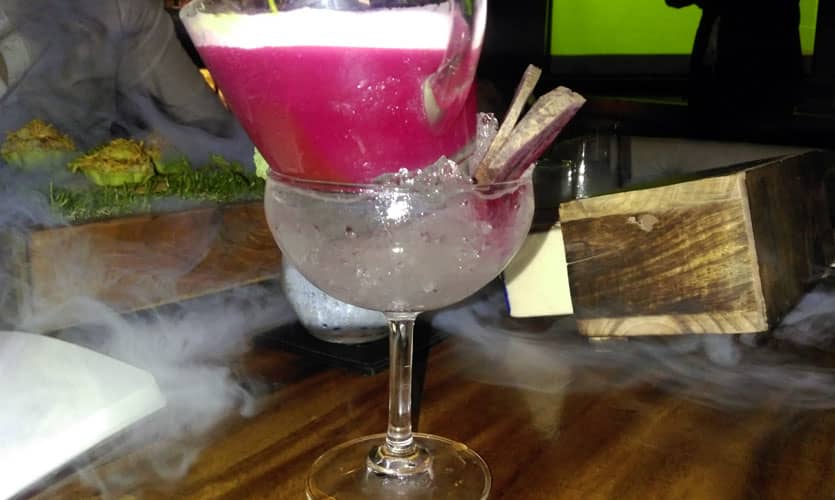 Starting off with a juicy, healthy cocktail to whet our appetites, we sampled their True Blood 2.0. They say 2.0 because this was previously a mocktail which became so popular that they decided to make a cocktail of it! It's got basil-infused vodka, beetroot shrug, apple cider and lots of sprinkled cloves - yummy, healthy and all kinds of punchy!
Palak Patta Tart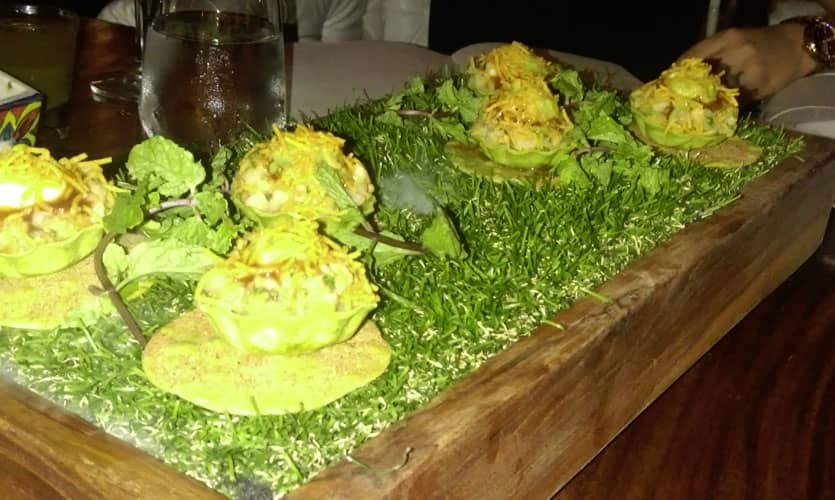 Reminiscent of little balls of chaat that don't dribble all over your chin as you pounce on them, their Palak Patta Tartlettes were bursting with a core of yummy ravioli yoghurt, crumbly and immensely satisfying chickpeas and the tarts themselves were fashioned out of spinach leaves and topped with tamarind chutney - now that's what we call a lip-smacking appetizer!
Shrub Step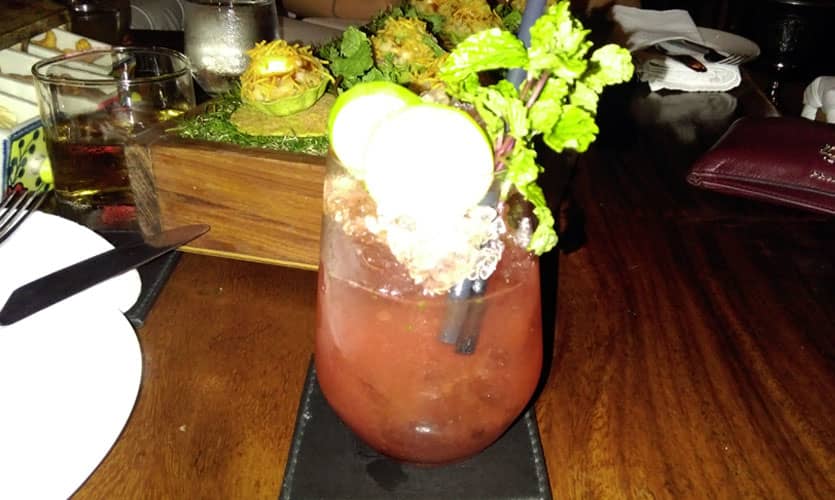 Tangy, fresh and divinely cool on our tongues, this cocktail, notwithstanding an obviously cheeky wordplay on 'dub-step', was a really frosty drink to spark off our evening with, and was a merry concoction of basil-infused vodka and berry compote poured fresh over mounds of crushed ice and garnished with sprigs of mint leaves!
Paneer Dum Ka Roll with Stewed Bell Peppers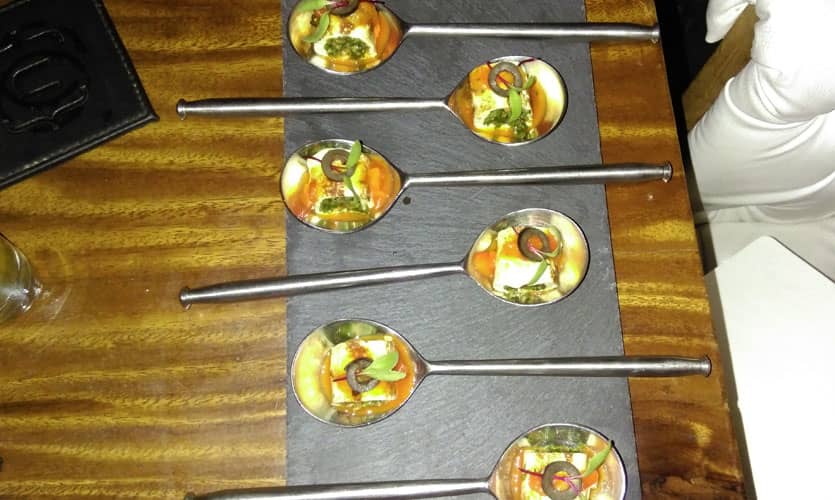 Yummy little, perfectly cooked paneer chunks were hollowed out and stuffed with smoked (yum yum) and flavoured stewed veggies, including the crowd-favorite - bell peppers! The presentation was as appetizing as the dish itself, and is meant for the true discerning gourmand in you!
Marc Jacob's Daisy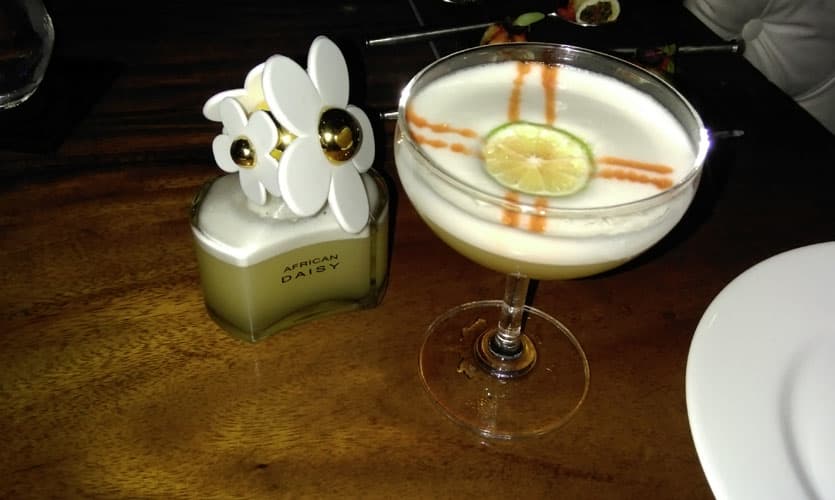 Nope, you're still scrolling through a food review folks, that's exactly what our next cocktail was called! Coming to us as separates in a cocktail glass as well as in an emptied-out bottle of Marc Jacob's famous fragrance called Daisy, they've crafted this cocktail around the scent! One of the most intriguing cocktails we've sampled yet, the drink was frosty, sexy and needless to say, smelled like bottled heaven *wink wink*!
Pappu Chicken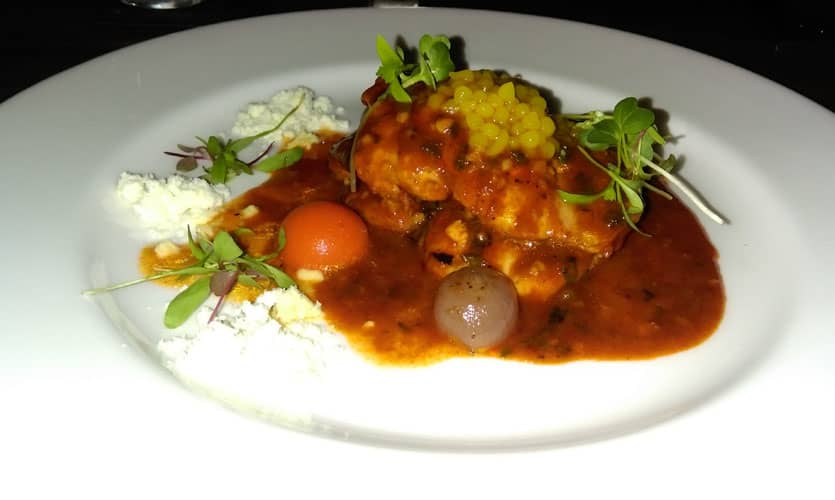 With bright twinkling gleams in our eyes, we're now about to introduce you to a lil something Niche calls 'Pappu Chicken'! One of the tastiest and surprising (there's a reason for that) chicken steaks we've had in awhile, Pappu Chicken certainly knows how to walk (or perhaps dance!) the tightrope between sweet, salty and tangy all at once, and was grilled to perfection! The steak was smothered in mint-flavoured bbq sauce, bell pepper ravioli and (omg) caviar! This one's definitely not to be missed, fellow Pappus!
Chai & Rye Julep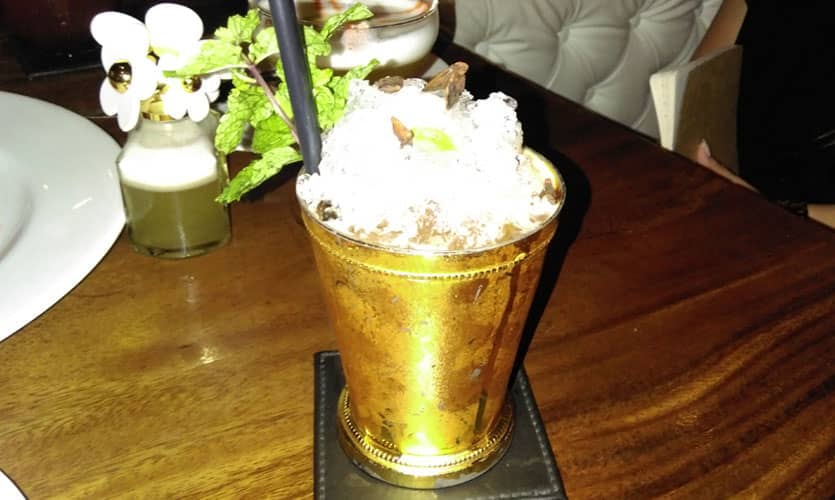 We repeat ourselves (but can't seem to help it), but this drink again blew us away by its sheer novelty! Thoroughly chock-full of different flavours warring to create a perfect medley that was, surprisingly, not overwhelming, it consisted of Canadian whiskey, chai, honeycomb and grapefruit bitter topped with apple cider and mint. Fair warning - if you're in the mood just to chug a few beers and get good and buzzed, this may not be the drink for you! Nonetheless, the true connoisseur would be delighted by this one.
Malabar Prawns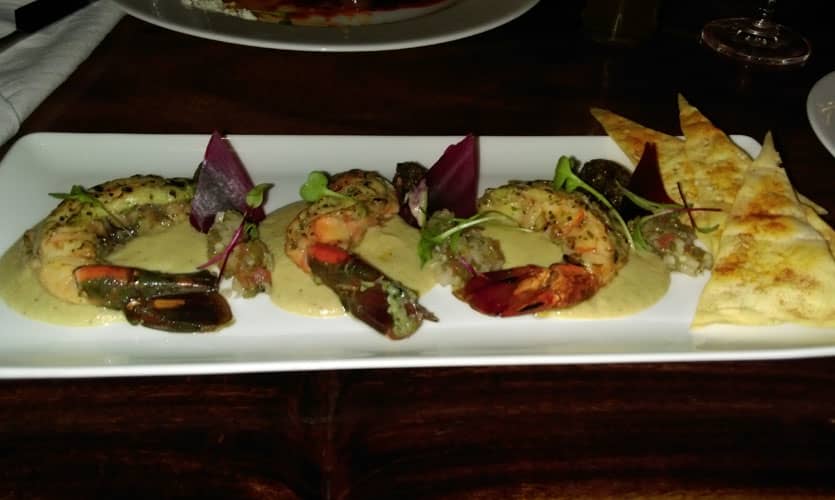 Superbly creamy and tender prawns, which was not surprising, seeing as they were cooked in the raddest sous-vide technique (where meat is sealed in plastic bags and then placed in a water bath to bring out flavour), their Malabar Prawns were served with coconut-flavoured syrup, and served with capers and olive tapenade and beetroot chips. Deliciously yummy, this dish is for all the seafood lovers out there!
Charmula Baked Prawns with Khus Khus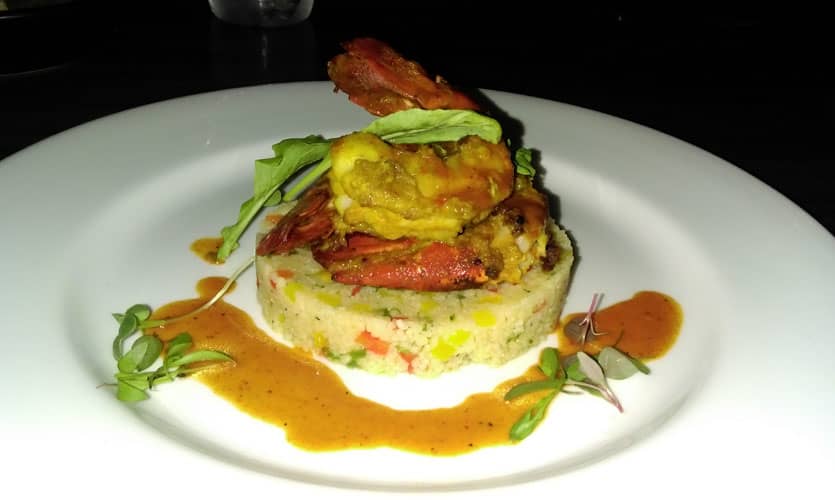 Baked prawns served on a bed of yummy and healthy Khus Khus, we learn our lesson that healthy need not be confused with tasteless! The prawns were baked, and gently came apart at the slightest nudge of our eager fork, and the Khus Khus simply added to our gastronomic bliss!
Peach Sorbet Bellini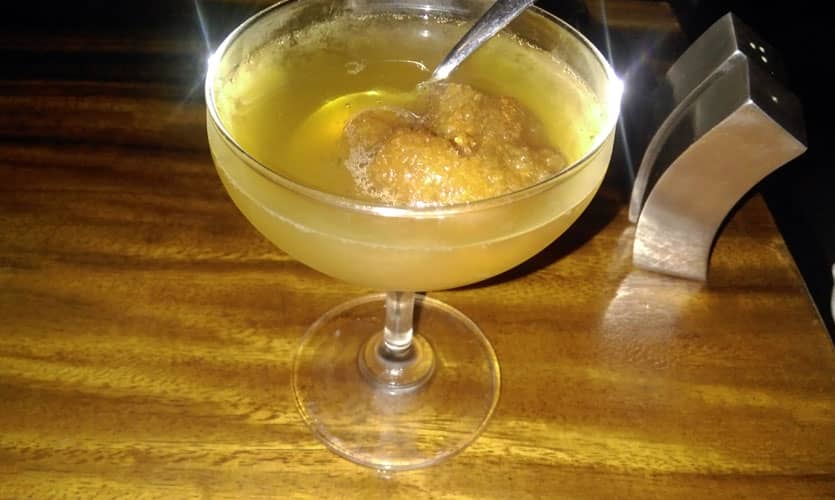 A frosty, perfectly rotund and fat mound of sorbet sat in the middle of a cocktail glass, over which was poured (to our delight!) a generous helping of sparkling Chandon (omg!) and we were beside ourselves with glee! Floating chips of iced sorbet swimming in spectacular sparkling wine - we were mighty impressed Niche!
Hokkaido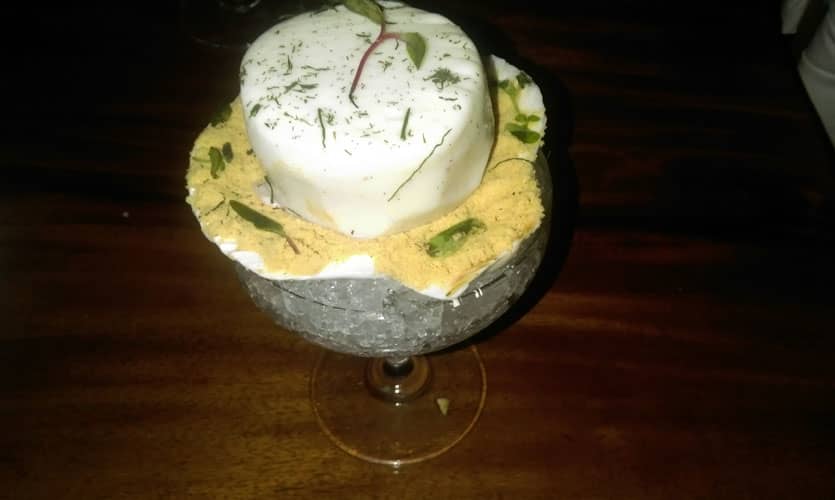 Perfectly wrapping up our amazing evening here at Niche, we were presented with our dessert called Hokkaido, named after an island far away in Japan. A cutie-pie vanilla pod lay stranded in the middle of a crushed Parle-G biscuit sand-encrusted island and made up of fresh cream, milk and vodka, this was one edible bomb of a cocktail! Yum yum.
Potato & Broccoli Kofta
Okay so we'll be straight here - this one's our very favorite off of Niche's spectacularly progressive fusion menu! As far as fusion cooking goes, it really doesn't get any better than this - ready to fall apart at the slightest prod, these delicious rolls were composed of methi-malai peas, cashew gravy, green cardamom flavouring and fenugreek. Each bite reminded us of the great gobs of effort it takes to blend completely opposing ingredients together to form a cohesive whole - well done Niche!
Blue Velvet Sheesha
If we liked Niche before, we tumbled head over heels in love the moment we took the first drag off their Blue Velvet Sheesha! Puffing away to glory, we were told that every hookah flavour served here was prepared fresh and in-house, and Blue Velvet was a merry mix of coconut, paan (Benarasi and Calcutta) plus a hint of rose. You just have to try this one guys, it's divine!
So there you go! We were mighty impressed by the attention to detail and perfectly-prepared, well-thought-out gourmet fusion presented to us and you will be too! How about we see you at Niche this weekend?
Meal For Two | Rs 1,500
Location | 2nd & 3rd Floor, M-16, Outer Circle, CP