Delhi
Walk Down This Ancient Yet Marvellous Sadhna Enclave Tomb And Baradari
Sadhna Enclave is a densely populated upmarket locality between Malviya Nagar and Panchsheel Park, but hidden behind those shiny edifices is a pair of obscure monuments hardly remembered by anyone nowadays. 
We are talking about the age-old Sadhna Enclave Tomb and Baradari (arched hall), that may not be from the same era but now stand in front of each other separated only by a narrow road. Despite being located in an affluent locality, very little is known about them but, it sure will make for a great afternoon expedition with friends! 
The Tomb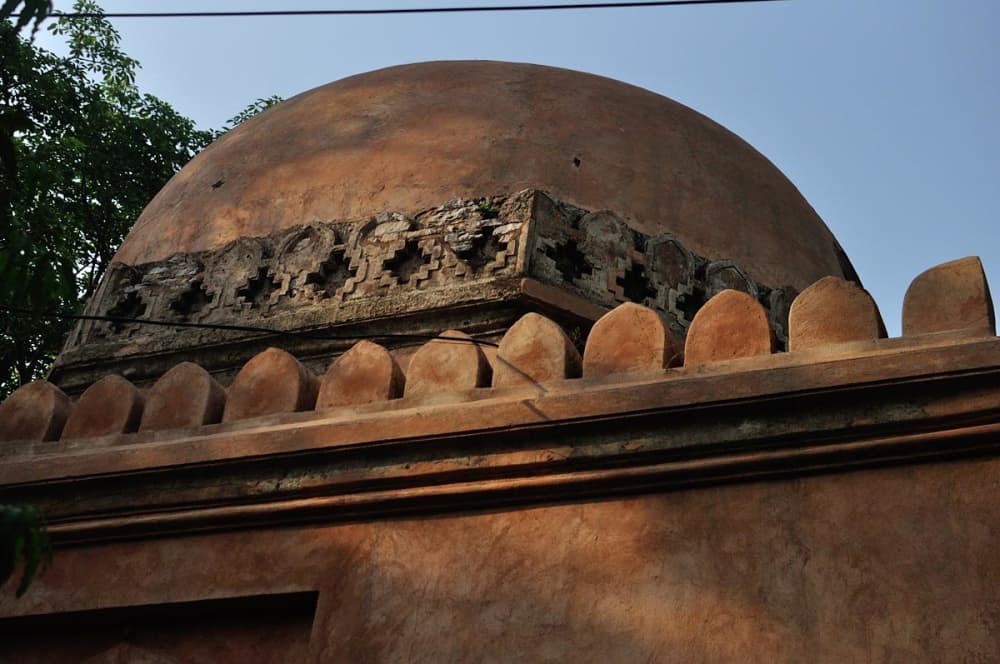 The tomb is expected to be from the Lodhi era, or at least that is what it seems from the architectural style. It is a square shaped tomb, so it was probably meant for a nobleman rather than royalty. It has the usual domed structure with arched doorways on three sides barring the west which has a mihrab, i.e. a prayer niche on the wall directed towards the mecca. It stands on a robust foundation which is a bit higher than the plain. 
The walls have been decorated with some intricate craftsmanship although they have partially decayed over the centuries and the grave inside the dome can be seen through the gateways. It is believed that the whole tomb was covered from all sides with a thick enclosure however they have been partially destroyed. So, some parts of the circumference are still covered with high walls while the rest have been grilled by the authorities to prevent encroachment. 
The monument is surrounded by residential buildings from all sides and so it is very difficult to get a clear and complete view of this monument. 
The Baradari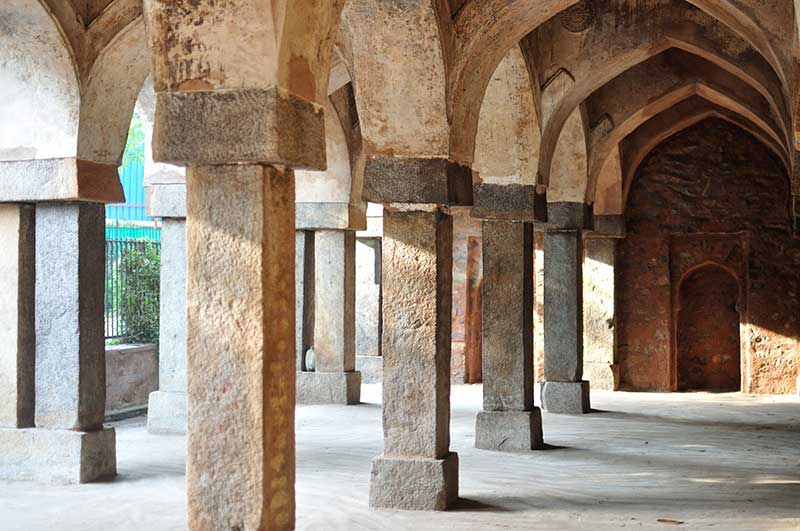 The Baradari is located on the other side of the road. It is basically an arched hall with seven distinct bays lined from North to South and also three parallel bays deep inside. It even predates the Tomb and is believed to be from the Tughlaq period of the 14th Century. 
Several months were spent to renovate the Baradari to structurally strengthen it and polish the facades. Various minor damages and cracks have now been covered with new plasterwork to make the monument look newer than it actually is.
Finding the Monuments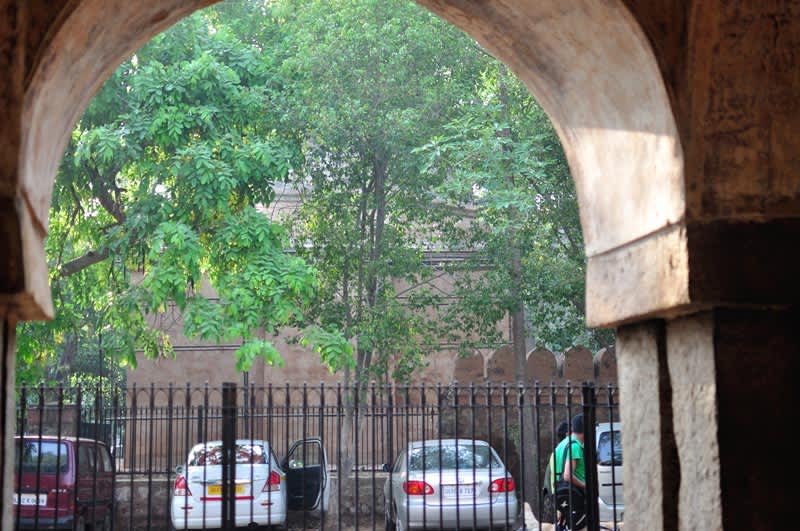 Although they sound obscure, finding these monuments is actually not that difficult. They are located near a DDA park frequented by the locals. One can approach it from different sides. From Malviya Nagar, one can enter the Sadhna Enclave through one of the smaller lanes emanating from the Maharshi Dayanand Marg. Otherwise one can also watch out for the park from Panchsheel Marg on the other side and then keep walking through the road past the park till you notice one of the monuments. There is a Shani Mandir nearby which should be easier to locate by asking people. 
So head on out and spend a day exploring these lovely monuments!
Location | Sadhna Enclave, Panchsheel Park