Delhi
Book This Artist's Retreat In Jaipur That Has Walls Full Of Sculptures & Books For Rs 1.9K
If you're an artist, you'll understand the need to escape to someplace peaceful and quiet to think about nothing but that incomplete novel that you've been writing since ages, the painting that's keeping you awake at night or the tunes that you're trying to pour your soul into. If we've read your mind, then read on as we've found you the perfect artist's retreat made by an artist himself!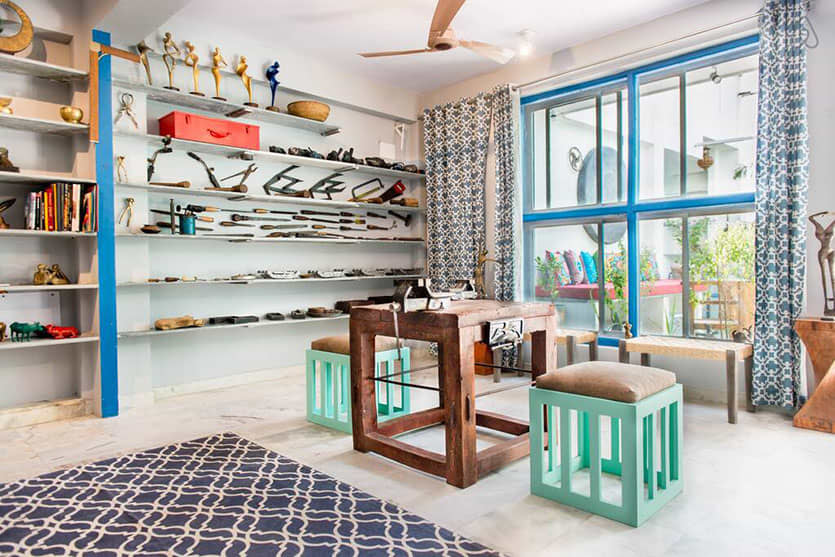 Away From The Din & Distraction | There's a charming and colourful place that we discovered in Jaipur which is basically a sculptor's studio turned into a homestay. Located in close proximity to malls, eateries and other historical sites, this place is tailor-made for all you artists who'd like to work on their masterpieces without distraction and once done, run over for some yummy food and sightseeing. 
Now here's why we fell in love at first sight with this homestay - there's a huge and airy bedroom, where the walls are adorned with shelves holding real treasures for any artist - books, sculptures, paintings and antiques. Pretty bicycle sculptures, antique clocks and those trunks that generally evoke nostalgia as soon as they are opened are some of things you're likely to spot here. 
There's also a private terrace filled with plants and colourful cushions where you can head over to in case you need some motivation for writing your novel. This is the place that'll bring out the philosopher in you. You'll also get free WiFi here, so get done with all the work you have over a cup of tea, eh?
And art enthusiasts, there's also a beautiful art gallery here in the homestay in case you needed some motivation or ideas to complete your masterpiece. Go ahead and check this place out for your next solo weekend getaway! 
Tariff | Rs 2,200 (As Recorded On 21st August, 2019)
Where | The Artist's Studio - Panch Batti, Patel Colony, Hathroi, Jaipur
Book Your Stay Online Here | https://www.airbnb.co.in/rooms/14999327
These Pretty Images Of The Place Will Make You Wanna Book ASAP!