Delhi
Bond. Coffee Bond! Slurping Our Way Through The Cutest Coffee Shop in All The Land!
Skipping across town, sniffing around for our caffeine fix, we decided to go hunting for the perfect coffee shop! And sure enough, we found ourselves parked right in front of The Coffee Bond, a pretty, intimate little slice of coffee haven tucked away in a shady, cozy and breezy corner of South Delhi's Anand Lok. Clutching our wallets and flaunting smartphones at the ready, we bounced in!
Blond wood-slated low tables and cutesy chairs greeted us as soon as we stepped in and we were immediately assailed by the unbelievably homey scents of freshly-brewed coffee *happy sighs*! Already craving our fix, we looked around about us to see regular patrons already plonked down at their favorite tables, jabbing away at their laptops and tablets, steaming mugs of coffee already placed at their elbows. We knew then that this was our kinda joint! 
Quick Tip - You'll want to get here before 12:30 PM - that's when they whip up fresh waffles and a full breakfast spread meant to be devoured by the Gods! (No, we really kid you not)
With upbeat, flowing music pumping us up, we sat back and prepared to order us up a feast! Here's what we ended up trying (and needless to say - loving!).
Caffe Bond Latte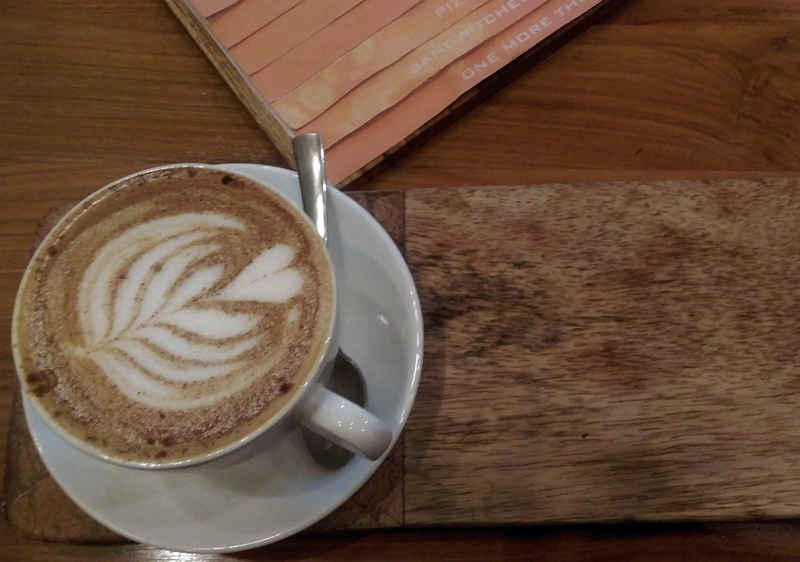 First things first - we promptly asked them which one was their best coffee and received the unhesitating answer - Caffe Bond Latte! Immensely packed with copious amounts of dynamite-like caffeine, each sip was robustly infused with - get this - pumpkin spices, cardamom, gushes of cinnamon and of course, 100% Arabica coffee beans. A warm, dainty cup holding within it bursts of flavour, rich coffee and the dreamy smell of vanilla essence, we happily sipped away to glory! Just one thing though, the cuppa could have done with a little less sweetening, but other than that - yum yum!
Complete Protein Salad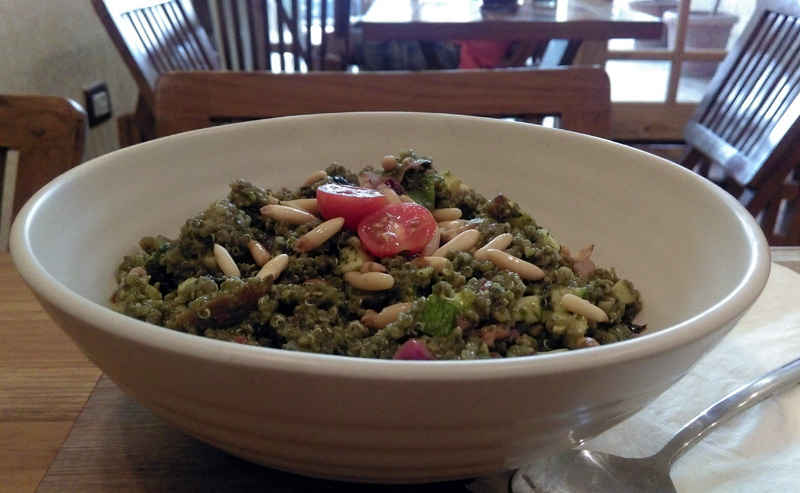 Deciding to detoxify last night's hangover, we decided to opt for something green, leafy and decidedly healthy - their Complete Protein Salad! Absolutely power-packed with basically every manner of green veggies and nuts galore, the bowl set before us was a virtual minefield of proteins! Replete with perfectly diced and chopped superfoods like the super-popular quinoa, zucchini and the delightfully crunchy French croutons ensured we just kept stabbing our spoon in and munching away. The pesto sauce liberally splashed in made an otherwise-bland bowl of greens lip-smackingly tasty and appetizing. To top it all, the pine nuts garnished on top were absolutely yummy and a nice surprise!
Iced Mocha Latte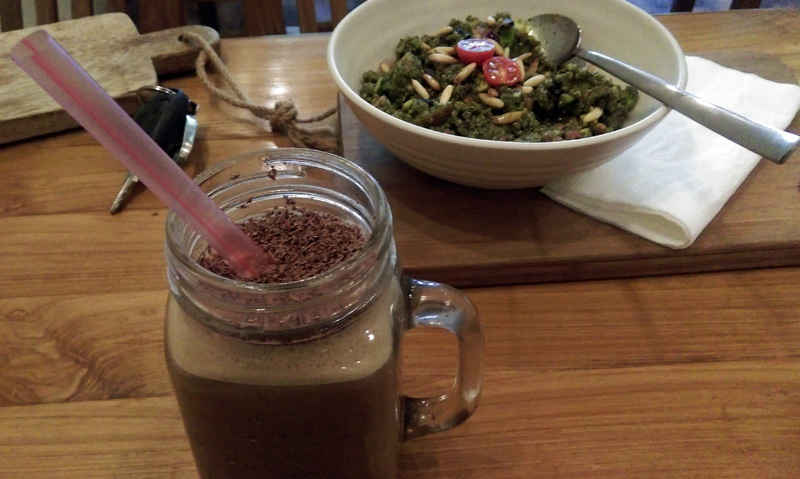 Served up to us with a flourish in a cutesy, thick and clear mason jar with a big-ass straw sticking out the top, we contemplated our rich Iced Mocha Latte with unbridled joy! Chocolate shavings generously flopped around the top, and from the very first sip, we were floored! With the delightful, slightly-bitter tang of good, strong coffee flooding our mouth, we were in java heaven. Gently imbued with dollops of mocha, the drink was light, cool and lay perfectly nicely on our taste buds. We loved it not just because of the great coffee, but because the drink was just so light you could easily slurp up half the jar in one swallow! Definite must-try folks.
Ragi Cookies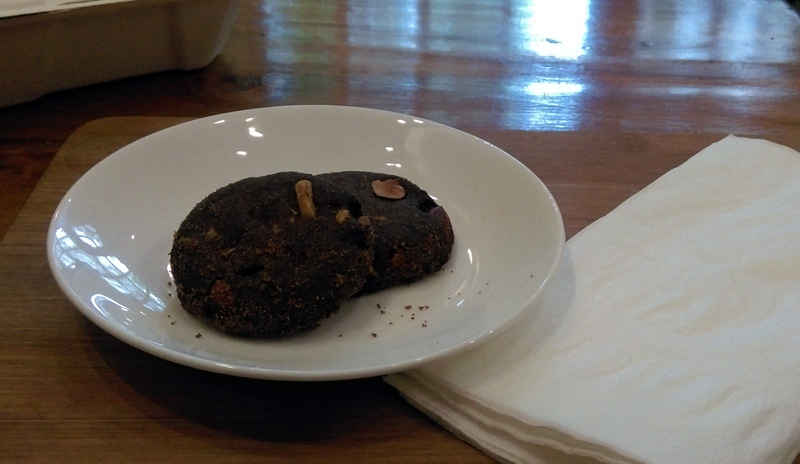 Crunchy, crumbly and superbly homemade and light, their Ragi Cookies were concocted with loads of Ragi, copious bits of cashews and almonds. We happily munched away on this perfectly sweet rounding up of our mid-morning indulgence!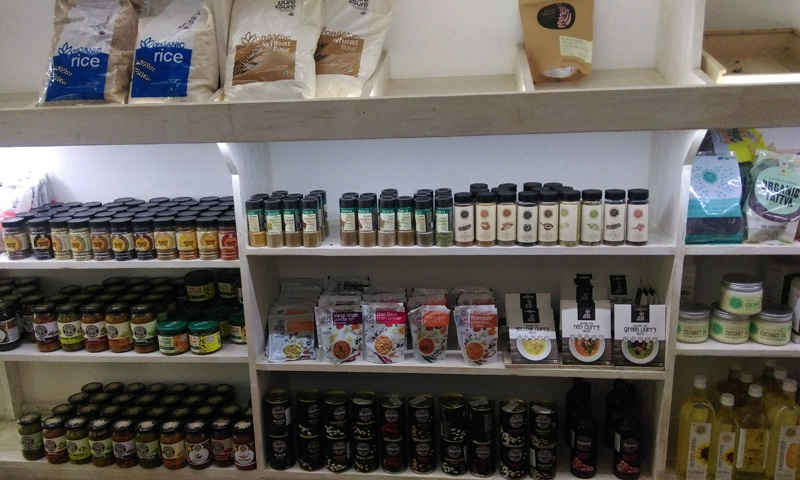 We were super-impressed by the laid-back, easygoing ambience of the place, which literally just begs you to come in and spend hours just chilling here (they've even got free WiFi)! Not just coffee, they've got a superbly curated menu that boasts of a fab range of herbal teas and iced teas, smoothies, sandwiches, wraps and even pizzas! Another cool tip - they also run an incredibly cute and well-stocked Bond Organic Store right next door, which houses everything from groceries to organic masalas, jars of pure coconut oils, pickles, teas and even Dark Chocolate Spreads!
We've already bookmarked this one for our coffee breaks and breakfast haunts - you just have to come over and try this one! See you there.
Meal For Two | Rs 500
Location | Shop No.4 LSC, Uday Park Phase I
Call Them Up | +91 9999 535 458
Here's Their Website | http://thecoffeebond.in/