Delhi
Black Fondue, Heavenly Momos & 7 Other Yummies We Gobbled Up @ Boombox Brewstreet, GGN
Another addition to one of Gurgaon's most happening locales, Boombox Brewstreet in Sector 29 had been on our list of places to check out for a while now and we rushed over as soon as we could! The ambience of this place is just perfect for a date out with friends.
The cool and funky interiors would look great on your Insta feed *happy grins*, the music in the background would make you wanna groove a lil AND on top of all this, they've got massive breweries and the aroma of freshly brewed beer all over the cafe would make you wanna chug a glass *or 5*! Here's everything we tried from their unique menu that has a special name for every dish:
1. Pink Floyd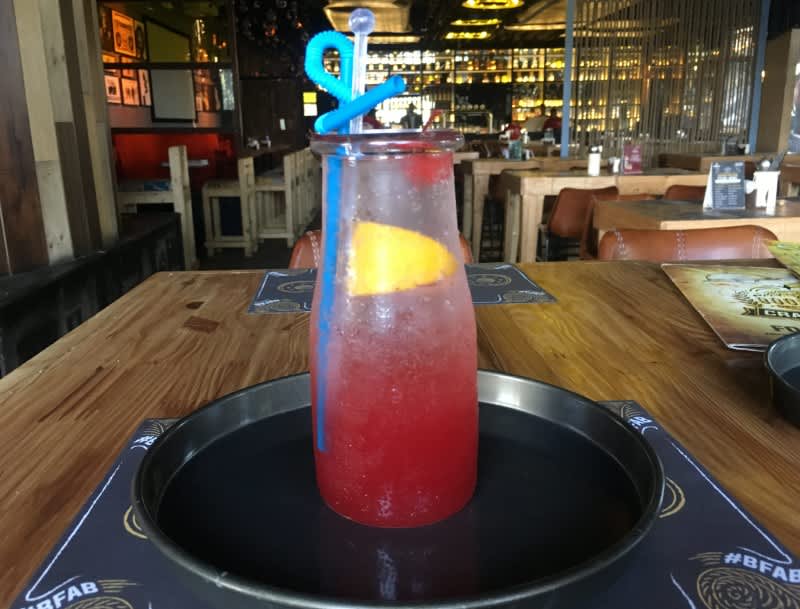 A thoroughly refreshing drink made with four fruit juices - apple, lychee, lime and cranberry -  we happily slurped this one up. The drink was a perfect way to start the afternoon as its fresh burst of mild flavours were a palate cleanser of sorts and the ice cube overload infused us with the patience to wait for all the food that we were eager to try!
Price | Rs 249
2. Berry Bieber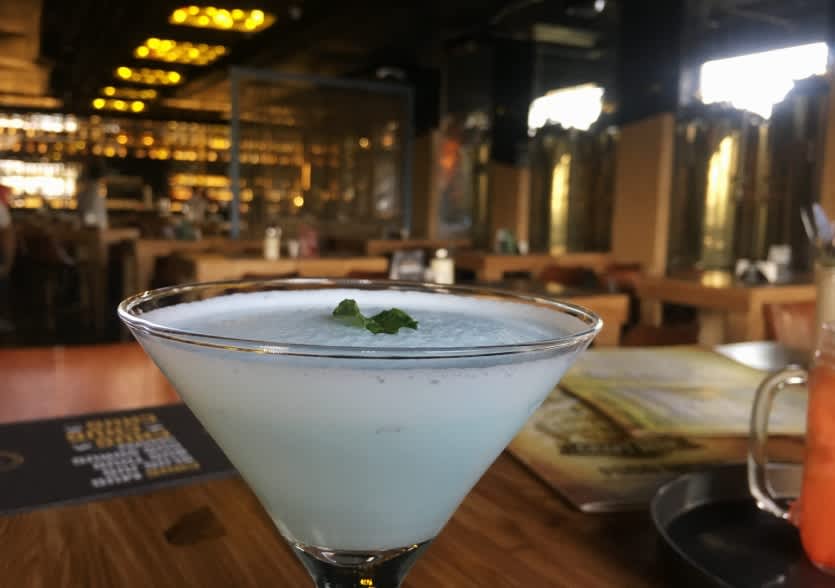 The most delectable drink, this blue cup of joy was simply aah-mazing! Raspberries and blueberries blended in whipped cream to give us a drink that we wanted to gulp down in one looong sip, we couldn't stop ourselves from ordering another one and we're sure you'll feel the same way once you've tasted this!
Price | Rs 249
3. Amritsari Chana Kulcha
An extremely easy-to-devour dish where the chana was already stuffed in the kulcha that came in tiny, yummy hemispheres, this one turned out to be very different from what we expected in terms of presentation while keeping the authentic taste intact. Accompanied by a side of tandoori mayonnaise that we couldn't get enough of; this dish is a total must have!
Price | Rs 199
4. Heavenly Momos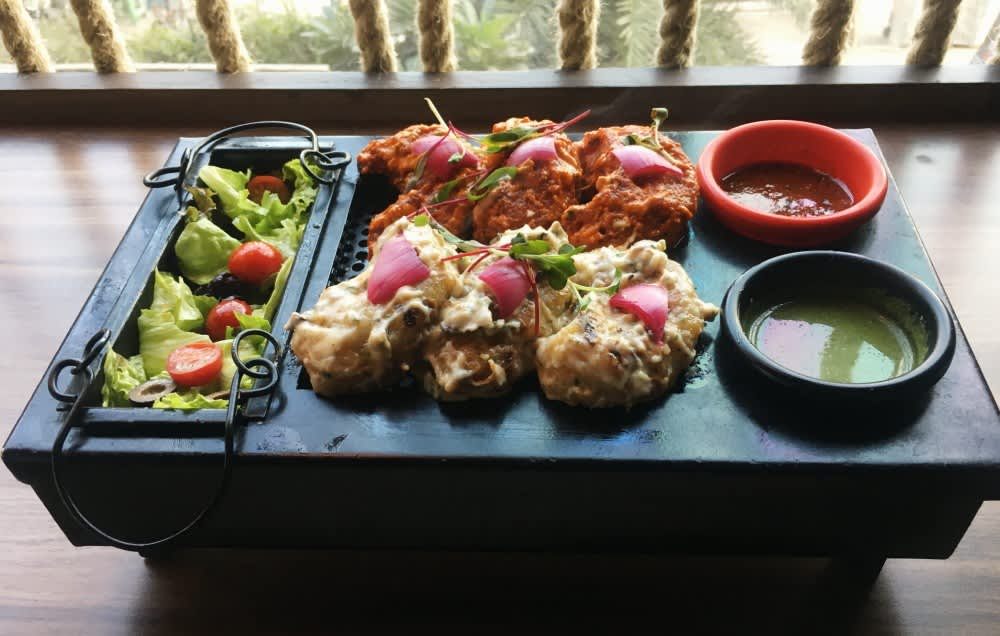 As the name suggests, these momos were truly heavenly indeed! Tandoori momos done in two varieties - some in a hot and fiery peri-peri sauce and the others in a sweet-ish Afghani style barbecue sauce, this dish was THE perfect amalgamation of sweet and spicy. Served with two chutneys that we barely needed due to the zesty sauces infused in the momos, we polished this one off in no time!
Price | Rs 325
5. Dilli 6 Mutton Seekh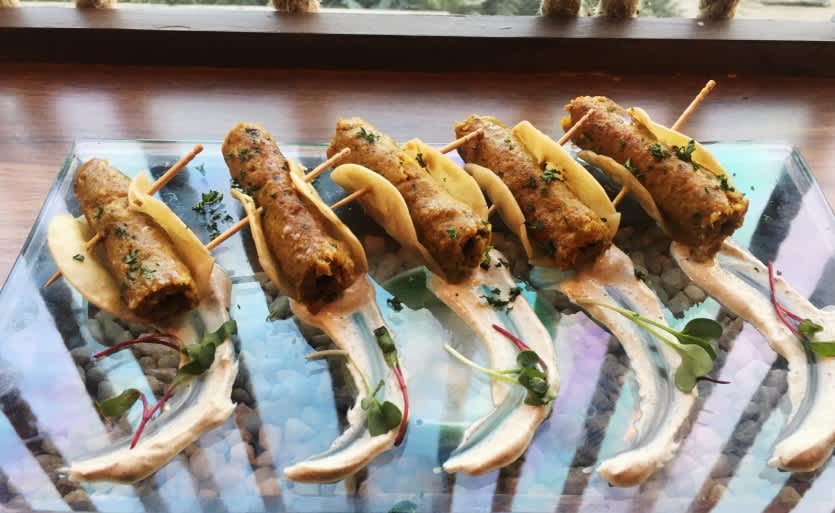 Each of these melt-in-your-mouth minced lamb kebabs came wrapped in a tiny taco of sorts and that totally gave a whole new meaning to the usual kebab and roomali roti combo! It's amazing how this place presents standard food combos in such a convenient and non-messy way. Accompanied by a zesty dip that we licked off our fingers till nothing was left, this dish is NOT to be missed!
Price | Rs 449
6. Mohabbat Hai Mirchi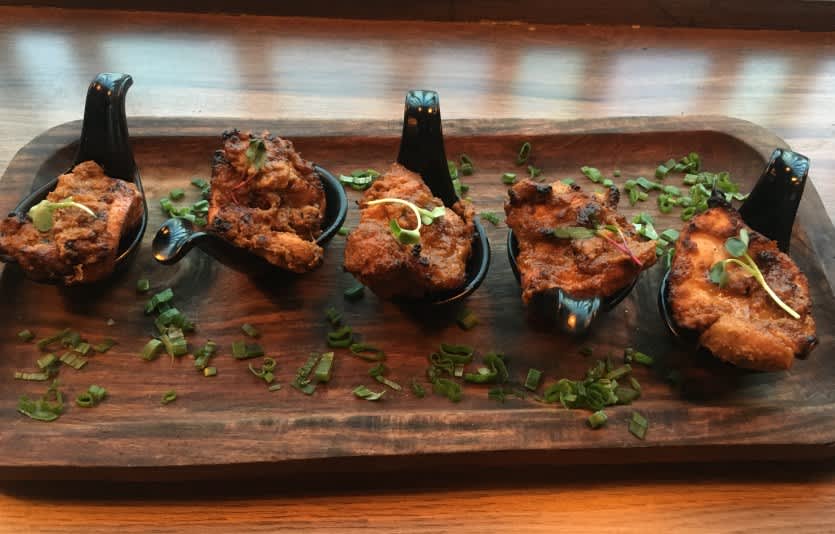 Don't go by the name, you guys! This dish is definitely not as spicy as its name suggests and is, in fact, quite tangy and delicious! Chilli chicken cooked to perfection where each succulent piece is served in a different spoon, we really couldn't stop gushing about how easy to eat and absolutely delicious the food at Boombox Brewstreet is!
Price | Rs 399
7. Black Fondue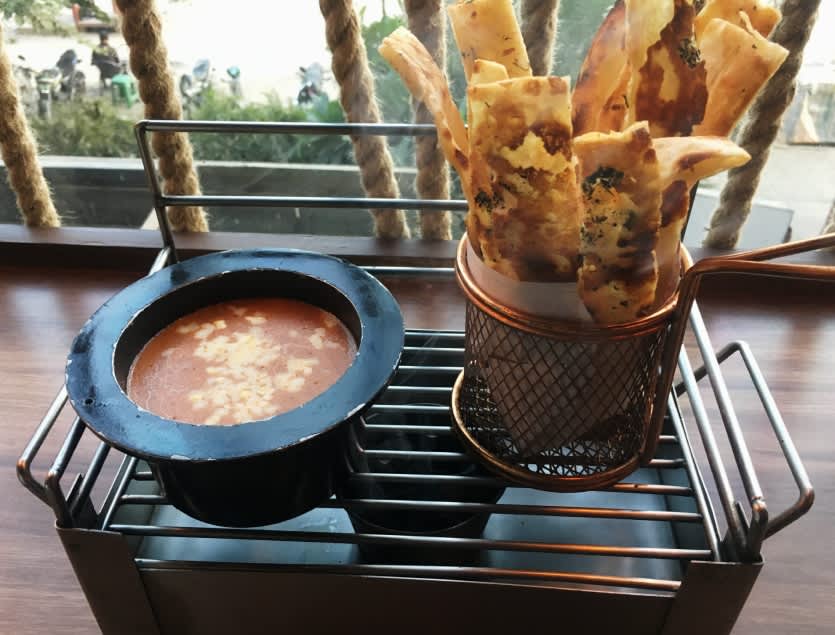 We had to try this dish because the name had got us super curious and we are glad we did! Crisp strips of naan were served with a hot bowl of dal makhni that wasn't like any dal makhni we've had before! This dal makhni , blended in quattro formaggi sauce was so deliciously cheesy that we wanted to eat nothing but that! These people just took fusion food to another level for sure!
Price | Rs. 315
8. Chindian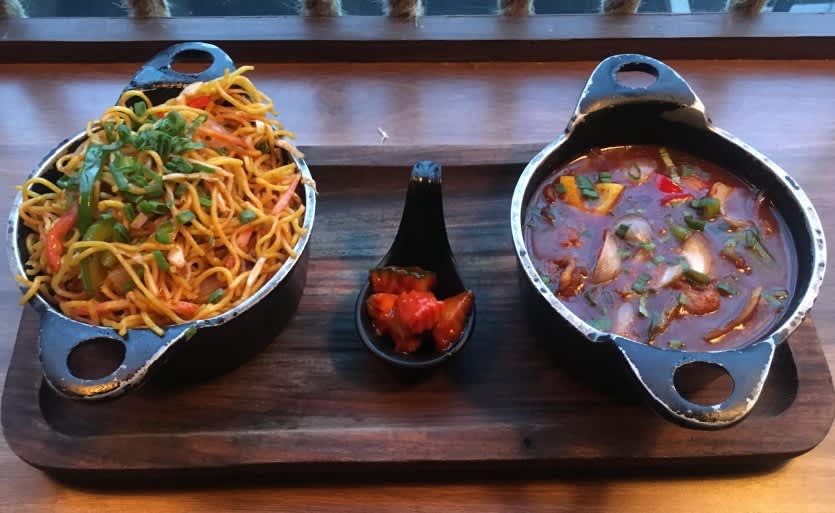 The Chinjabi in us is never completely satisfied without a typical street-style noodle dish, so the next thing we ordered was their Chindian. This turned out to be a yummylicious dish with hot garlic chicken and egg chowmein that we devoured to the last noodle! *Nom nom*
Price | Rs 545
9. I Love My India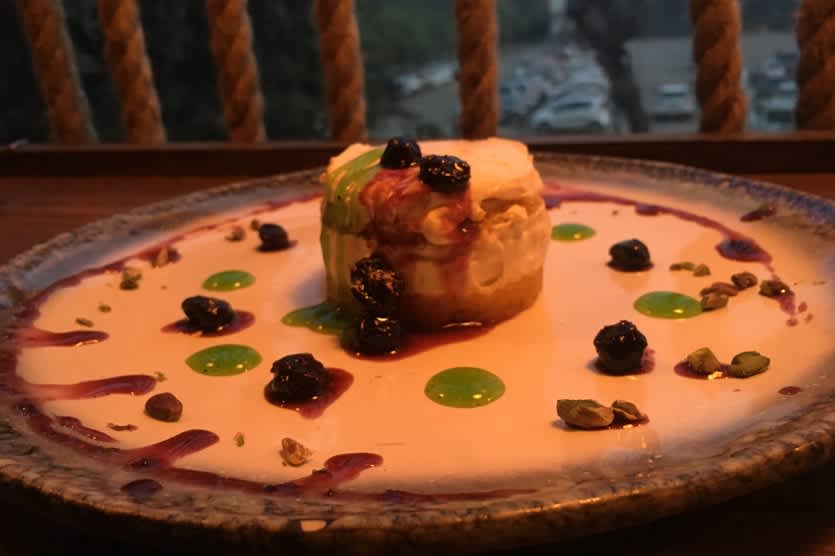 Dessert goes straight to the heart, not the stomach, and our hearts had all the space to try out this irresistible dish! The rabdi and boondi cheesecake topped with a kiwi gel and blueberries was waiting to be devoured and appreciated. Soul-satisfying is the only term that does justice to this unique dessert! If we had any more space left, we would have ordered another one for sure!
Price | Rs 279
Go on, you guys, give this awesome place a try and we're sure you'll love it as much as we did! Seeya there - hungry forks and bellies in tow!
Where | Boombox Brewstreet - SCO 53, 1st Floor, Main Market, Sector 29, Gurgaon
Here's Their FB Page | https://www.facebook.com/boomboxbrewstreet