Delhi
Biker Alert! Roar Your Way Over to These Awesome, Rugged Biker-Themed Cafes in the City
Bikes are not merely a mode of transportation today, but are now a proud lifestyle, and since themed cafes are all the rage in the city, why leave behind biker-themed cafes? Dilli's bikers itch for rustic and rugged places where they can hang out with fellow enthusiasts to talk about their mutual love for bikes, and maybe even plan a trip or two. Hence, these are the perfect places for the diehard bikers where they can chill and get their bike fixes and also load up on ammunition (food in this case) for their journey ahead! Read on.
Throttle Shrottle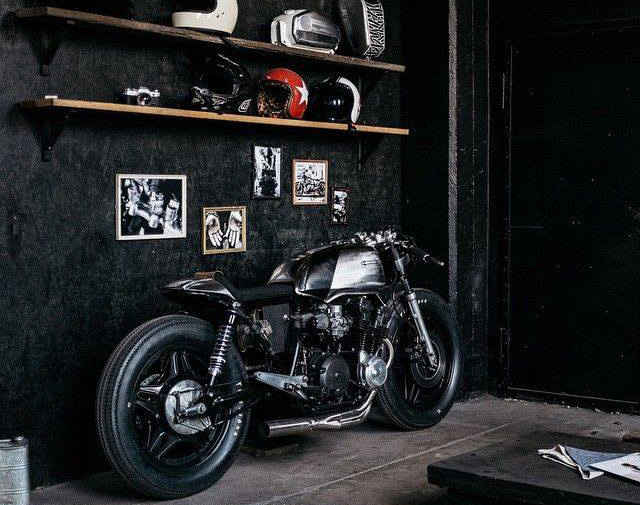 Planning an early morning ride or maybe a late night one, on your beloved bike? Well, Throttle Shrottle is the one café to visit to load up on the food as it's open 24 hours! This place has the most intriguing raw interiors, made from scrap and bike junk like tyres, and it gives the true vibe of a biker café. Not only do they serve the bikers, but they serve their pets as well. While you're there, you must try their famous protein shakes!
Meal For Two | Rs 400
Location | Opposite Valley View Apartments, Gwal Pahari Signal, Gurgaon Faridabad Road, Sector 56, Gurgaon
The Bikers Cafe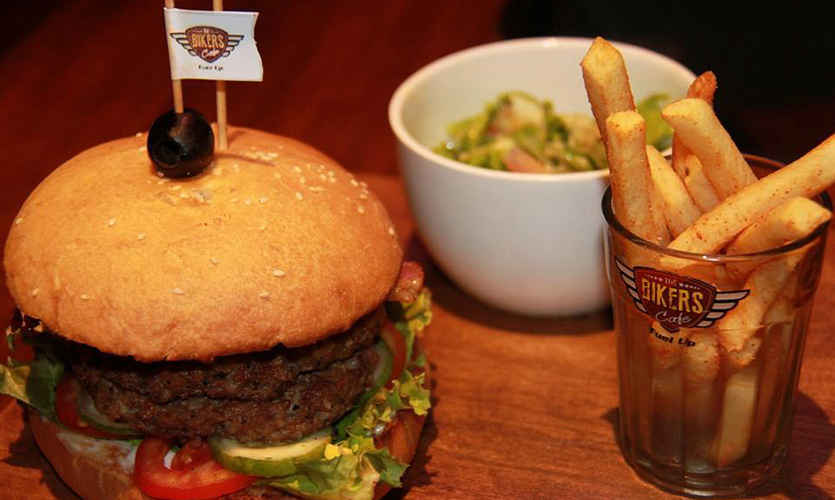 The Bikers Cafe comes equipped with motorcycle parts strewn around as far as the eye can see! With a widespread menu that spans multiple cuisines, it is one of the most popular cafés. Also, their menu incorporates special breakfast dishes like Parathas, Pancakes and Sandwiches, to name a few. Since the food is reasonably priced, you can happily gorge away! Plus, they have live music performances as well as live sports screening during the season.
Meal For Two | Rs 1,000
Location | G-12, MGF Emaar Building, Golf Course Road, Gurgaon
Dishoom Cafe & Lounge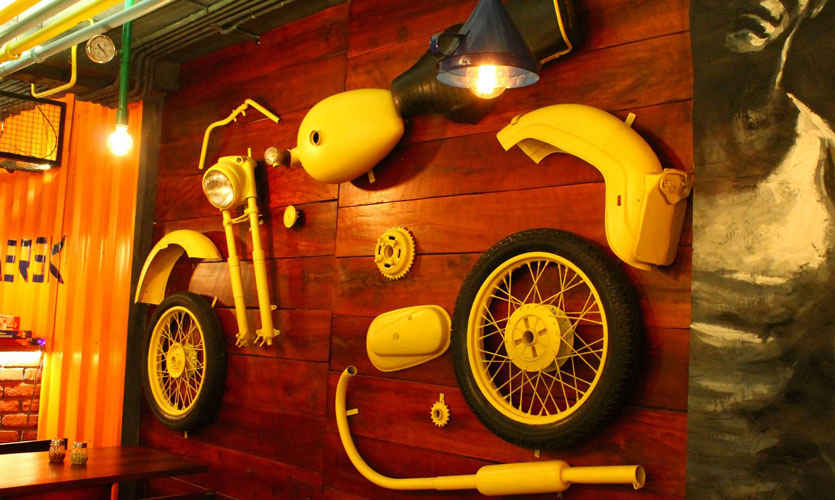 The name itself sculpts a very macho image in our heads and the decor does complete justice to it! The interiors being well designed to accommodate the biker theme, a whole wall is jazzed up with bike parts! And not just bike parts, but they also have a Royal Enfield parked right up front to give that biker feel. With delicious Indian and continental dishes on the menu, they also serve thick, heavy shakes that are perfect to keep you full for the ride ahead! Come on over.
Meal For Two | Rs 800
Location | Plot 8, 1st Floor, Satya Niketan
The Riding Guns Cafe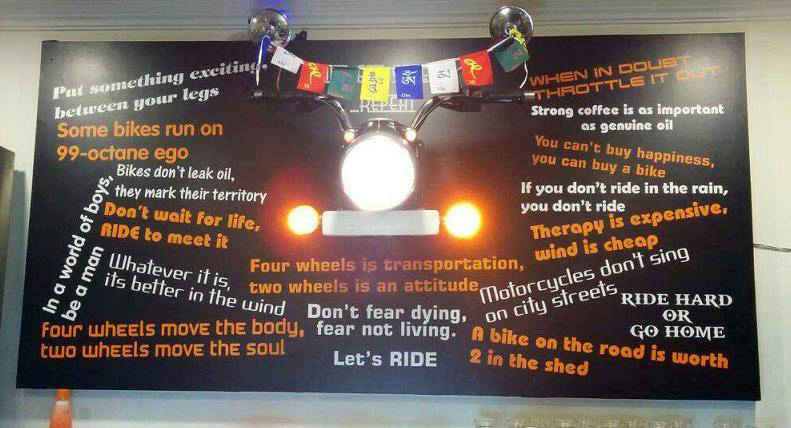 While this cafe has both indoor and outdoor seating, they have a very subtle biker touch to the decor and provide a peaceful place for all you bikers to relax and unwind. What attracts one to their menu are the artsy names given to the dishes like Hot Mud Rides (Classic Hot Mud & Throttled Hot Mud), Ladakhi Rides (tea) & even Flaming Red Pastas! Go try it out for yourselves.
Meal For Two | Rs 850
Location | A Block Market, Preet Vihar
The Motorcycle Cafe
While the décor includes real bike seats to sit on, and bike tyres festooned everywhere, the interiors turn to be pretty rustic. With almost a dozen variants of pasta and everyone's beloved Maggi, one cannot help but be thrilled with the menu! Not just the food, but the refreshing slushies in a variety of flavours, rejuvenate the bikers from their long journeys! For such great pricing, this is perfect for an evening ride. 
Meal For Two | Rs 400
Location | Shop No. 61, Aggarwal Metro Heights, Netaji Subhash Place