Delhi
Celebrate World Yoga Day Right: Sign Up For Classes @ The Best Yoga Centers
Yoga is an invaluable gift of India's ancient tradition. It embodies the unity of mind and body; further creating a holistic approach to health and well being. Having originated over 6000 years ago in India, yoga is a mental, physical and spiritual science which aims to harmonize man and nature. And to help you do just that, here's our curated list of the best yoga centres dotting the city!
Art Of Living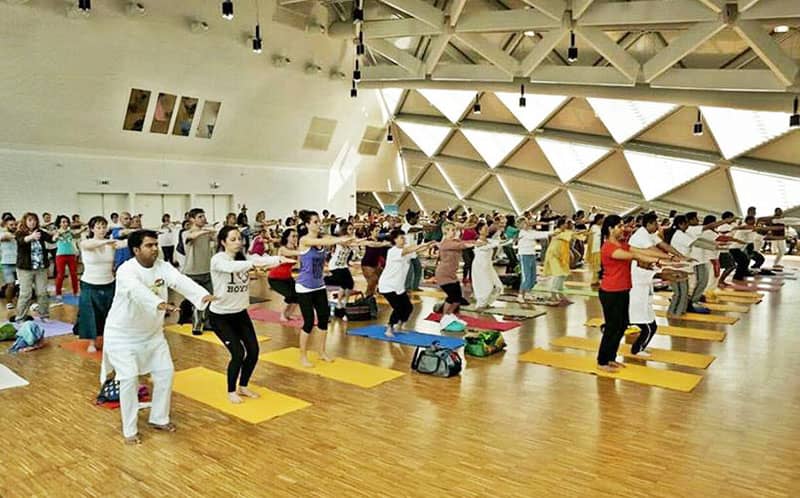 The Art of Living is an educational and humanitarian movement engaged in stress-management and service initiatives. Focussing mainly on stress elimination, their programs include breathing techniques, yoga and meditation. Sri Sri Yoga combines yoga essentials, stretching, postures, relaxation and yogic knowledge to cultivate a healthier and happier life. Go sign up today for a happier, fitter you!
Locations | Shahdra, Kailash Colony & Sohna Road, GGN
Call Them At | +91 9911 365 090, +91 9818 695 055 & +91 9910 049 968
Check Out Their Website | https://www.artofliving.org/in-en
Here's Their FB Page | https://www.facebook.com/TheArtOfLivingGlobal
Bharat Thakur Artistic Yoga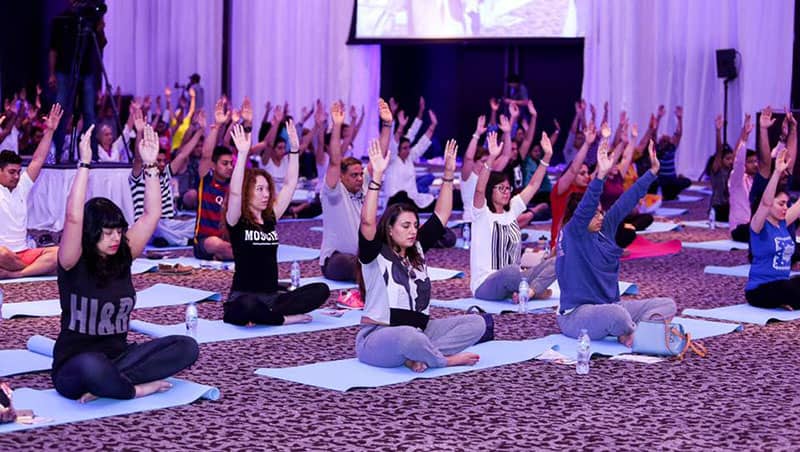 One of the leading yoga studios in India, they seek to bring authentic forms of yoga onto a global platform. Here, they believe that modern society has just tapped the surface and lack an in-depth knowledge of the power and impact of yoga. They provide personal training, yoga classes, corporate programs and yoga for school children. They even offer a virtual yoga classroom on their website - talk about high-tech!
Locations | Hauz Khas Enclave & GK II
Call Them At | +91 1800 102 1000
Check Out Their Website | http://www.artisticyoga.com
Here's Their FB Page | https://www.facebook.com/BTArtisticYoga
Morarji Desai National Institute Of Yoga

The Morarji Desai National Institute of Yoga (MDNIY) is an autonomous institution fully funded by the Ministry of AYUSH (AYUSH- Ayurveda, Yoga & Naturopathy, Unani, Siddha and Homeopathy), Government of India. MDNIY is a focal institute for coordination of yoga education, training, therapy and research in all its aspects. Here, you'll find much required peace and calm - come drop by for a session or two!
Location | 68, Ashoka Road
Call Them At | +91 11 2373 0417 & +91 11 2373 0418
Check Out Their Website | www.yogamdniy.nic.in
Isha Yoga Center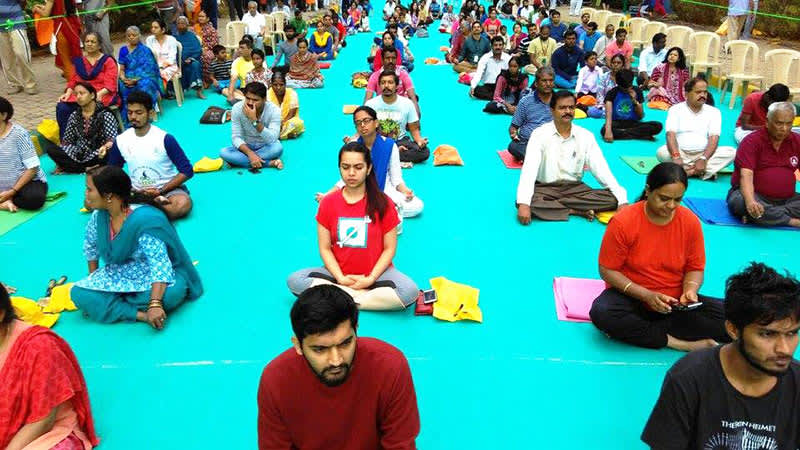 Isha Foundation is founded by Sadhguru and is a not-for-profit organization, solely run by its volunteers. 'Isha', as per the Isha Foundation, means the formless early source of creation. The foundation offers a customised system of yoga called Isha Yoga, which distills ancient, powerful methods for the modern urbanite, creating peak physical, mental, and emotional wellbeing for you! 
Location | As Per Programme 
Call Them At |  +91 9971 800 069, +91 9717 283 154
Check Out Their Website | www.ishayoga.org/program/delhi
Sivananda Yoga Vedanta Centre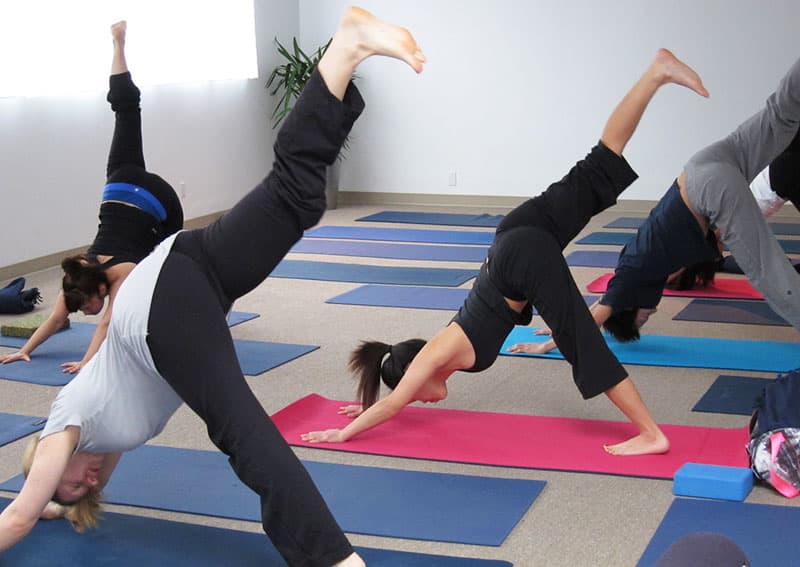 A Sivananda Yoga class is a traditional, slow paced, meditative class that helps encourage proper breathing, flexibility, strength and vitality in the body while calming the mind. A typical open class includes pranayama (breathing exercises), warm-up including sun salutations (Surya Namaskar), 12 basic asanas (yoga postures) with relaxation between postures, and finally, deep relaxation based on the 5 Principles of Yoga. 
Locations | Kailash Colony & Sector 6, Dwarka
Call Them At | +91 11 3206 9070, +91 11 6456 8526
Check Out Their Website | www.sivananda.org
The Yoga Studio By Seema Sondhi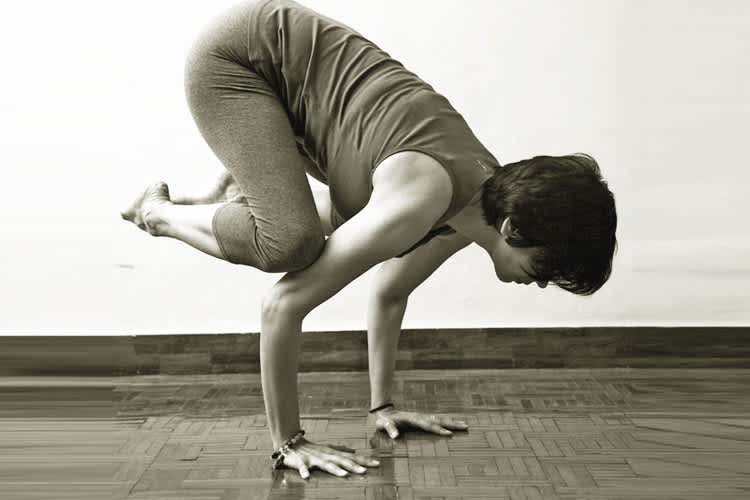 Created by Seema Sondhi in 2001, this ambient space seeks to help individuals onto a healthier and more peaceful path by teaching them a system of exercise that fully integrates the body, mind and soul. The classes are specifically designed to build a healthy balance of flexibility, strength, agility, and poise. The classes run for a duration of 75 minutes and you will be sure to feel a difference in your body and mind, so definitely give this a try! 
Locations |  Hauz Khas & M.G. Road
Call Them At | +91 9811 131 368
Check Out Their Website | www.theyogastudio.info
Siri Fort Sports Complex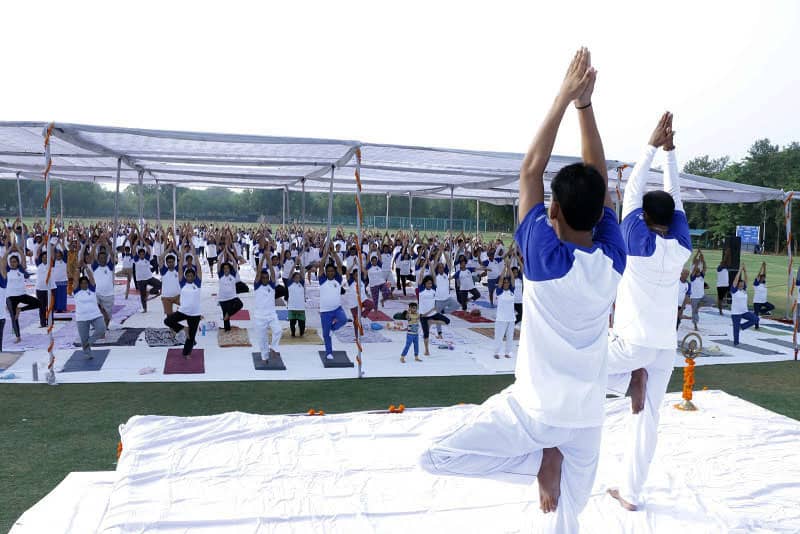 One of Delhi's best known sports complexes, Siri Fort caters to a plethora of sports like badminton, tennis, squash and even yoga too. If you're a member at the Complex, you can use the facilities of the complex with ease. If you're not a member, no hassles! You can use the facilities on a 'pay and use' basis. Classes are conducted by trained instructors who also organise special classes from time to time, so check out their schedule and head on over!
Location | August Kranti Marg, Khel Gaon 
Call Them At | +91 11 2649 7482 & +91 11 2649 6657 
Check Out Their Website | http://ddasports.in/Sirifort/Default.aspx
Atre Yoga Studio - By Zubin Atre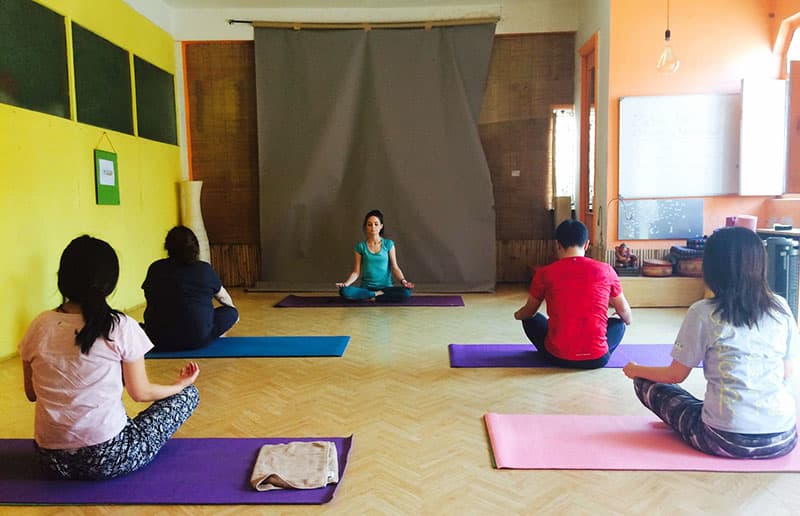 Atre Yoga Studio, nestled in South Delhi is a premier yoga studio. Tailored according to the needs of the modern yogi, it prides itself in tailoring classes as per your individual requirements. Developed by the founder, Zubin Atre, this specific form of yoga termed 'Atreyoga' is based on five structured series of asanas. The classes provide individual attention due to smaller batch sizes and provides a relaxed environment to practice.
Location  | 125 A, Third Floor, Shahpur Jat 
Call Them At | +91 9958 937 036
Check Out Their Website | http://atreyogastudio.com/
Here's Their FB Page | https://www.facebook.com/atreyogastudio/
Delhi Rock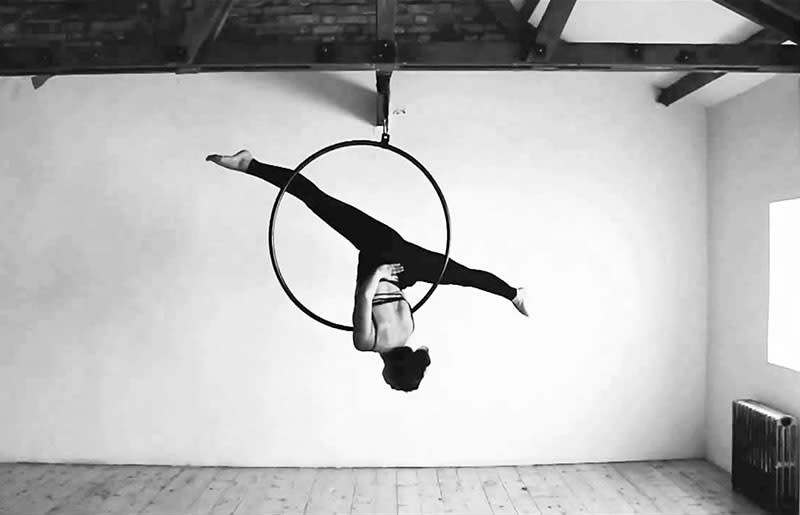 Yoga will let you soar high and give you flight, not just figuratively but literally! Delhi Rock offers sessions and workshops in Aerial Yoga, wherein you perform yoga poses and postures while on a hoop suspended in the air. The aerial hoop lends space for smooth transitions and fluid movements. The instructor, Lara, is highly competent in the field and the workshops are also affordable. Now that's a cool way to do yoga, ain't it?!
Location | Nanaksar Gurdwara, GK II
Call Them At | +91 11 4658 8444
Check Out Their Website | http://delhirock.com
Iyengar Yoga Centre Yogakshema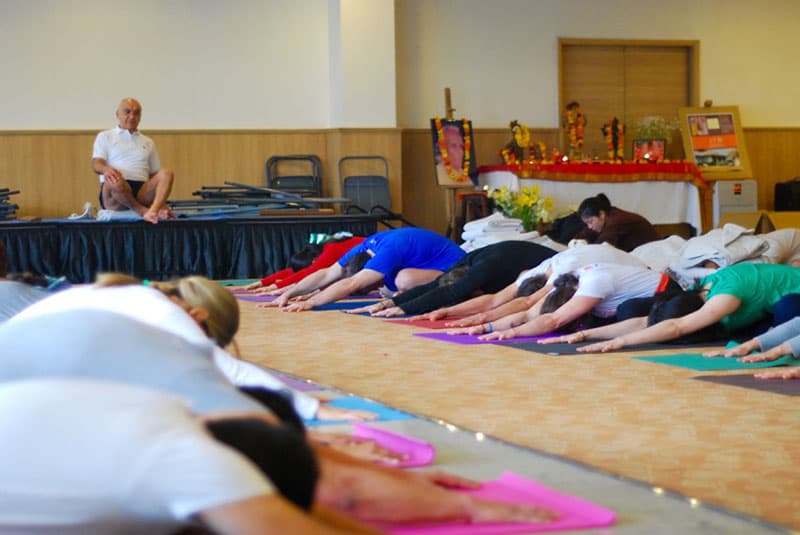 A specialised form of yoga named after the founder, B.K.S. Iyengar, this form integrates the tenets of Ashtanga Yoga. Performed with props and tools, such as wooden gadgets, belts and ropes - this is unique in its own way. They have a huge library, heritage stores and even a cafeteria which encourages students to feel free and establish a relationship with yoga as a spiritual science. As master B.K.S. Iyenger puts it – "It's classical yoga yet user-friendly!"
Location | Deen Dayal Upadhyay Marg, Rouse Avenue
Call Them At | +91 11 2323 4356, +91 11 2323 4357
Check Out Their Website | http://www.iyengaryogakshema.org/index.php
Kedarnath Center For Yoga And Naturopathy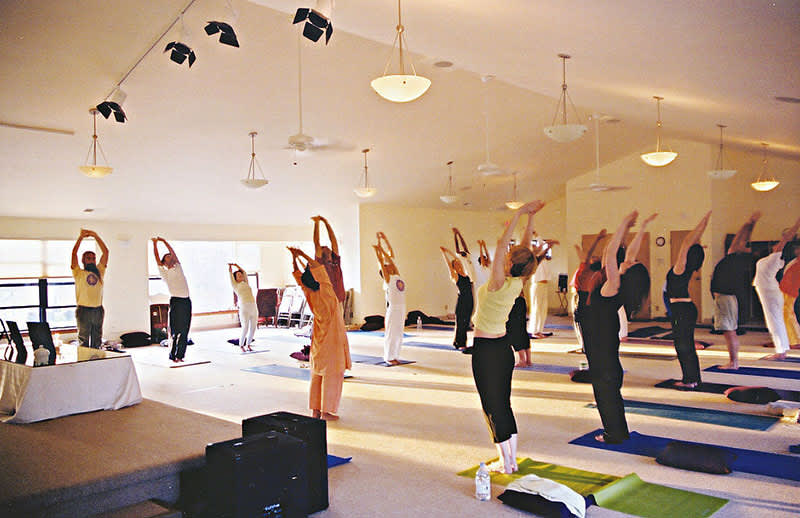 They offer health and wellness seminars, workshops, classes and various conferences on yogic science and naturopathy. Well-known for their intensive yoga workouts combined with ancient art of yogic approach, they have ample programs on offer. Not only providing classes for yoga, they actively engage in establishing, maintaining and assisting centres that foster yoga and naturopathy. A yoga at home service is also available for areas in Delhi NCR, which is a major plus! 
Location | C 1815, Sushant Lok Phase 1, Sushant Lok, Gurugram 
Call Them At | +91 9810 281 808, +91 9971 848 805
Check Out Their Website | www.kedarnathyoga.com
Mrityunjaya Yoga Studio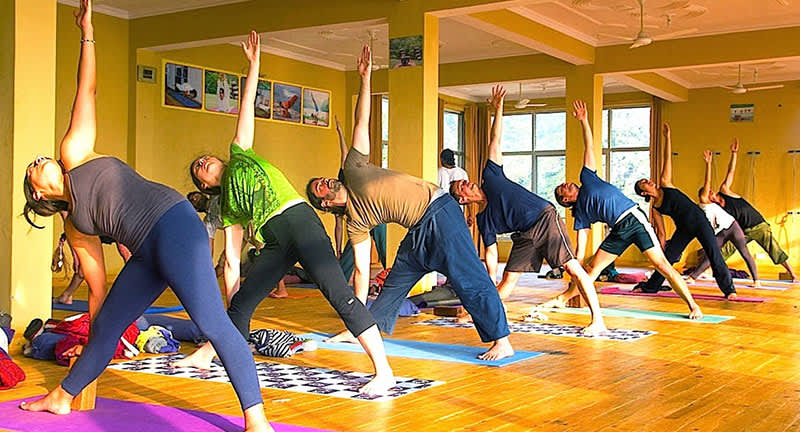 Picture Credits: Indian Association of Yoga
Mrityunjaya is an experienced organization which believes in providing simple, efficient yoga classes without much hassle. They offer wellness programs for individuals and corporates. They have specialised classes aimed at lifestyle management, nutrition, health issues and pregnancy. Making yoga accessible to all, the studio is contributing to a healthier lifestyle in the capital!
Location | B-28,1st Floor, Shivalik Road, Malviya Nagar
Call Them At | +91 9910 207 205, +91 9873 189 725
Studio Abhyas By Abhyas Trust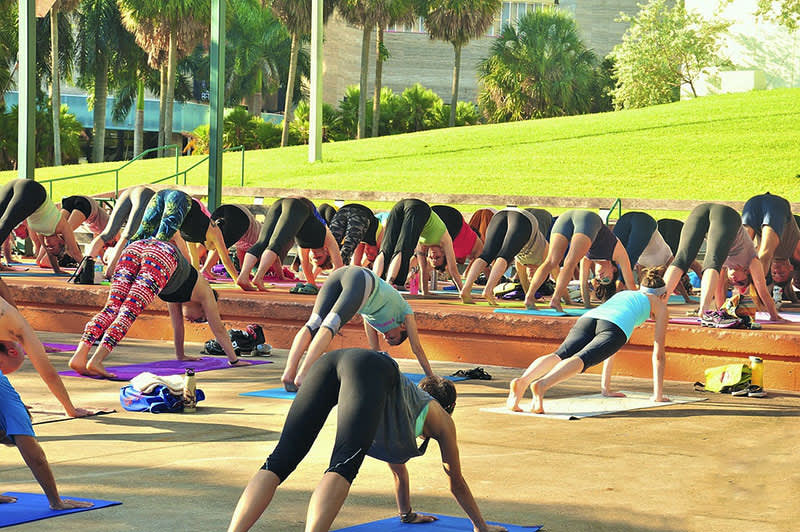 The Studio, founded in 2001 is a heaven for yoga lovers. It emphasises on the harmony of the body and mind through a combination of asana, Pranayama and meditation. They offer workshops and retreats along with yoga classes and seek to promote the practice, philosophy and teaching of yoga. The studio attracts a varied audience consisting of members from all age groups, so come drop by! 
Location | Near Green Park Market 
Call Them At | +91 11 2696 2757, +91 9810 085 338, +91 9810 522 624
Check Out Their Website | http://www.abhyastrust.org/index1.htm
With Prime Minister Modi making active efforts to promote yoga, it's time for us to embrace this healthy mode of exercise and reap the varied benefits. So, shake off that lazy demeanour and let the yogi in you shine!