You've got to give it to Delhi for housing the best roadside stalls and dhabas which people from all over the world come to experience. Such is the love for roadside food that you will not be able to find a single street in Delhi without a dynamic roadside seller or hawker. Whether it's the spicy and zesty golgappas or the butter-dripping paranthas, there's just no denying that Delhi loves its street food! Here's your guide to the best places to eat it at! 
Golgappas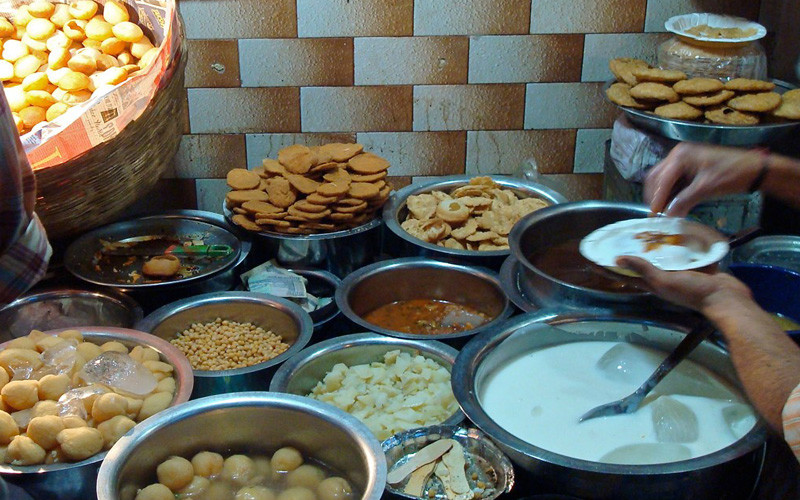 Delhiites go crazy over their golgappas - the spicy water balls that come in atta or sooji variants, usually served with cold mineral water nowadays, are just too tempting to resist and found in every nook and corner of Delhi. Here's where to go for that mouthful of 'gappas!
Ashok Chaat Bhandar | Netaji Subhash Road, Chandni Chowk
Shree Balaji Chaat Bhandar | 1462, Kucha Mahajan, Indraprastha, Chandni Chowk
Prabhu Chaat Bhandar | Dholpur House, Shahjahan Road, Next to UPSC Building, Khan Market
Prince Paan Chaat Corner | M-29/5, M Block Market, GK I
Paranthe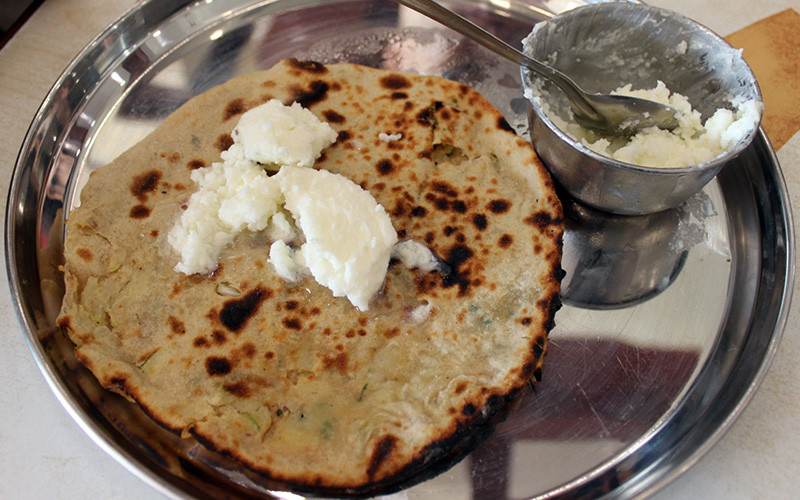 Though they're on the heavier side, they are just too delicious to be ignored! The best paranthas are up for grabs in the famous Paranthe Wali Gali in Chandni Chowk. This Gali houses a few Paranthe walas, many of whom have been in business for more than a century (wow!). Here you go, check out these places:
Pundit Gaya Prasad Shiv Charan Parathe Wala | Shop No. 34, Gali Paranthe Wali, Chandni Chowk
Kanhaiyalal & Durga Prasad Paranthe Wale | Shop No. 36, Gali Paranthe Wali, Chandni Chowk
Pt. Babu Ram Devi Dayal Paranthe Wale | 9074, Gali Paranthe Wali, Chandni Chowk
Kake Di Hatti | Church Mission Road, Khari Baoli
Kebabs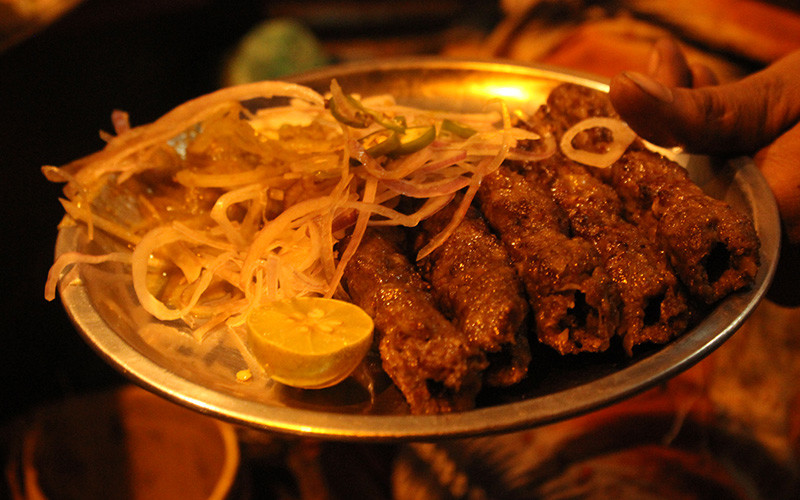 Who doesn't like to indulge in a melt-in-your-mouth kebab?! Over the years, kebabs have become a favourite dish, available at scores of roadside eateries, especially in areas of Old Delhi such as Urdu Bazaar in Jama Masjid, Gali Qasim Jaan & Chitli Qabar Road etc. We've picked out the best stalls just for you:
Ustad Moinuddin | Lal Kuan, Left Side Of The Entrance Of Gali Qasim Jaan, Near Chawri Bazaar Metro Station
Alkakori Alkauser | Vasant Place Market, Sector 6, R K Puram
Aap Ki Khatir | 1, C Block, DDA Market, SDA
Qureshi's Kabab Corner | E 27, South Ex II
Nihari And Paya
This meat stew is cooked overnight over slow, simmering flames and served with fresh tandoori rotis, pickle, onions, and a slice of lime - wow! Many stalls in Matia Mahal bazaar near Jama Masjid area sell this delicious stew that you will adore. Some places where you can find the best nihari and paya in Delhi include:
Kallu Nihari | Shop No. 80, Chhatta Lal Mian, Jama Masjid
Shabrati Nahariwale | Shop No. 722, Haveli Azam Khan, Chitli Qabar Road, Jama Masjid
Saeed Nihari | Baradari, Ballimaran, Jama Masjid
Samosa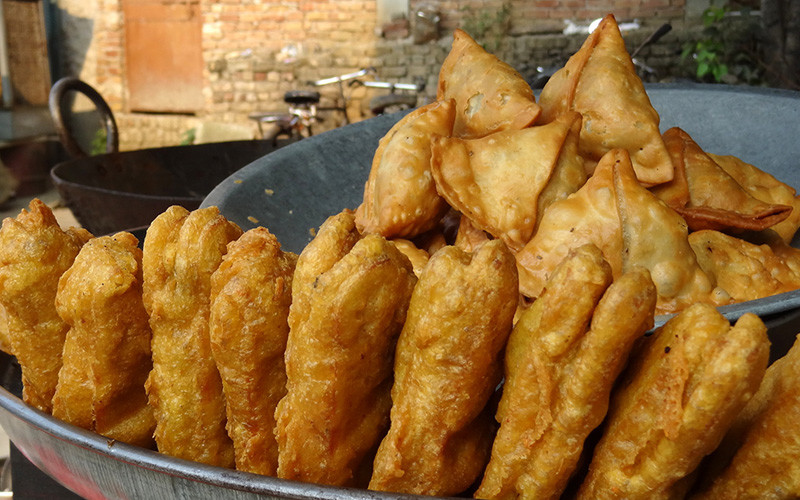 Samosas are the favourite snacks of Delhiites that can be had in the evenings or mornings and taste even better when enjoyed on a rainy day! Most of the sweet shops such as Haldiram's, Evergreen Sweet Shop and Bikanervala sell fresh and delicious samosas, but the best street-side samosas are right here:
INA Market | INA Market, Opposite Dilli Haat
Gopinath Bazaar | Delhi Cantonment, Delhi Cantt.
Momos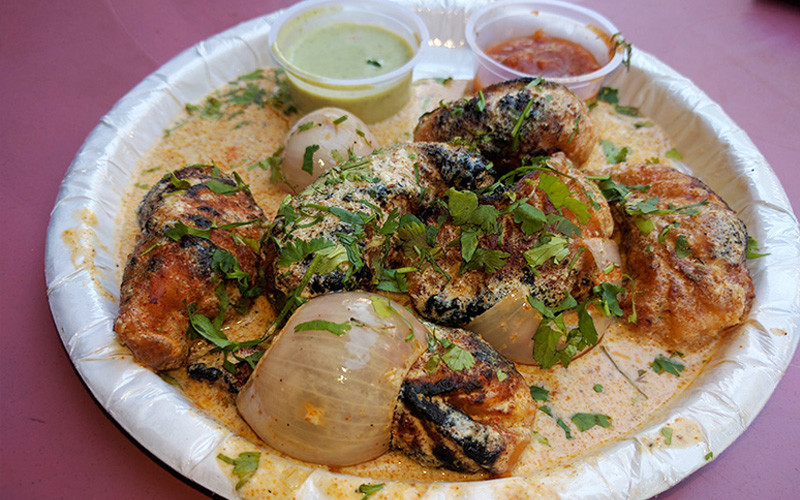 In a very short span of time, momos have managed to become one of the all-time fav snacks of Delhiites! Today you can find a momo seller in practically every street corner. There are plenty of places in Majnu ka Tila where you can find delicious and fresh momos. Here's our handpicked list:
Aunty Momos | M-Block Market, GK I
Dolma Momos | Central Market, Lajpat Nagar II
Hunger Strike | C-9, Amar Colony Market, Lajpat Nagar IV, M Block, GK I
Rajma Chawal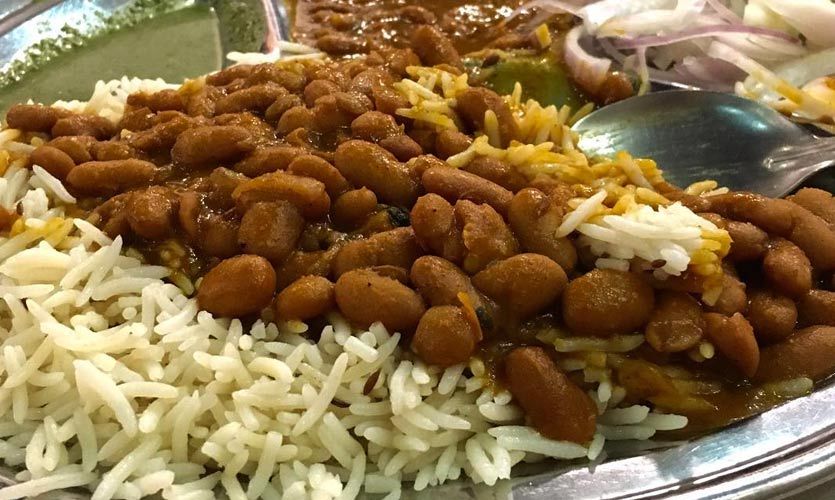 Rajma Chawal is definitely one of the favourite roadside dishes of Delhiites. There's nothing quite like a piping hot and steamy plate of rajma chawal, garnished with oodles of onions and green chillies, and accompanied with some papads and a glass of lassi! Here's where to go for your plateful:
Rajma Chawal Wala | F Block, 1/90, CP
Baba Nagpal Corner | 7/25, Old Double Storey, Gupta Market, Lajpat Nagar IV
Parashar Foods | 1, Shankar Market, CP
Chaat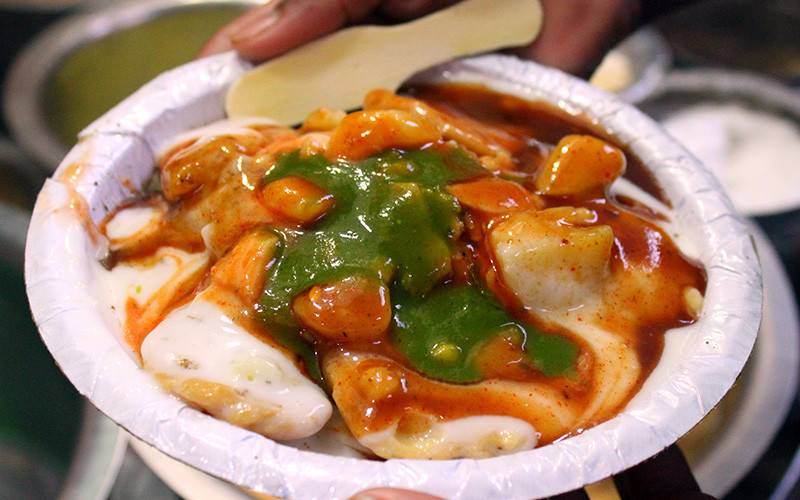 The spicy mixture of boiled potatoes, dahi bhalla, crispy bread crumbs, spices, and a tangy sauce is a favourite roadside food of Delhiites. The chaat wallahs in the city are well-versed with the various customization requests that come their way - so you can happily gobble away any way you like it! The best Chaat in Delhi is found here:
Shree Balaji Chaat Bhandar | 1462, Chandni Chowk
Bishan Swaroop Fruit Chat Corner | 1421, Chandni Chowk
Prabhu Chaat Bhandar | Dholpur House, Shahjahan Road, Next To UPSC Building
Prince Paan & Chaat Corner | M-29/5, M Block Market, GK I
Ashok Chat Bhandar | Netaji Subhash Road, Chandni Chowk
Chole Bhature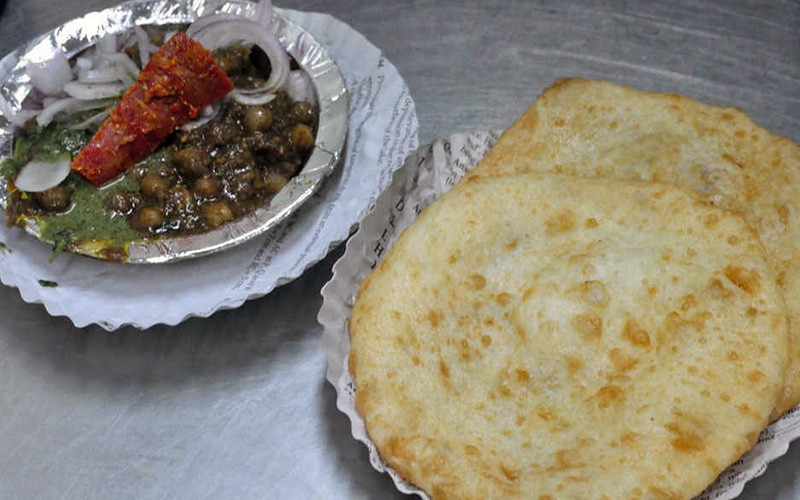 Piping hot and fluffy kulchas with oodles of masaledar chole - yup, we're talking about Delhi's unofficial fav street side dish - chole bhature! The spicy chick peas served with bhature are heavy but absolutely mouthwatering. Come over at these places to devour the best chole bhature in the city:
Sitaram Diwan Chand | 2243, Chuna Mandi, Paharganj
Chache Di Hatti | 33 D, Kamla Nagar
Nand Di Hatti | 29, Paan Mandi, Sadar Bazaar
Kulfi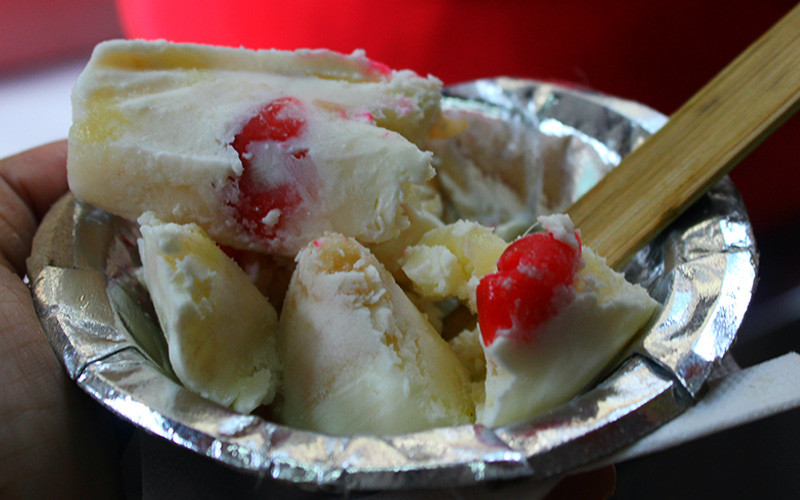 Kulfi is everyone's favourite - children and adults alike. Creamy, ice cold and utterly scrumptious, this is one traditional dessert that us Delhi peeps can never get enough of - come summer or winter! You must experience this frozen creamy delight in order to experience the real Delhi. Here's where you go to get the best kulfi guys:
Roshan Di Kulfi | Opposite Sarees House, Ajmal Khan Road, Karol Bagh
Kuremal Mohanlal Kulfiwale | Kucha Pati Ram, Off Sitaram Bazar, Near Chawri Bazaar Metro Station
Lala Duli Chand Naresh Gupta | 934, Kucha Pati Ram, Sitaram Bazar, Chandni Chowk
Matra Kulcha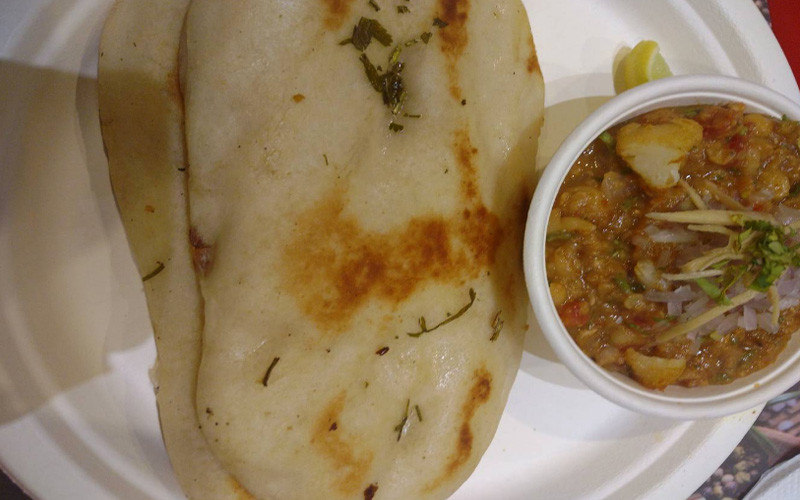 Picture Credits: mansi0309
The healthier and yummier counterpart of chole bhature, matra kulcha is undoubtedly that one quick street food nibble that satisfies the soul! The pillowy kulcha, the tangy yet flavourful matar, and the refreshing onions makes up for a hearty meal that can be devoured anytime in the day. To save you some trouble, we're here to share our favourite matar kulcha stalls with you:
Lotan Kulche Wala | Barshabulla Chowk, Chawri Bazaar
Kulcha Wala Outside Arts Faculty | Faculty of Arts, Back Gate, North Campus
Kulcha Wala Outside Gargi College | Gargi College, Near Asian Games Village Complex, Siri Fort
For us (just like you) anytime is streetfood time, and what better way to explore your city than gorging away at these brilliant roadside stalls? Go for it!