Delhi
20 Pretty & Super Romantic Locations In The City That Are Perfect For Your Pre-Wedding Shoot
Pre-wedding shoots are the recorded memoirs of one's courtship and thus hold a very special place for every couple's dynamic journey. While the days leading to 'The-Big-Fat-Delhi-Wedding' can be hectic for everyone involved, a pre-wedding photoshoot can give you both some time to unwind and celebrate togetherness! Not to mention, it gives the couple an additional opportunity to dress up as well! So all the brides and grooms-to-be, gear up as we take you through the best locations for a pre-wedding shoot in Delhi!
1. Lodhi Gardens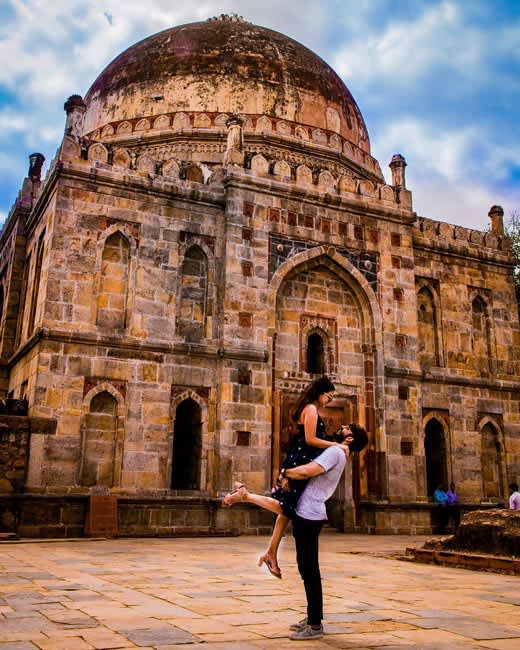 Picture Credits: teufel_sahil
Amidst the section of the city sprawling with modern-day marvels comprises the astonishing Lodhi Garden, carrying its share of Delhi's rich cultural history as well. Tombs erected in elaborate architectural craftsmanship, a scenic bridge and lush greenery dominate the setting of the place. With a bright day and skilled photographers to match, you are bound to create lifetime memories here.
Where | Lodhi Gardens - Main Lodi Road, Beside India International Centre
Timings | 6 AM - 8 PM
Check Out Their FB Page | https://www.facebook.com/lodhigarden786/
2. Mehrauli Archaeological Park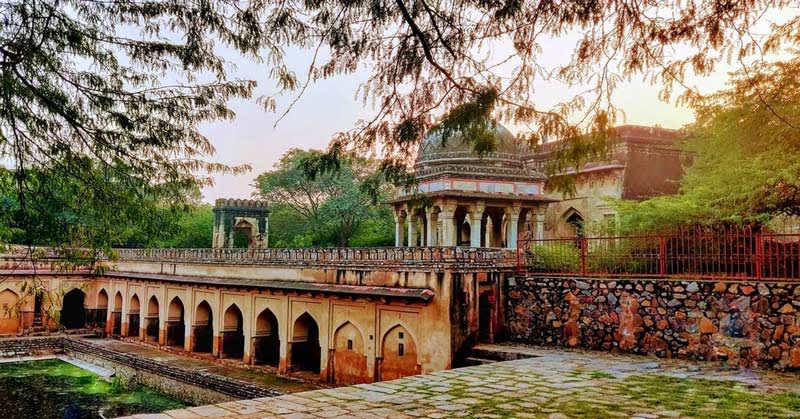 Picture Credits: frames_of_pixels
Steal some shots amidst the ancient archaeological relics at Mehrauli Archaeological Park that spreads itself over 200 acres of land in Mehrauli. Balban's Tomb, Tomb of Khan Shahid, Metcalfe's Canopy, Jamali Kamali Tomb & Rajon Ki Baoli are some of the structures that stand still and provide a wide variety of interesting backdrops for anyone who wishes to sprinkle some 'timelessness' in their shoots.
Where | Mehrauli Archaeological Park - Opposite Qutub Minar Metro Station, Anuvrat Marg, Mehrauli
3. Humayun's Tomb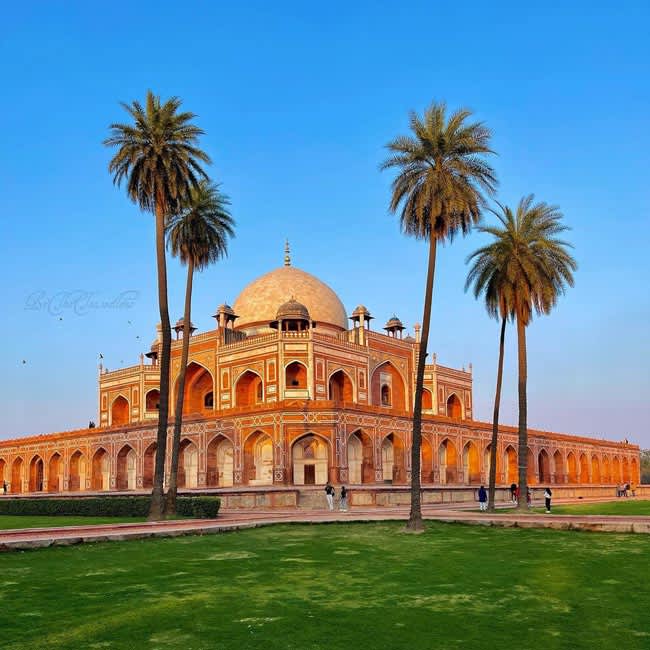 Picture Credits: dericcmathew
Allow Persian influences to dominate your photographs in terms of the architecture present at Humayun's Tomb. The well planned gardens of four sides (Char Bagh) with walkways carved out beautifully, water fountains, red stones and marble structures are some of the highlights which can lure you into shortlisting this lovely location for your pre-wedding shoot.
Where | Humayun's Tomb - Bharat Scouts and Guides Marg, Nizamuddin East
Timings | Sunrise - Sunset
4. Hauz Khas Village (Fort & Park)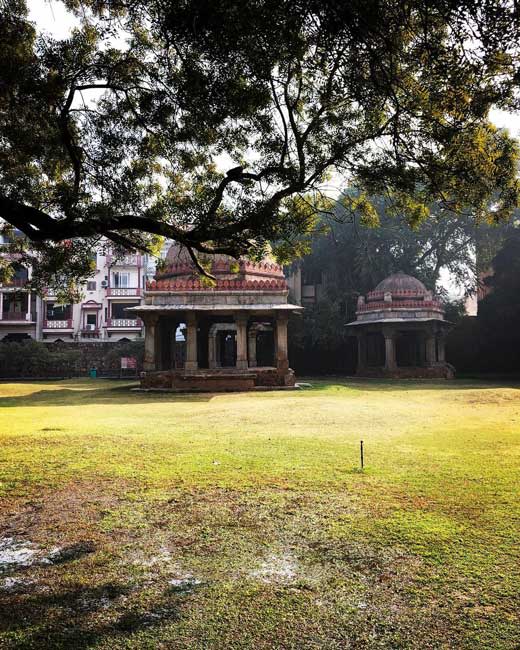 Picture Credits: dericcmathew
Hauz Khas Village to reignite the loving memories with your loved one. The fort here stands tall in the centre of well-trimmed parks comprising splendid long walkways, arches, staircases and windows overlooking a pond. Adjoining the fort is the popular Deer Park which houses deers, rabbits and tomb structures from the Mughal period, that'll make for an adorable backdrop to your photo session!
Where | Hauz Khas Village - Hauz Khas
Timings | 10:30 AM - 7 PM
Check Out Their FB Page | https://www.facebook.com/Hauz-Khas-Village-166051363446230/
5. Lodhi Art District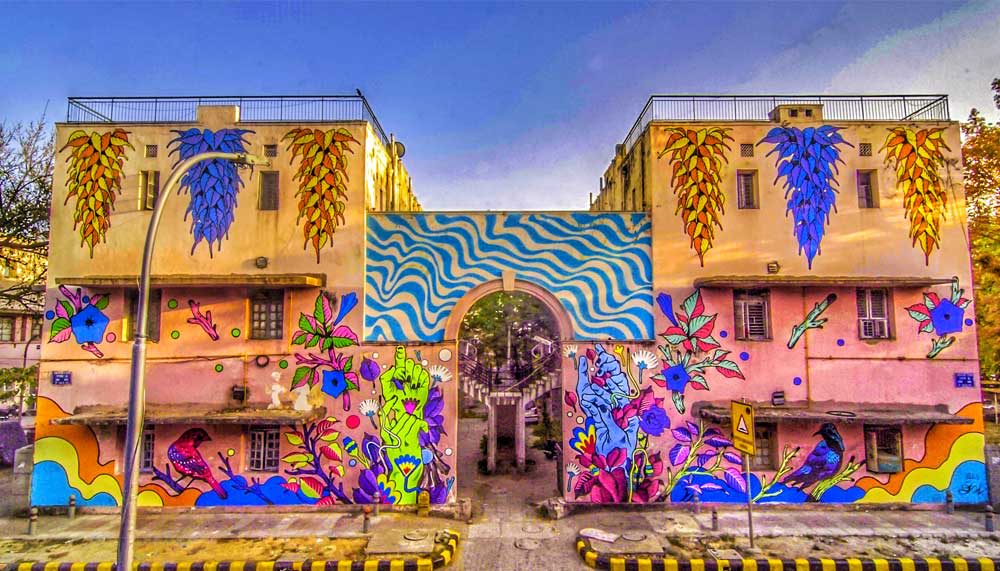 Situated in the bylanes of Delhi's Lodhi Colony, Lodhi Art District is a favourite among couples who're all about adding a dash of colours and a vibrant, contemporary feel to their romantic shoot. The beautifully painted walls in the backdrop will surely make for an ah-mazing frame in your pre-wedding shoots. 
Where | Lodhi Art District - Lodhi Colony
6. Sanjay Van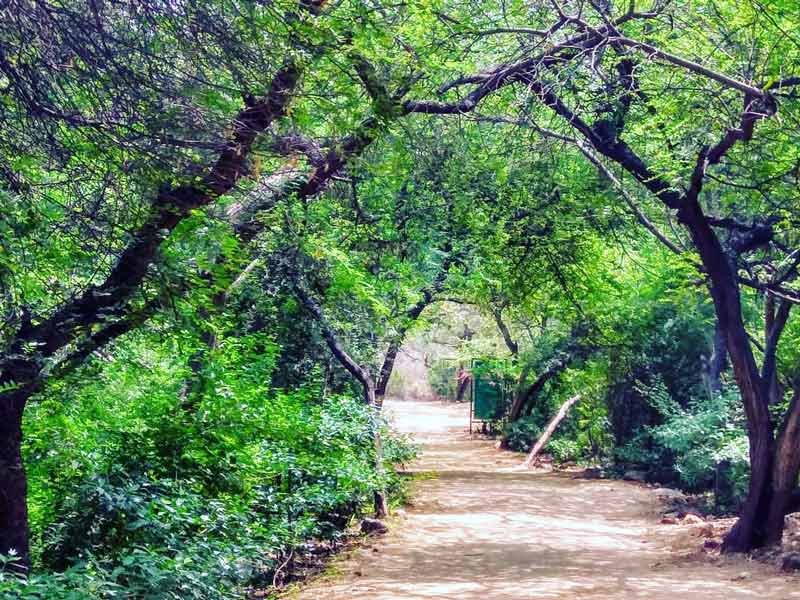 Picture Credits: natureholicguy
Go unconventional and settle for the magical and forest feel that comes complimentary with the Sanjay Van. This vast area located near Vasant Kunj is completely unadulterated from the city influences and is lush with thick vegetation besides being a bird lover's paradise. Let sunlight, tree shade, walk-trails through the thick of the forest and peacocks do the talking!
Where | Sanjay Van - Patparganj Road, Pocket D, Mayur Vihar II
7. Champa Gali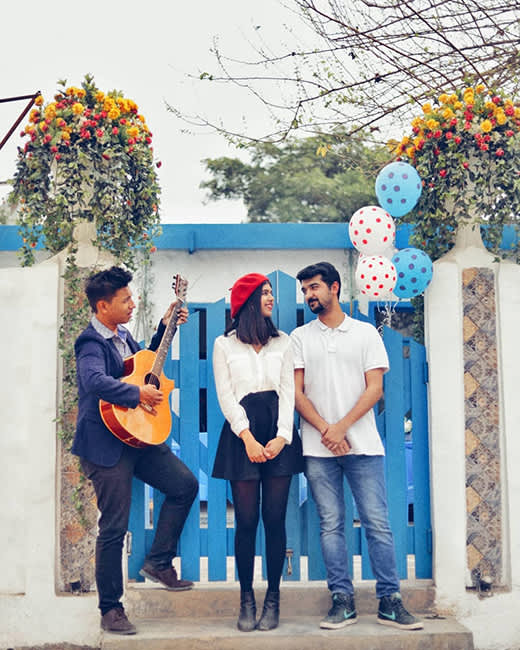 Picture Credits: sejalkumar1195
The aesthetic of fairy lights and the cobbled lane is what comes to every Delhiites mind when you say Champa Gali! Lane no. 3 of Saidulajab is picturesque, especially in the evenings when the fairy lights light up the place and make it even more gorgeous. So let the light breeze and the subtle lightings of this place do their magic and give you that #PicturePerfect moment in your pre-wedding album!
Where | Champa Gali - Khasra 258, Lane 3, Westend Marg, Saidulajab, Saket
Timings | 11 AM - 10 PM
Check Out Their FB Page | https://www.facebook.com/champagali/
8. Agrasen Ki Baoli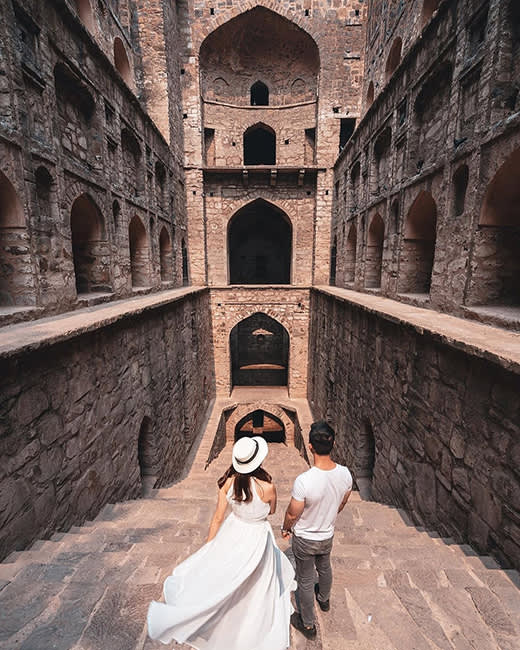 Picture Credits: talesofexplorers
An ancient stepwell, Agrasen Ki Baoli on Hailey Road in Connaught Place is essentially a serene place in what is otherwise known to be a loud and demanding city. With its 103 steps done in red stone, stone walls lined with arched niches and solitude & seclusion, this Baoli is the perfect spot for a unique pre-wedding shoot.
Where | Agrasen Ki Baoli - Hailey Road, Near Diwan Chand Imaging Centre, K G Marg, CP
Timings | 9 AM - 5:30 PM
9. Garden Of Five Senses
Picture Credits: rebelnk2102
If an artistic setting is what you're looking for, head to The Garden of Five Senses in Saiyad-ul-Ajaib, Saket. The stills taken here can be placed against a variety of backdrops that the spacious garden provides. From rugged rocky stances to bonny flower beds, water-falls, modern art installations, landscaping, water pools with lotuses & waterlilies to architecture inspired by the Mughal Era; you'll be left with a plethora of memories for a lifetime.
Where | Garden of Five Senses - Western Marg, Near Saket Metro Station, Said-ul-Ajaib Village
Timings | 9 AM - 6 PM
10. Heritage Transport Museum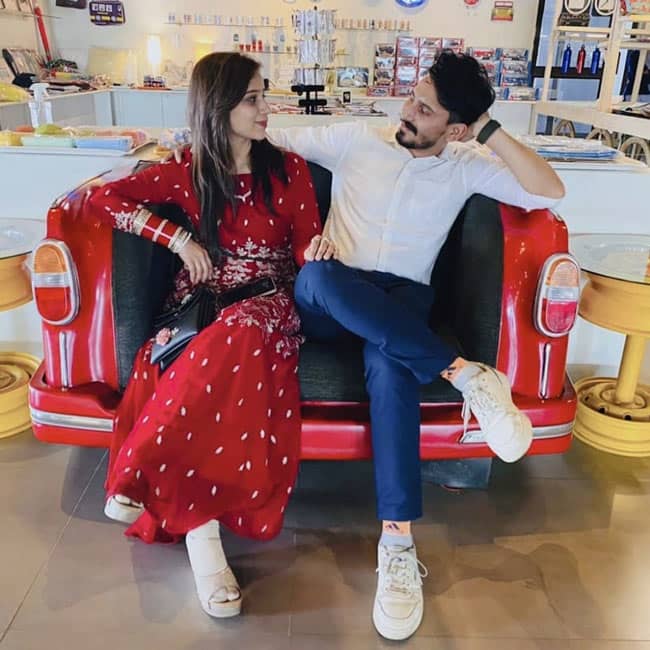 Picture Credits: alisha.bhutani/
Looking for a quirky setting to get fabulous fun clicks for your pre-wedding shoot? The Heritage Transport Museum in Bilaspur Chowk, Gurgaon is the perfect place for you . Spread across an area of 90,000 sq. ft, this museum is decked with vintage cars, bullock carts, howdahs, two-wheelers and palanquins. With amazing backdrops and some dimension-play, the images clicked here will bring out the fun factor in your relationship. 
Where | Heritage Transport Museum - Bilaspur, NH 8, Gurgaon, Haryana
Timings | 10 AM - 7 PM
Check Out Their FB Page | https://www.facebook.com/heritagetransportmuseum/
Here's Their Website | http://www.heritagetransportmuseum.org/ 
11. Olive Qutub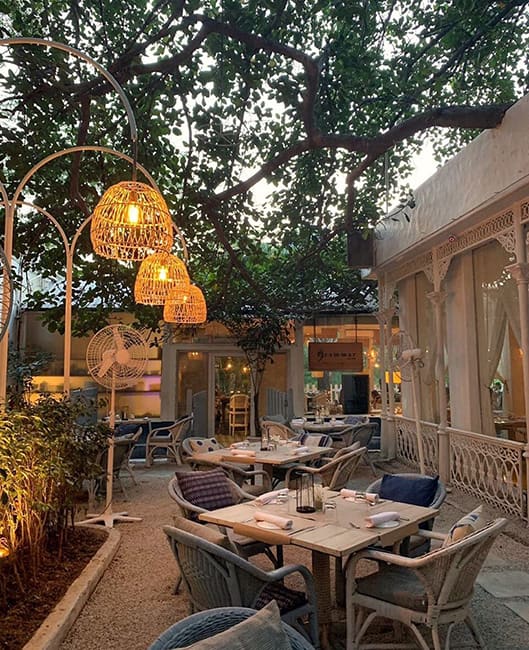 Picture Credits: aesthetichopper
For all those who believe their love story is no less than a fairy-tale, the dream-like ambience of Olive Qutub in One Style Mile, Mehrauli will surely resonate with your beliefs! Ruled by the pristine hues of blue & white; Olive Bar & Kitchen comes with a range of location options for getting clicked. A naturally-lit long hall laden with curtains that play with the wind and sun and a terrace top seating done with interesting decor elements like candles and cushions of various hues is a haven for photographers seeking great shots.
Timings | 12:30 Noon - 12 Midnight
Where | Olive Qutub- One Style Mile, Haveli 6, Kalka Das Marg, Mehrauli
Check Out Their FB Page | https://www.facebook.com/OliveAtTheQutub/
12. The Perfect Location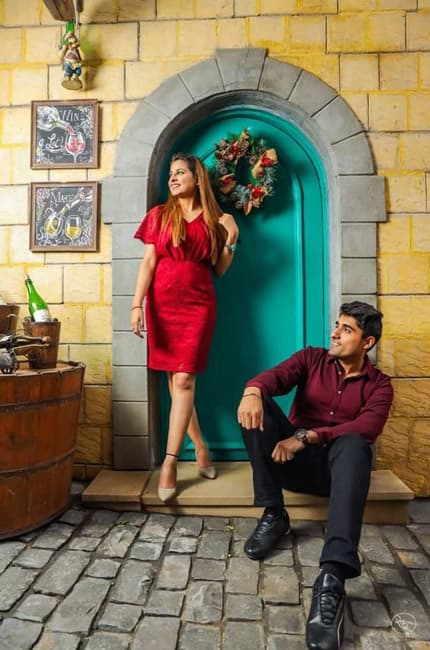 Picture Credits: sahil_arora_photography_
What do you need for the perfect pre-wedding shoot? Pops of bright colour, serene surroundings and a love-struck look in your eyes! The Perfect Location in Faridabad will take care of the decor bit for you (you'll have to manage the rest yourself!). This place is an outdoor location that comes with meticulously planned sets according to your whims and fancies. Their variety will blow you away  – do check it out! You can visit the place only by prior appointment, so do book. 
Where | The Perfect Location - 13/2, Mathura Road, Sector 27C, Faridabad
Check Out Their FB Page | https://www.facebook.com/theperfectlocationfaridabad/
Here's Their Website | http://www.theperfectlocation.in/ 
13. The Roseate New Delhi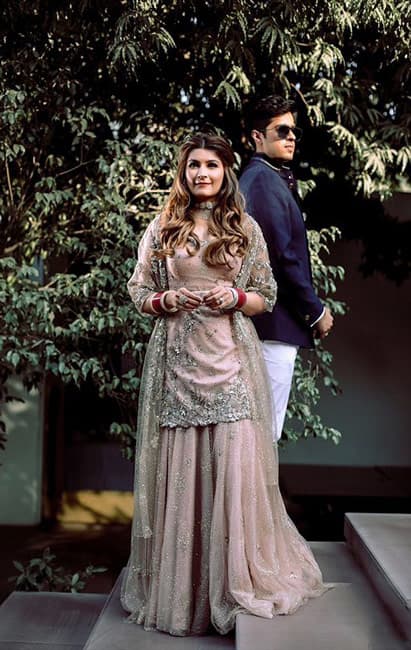 Picture Credits: weddingsbyreflections
Indulge in the sprawling and serene location of The Roseate on NH 8 for some larger than life and awe-inspiring shots. Take a walk along the poolside or its well-trimmed gardens to set the camera rolling. The contemporary interiors with marvellous lighting offer you a variety of picture-worthy hotspots. This one is a photographer's delight for sure.
Where | The Roseate New Delhi - NH8, D Block, Samalka
Check Out Their FB Page | https://www.facebook.com/TheRoseate/
Here's Their Website | https://www.roseatehotels.com/newdelhi/theroseate/ 
14. ITC Grand Bharat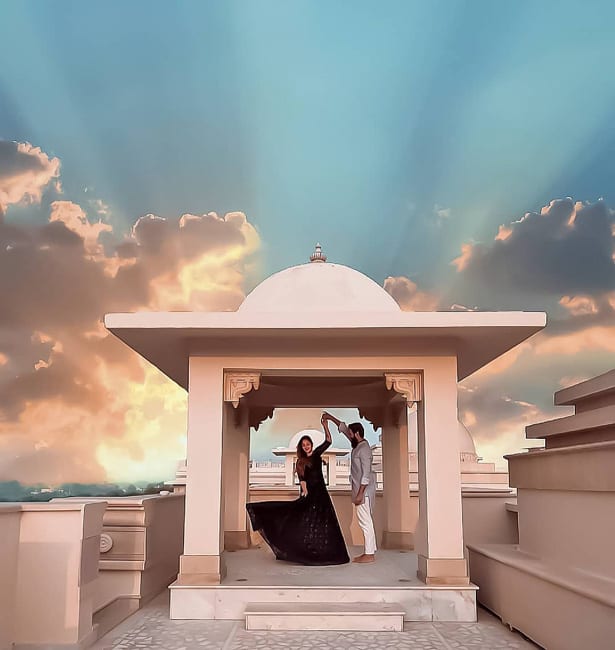 Picture Credits: that_nomadcouple
Take your pre-wedding pictures at ITC Grand Bharat, Gurgaon to enjoy the best of both worlds. The plush five-star resort comes with avant-garde infrastructure on the outside with beautifully landscaped gardens, pathways, poolside, a lot of warm sunshine and breeze to greet you. The interior of the property offers a mesmerizing well-lit setting at every nook and corner and serves as a treat to any photographer.
Where | ITC Grand Bharat - P.O Hasanpur, Tauru, Mewat, Gurgaon
Check Out Their FB Page | https://www.facebook.com/ITCHotels/
Here's Their Website | https://www.itchotels.in/
15. Picture Destination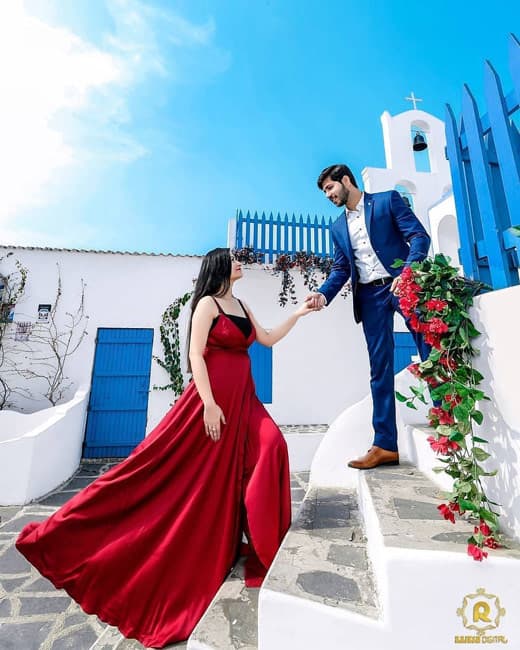 Picture Credits: rajeshdigital
It's about 30 kms away from central Delhi located in the Kundli area on NH1, providing a picture perfect destination for photography and videography. They have a huge space with lavish sets, 20 backdrops and lots of crazy props, thus making it a hassle-free and truly memorable shoot. There are outdoor and indoor sets that you can choose from, based on your concept. Some of the quirky themes that they have are English Vintage Drawing Room, Junkyard, Rajasthani setup, Cabana and a LOVE sign board.
Where | Picture Destination - 32nd Milestone, Kundli, GT Karnal Road, Sonepat
Timings | 8 AM - 9 PM
Check Out Their FB Page | https://www.facebook.com/picturedestination/
Here's Their Website | https://www.picturedestination.com/ 
16. Tikli Bottom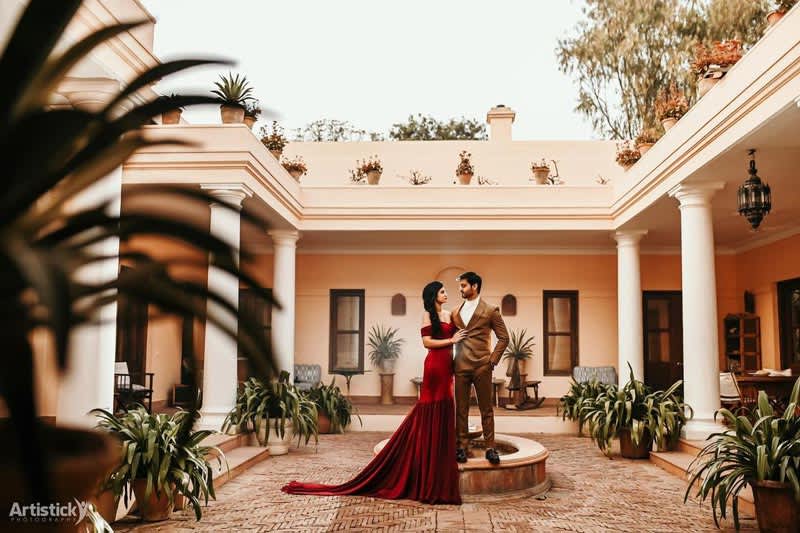 Picture Credits: artistickphoto
Tikli Bottom is a modern Lutyens-style Indian haveli, with huge courtyards, lush green grass and a beautiful pool a perfect location to capture those mushy moments *AWW*! Nestled against the Aravali hills, this one's a peaceful and quiet place that'll defo add those hill station feels to your pictures! 
Where | Tikli Bottom - Gairatpur Bas Village, Tikli, Gurgaon
Timings | All Day
Here's Their Website | https://tiklibottom.com/tikli-bottom  
17. Sunder Nursery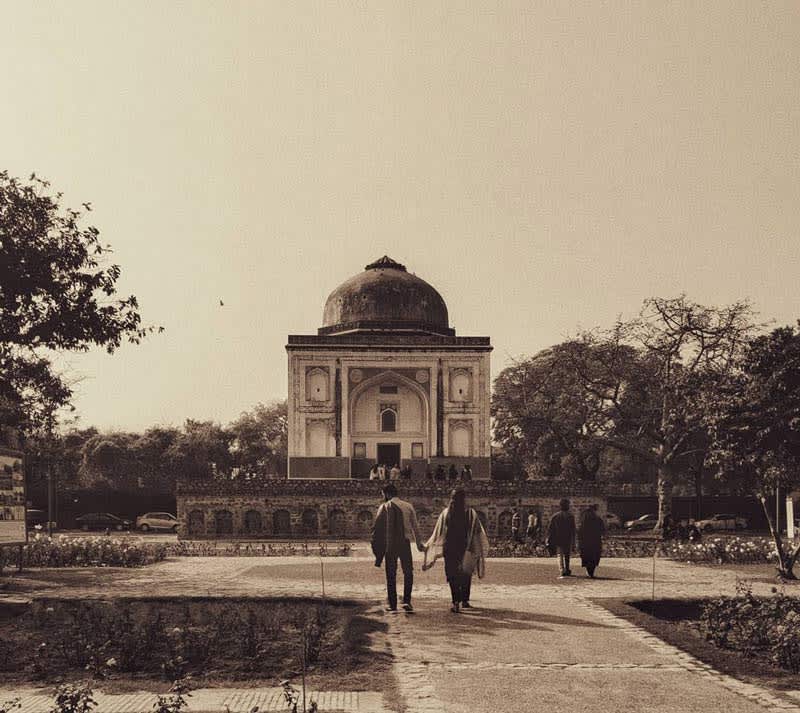 Picture Credits: palakrana95
Sunder Nursery is the latest fad in town, being touted as an ecological paradise that every Delhiite is flocking over to for enjoying the pleasant afternoon weather! The massive spread of greens and floral wonders, coupled with ethereal lakes and ponds gives off an exuberant vibe. Such is the charm and aesthetic appeal of Sunder Nursery that photoshoots have been deemed as a common practice for visitors here. Thus, when it comes to your pre-wedding photoshoots, this place is exactly what you need to bring out joy and elation in its truest essence, owing to the marvellous atmosphere. P.S. The archaic foundation dating back to the Mughal and the British regime adds on to the charm of this place.
Where | Sunder Nursery - Opp Humayun Tomb, Bharat Scouts and Guides Marg, Nizamuddin
Timings | 7 AM - 6 PM 
18. Kamla Nehru Ridge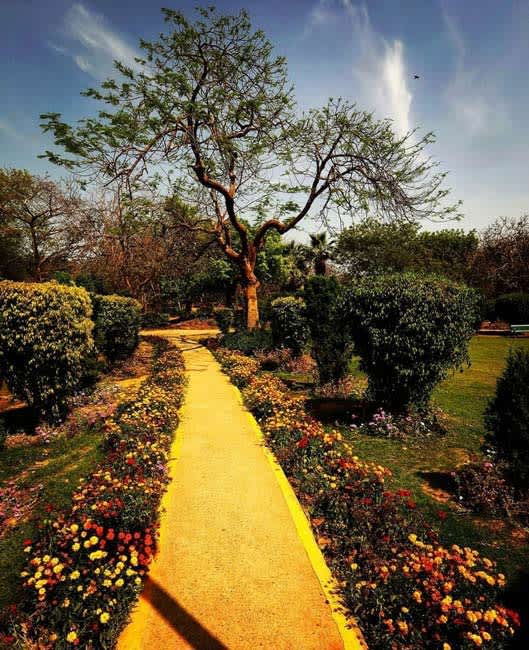 Picture Credits: kummar_yugantar
Kamla Nehru Ridge is a massive forest reserve area that is secluded from the bustling chaos of the main city. Perhaps, this proves to be one of the most attractive features of this spot, besides the vast space of vegetation that houses lakes and a plethora of migratory birds. Scattered throughout this elevated landmass are myriad colonial monuments that double up as charming photo ops for couples going for an enchanting old-world vibe in their pictures!
Where | Kamla Nehru Ridge - Civil Lines
19. The Picture Villa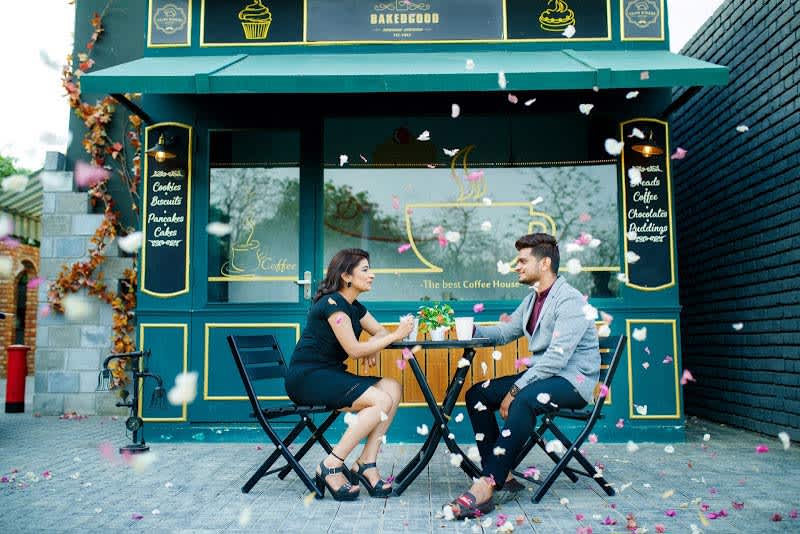 The Picture Villa is a quintessential three-acre wide space dedicated towards the sole purpose of being an aesthetically pleasing location for your pre wedding photoshoots! The green landscape, well-designed sets and the unrelenting support staff at the Villa ensure that your photoshoot carries on with ease. 
Where | The Picture Villa - 42, Ansal, Village, Salapur Khera Village, Palam Farms
Timings | 7 AM - 7 PM
Call Them | (+91) 98112 42594 
Here's Their Website | https://thepicturevilla.com/ 
20.  Museum Of Illusions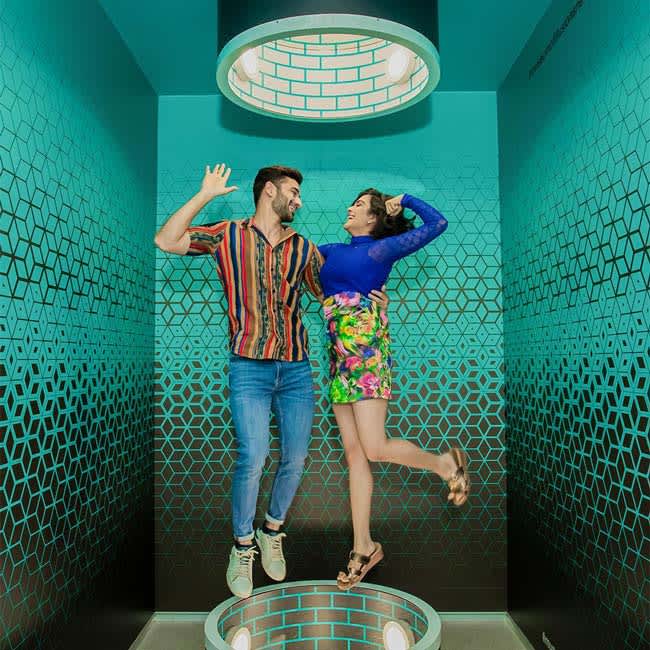 Now here's a fresh idea! If you and your partner live for something quirky and want an out of the park pre-wedding shoot, Museum Of Illusions is a great option for you! So, if you're ready with your photographer but can't think of a location, head over soon to this unique museum! Please note though, the maximum time one ticket can get you is around 1 hour (call them for more deets), so you'd have to be kinda quick. You can also go in early (11 AM) to avoid crowds. How's that for some super memorable moments & clicks?!
Where | Museum Of Illusions - A 30-33, 1st Floor, A Block, Inner Circle, CP
Timings |  11 AM - 8 PM
Call Them | +91 11 4081 3301
Here's Their Website | https://www.facebook.com/museumofillusions.newdelhi
So, if you're getting hitched any time soon, you know where to take your bae for those perfect pre-wedding shoots!