Delhi
Best, Most Unique & Totally Awesome Delhi-Based Wedding Card Designers
Your dream wedding just around the corner? Have you suddenly become totally anal about wedding plans and need every last, tiny detail to be completely flawless? We get you! To make your life easier and your shaadi even more awesome, we've culled out a list of the most amazing Delhi-based wedding invite designers - take a look and sigh happily!
Po Tweet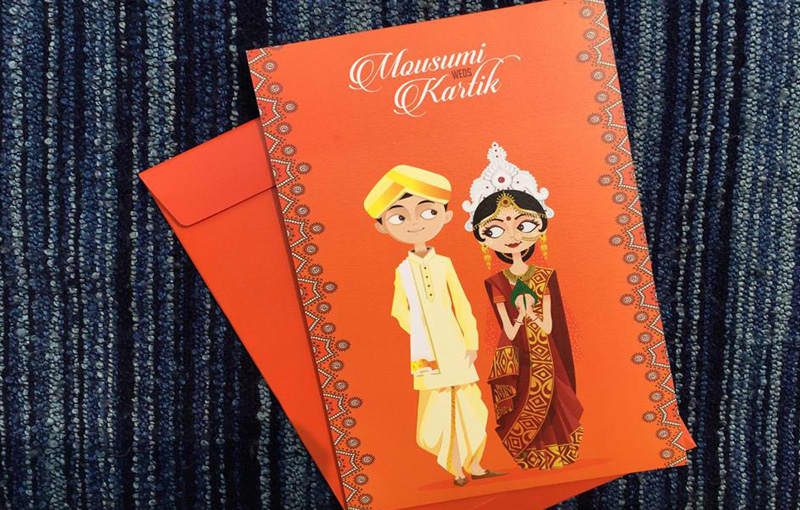 Wedding plans crashing all around you? Want everything to be totally offbeat but for the life of you, you can't figure out exactly how? Po Tweet's the answer to your prayers then! Revolutionizing the standard mithai ka dabba with a sickly-sweet wedding invite into pretty, quirky and adorable designs such as passport-holder pouches, fold-out cards and the like! They've got a slew of happy clients, and you could be one of them - go check 'em out!
The Wedding Studio by Ohsoboho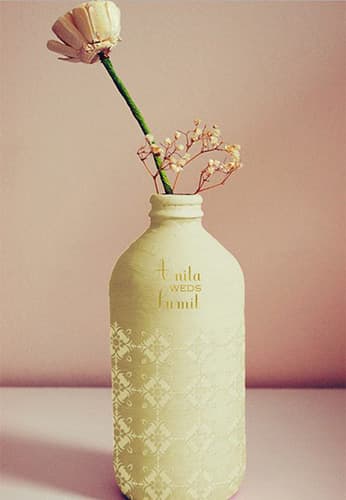 Taking the cake, bakery and baker when it comes to flawless, cutesy and elegant wedding cards you ain't never seen before, The Wedding Studio by Ohsoboho is yet another fabulous Delhi-based outfit you need to hit up. They've crafted cute, stationery-set box-like wedding cards (complete with notecards and mini-cards) and our favorite - a cute bottle covered with fancy paper that announces your happy union with a rose sticking out - now that's what we call a wedding invite!
Here's Their FB Page | https://www.facebook.com/theweddingstudiobyohsobohoindia/
Location | 20, 1st Floor, HKV
Check Out Their Website | https://www.theweddingstudioindia.com/
Upani Artisan Studio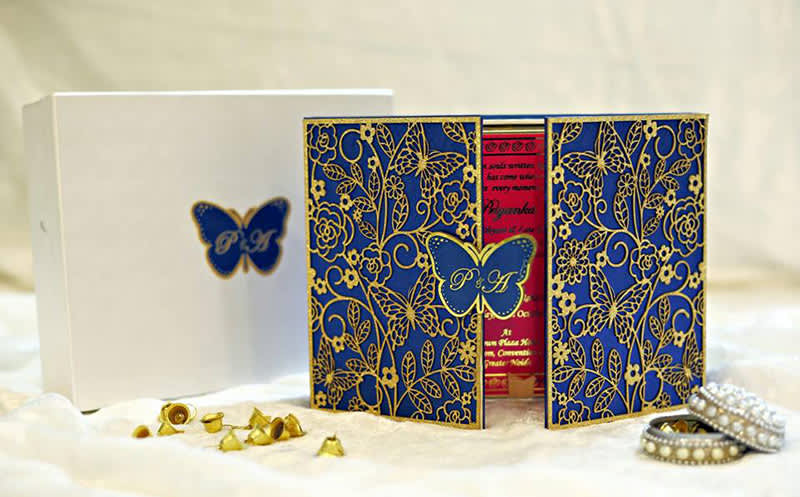 An all-out bespoke wedding stationery and design studio (yes, such places do indeed exist), Upani's been churning out the most offbeat and thoroughly adorable wedding invites you've ever laid eyes on! We love their beautifully inlaid boxes that cleave open to reveal your shaadi's programme written in fancy calligraphy, in tow with miniature drawers built right in cupping gourmet chocolates *dreamy sighs*. These guys are seasoned professionals and virtual artists when it comes to beautiful wedding cards - go see!
Here's Their FB Page | https://www.facebook.com/UpaniInvitationDesigns/
Check Out Their Website | http://www.upani.com/
Call Them | +91 8750 052 241,+91 8750 052 245
Vivek Sahni Design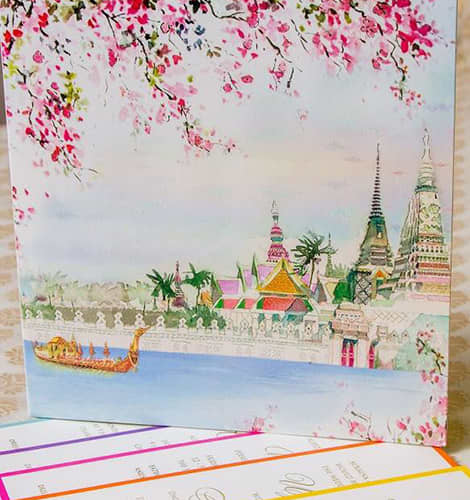 Vivek literally pours every ounce of artistic sensibility in each wedding invite he crafts - evidenced clearly by the exquisite, minute and delicate paintings splayed on individual cards and the superb attention to detail lavished on each and every bit of work he does. For these guys, every wedding invite tells a different story and they're happy to customize their designs as per your whims and fancies - we're totally in love with their gorgeous designs!
Here's His FB Page | https://www.facebook.com/VivekSahniDesign/
Check Out His Website | http://www.viveksahnidesign.com/
Call Him | +91 11 4182 4053 / 56
White-Shoe Press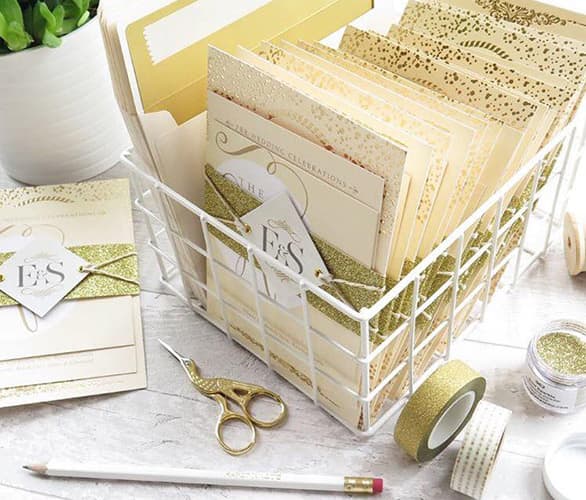 Quirky, vividly colorful and all manner of innovative, White-Shoe Press is undeniably one of our favorites! What sets them apart, you ask? They've made a wedding invite composed entirely of cutesy prints and get this - phulkari fabric swatches! They happily craft the most adorable 'Save The Date' cards, invites, RSVP pockets, 'Thank You' cards, favor bags and loads more cool stuff - give them a buzz!
Here's Their FB Page | https://www.facebook.com/WhiteShoePress/
Location | C-35, 3rd Floor, Pamposh Enclave, GK I
Check Out Their Website | http://www.whiteshoepress.com/
Call Them | +91 8800 760 139
Turmeric Ink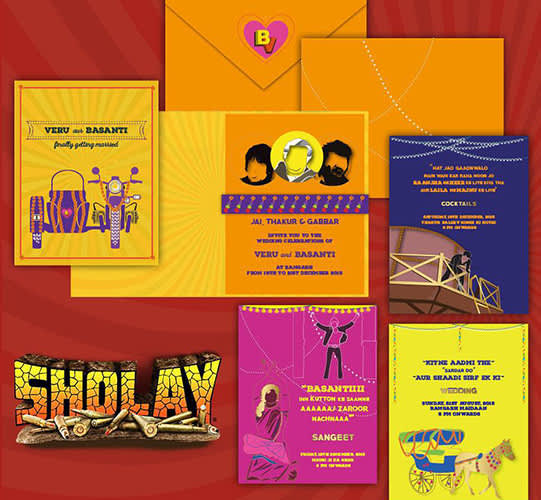 For these guys, it's all about creating an invite that thoroughly speaks to you - the bride and the groom! They start off with a spark of creativity and vision and immerse themselves into researching the right color palettes and design formats that you feel most in-tune with. We absolutely adore their Bollywood-themed wedding invite that comes complete with in-you-face bold colours, flashy Sholay-themed quotes and pretty envelopes! Go give them a look-see!
Here's Their FB Page | https://www.facebook.com/TurmericInk/
Check Out Their Website | http://www.turmericink.com/
Call Them | +91 9717 283 283
Ozel Design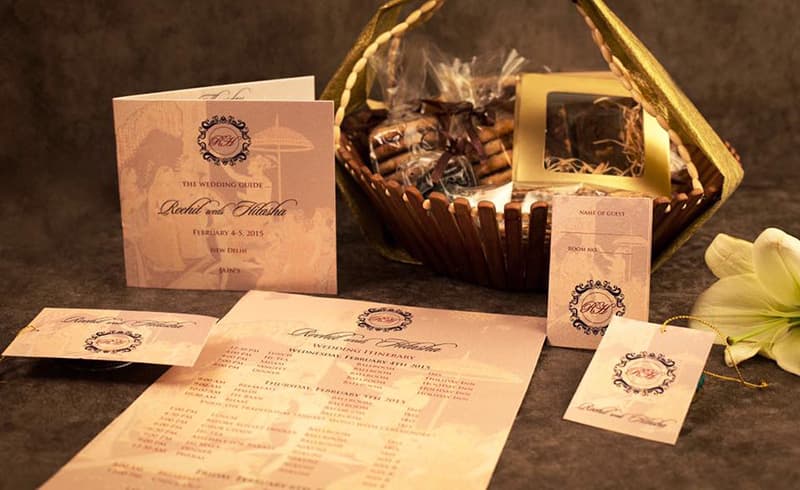 Ok so here's where we were lovestruck by their totally elegant and ostentatious gilded designs! From beautifully prints in gold lettering announcing a union to the cute little exquisite miniature elephants that go with the box, their designs will definitely elicit 'awws' from each and everyone who sees 'em! Go stalk their FB page and their website, and you'll be smitten just like us!
Here's Their FB Page | https://www.facebook.com/OzelDesignInvitations/
Check Out Their Website | http://www.ozeldesign.com/
Call Them |  +91 9999 999 687 & +91 9811 000 006
Invitation by Elements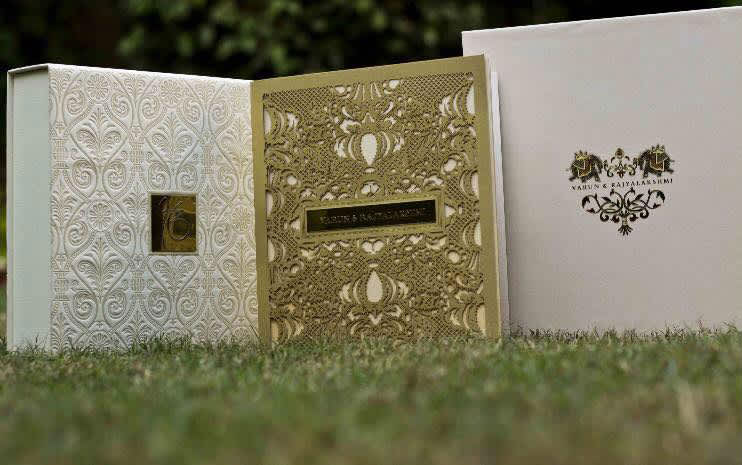 Beautiful fabric-covered boxes with floral prints, starburst designs and delicate calligraphy, not to mention pretty inlays of designs on wedding card invites is exactly why Invitation by Elements makes it to our list! Their designs speak volumes about the painstaking and meticulous attention to detail paid to each and every aspect, and simply drip class and sophistication - you need to check 'em out!
Here's Their FB Page | https://www.facebook.com/Invitation-by-Elements-1697917990438892/
Call Them | +91 9871 996 555
Design by Harpriya Singh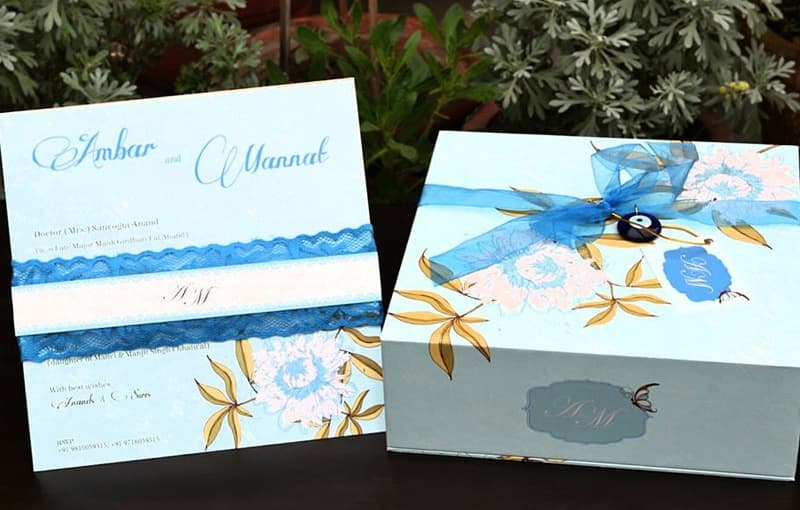 With adorable seashell motifs, pretty dangling flowers and the most jatak, vivid colours in tow, Design by Harpriya Singh guarantees your heart will sing with agreement the moment you lay eyes on her designs! They're happy to customize and ideate themes according to your fancy and you can set up a personal appointment at their offices in either Def Col or Okhla.
Here's Their FB Page | https://www.facebook.com/designbyharpriyasingh/
Check Out Their Website | http://www.harpriyasingh.com/
Call Them | +91 9650 189 439
White Mirage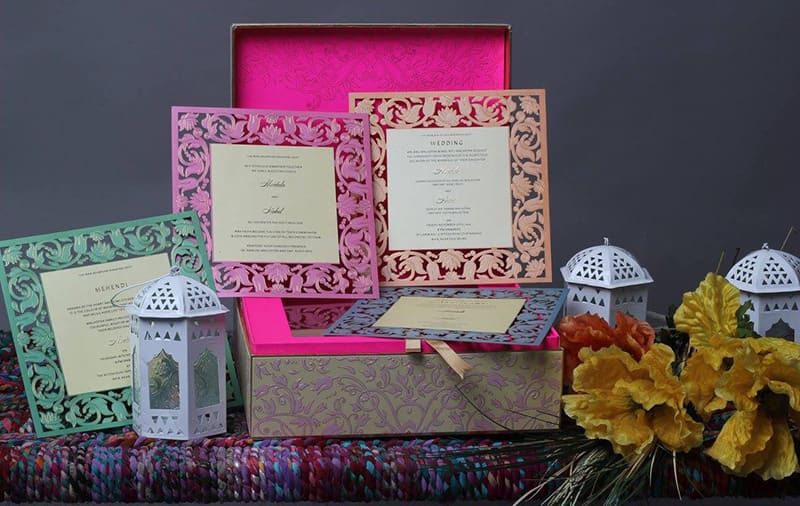 Ok we'll be straight with you - this one's our absolute favorite when it comes to cutesy and adorable wedding invites! We're in love with their beautiful Royal Teak Wood invites, which comprise a glossy wooden teak-wood box with inlaid designs and immaculate calligraphy or you could even pick one of their pretty, floral-painted formats, which are just too dreamy for words! Go ahead, stalk them on FB now!
Here's Their FB Page | https://www.facebook.com/whitemirage1/
Call Them | +91 9811 188 831 & +91 9891 068 574
Aamour Invites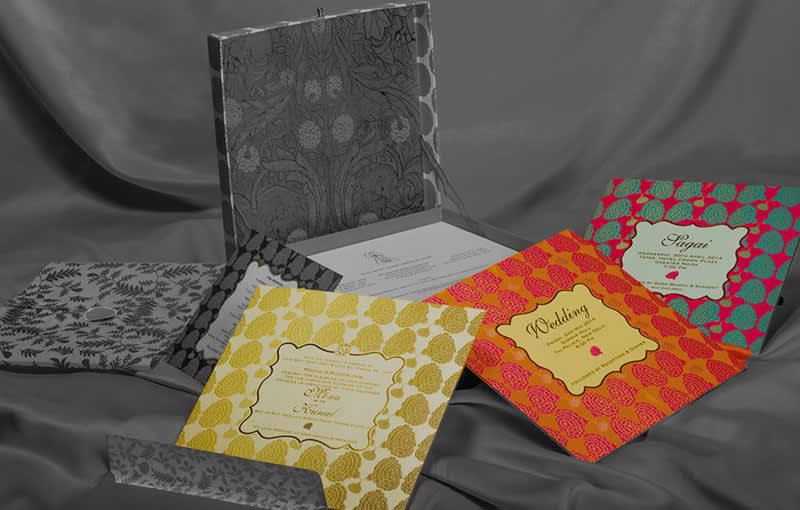 Touted as a luxury couture design studio that'll make you swoon with their uber-plush and ostentatious designs, Aamour is for the die-hard luxury buff inside you! Deep, rich colours with bronze gold tones, perfect detailing and filigree designs is exactly what they offer and exactly what you'll simply adore. Pssst - don't forget to get an eyeful of their gorgeous wedding boxes - they're amazing!
Here's Their FB Page | https://www.facebook.com/aamourinvitations/
Check Out Their Website | http://www.aamour.co.in/
Call Them | +91 9555 765 557
The Card Company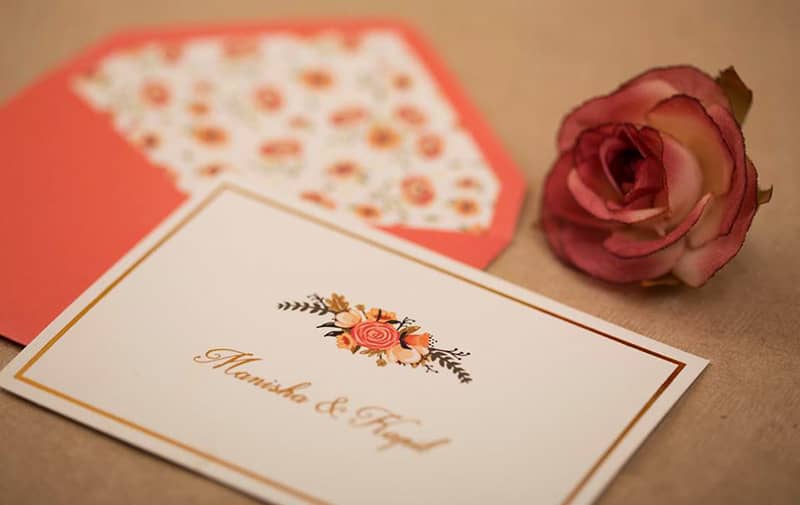 Dome-shaped cards with minimal and absolutely breathtaking detailed designs, all-encompassing delicate frames, printed floral sprigs, quirky prints and oh, tons more awesome stuff is what The Card Company has on the cards (pun intended) for you! Seriously, just go take a look-see at their awesome portfolio and you'll be whipping out your wallets in no time!
Here's Their FB Page | https://www.facebook.com/thecardcompanyindia/
Check Out Their Website | http://thecardcompany.in/
Call Them | +91 9810 250 969 & +91 9810 559 700
House of Design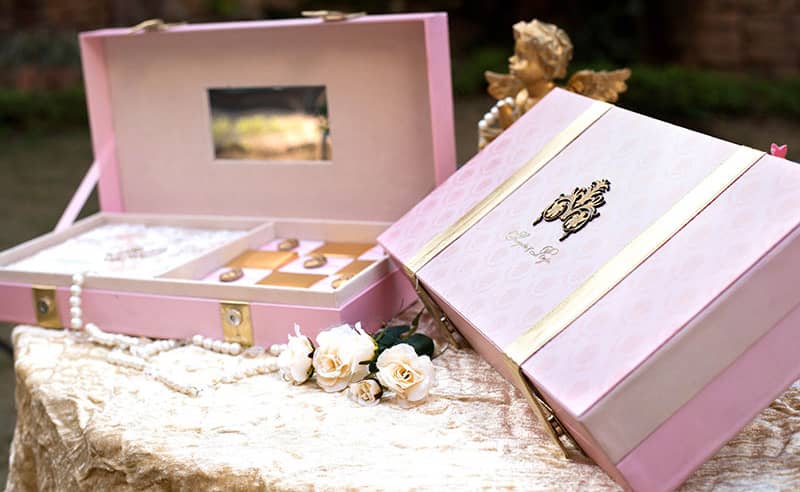 Ok glitz alert here peeps! These guys have crafted awesome wedding cards for illustrious families including the Dhoots of Videocon, Jindals, Lakhani and loads more bigwigs *awestruck*. House of Design is the wedding card invite arm of the well-known boutique bakery, The Sweet Boutique. They've got some truly royal wedding boxes to offer that come equipped with statuary and cutesy little cylindrical bottles - go see!
Location | D-30, 3rd floor, Defence Colony
Check Out Their Website | http://www.thesweetboutique.in/wedding-cards-2/
Call Them | +91 9810 015 342 & +91 9811 330 056
This article has been written by Mehar Luthra. I'm a total Grammar Nazi who eats misspellings for breakfast! A law student, wandering food critic, sarcasm worshipper, caffeine-junkie and serial sitcom-watcher whose abiding passion in life is to write, write & then go and write some more. Let me regale you with some of my musings!