Delhi
9 Best Places In The City To Score Plates Of Piping-Hot Kachoris In Town!
One of the few snacks that this city swears by is undoubtedly the kachori! This street delicacy started its journey from UP and Rajasthan and as time progressed, Delhi made kachori its own crispy delight! The crusty and piping hot kachoris are served with aloo subzi, chole or chutney to give them a tangy and spicy flavour. The city is peppered with various places and kiosks that serve this hearty delight, but we bring you the best ones. Read on!
1. Jung Bahadur Kachori Wala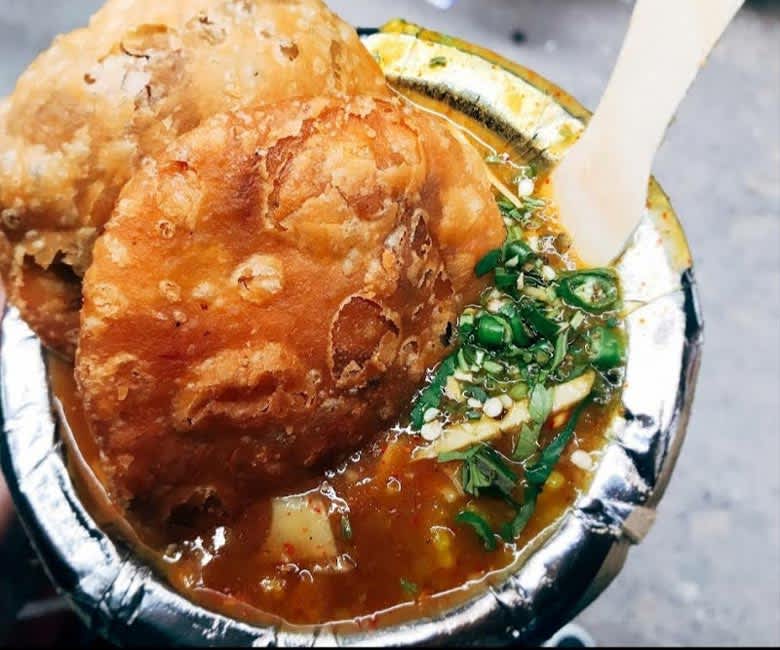 Picture Credits: Mahesh pandey
Brave through the rushed, cramped bylanes of Chandni Chowk, and you just might find many old and famous gastronomical wonders. One such is Jung Bahadur ki Kachori! The freshly fried kachoris are crispy and stuffed with a spicy filling. They use fresh ground spices with potato stuffing and put zesty chopped green chillies on top. The kachoris can be enjoyed with a spicy yet tangy sabzi and a cup of hot tea *bliss*! 
Price | Rs 40
Where | Jung Bahadur Kachori Wala - 1104, Maliwara, Jogiwara, Chandni Chowk
2. Fateh Ki Kachori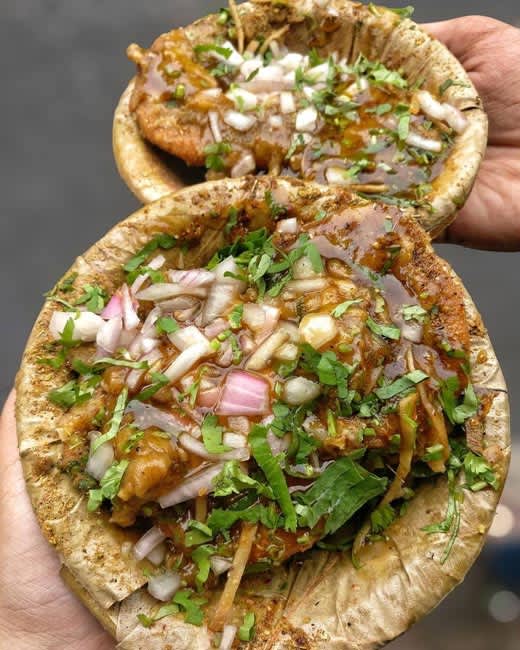 Picture Credits: thefooddestination
Not exactly a shop, but still one of the most popular places to eat kachoris in Delhi, Fateh Ki Kachori is an eating joint that works through a humble bicycle with bags of piping hot kachoris hanging from the handlebars (woah!). On a wooden plank next to the make-shift shop on the bicycle rests the scrumptious chole sabzi that gives body to the 'khasta' kachoris. 
They are then topped with a tangy chutney and chopped green chilies, and coriander and onions are sprinkled for the finishing touch. The kachori wala has a loyal fan following and is frequented by people from all walks of life. 
Price | Rs 20 - 30
Where | Fateh Ki Kachori - Outside St. Xavier's School, Raj Niwas Marg, Next to Gujrati Samaj Building
3. Sharma Kachoriwala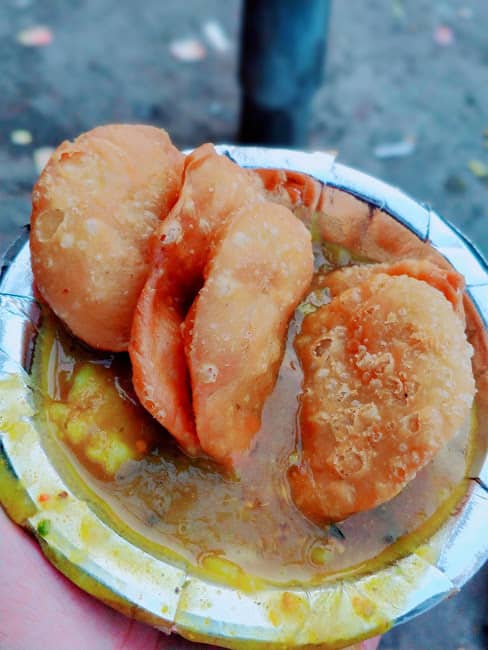 Picture Credits: Manik Sain
This small, yet well-known kachori shop is perpetually crowded and known for its mouth-watering kachoris in Pitampura. The kachoris are fried until they are perfectly crunchy and are served with gravy. The kachoris here will be the best Rs 20 you've ever spent in your life! When here, do try their Dal Kachoris guys - they are amazing. 
Price | Rs 25 
Where | Sharma Kachoriwala - NP 160, Mangal Bazaar (Near Gopal Mandir), Pitampura
4. Kachori Wala Outside Hanuman Mandir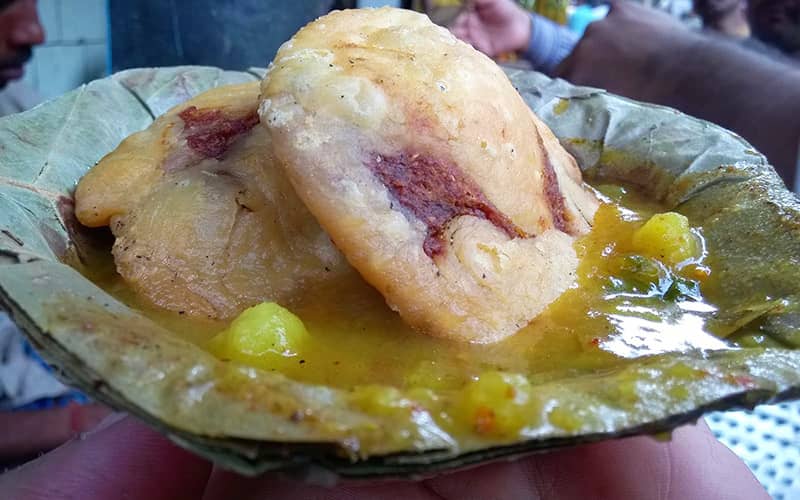 After you dutifully worship Lord Hanuman at the Pracheen Hanuman Mandir in CP, you are rewarded with a plateful of Sharmaji's scrumptious Kachoris. The small cart serving these kachoris is located in the temple grounds and is not hard to find, as it's surrounded by a swarm of kachori lovers. The crispy, golden brown kachoris are stuffed with perfectly spiced dal and potatoes and can also be coupled with delicious aloo sabzi that is the perfect blend of spicy and tangy!
Price | Rs 15 - 30
Where | Kachori Wala Outside Hanuman Mandir - Pracheen Hanuman Mandir, Baba Kharak Singh Marg, CP
5. Gopal Sweets Corner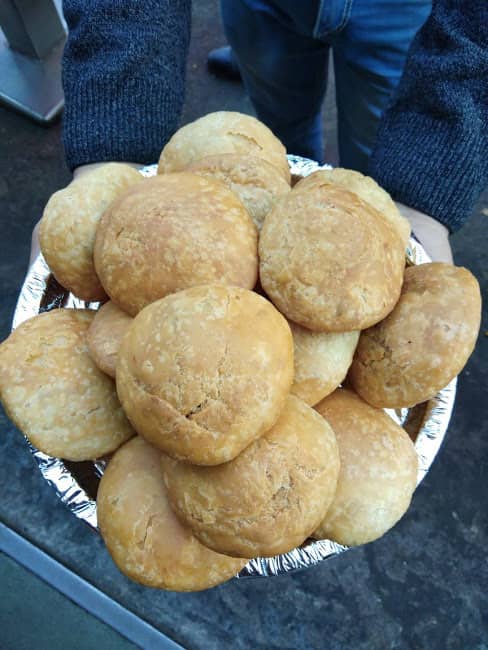 Picture Credits: Deliciousperks
The popular hangout joint for many students of Delhi University, Gopal Snack Corner's Kachoris have charmed generations of students. They claim to have fed many famous alumni from DU. Hungry students line up to eat a plateful of these delish kachoris and keep coming back for more. Served with a spicy aloo and chole sabzi, the crispy kachoris are topped with curd and chutney. The shop fries these crunchy kachoris throughout the day as the demand for them is endless! Come on over. 
Price | Rs 45 
Where | Gopal Sweets Corner - Shop No. 43 Block A, Kamla Nagar
6. Kachori Near GTB Nagar Metro Station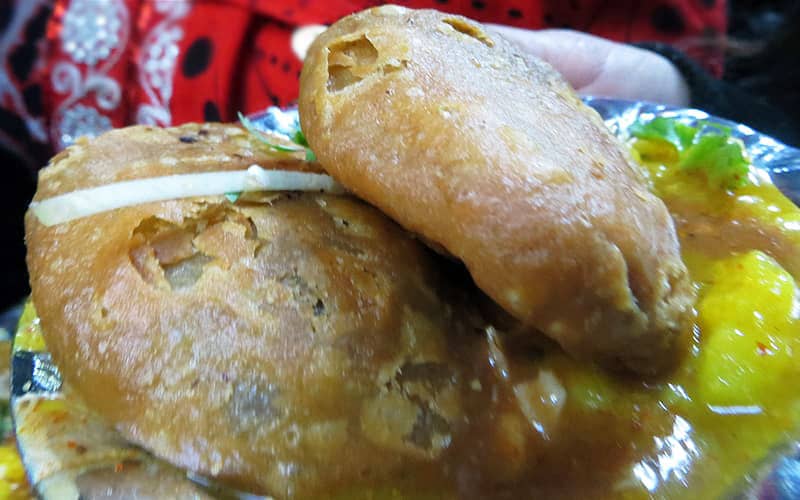 What tastes somewhat like the kachoris you get at Fateh Ki Kachori, is exactly what our next kachoriwala happily dishes up! Serving people outside the bustling GTB Nagar Metro Station, he serves delectable Kachoris which are uber crunchy and satisfying to our hungry cores. Topped with saunth (sweet chutney) and crispy onions, this one makes for a hearty snack when you're on the go! 
Price | Rs 25 (Two Kachoris)
Where | Unnamed Stall - Outside GTB Nagar Metro Station
7. Ghanta Ghar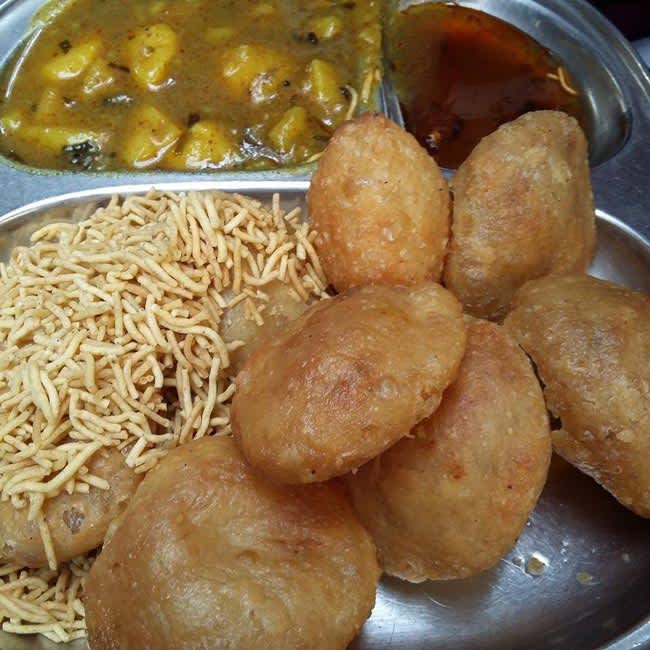 No, not all kachoris have to be overly heavy on your tummy, Ghanta Ghar in old sabzi mandi serves a much healthier kachori variant you guys! The sabzi here is full of hing and other digestive ingredients, and hence it's pretty good for health, unlike the kachoris you find everywhere else. So make your way to this gem of a place and devour guilt-free! 
Price | Rs 30
Where | Ghanta Ghar - Old Sabzi Mandi
8. Multan Moth Bhandar In Paharganj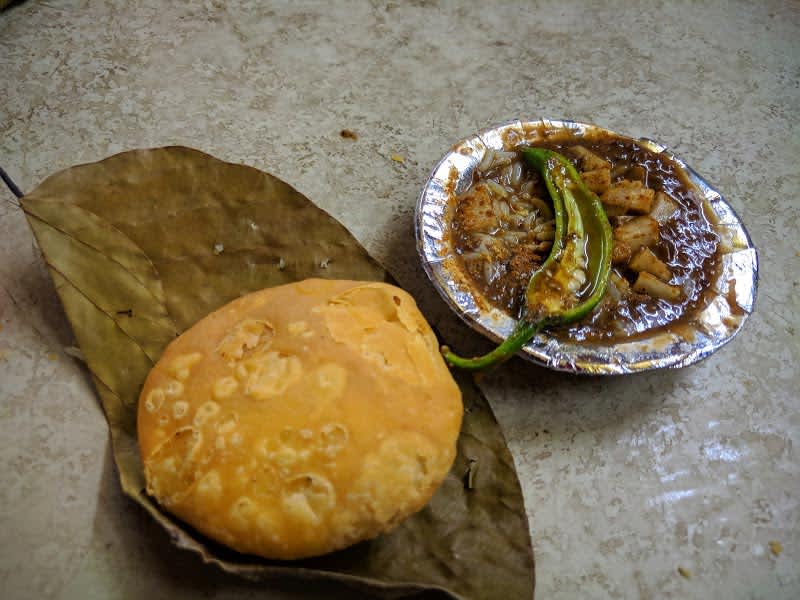 Picture Credits: Sahil Gupta
The quaint and bustling streets of Paharganj are peppered with a number of kachoriwalas that serve drool-worthy kachoris. And we highly recommend the one served by the Multan Moth Bhandar. They dish seriously awesome kachoris along with rice and sabzi, which is a combination you would barely find anywhere else - and it's utterly delicious. Go try!
Price | Rs 30
Where | Multan Moth Bhandar - 9283, Street 6, Multani Dhanda, Paharganj
9. Sarojini Nagar Market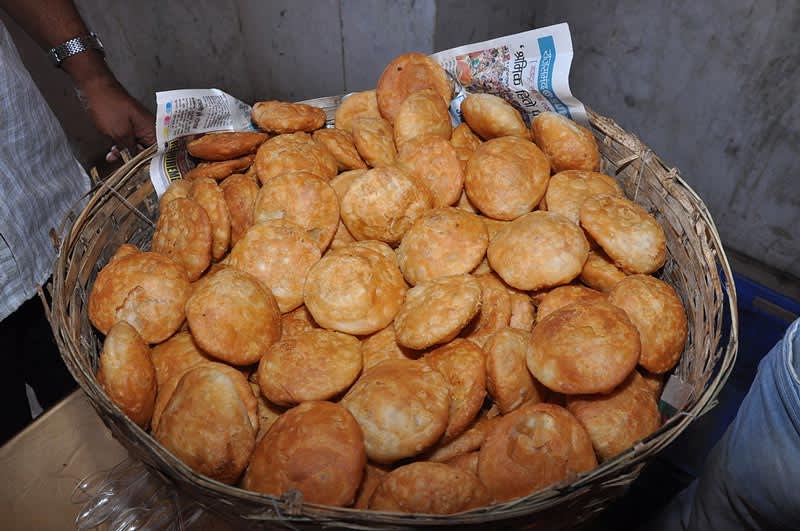 This Is A Representative Image
In the middle of our shopping binge in Sarojini Nagar (as usual), we came across this little kiosk offering mouthwatering Kachori Aloo, and so we paused our shopping sesh just to devour these! The kachori is crunchy and filled with a yummy and addictive jeera filling. Sprinkled with fresh onions, the aloo gravy is spicy and satisfying. Thumbs up!
Price | Rs 50 
Where | Unnamed Stall - Near Shop 26, Sarojini Nagar Market
Already salivating at the thought of devouring these yummy and oh-so-satisfying snack? Well now you know where to steer your wheels to!