Delhi
10 Places To Snack On Crispy Bedmi Poori & Spicy Aloo Subzi For As Low As Rs 15 In Dilli
Picture Credits: agirlwithfork
Winters are meant to gorge on fried and hearty food items. The chilly Dilli air is best complemented with a plate of steaming, stuffed bedmi pooris and spicy aloo subzi. Bedmi (the poori) is made of wheat flour and packed with urad lentils & spices and is served with tempting aloo subzi. We've made sure that you have a sumptuous breakfast by curating a list of the best places to grab a plate of this luscious and pocket-friendly dish!
1. Ram Swaroop Halwai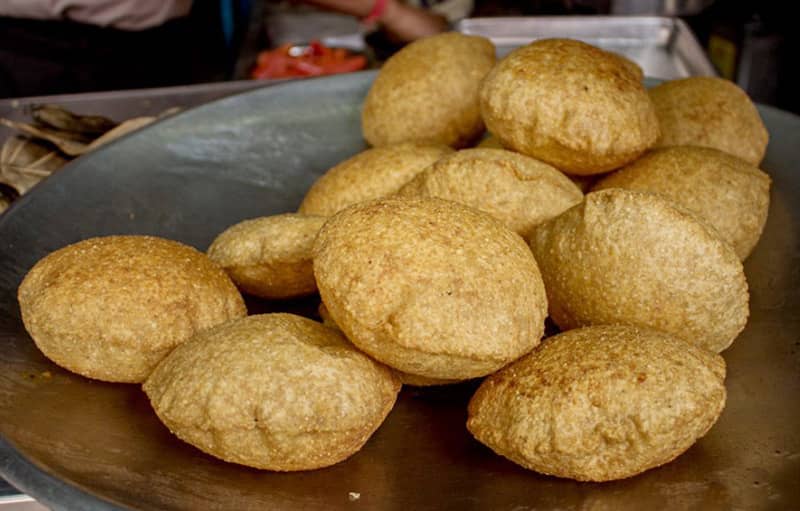 Picture Credits: eatstory
This is a truly iconic gem located in the cacophonies of Chawri Bazaar. These guys have been in business for more than 8 decades and eating Aloo Bedmi here is an altogether different experience. The pooris are crisp and spicy and the Aloo Subzi has the right balance of spices. Have it with pickles and raw onions to make the dish even more enjoyable!
Where | Ram Swaroop Halwai - 3284, Ground Floor, Sitaram Bazar, Chawri Bazaar
Price | Rs 15 (For Two Pieces)
Call Them | +91 11 2328 0757tel:1123280757
2. Mahalaxmi Misthan Bhandar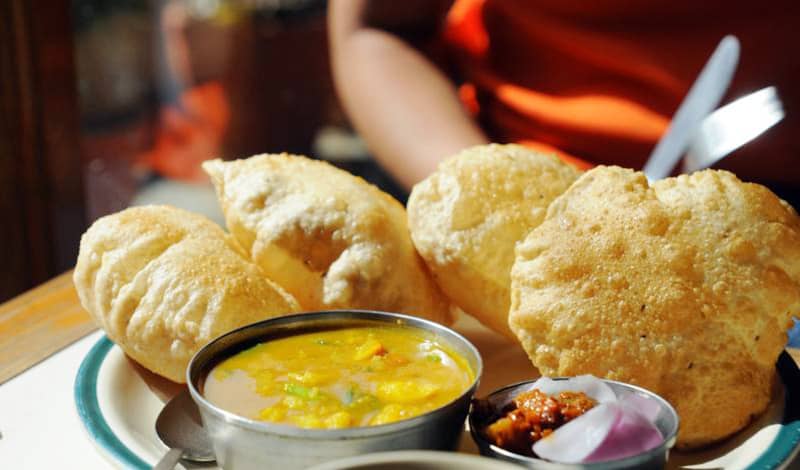 Another sweet shop in Old Delhi, this place too serves this mouth-watering breakfast item. Their Aloo Bedmi is divine, not too spicy and is served with carrot pickle. Their Aloo Subzi is touted to be the best in town. However, to enjoy this fabulous dish, you'll have to go there early in the morning, as it's only served from 6 - 8 AM. So, hurry scurry!
Where | Mahalaxmi Misthan Bhandar - 659, Church Mission Road, Fatehpuri, Chandni Chowk
Price | Rs 80
Call Them | +91 11 2395 6434
Timings | 6 AM - 8 AM
3. Tewari Sweets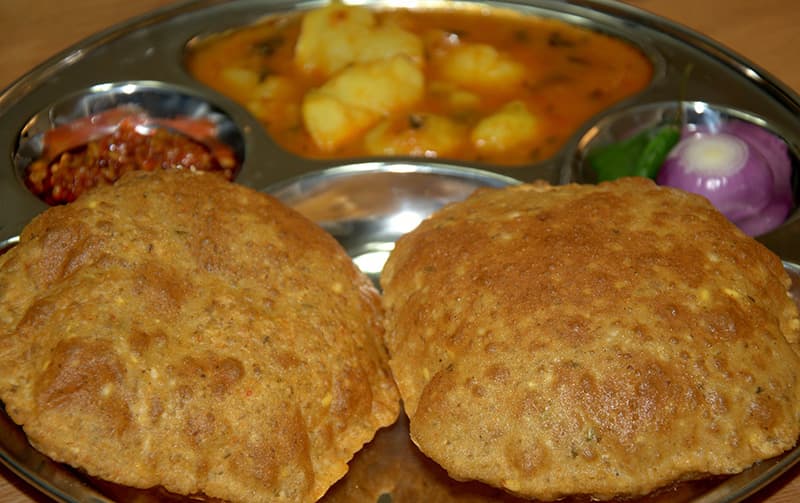 This one's a great place to enjoy Bedmi Poori and Aloo Subzi in a hygienic and laid back setting. Their Bedmi Poori Subzi is lip-smacking to say the least and is not over-spiced, which is a plus. The pooris are crispy and filling, and the dish is served along with raita and pickle. Tempted already? Head on over!
Where | Tewari Sweets - O-3/20, Lajpat Nagar II
Price | Rs 70 Onwards
Call Them | +91 9312 246 595 & +91 11 2983 8348
4. Ram Parshad Makhan Lal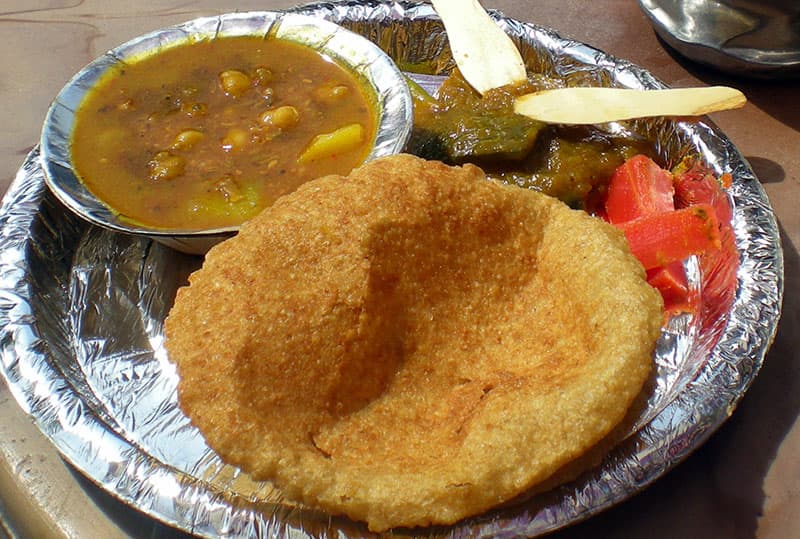 Picture Credits: eatanddust
This modest little eatery has been in business since 1942 and hence they have mastered the art of making Bedmi Poori and Aloo Subzi which is often a much sought-after dish for the nearby residents. A great way to start the day, do make sure to finish your meal with a plate of delicious Nagori Halwa! 
Where | Ram Prashad Makhan Lal - 453, Khari Baoli, Chandni Chowk
Price | Rs 60
Call Them | +91 11 2393 8248 & +91 9818 816 575
Timings | 8 AM - 12 PM
5. Shyam Sweets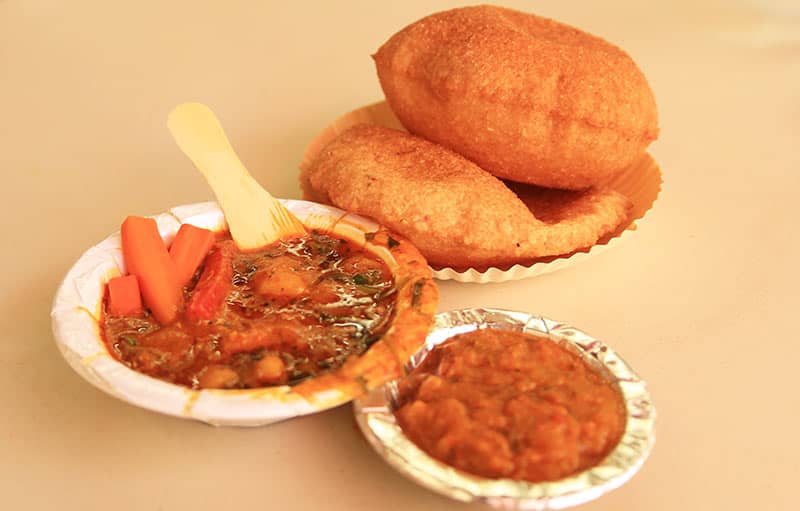 Shyam Sweets in Chawri Bazaar has been selling this amazing breakfast item for close to 90 years - woah! Their Bedmi Pooris are spicy and go perfectly well with Aloo Subzi and their pickles and green chillies. A single serving of this dish consists of two pooris and a bowl of piping hot Aloo Subzi.
Where | Shyam Sweets - 112, Barshah Bulla Chowk, Near Metro Station, Chawri Bazaar
Price | Rs 60
Call Them | +91 11 2326 8087
Timings | Till 2 PM
6. Shiv Misthan Bhandar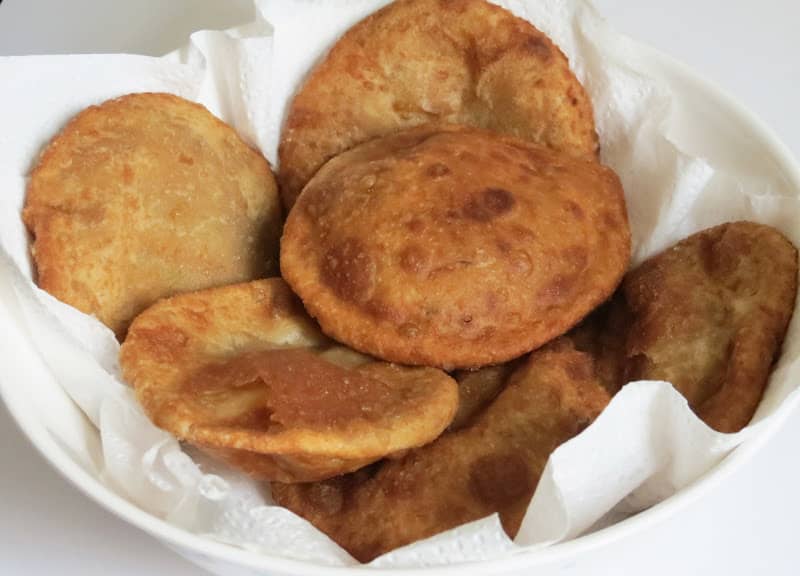 Picture Credits: mitt cooking love
Shiv Misthan Bhandar is a well-known sweet shop in Old Delhi and how can it not be when they've been in business for more than 100 years now! Their Bedmi Poori & Subzi is so enchantingly delicious that you will not be able to resist till you have a second serving. The subzi and pooris are prepared in desi ghee and made using a secret recipe that makes the dish stand out from the crowd!
Where | Shiv Misthan Bhandar - 375, Kucha Ghasi Ram, Chandni Chowk
Price | Rs 90
Call Them | +91 11 2392 1406
Timings | 8 AM - 8 PM
7. Bhimsain's Bengali Sweet House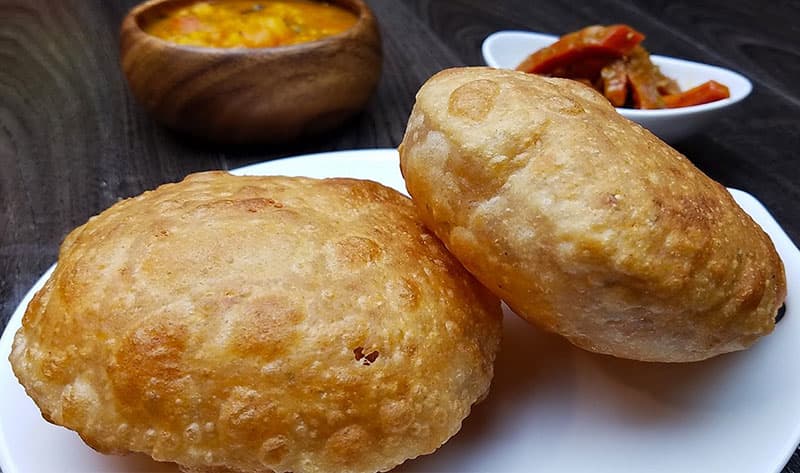 Another much-loved joint for years amongst many, Bengali Sweet House is definitely not to be missed if you're looking for a nice plate of bedmi poori and subzi in CP. The taste is simple and comforting, and will take you back to your childhood memories! It's served alongside raw onions and pickles for a treat to your tastebuds.
Where | Bhimsain's Bengali Sweet House -  27-29, Bengali Market, Barakhamba Road
Price | Rs 55
Call Them | +91 11 2331 1855 & +91 11 2332 2222
8. Gopal Foods
These people undoubtedly serve the best bedmi poori and subzi near North Campus, also accompanied with a glass full of lassi. Almost every morning and even evenings, the place is filled with customers who are gorging on a plate or two. The pooris are good-sized and the unlimited subzi is provided with raw carrot pickle - come devour!
Where | Gopal Foods - A-43, Kamla Nagar
Price | Rs 40
Call Them | +91 9999 426 975, +91 9999 426 973
Timings | 8 AM - 9 PM
9. Jain Saab Poore Wale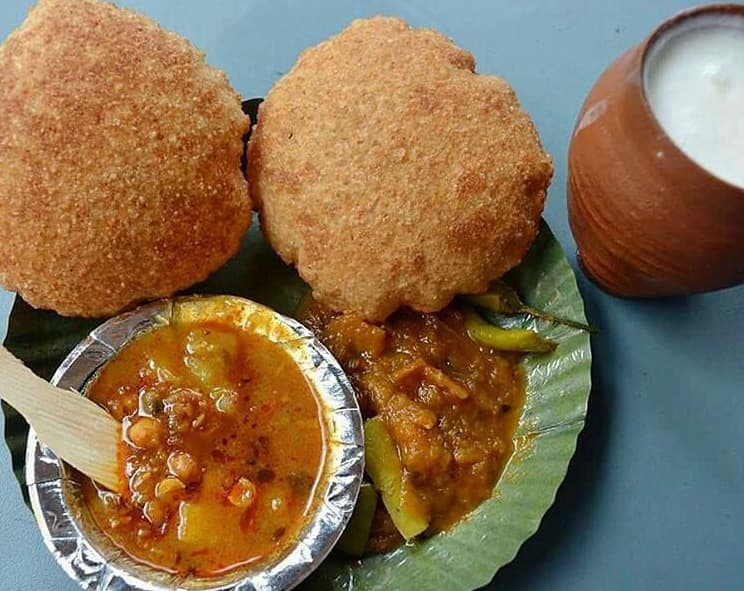 When it comes to bedmi poori, Jain Saab is the undisputed 'King'! A hearty breakfast of a plate of crispy bedmi with aloo chhole sabzi accompanied with a glass of lassi - ah, bliss! The dish is served with a side portion of sweet and tangy pumpkin. Sounds like the perfect Sunday breakfast, doesn't it?!
Where | Jain Saab Poore Waale - Near Golcha Cinema On Bahadur Shah Zafar Road, Daryaganj
Price | Rs 60
10. Nathu Caterers & Sweets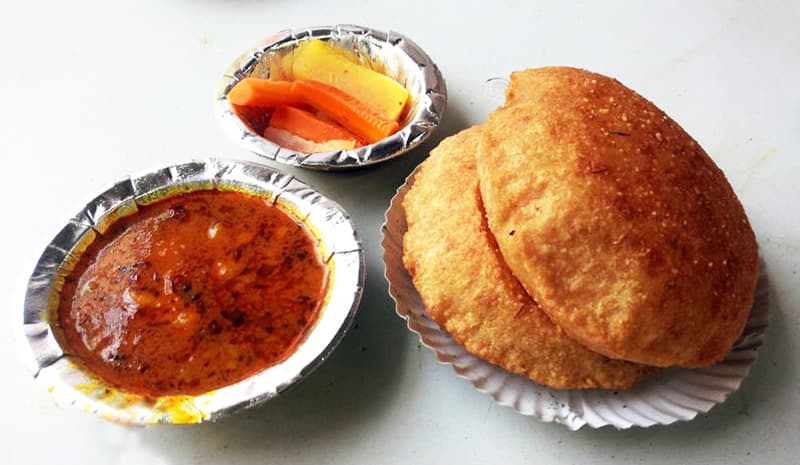 Picture Credits: Hangouts
You'll find this little shop as soon as you enter Chandni Chowk through the metro station. The best thing about having Bedmi Poori here is that this dish is served all day long (yes!) unlike other places. The subzi has a thick gravy and is superbly delicious. You can ask for green chillies and pickle too, for some added masala!
Where | Nathu Caterers & Sweets - Opposite Shani Mandir, Next To Chandni Chowk Metro Station
Making this list has made us crave for this delish dish! If you haven't tried it already, you absolutely have to head to these places without any delay. The tasty bedmi poori and aloo subzi combo will make you keep coming back for more!