Delhi
A Graceful, Huge Masjid That's Now Fallen To Ruins, Here's All About The Begumpur Mosque
Begumpur Mosque is like a twin to its counterpart at Jama Masjid, similar in size but completely opposite in its present state to the Old Delhi mosque which is still in use. Similar to the Khirki Mosque nearby in its architectural motifs, there's a debate as to whether the mosque was built during Muhammad-bin-Tughlaq's or his successor, Firoz Shah's reign, with evidence pointing more towards the latter as Juna Shah, Firoz Shah's prime minister, had constructed many mosques with similar architectural motifs (Khirki being one).
Also Ibn Batuta, who had visited during Muhammad-bin-Tughlaq's reign, did not record the structure in his writings till his departure in 1341 AD and the king himself died in 1351 AD, ten years being too short a time for such grandeur.
The Overall Structure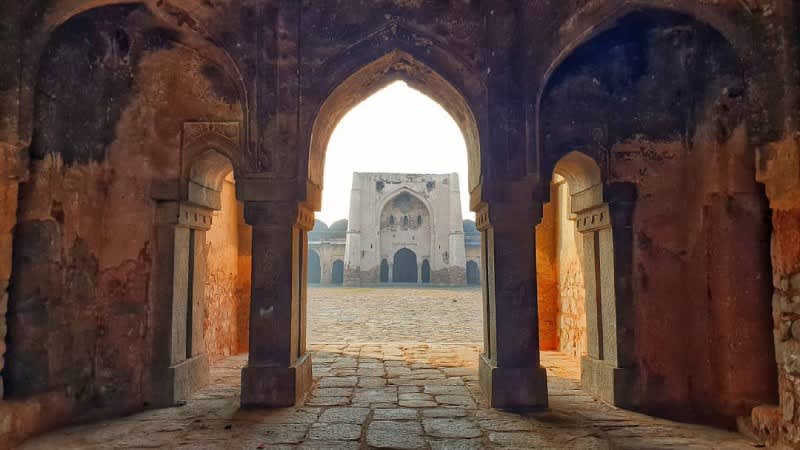 Picture Credits: williamdalrymple
The mosque has a huge courtyard of almost a 1000 sq. metres, second only to the Jama Masjid in Old Delhi that was built much later. The arch at the main entrance to the East is covered by one of the larger domes. Elements of Timurid architecture which dominated the landscape of Central Asia can be found here, especially in the design pattern and geometrical layout. A small passageway on the East leads to an independent small structure, believed to be a mosque for women. This part cannot be accessed through the main structure now because of the blocked staircase and massive encroachments. The mathematical symmetry of Khirki Masjid can be found on these roofs as well. 
The verandahs on the North and South have eight domes each, while those on the East and West have seven domes each. The view of Bijay Mandal on the West and the creeping cityscape all around makes the roof worth a visit. Some of the parts have caved in though, so one has to be careful making their way up to the top.
The Mihrab (niche in the wall) is pretty simple, and so is the mosque as a whole in terms of decoration, but can often surprise one with the variety of materials used and the complex architectural problems that were resolved with sheer artistry and ingenuity! 
Despite All Efforts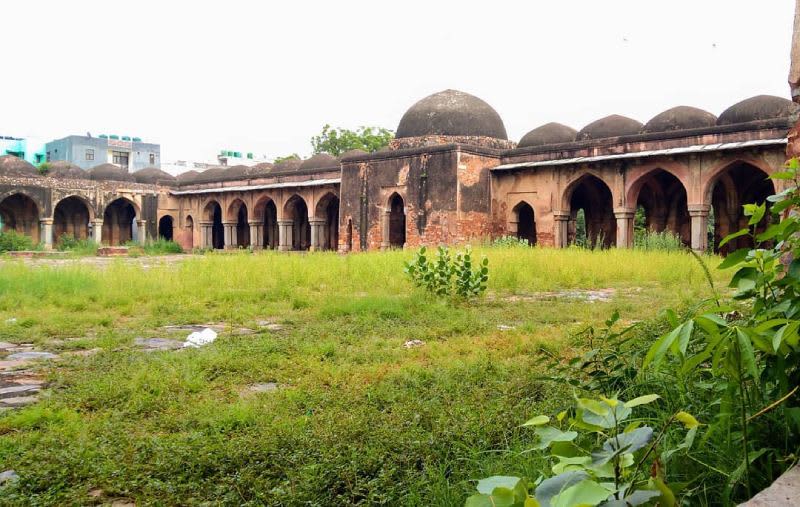 Picture Credits: theindianwalker
The ASI has been trying to restore the monument for quite a while now, but the encroachments can be too much at times – drunkards, gamblers, drug addicts and aspiring cricketers, all have camped on the courtyards and dark chambers of the monument. There's an ASI guard stationed here, who can show you around on request; but again, the wee hours of the morning are to be avoided. Both Bijay Mandal and the mosque are a 10 minute walk from the metro station. It's advisable to be modestly dressed here, as the area is an urban village. It is also recommended that you visit the monument during day time.
Here's hoping for proper restoration and adequate maintenance of this integral piece of Delhi's historical heritage!
Where | Begumpur Mosque - Begumpur Village Malviya Nagar, Near Mata Mandir