Delhi
Beautiful, Cheap & Quirky Earrings And Accessories Street Vendors In Kamla Nagar
Kamla Nagar or as its frequenting flock likes to call it, K-Nags, is the nerve centre of North Campus and caters to its students' practically every need - be it clothes, food, accessories or books, you need something, K-Nags' got it! Casually passing through the lanes here, you'll find scores of vendors selling earrings so attractive, that you won't be able to help but check 'em out. They have a wide variety on offer that serve to your varied needs. With everything, ranging from trendy giant hoops that go with your regular casual wear to traditional jhumkas that'll add that touch of zing to your ethnic look, you'll find them all here at really affordable prices and if you're blessed with keen bargaining skills then, well, who knows what all wonder you can perform here! And, to save you all some time and mindless excursion, we've curated a list of some of the permanent vendors which are always present at their respective locations. Take a gander!
Stall Near McDonald's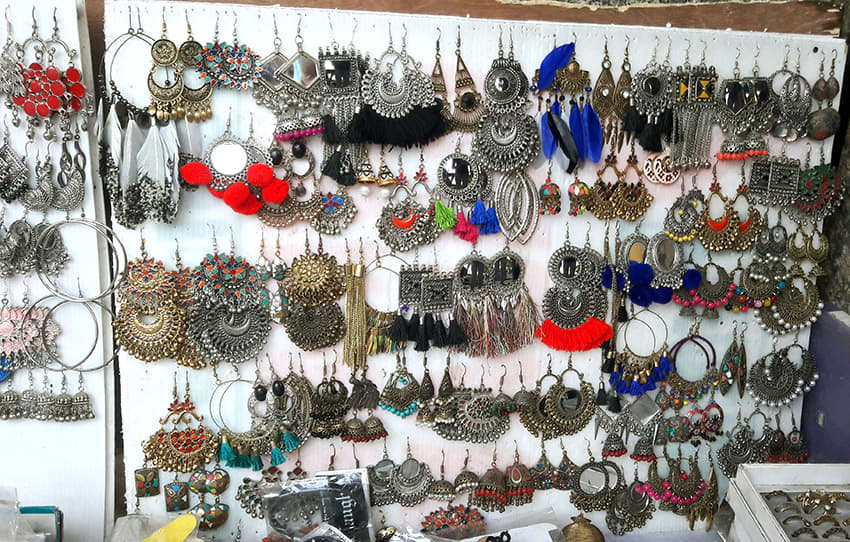 McDonald's is one place in the city you can always bet to find thronged with people. And quite conveniently located, right outside the outlet here, is an old lady with her display of beautiful accessories. She has some of the most innovative and refreshing designs of not only earrings, but also chokers and rings. The best part though, no doubt, is the easy accessibility and the great price!
Prices | Rs 100 Onwards (Earrings), Rs 150 Onwards (Chokers & Necklaces) & Rs 50 Onwards (Rings)
Stall Opposite Incense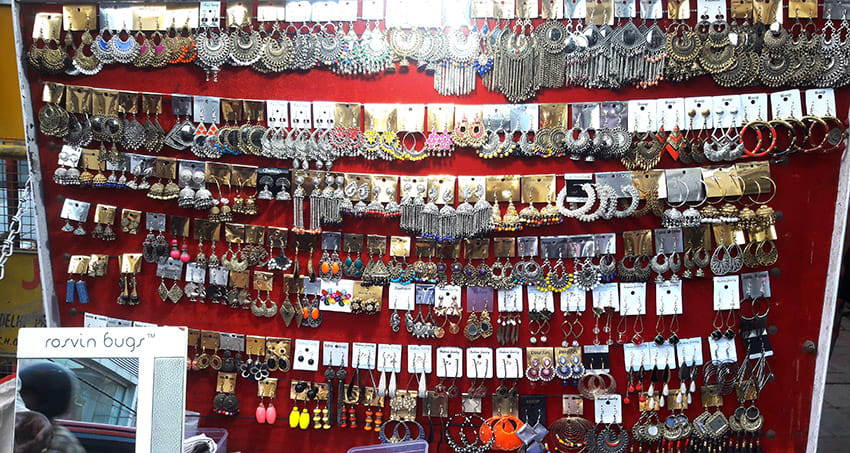 This one is a bigger stall, in fact biggest of them all. It not only stocks a vast variety of exquisite and intricate earrings, but also has an impressive selection of hairbands and clips, as well as, other accessories. 
In addition to that, this particular stall has some very unusual and quirky designs, the ones that would go with any look or style you decide to don! They have the ones suitable for perfect sanskaari look as well as the ones that'll be suitable for all your western outfits.
Prices | Rs 150 Onwards (Earrings) & Rs 50 Onwards (Clips And Bands)
Stall Opposite Clovia/Lulla Buy

This, again, is a humble stall that mainly has earrings that would compliment only ethnic wear but their designs are very flattering and interesting. They have everything, be it the small ones for casual wear, or the heavy embellished ones for your special days!
Being the smallest one, this is the cheaper option for you where you'll find comparatively a lesser number of designs and at lesser rates.
Price | Rs 50 Onwards
As they say, the perfect jewellery can lighten up even the simplest of the outfits. So, the next time you are looking for your dream accessories, do pay a visit to these small stalls in Kamla Nagar and we wager, you'll find the perfect match for your look!