Delhi
An Interview With The Popular Folk Rock Music Band Called Chaar Hazaari
Chaar Hazaari is a Folk Rock band from Delhi. The band was founded in the year 2012, the name of which in itself is a story. Inspired by Indie Rock music of Mr Raghu Dixit, Kailash Kher & Suraj Jagan, it shares a dream to play, breathe music as long & as much as it wants. We chat with this emerging music band to know what it took to get this far.
Tell us a little about the band and how was it first formed?
Our band's name is Chaar Hazaari & we are into Folk Rock music. It was started by four members - Yatindra (Lead Vocals), Shailendra (Drums), Utkarsh (Keyboards) & Deepanshu (Guitars). Yatindra, Utkarsh & Deepanshu (Jaypee College) belong to the same college whereas Shailendra was introduced to the band through a music page on Facebook. Our first jam was done in the month of November, 2012 and our first gig was performed in the Jaypee College (Yatindra's college).
The unavailability of the drum kit made the band to put an extra effort to the gig. When we went on the stage for the performance, the host asked for our group's name. Now since we managed to arrange only 4000 rupees from the management of the college for the drum kit, we named ourselves as 'Chaar Hazaari'.
How would you describe the kind of music you do?
We consider ourselves as a fusion of Contemporary, Folk with the flourish of Classical music. And you'll find an 'auditory blend of Modern Rock, Indian Folk & Groovy Dance vibes' in our music.
What inspires your music?
We discovered our inspiration from 'The Raghu Dixit Project' band. Their music always makes you taste the flavor of the music that they want to deliver and will certainly make you dance. The other band being the 'Kailasa' gives you that soulful touch to the music that we admire the most.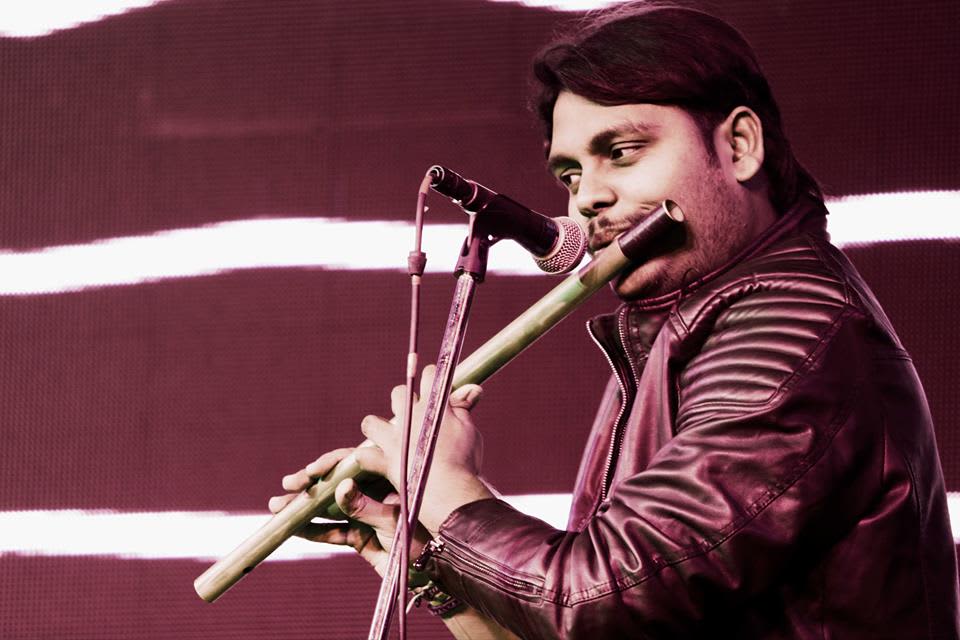 How has the band progressed over the years?
The band has seen  several ups and downs, the first time being when Deepanshu left the band. It is then when we realized how difficult it is to add a new member in the group. Since then we decided whatever will be the situation we'll all handle it together as a team. The band performed in several venues like IIT Roorkee, IIT Bombay, Hard Rock Café Delhi & Gurgaon, worked with Red FM. People came and left the group but we tackled the situation as a family. Also in the meanwhile, we managed to compose 9 compositions and are still counting.
Is it difficult to establish a band? What kind of difficulties have you guys faced over the period of time and how did you come past them?
The band can be created easily but it is difficult to maintain it. The foremost thing is that you need to trust each other, work together as a family. We always stay, party together, and celebrate festivals just to know each other more closely. We all believe that the environment of the band should be positive.
And since you are trying to grow/step up, you'll face hurdles and so did we. Since we come from typical Indian family backgrounds, most of us were not supported by the family to work in the band. We were mocked by relatives, neighbors several times. But when our families saw the output of our efforts, they now atleast allow us to jam and spare some time for music & that's all one needs, right?
Finding gigs initially was another challenge. We had to meet a lot of people to convince them about our music and let us play once for them at their venue. But slowly things kicked in, we met few people & they liked our music and that's how our journey started. Now, we get gigs a bit easily but the condition of it being not Bollywood is always our first priority. We believe in Indie music and would always work for the same.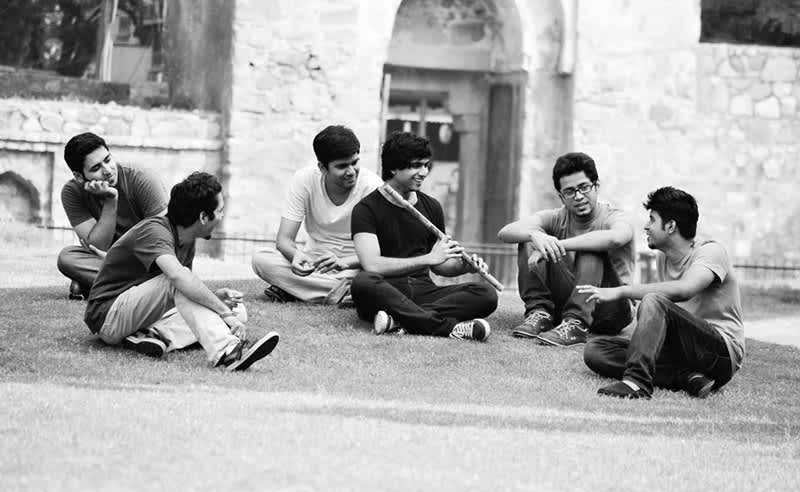 How difficult is to manage the practice session and the gigs with your regular jobs?
We try to jam in the evening since few of us are regular job guys. They finish their day shifts and then rush to the jampad for the practice. It's just that we don't want to make practice sessions complicated. Since music is our first priority, we always tend to make our ways to the jampad room.  
Which one of your compositions is the most favourite one of the group and why?
We have 9 compositions now and it's very difficult to choose one track since we love them all. We always try to come up with a different flavor of music & give a soul to it.
What according to you makes Delhi 'So Delhi'?
The kind of cheering they do. The Delhi crowd is very straight forward, they would bluntly tell you if you are good or you suck and that's the beauty of it. We are very fortunate that we have been happily accepted by our Delhi followers and managed to get their love for our music.
Criticism is something that we never run from. Whatever you review us, we simply accept it and if it needs improvement we work harder on it.
What places in Delhi you guys like the most to chill at?
Since we all come from different parts of Delhi, our prime meeting location has always been Connaught Place. We jam & chill out in CP.
Which is the place in Delhi you like to perform at the most?
Hauz Khas Village & Connaught Place would be the places that we always love to perform at. The crowd at both the places is way too enthusiastic.
Follow Them Here | https://www.facebook.com/pg/chaarhazaari