Delhi
Baubles Shopping | The Best Places for Silver Jewellery in Dariba Kalan
One of the most famous silver markets in Delhi and the largest in Asia, Dariba Kalan has been around since the 17th century! It is then no wonder that this bustling street has many hidden gems to offer. You can find jewellery in gold, enamel work, diamonds and is equally popular for its unique and budget selection of silver ornaments. The vintage architecture and unique culture just add to its appeal! On a quest to find the most famous silver jewellery shops in Dariba, here's a guide of where to go and what to look out for! 
Multan Enamel Mart Jewellers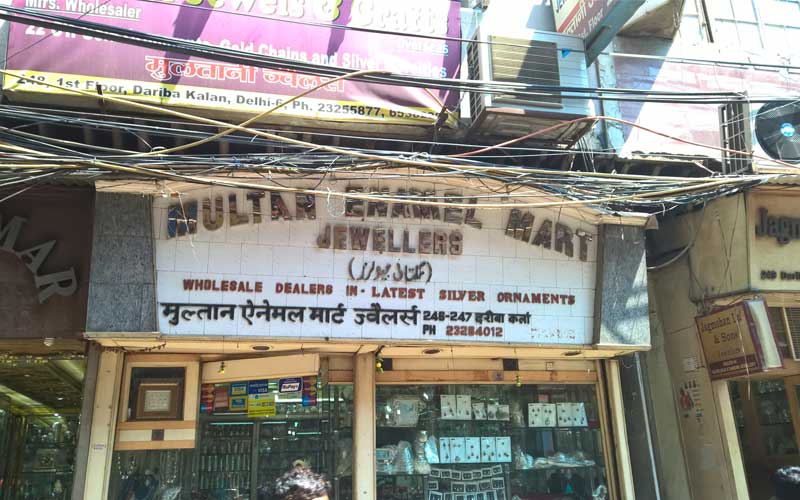 Having started operations pre-partition, the specialty of this store lies in enamel jewellery set in silver along with ornaments in Sterling Silver with 92.5% purity. The store's selection of jewellery also showcases semi-precious stones and is sought after for rarer ornament types such as the baajubandh or armlet, kamarband or waist belts and the bangle-cum-ring ornament known as the haath phool. Bridal silver jewellery is one of the hot-sellers at this store, and a piece picked out from here can become a special addition to one's bridal trousseau. For gifting purposes, one can also pick out a spiritually-significant piece designed for both men and women. The prices here begin at approximately Rs 600.
Multan Enamel Mart Jewellers | Shop No. 246-247, Dariba Kalan, New Delhi-06
Jain Silver Arts Jewellery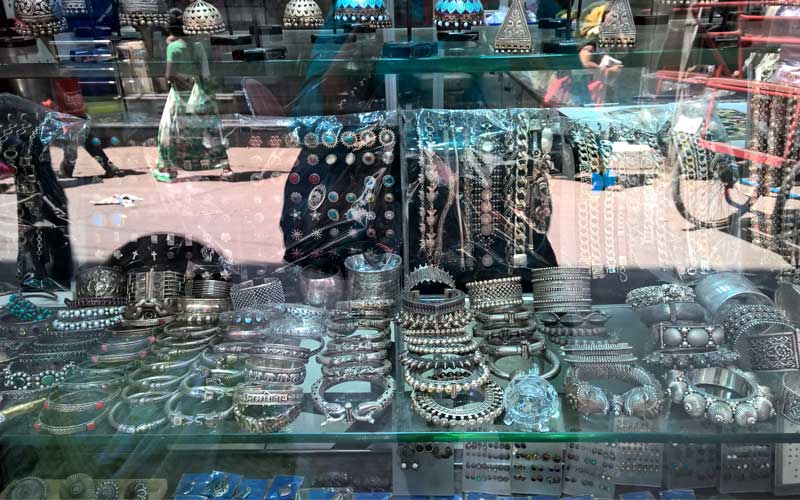 A name that is known by practically every juice-waala or chai-waala on the block, Jain Silver Arts Jewellery has been in business for about 45 years. Having recently revamped the store and changed their niche, they are now the best in the business for modern jewellery styles. Starting at Rs 150 and going up to more than 10 grand a pop, this store has some gorgeous, contemporarily styled pieces. Modish necklaces, chic pendants and earrings along with fashionable rings and bracelets make up a bulk of their collection. If you're looking for silver trinkets embellished with semi-precious stones in designs that make you go gaga, this is the place to be.
Jain Silver Arts Jewellery | Shop No. 1788B, Dariba Kalan, New Delhi-06
Chackresh Jewellers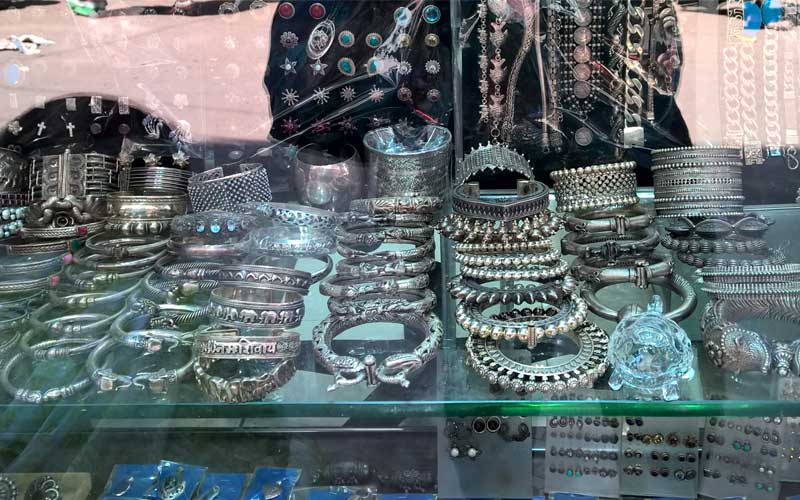 Another family owned business on the list, Chackresh Jewellers has been selling stunning pieces of silver jewellery since 1934. The shop has recently been renovated and it specializes in the sale of antique and Victorian silver ornaments with a generous sprinkling of enamel work. However, recently a new wing has been added to the business that sells modern styles of costume jewellery, not just in silver, but also wood, beads, gold-plated silver and other affordable materials, thus creating a selection meant for college students and young professionals alike. The price range of the selection at this store is astounding. Items can be purchased for as less as Rs 50 while the more delicate and intricately carved silver ornaments can go beyond Rs 10,000. 
Chackresh Jewellers | Shop No. 1726, Dariba Kalan, New Delhi-06
Dau Dayal & Co. Jewellers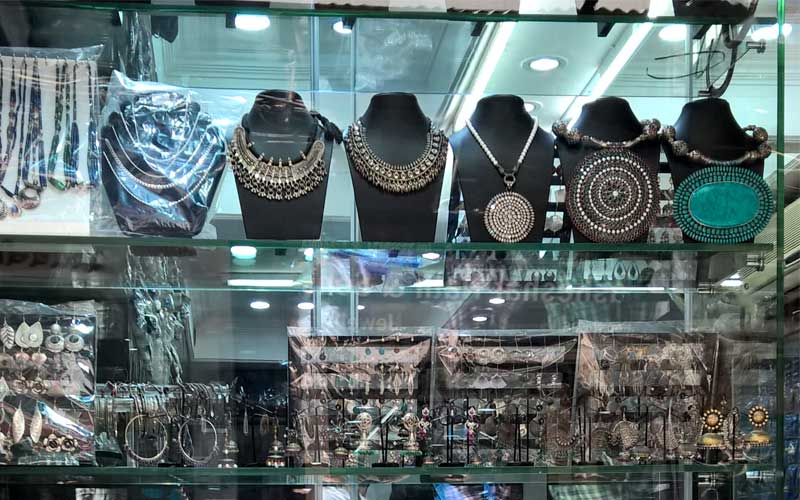 Dau Dayal is undoubtedly one of the most attractive shops in the market. The unassuming signboard does not do justice to the collection of silver ornaments that this shop boasts of. One cannot help but marvel at the unique blend of modish, vintage and traditional designs of a legacy that is four generations old. While they're the biggest wholesalers and retailers in Dariba, they also take on special orders from clients and can provide customized silver jewellery on request. The store also specializes in the sale of enamel inlaid silver ornaments as well as bizzling work, which is a hand-made technique of creating jewellery, originating in West Bengal. The price-range of their collection starts at an affordable Rs 500 and can go beyond Rs 15,000. 
Dau Dayal & Co. Jewellers | Shop No. 1731, Dariba Kalan, New Delhi-06
Anil K. Seth & Sons Jewellers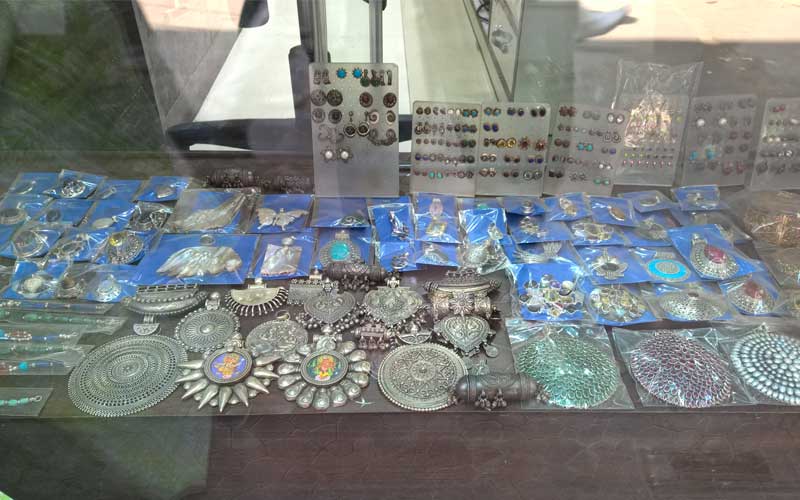 Anil K. Seth & Sons have been in Dariba Kalan selling silver trinkets and baubles for as long as they can remember. Right from traditional silver earrings and necklaces, to the more modish and modern looking pieces, one can find just about everything here. The price range of the collection is slightly on the higher side, in comparison to the other stores on this list. However, the authenticity and quality of the wares cannot be doubted. About 90% of the products are wrought exclusively in silver, with some also using semi-precious stones and other exotic materials in the making. Young professionals with a love for traditional, ethnic fashion might find this shop more to their liking in terms of designs and variety.
Anil K. Seth & Sons Jewellers | Shop No. 1730, Dariba Kalan, New Delhi-06