Delhi
Banoffee Pie, Chilli Guava Gelato & More! What To Try @ THIS Adorbs Ice Cream Truck
Considering the scorching heat that Delhi is currently melting in, we couldn't stop ourselves from heading over to this super cute-looking ice cream truck in the middle of Cyber Hub! Emoi looks absolutely adorable and the staff's uniform is quite cute too. This colourful gelato ice cream truck has some really unique flavours to offer. After spending a lot of time trying to figure out the shapes of the ice creams we wanted (yes, they have some really cool shapes like hearts, cat faces etc.), here's everything we tried:
Mangomnom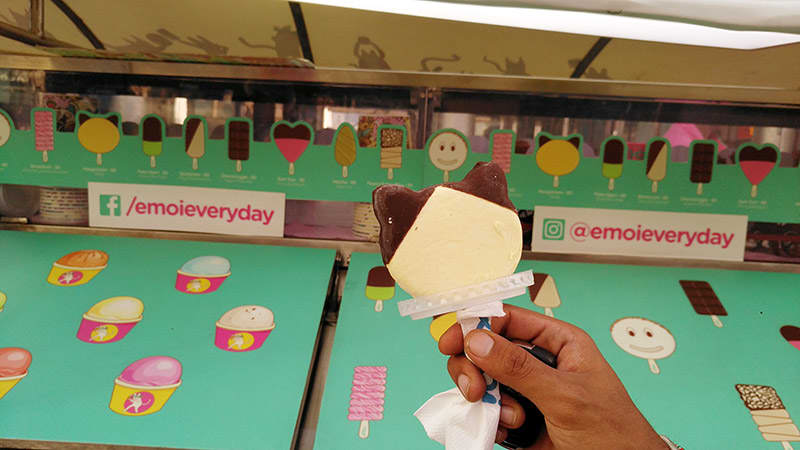 This delightful little cat face had us thinking it will be as *aww*some as it looked, but we found ourselves to be slightly mistaken. This mango ice cream, the top half of which was coated in yummy frozen chocolate sauce, barely tasted like mango *sob*. We almost thought we'd got the mango bit wrong and even asked the server again. To our disappointment, this heavily diluted mango flavour was exactly what Mangomnom consisted of. Maybe steer clear of this one?
Price | Rs 80
Big Banoffee
This didn't look as good as it tasted, but trust us, it was pretty delicious. The overpowering flavours of banana and toffee had us craving for a banoffee pie instantly! We forgot that we could get this in a waffle cone *instant regret*, but we'd definitely recommend you try this in one of your quick breaks from office. Honestly, this melt-in-your-mouth scoop of deliciousness definitely stopped us from melting in the heat!
Price | Rs 80
Gum Yum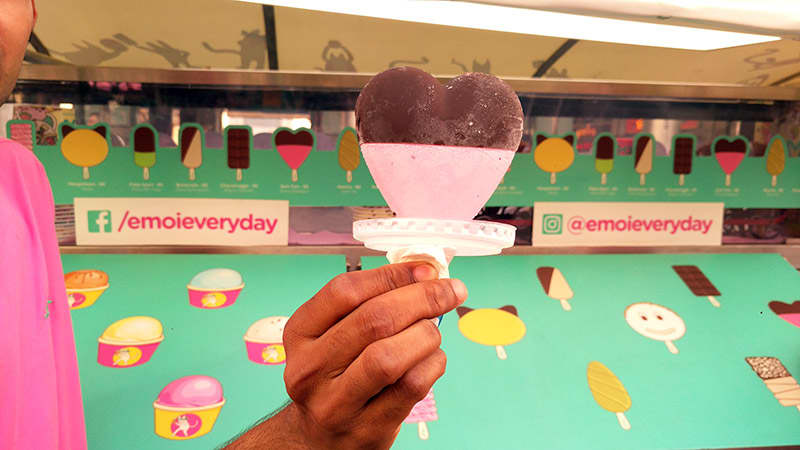 Back to shapes, this cute little ice cream heart won ours in an instana jiffy! Apparently, Emoi understands that chocolate goes well with everything, because even Gum Yum's upper half was coated with the same frozen chocolate sauce that half of Mangomnom was covered in. We weren't sure if gum flavoured ice cream would be too good, but we were in for treat! Imagine chewing gum, except that you don't have to chew it because it's melting in your mouth, and it's determined to give you a brain freeze! Awesome, no?
Price | Rs 90
Guawow
We weren't going to forget the cone this time, and we're glad we didn't! While we were expecting a simple guava flavoured ice cream, our first bite told us there was (much) more to it. This was, in fact, chilli guava! The clash of sweet and spicy in our mouths turned out to be quite delectable, add to it the brain freeze and the crunchiness of a lovely waffle cone…aah, we were done for the day, with our sweet tooth completely satiated.
Price | Rs 80
We feel this lovable gelato ice cream truck has a lot of interesting things to offer and one should definitely stop by at least once! Also, we couldn't stop going gaga over their cute décor! See you there, waffle cones in hand.
Where To Park Yourselves At | Near The Amphitheatre, DLF Cyber Hub, DLF Cyber City, GGN