Delhi
Come Explore A Different Side Of Delhi - The Shrine of Mirza Abdul Qadir Bedil Dehlawi, Bagh-e-Bedil
If you have a penchant for history and a constant urge for unraveling hidden, nondescript places that lie within the heart of the capital then Bagh-e-Bedil (as it is mistakenly referred to) is a must visit.
As you exit the Pragati Maidan metro station on the blue line and walk onto the Mathura road, a thought crosses your mind, which would do so a few more times during the 20 minute walk along the Pragati Maidan on the Mathura road towards Purana Quila; does this place even exist? For a place which is surrounded by well-known landmarks like Purana Qila, National Sports Club of India & Dargah Matka Pir etc. Bedil's memorial is unknown to even those who frequent the stretch. 
Clearing Misconceptions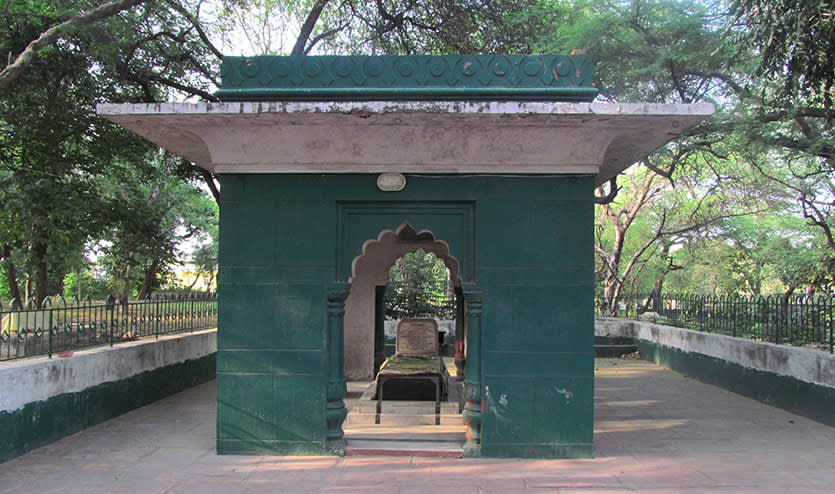 The twenty minute walk ends and you finally locate the quiet area opposite the Dargah Matka Pir which is bustling with devotees. It is a considerable area having a number of trees which provides respite to people who sit in one corner and have their lunch or just bide their time. A minute into the apparent bagh you locate a number of graves which proves that Bagh-e-Bedil is a misnomer. 
The whole place is managed by Abul Misbah Naib Mutawalli, a wizened man, Naib Mutawalli being the title given to him. As you sit down for a chat with the old man, whose ancestors have been managing the place for the past 680 years, many notions are destroyed. The most important of them being that this is Bedil's mausoleum. 
About the Man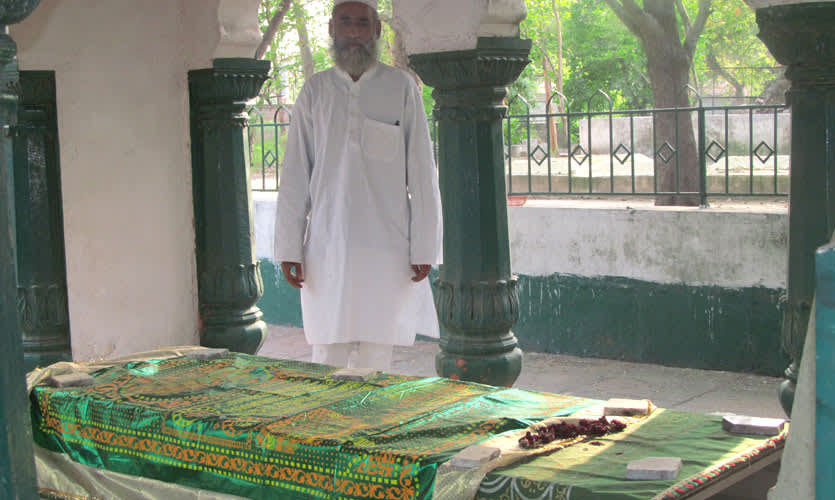 Abdul Qadir Bedil had an Afghan lineage and his parents belonged to Kabul. He was born in present day Patna (Azimabad) in 1644 and died in Delhi in 1721. When Bedil came to Delhi, he was gifted a haveli worth rupees 5 thousand by Nawab Shakar-ullah-Khan at Khirkiyan, Guzar Ghat, Bairuni Darwaza, Delhi. Even though none of the landmarks exist today, Bedil flourished in this haveli during his stay and his fame spread far and wide inviting people from many corners of the land to come and experience his complex thoughts.
When Bedil died, he was buried in his haveli at Bairuni Darwaza, however after six months his remains were taken out by his followers and taken to Khwaja Rawash in Afghanistan. The apparent mausoleum of Bedil was created only 80 years back by Khwaja Hasan Nizami and the Nizam of Hyderabad.
Dargah Hazrat Khwaja Nooruddin Malik Yar-e-Parran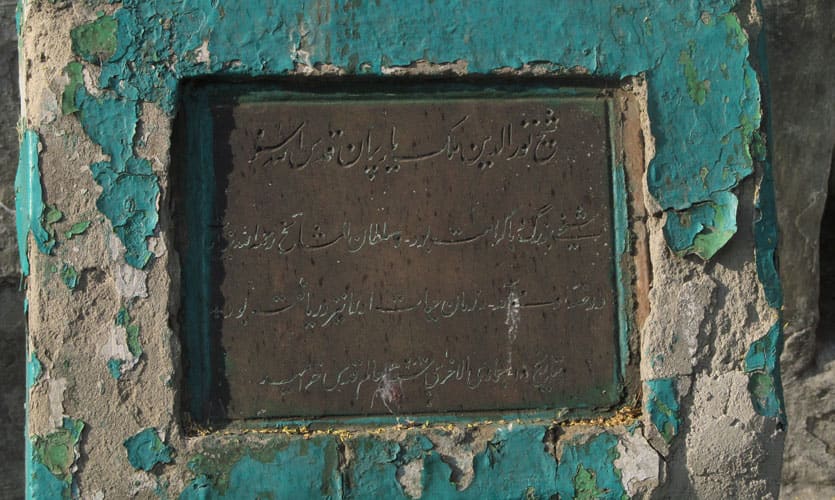 The "final resting place of Bedil" is truly the dargah of Hazrat Khawaja Nooruddin Malik-Yar-e-Parann. When you delve into the pages of history you find that the dargah of Hazrat Khwaja Nooruddin was frequented by Hazrat Khawaja Nizamuddin (who rests at Nizamuddin dargah) and is more than 680 years old. Khwaja Nooruddin was the 8th grand-father of the Abul Misbah. You can sense the pain and anguish in the voice of the Naib Mutawalli when he explains how misinformation is rampant about this being Bedil's tomb when it is actually his grandfather's mausoleum.
As one spends some time at the dargah of Khwaja Nooruddin and then the adjacent memorial of Bedil, one can't help but smile and think of the games that life sometimes plays out. The walk back to the Pragati Maidan Gate No. 5 bus stop is an enlightened one!
Exact Address | Bagh-e Bedil, Mathura Road