Delhi
Bacon Dimsums, Shish Touk & More, Here're 7 Scrummy Dishes We Tried @ AMPM Café & Bar
As you know, AMPM Café and Bar has been one of our favourite places for a lip-smacking, soul-warming freakshakes that these guys cutely call 'Lickables'. However, we have been left untouched by their scrumptious food, so we finally decided to head over for a meal and see if we could find anything delicious for all you foodies out there. Trust us peeps, you're in for a treat, here's everything we tried and loved. 
1. Bacon Dimsums
All the bacon lovers in Gtown, this one's for you! A truly yummylicious appetizer, we ordered this one the moment we spotted it on the menu! Stuffed with perfectly minced and marinated bacon, this is a delight! If you are one of those people who don't like the chewiness of bacon strips then you have gotta try this dish out. These nice, big dim sums were simply amazing, and we'll surely be back for more!
Price | Rs 295
2. Dahi Ke Cheesy Kebab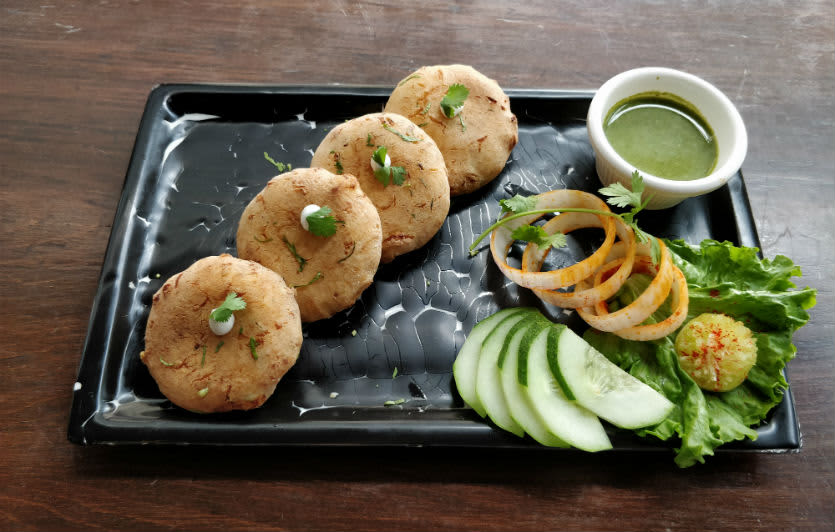 These are definitely one of the biggest dahi kebabs you get around here and are quite different too. True to their name, they are pretty cheesy as the basic stuffing itself has a mix of cheese, cottage cheese and hung curd. So, even though they weren't exactly "dahi ke kebab", we really liked them as they were not just well-cooked and well-presented, but were also very delicious, to say the least. This dish is definitely a must-have for all the paneer lovers!
Price | Rs 245
3. Paalak Patta Chaat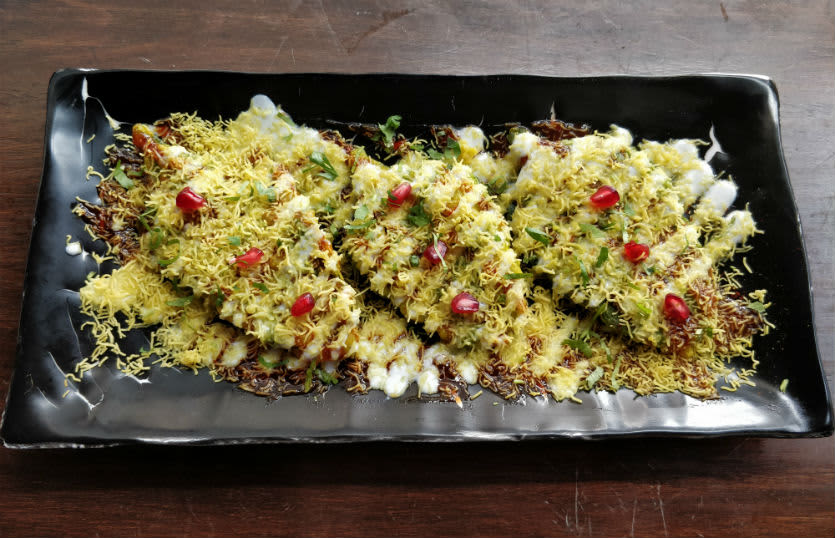 Our love for Paalak Patta Chaat is growing every single day and we're in no mood to stop devouring this lovely snack at every chance we get. AMPM serves some really big, crispy spinach leaves and not a single bite misses out on any of the many flavours of this dish. The generous mix of sweet curd, chutneys, and sev is well spread across all the leaves to make sure each bite you take is simply heavenly!
Price | Rs 245
4. Spinach and Feta Parcels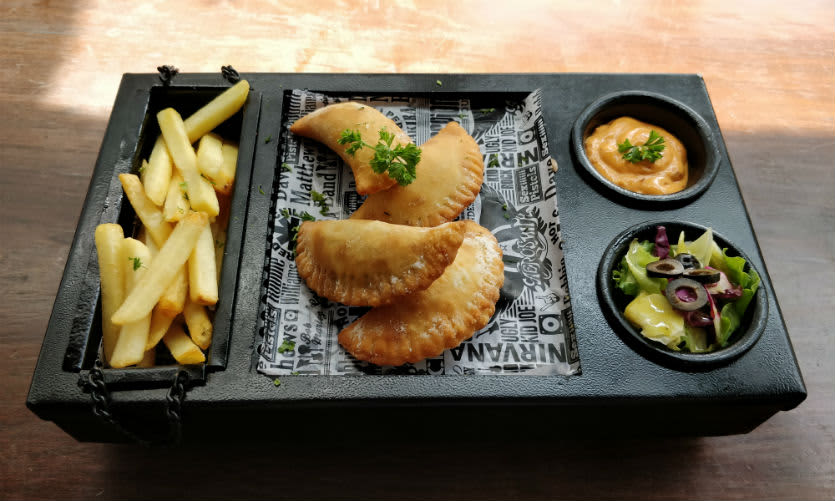 The chef at AMPM likes to call these Italian Gujiyas and rightly so! These cutesy gujiya shaped spinach and feta cheese parcels are scrumptious and unique. Imagine crispy gujiyas stuffed with spinach and feta cheese, served with fries, salad and a peri-peri mayonnaise dip – quite hatke, don't you think? If you're looking for a cheesy, filling snack that is unlike any other, this is what you should be ordering for sure! We loved the preparation as well as the concept of this entire dish.
Price | Rs 225
5. Shish Touk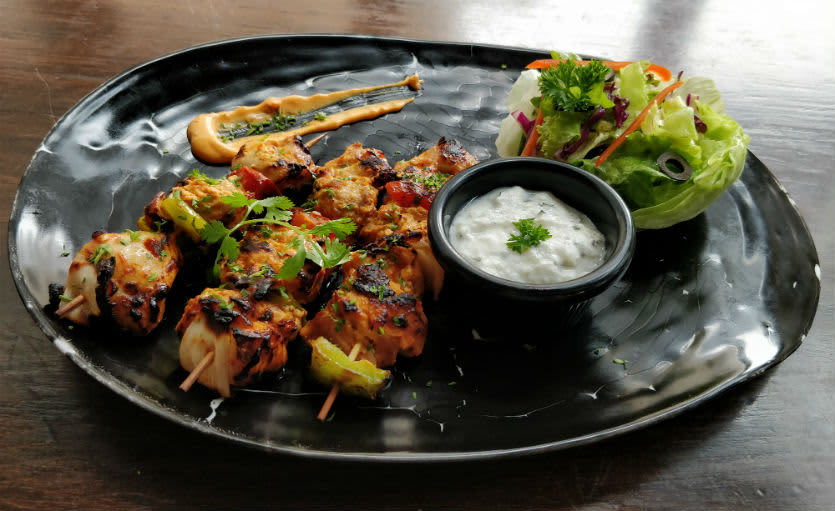 These delicious skewered chicken kebabs served with traditional Toum i.e. a Lebanese garlic dip, will make you realize that Lebanese food in the city has truly moved far ahead of shawarmas and mezze platters. The well-cooked, succulent pieces of chicken will melt in your mouth, making you fall in love with this dish like we did! We gobbled up every last bit of this within minutes and would recommend everyone to try this out as well.
Price | Rs 275
6. River Sole Fillet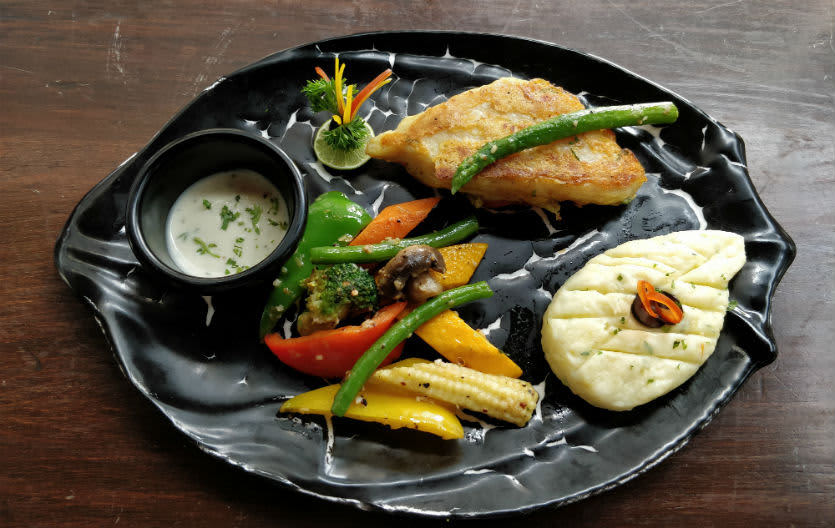 We were pretty full by this point, but what's a meal without some fishy business? We couldn't resist ordering the River Sole Fillet here, especially because the servers kept recommending this, and we're so glad to have given in! Served with sautéed veggies, tartar sauce, and perfectly mashed potatoes, this dish was too yummy! The potatoes were so perfectly mashed, they almost made us forget about the fish for a moment! The fish itself was perfectly seasoned and cooked, making for a lovely culinary experience.
Price | Rs 435
7. Chocolate Bomb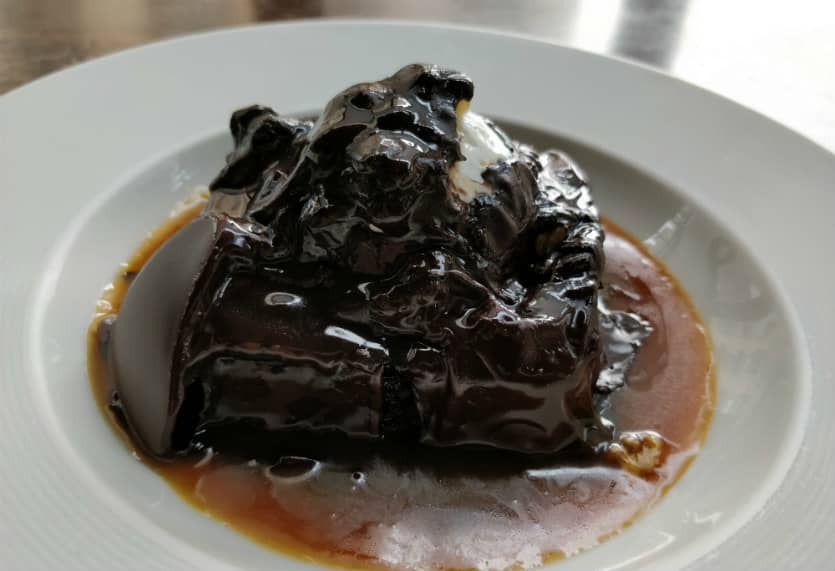 Imagine your favourite dessert items – vanilla ice cream and chocolate brownie, wrapped in a cold shell made of chocolate, makes your mouth water, right? Wait till you see hot caramel syrup being poured all over it till it becomes a hot and cold, gooey delight for you to dig into! We completely forgot about how full we were and licked our spoons clean after finishing this bowl of pure joy! This was undoubtedly the best way to end our meal.
Price | Rs 295
This place is perfect for all kinds of people and occasions! Whether you want to grab a coffee with your bestie, come for drinks with your buds or take your family out for a lazy weekend brunch, this place would not disappoint! 
So, next time you want to go out to a fun place in Gtown, AMPM should definitely be on your list!
PS – they've added some interesting cocktails to their drinks menu and we're definitely going back to try them!
Where | AMPM Cafe And Bar - DLF Galleria, DLF Phase IV & Ambience, DLF Phase III, Gurgaon
Check Out Their FB Page | https://www.facebook.com/ampmcafeandbar/