Delhi
Apple & Cinnamon Scents, Flower Shaped Seats & Nummy Grub - Why We Love Junglee Billee
GK I's posh M Block Market is a place where new bars and cafés keep spurring up and to make a lasting impression could be a longshot, which is where Junglee Billee differentiates itself from the others and manages to impress effortlessly! Enticed by the name itself, we decided to pay this newbie a visit, channeling our inner wild child. The first glance of the café gives you a blow of colours with flower-shaped seats and floral patterns in muted colours of blue and yellow taking us to palette paradise! 
You'll be stunned how they've made it so vibrant, and yet it doesn't hit the eye; on the contrary, it acts as quite the mood changer! This is all thanks to designer Nida Mahmood who has conceptualized and designed the restaurant. We especially loved the soothing, yet energizing fragrance of apple and cinnamon dancing in the air and the melodious jazz music playing at its own sweet pace. A Mumbai-based café spread out over 3 floors, the place drives you back to the 70's and 80's of Bollywood with pictures of old-time actresses displayed on the walls, vintage cameras and bibelots festooning the tables.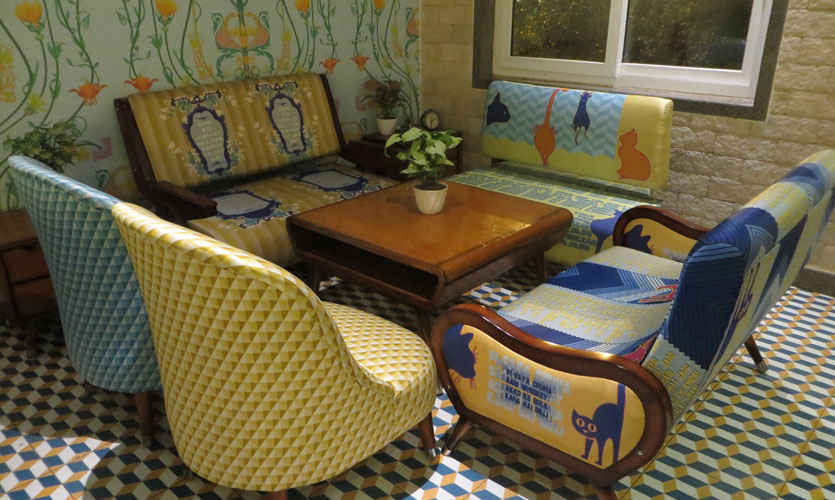 They have a unique fascination for cute cups; they're used as lamps, as bar lights and even as pots for plants. And what's more, if you want the cups or the flower-shaped chairs or tables or anything else, you just need to order and it will be delivered at your doorstep! Coming to the menu, it's created by the much-talked about Chef Saby who is showcasing Maharashtrian cuisine with innovative Bollywood names like Bhaijaan Seekh Paratha and Dimple Kaki's Tiffin! Read on.
Mh. Ali Boti Kebab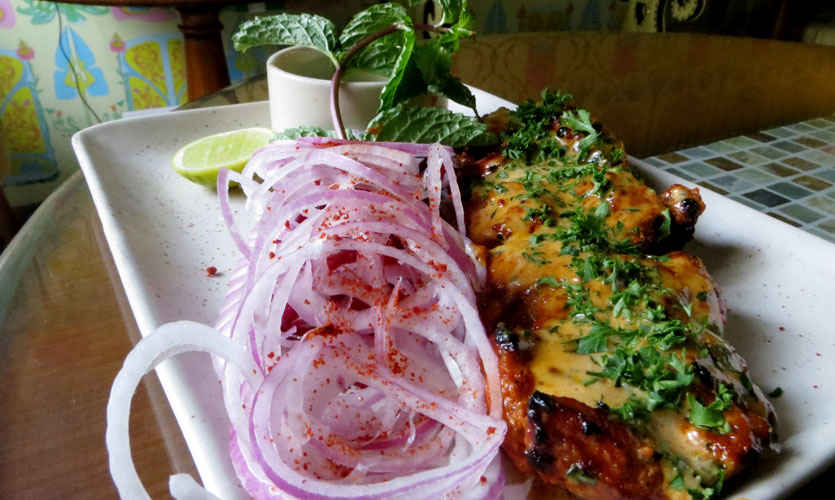 We started out with the Mh. Ali Boti Kebab. The roasted kebabs were served with generous amounts of freshly-chopped onions & coriander chutney. Poured over the succulent kebabs was a buttery, creamy sauce which really took this starter to a whole new level! Yum yum.
Koliwada Style Chicken Surmai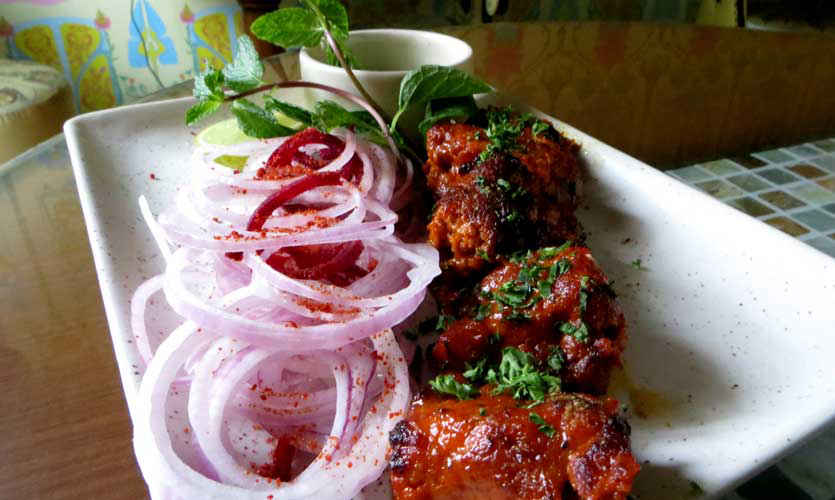 Next up, we ordered their famed Koliwada Style Chicken Surmai, a dish which can easily be found in the Bori Mohalla of Mumbai! Crispy fried chicken prepared in a zesty, spicy batter, served with crunchy onions & coriander chutney, this dish is a total must have when here folks!
Mutton Berry Pulao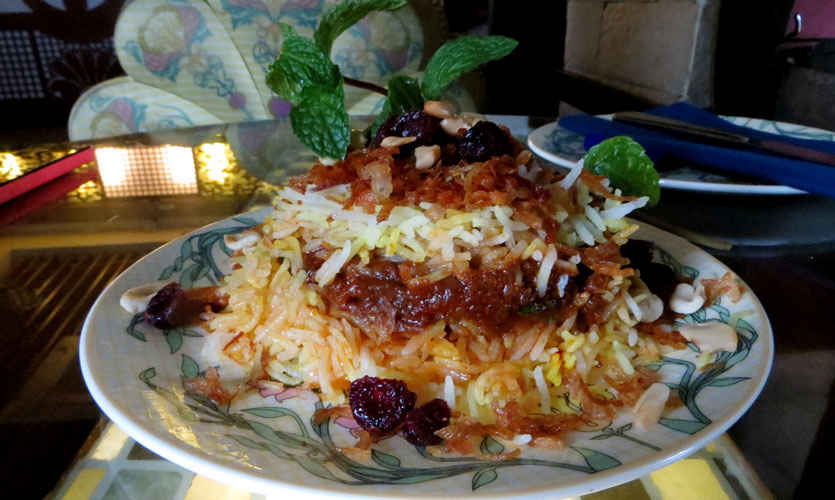 For mains, we ordered up their Mutton Berry Pulao, which in one sentence can be described as a heap of layers and flavours, comprising layers of lamb and pulao sprinkled with caramelized onions, sweet cashews and juicy berries. Oh, holy Lord! With the right balance of sweetness and savoriness to it, this dish was a continuum of exotic flavors. 
Moong Dal Chila Taco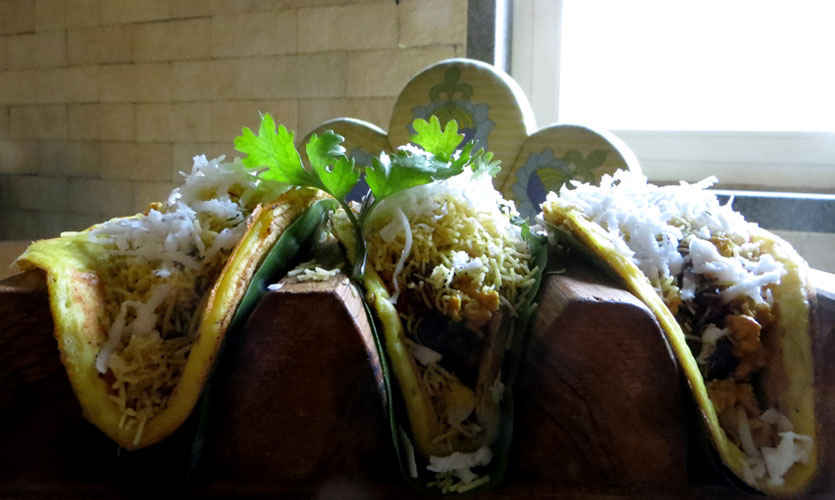 Then we decided to try some veggie delights, and went in for the Moong Dal Chila Taco which is basically your standard chila refurbished as a taco, and was filled with spicy paneer bhurji and sprinkled with coconut scrapes and sevpuri; absolutely delicious, the taco transported us straight to Mumbai!
Virgin Miami Vice
We followed this up with another thirst quencher they call Virgin Miami Vice, a perfect blend of pineapple, coconut and strawberry puree; the drink was sweet, tangy and overall quite refreshing! This was absolutely perfect for washing down our rich, heavy mains.
Bombay Mava Cheesecake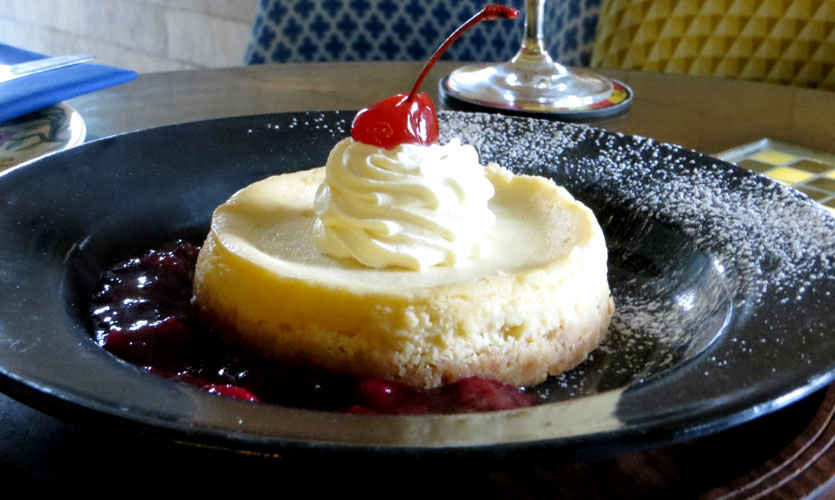 Finally it was time for desserts, and so we excitedly tried the Bombay Mava Cheesecake, a layered dessert of khoya and cheesecake with whipped cream and garnished with a cherry on top. It was slightly hard because of the khoya, but nevertheless a sweet consolation.
Caramel Custard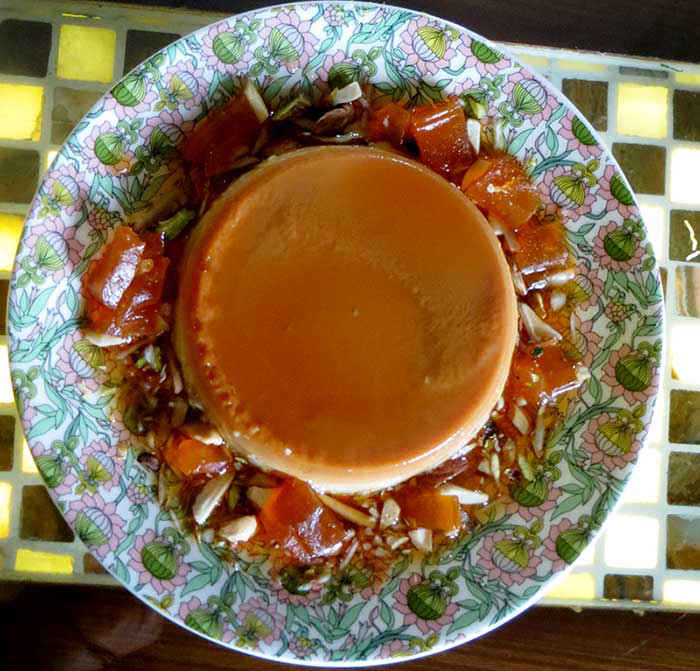 Last but not the least, we ordered their gooey Caramel Custard which was served with almonds and apricot pieces and was presented beautifully. The very first bite took us to caramel world, or rather an 'Alpenliebe-like' world, to be more precise.The combination of caramel custard and almonds was marvellous as it added a tinge of crunch to it. With this, our meal came to a happy and satisfied end.
Bitch on the Beach
We then tried a mocktail funkily called Bitch on the Beach, an idiosyncratic drink which would make anyone get into the holiday mode effortlessly! A juicy, pineapple-based drink accompanied by a tinge of chilli in every sip, it packed quite a punch and we happily slurped away.
We would highly recommend this place if you love detailing and gourmet food as much as we do; head on over!
Meal For Two | Rs 1,800
Location | M-24, M Block Main Market, GK I