Delhi
Come Explore Purani Dilli And It's Purane Architectural Gems With This Stunning Photo Walk!
Old Delhi, though well known for an amalgamation of cultures, is also the hub for budding photographers as it offers up all genres of photography in one place and gives you a platform to practice your art and gain perfection while overcoming a number of obstacles that it places in your path (read murderous rickshaws and clamouring crowds!). However, the essence and charm of this place lies in its ruins and its old, forgotten architecture. Capturing any of theses places below will surely give a unique shade to your pictures - scroll on!
Khazanchi Ki Haveli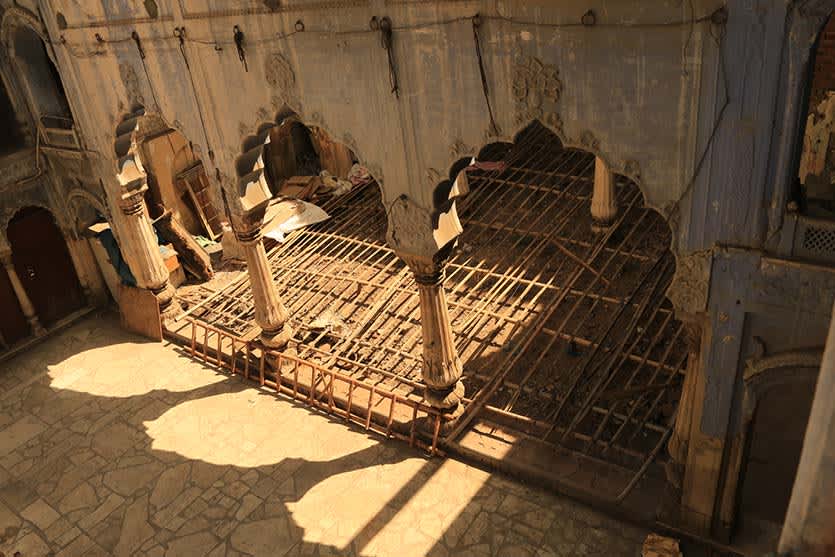 Khazanchi Ki Haveli, an 800 year old forgotten haveli, which was once a prestigious symbol of Mughal architecture, has a very aesthetic appeal about itself, mainly because it reminds one of the Mughlai era of Delhi which brings back memories of Mughal emperors who reigned over our city. This Haveli, though in ruins, has a long standing history associated with the great Shah Jahan as it housed his own accountants, who were called 'Khazanchis' and used this building to keep the account books of the Mughal Treasury. It still holds the grace and poise of an era long gone!
Location | Near Dariba Kalan, Cycle Market, Chawri Bazar
Outer Gate Of Khazanchi Ki Haveli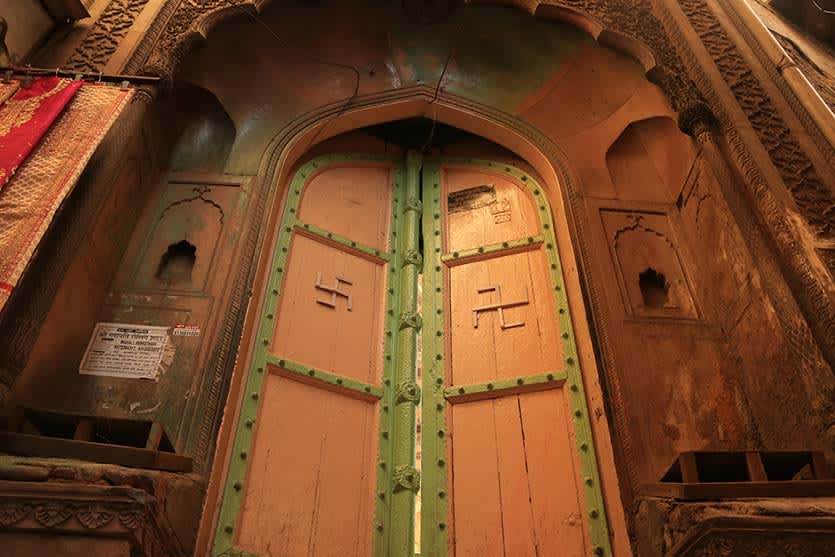 The beautifully intricate door leading to the Haveli we were just mentioning, has a distinct vintage appeal to itself, which we couldn't resist gushing about! This being the first thing you see while entering the Haveli, it acts as a time machine portal, taking you straight to the ancient times. The facade of the Haveli is a combination of beautifully subdued colours and intricate carvings, a reminder of the grandeur the Mughals were well-known for! 
Location | Near Dariba Kalan, Chawri Bazar
Prachin Mandir Shree Jagannath Ji Maharaj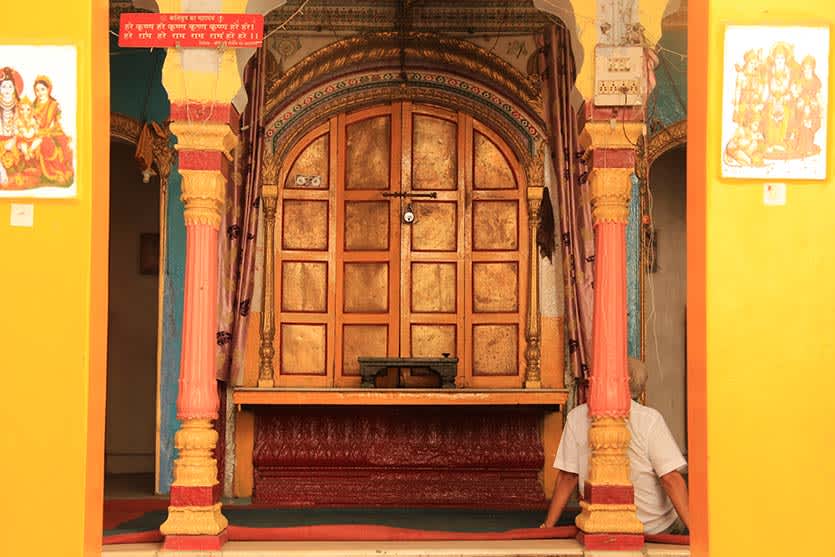 Brimming with all kinds of vivid and exquisite colours, the mandir painted a beautiful picture, but what caught our attention instantly was this beautiful golden door with exquisite intricate carvings covering the door from corner to corner. We got to behold and capture this door particularly because it was used to cover the idols, and luckily the gods were asleep that time of the day *wink wink*! It's just so beautiful, isn't it?
Location | 492, Cycle Market, Chawri Bazar
BSA Cycle Shop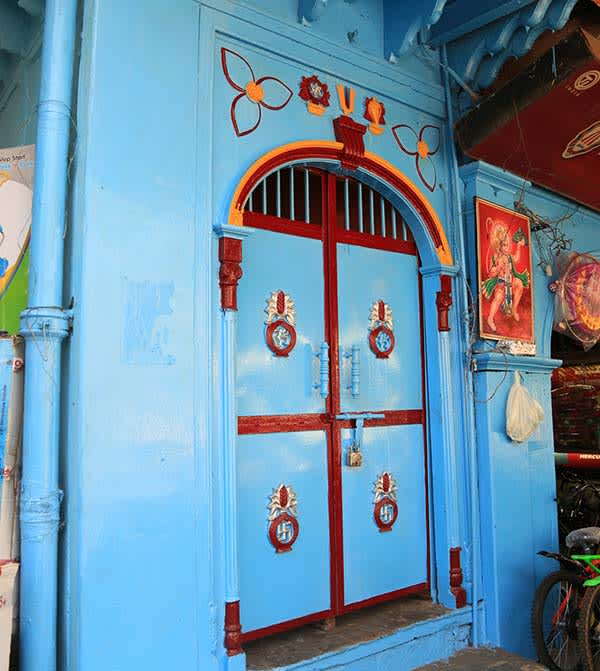 Serving as a stalwart landmark and permanent fixture in this part of the city, this shop also stands as a symbol of the beauty of Old Delhi which is seen everywhere, even in the most ordinary and commercialized places. The overpowering use of blue made it shine bright in the surrounding area and gave it that picture-perfect appeal!
Location | Cycle Market, Chawri Bazar
Hero Cycles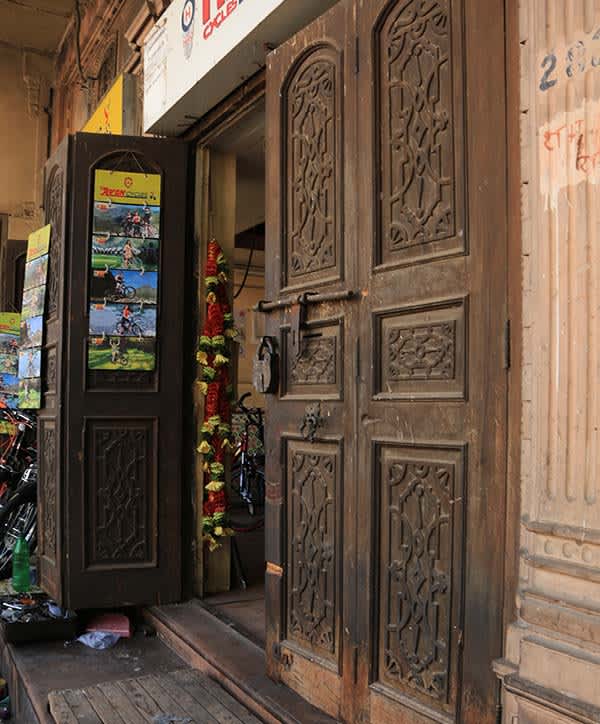 The external part of the shop was a complete artwork in itself, with everything ranging from artistically vintage doors and walls, intricate carving all around and a thoroughly unique painting of cycles at the top, clearly indicating that it's one of the oldest cycle shops of Chawri Bazar. You could actually feel the old time charm brimming from it by just standing there! Needless to say, we clicked away to glory.
Location | Cycle Market, Chawri Bazar
These old-time beauties are just lying in wait for you capture their essence and the magnanimity of their ruins, so head down for a uniquely inspiring photowalk right now! 
These images have been clicked and contributed by Mehtab Luthra for So Delhi.