Delhi
Turab Nagar In Ghaziabad Offers Snazzy Accessories & Pretty Kurtis Starting At Rs 10!
Do you ever wonder how some markets are incredible yet hidden away from the masses since years? One of them would definitely be Turab Nagar Market Lane, especially for the present crop of shopaholics! Chandni Chowk is not the only affordable market place for your clothes and jewellery; you definitely need to venture towards Ghaziabad for cheap yet chic stuff. Here we've culled out a mixed basket of stuff Turab Lane has on offer!
Get Intricate Henna Made From The Mehendi Walas Sitting Here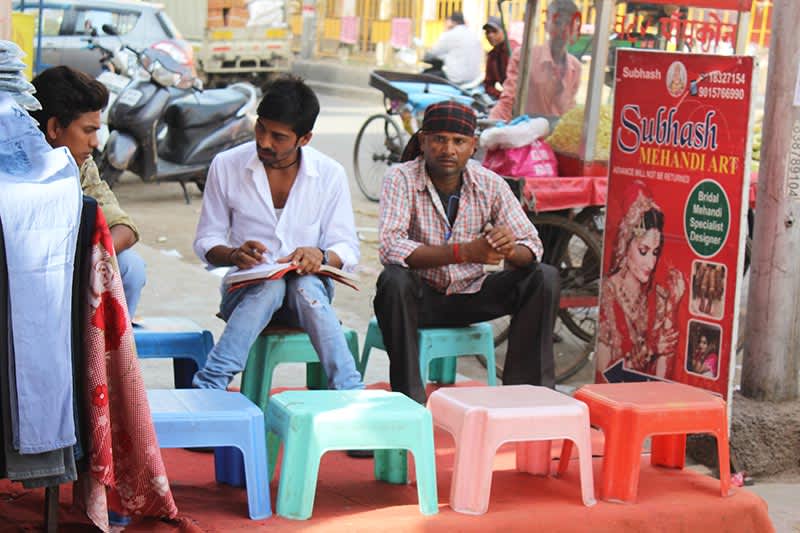 As soon as you take the first few steps into Turab Nagar, you'll come across lots of mehendi wallas. The market is totally crowded during festival seasons! Since mehendi is an essential part of desi shingar during festivals, the mehendi walas hog all the limelight. Comparatively, the rates are cheaper as there are lots of them sitting here, ready to cater to the hordes of customers. Don't forget bargaining is a skill and it's certainly important to enhance it step by step through the course of shopping in Ghaziabad!
Price | Rs 50 Onwards
Find Colourful Bundles For Ethnic Clothes For #ArtsyFeels
If you're under the impression that it's only Fabindia or Anokhi which could serve your love for all things ethnic, you might be missing out on traditional underrated market lanes! This market is a treasure trove for cheap and good fabrics and kurtis. One may have an eye for spotting the best among the heaps or one could ease into clothing shops and be catered to here. 
There are mounds of chic apparel displayed on the road after every 20 steps. Long skirts and shorts may be found in the same collection as you pass by a few random stalls. Some of these skirts are really pretty and could add to your artsy collection. Comfortable apparel is not missed out in Turab Nagar, you get your pyjamas too!
Price | Kurtis (Rs 150 Onwards), Long Skirts (Rs 250 Onwards) & Shorts (Rs 200 Onwards)
Find Heaps Of Gorgeous Apparels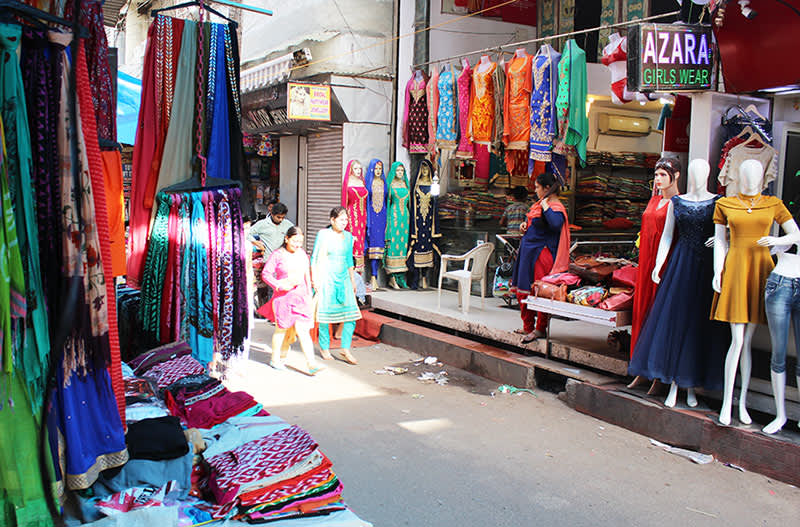 There are lots of shops for readymade dresses and uncut fabrics alike. Standard pricing also works in these shops. 'Kurti hi kurti: Rs 350/-' says it all! If you're always on the hunt for pretty stoles, do stop by for prints like bandhani and plain bold colourful stoles. There are lots of shops for readymade suits including salwars/churidars and dupattas. One can simply pick up sets of them from different shops and you'll be good to go for some time.
Then there are shops which have kurtas ranging from okayish to excellent quality. Cheap Kapda Shops are a blessing for all those who love add-ons in their wardrobes quite often! You'll also spot cloth emporiums which offer a rich variety of bedsheets. Different prints, different materials - great ethnic additions!
Price | Rs 350 Onwards (Kurtis/Suits) & Rs 450 Onwards (Bed Sheets) 
There Are Huge Stacks Of Blouses To Complete Your #OOTDs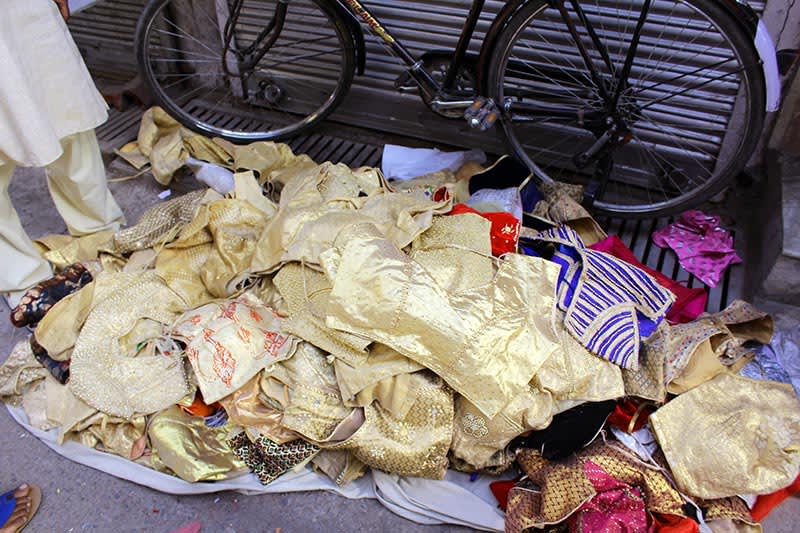 There are heaps of blouses to choose from too! They might seem unhygienic and not very appealing at first glance. But, believe us, if you got the eye for the right piece, you'll discover lots of hidden good quality. They have blouses of colours like golden which are used quite commonly for many-hued sarees. There are separate shops just for blouses too, giving you a mixture of options to choose from. They are not very expensive; you can buy a new blouse for every function you need to attend!
Price | Rs 200 Onwards
Snag Snazzy Jewellery For Affordable Price!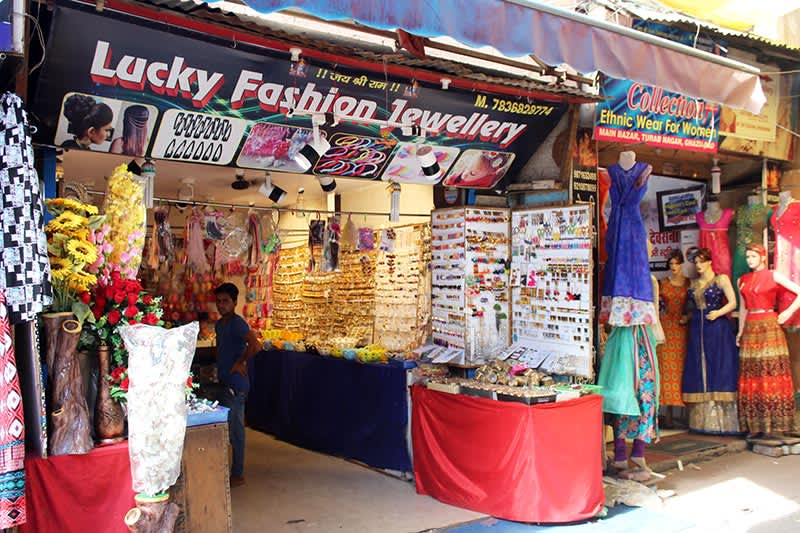 Not just for clothes, the market is also flooded with jewellery shops. If you like your bangles bold and your earrings bright, give it a try. The market reminded us of Sarojini Nagar as we came across small stalls selling only funky accessories! Get fancy and cheap chokers here for Rs 10, 20, or even 30 bucks! 
Lots of earrings and necklaces for your collection, they have stuff from everyday wear ethnic jhumkas to fancy fake gold and silver danglers for functions. There are small shops offering shades - cheap and good to go, only for a while though. You might also come across random tables around the lane having stacks of bags for you to pick and choose from.
Price | Rs 10 Onwards
When Pretty Aesthetics Are On Point!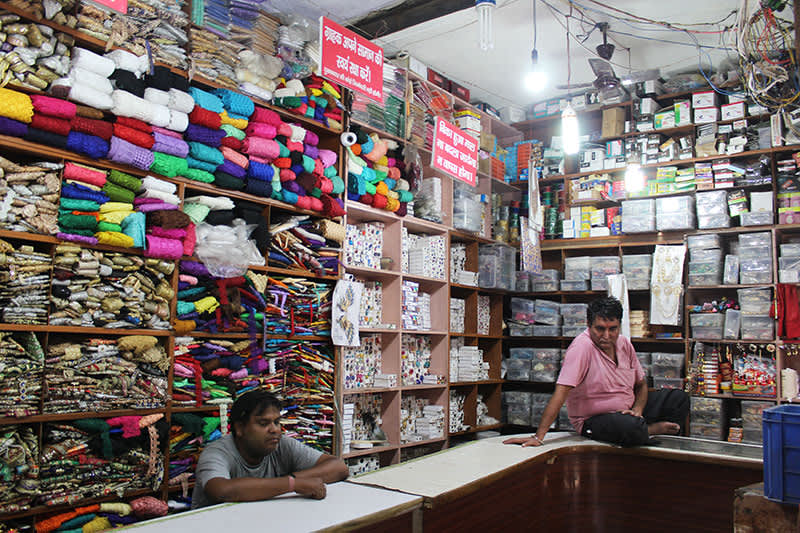 There are shops which immediately catch your attention; you cannot get past those shops without a halt. A huge shop towards the end of Turab Nagar has every kind of lace imaginable. From finding threads to sew to exquisite lace for that one pretty black saree, they have a lot of variety! Not just laces and brocades, they also have art and craft materials. This is the main shop of Ghaziabad from where people get their raw materials for making aesthetically pleasing products. Candle making wax, moulds, gels or thin and thick threads, they have it all!
So there you go - march out on a mission to shop, shop and shop some more!
Where | Turab Nagar - Ghaziabad, UP
Flick Through Some More Images Of This Market!