Delhi
Another Chandni Chowk? Grab Bangles, Lehengas & Tons More Desi Goodies In Ghanta Ghar
Ensconced between the four historic gateways that once confined Ghaziabad, Ghanta Ghar is a warm market area akin to the sprawling Chandni Chowk lanes. The iconic clock tower in old Ghaziabad looks upon the bustling market of the Ghaziabad hamlet, and apart from inaccurately declaring the time, symbolically indicates the timelessness of this place. Ghaziabad dwellers flock to the market for their most basic needs to even highly specialized demands, and it's time we unveil this little gem to y'all! Fair warning - please carry your shades and stoles to be safe from the scorching heat! Here we go:
Desi Shringaar Ready!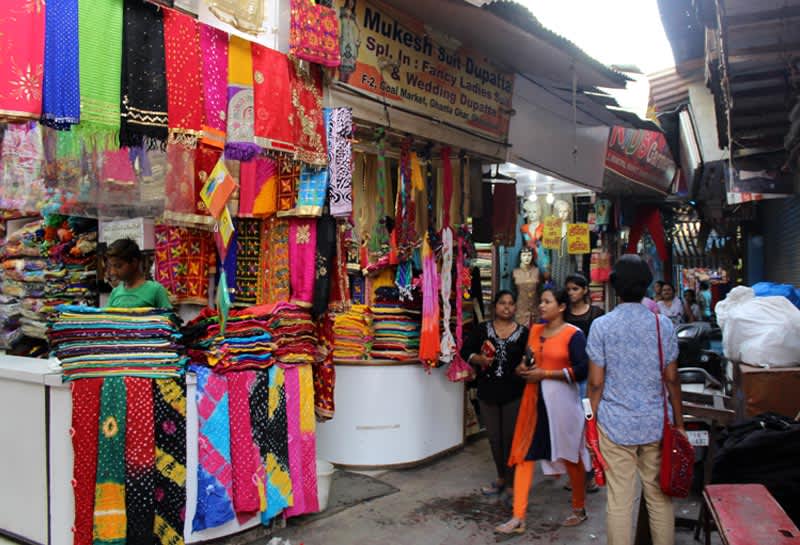 The number of displayed mannequins poking into the narrow alley way might be a little overwhelming for first timers. But hey, we figure it's probably a necessity, for there is just so much variety! An amazing advantage is that several local brands find customers here which, of course, encourages local enterprises. Thus, you can find the right apparel for yourself as per your budget and sensibilities. Be it plain dresses or heavily embroidered lehengas, this market can sort your festive season right. Wholesale shops for petticoats and undergarments take care of the bare necessities too!
Go Take A Walk Through Bangle Lane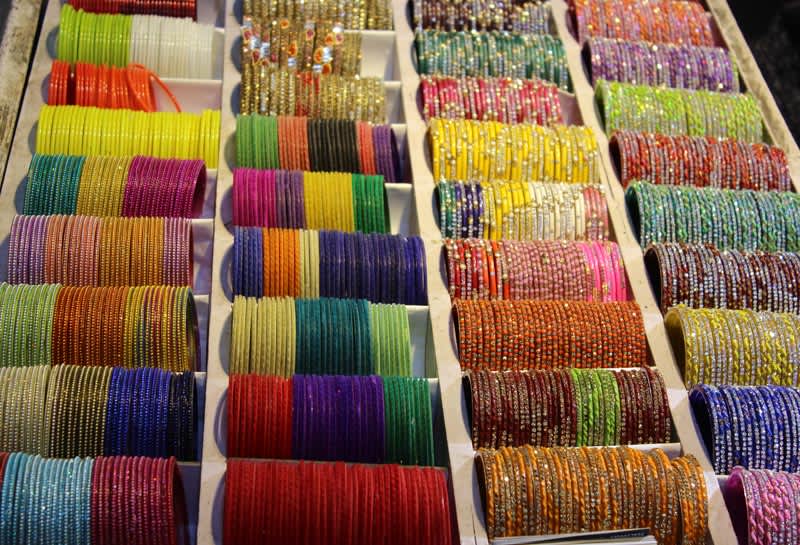 Glitter, glass, glamour. That is exactly what you'll find in the Ghanta Ghar underbelly. Thriving underneath umpteen enmeshed awnings, the sun won't, but the glitter of these bangles will surely blind you. This is the place where all the girls, brides-to-be, newlyweds or whoever loves bangles should definitely flock to, to adorn their wrists. There are millions of colours to choose from, several shopkeepers to bargain from and all of it in one place!
Prices | Bangles Per Dozen: Rs 15 - Rs 200
Bartan Bhandaar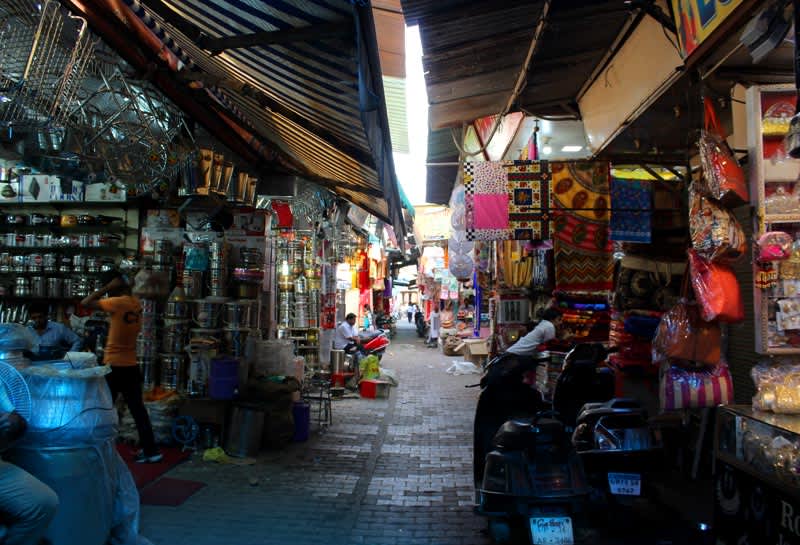 From huge stainless steel collections to little handy containers, Ghanta Ghar is the best place to shop for your kitchen requirements. From sale to even repairs, these guys take care of it all. So if you've just moved into a new place and are in need of good bartan, this is where you should head to for bargain buys!
Assorted Miscellaneous Stuff
Mithai-walas, snack shops, general confectionery, a wholesale grain and spices centre are scattered here and there - the circular streets here have something new to offer at every turn. The goods vary as per the seasons too - in the winter, you will find stacks of jaggery lined up in certain shops, or groundnut being sold at the mouth of the market ways. Sacks full of ground red chili, haldi, pulses and grains are a regular sight here.
Ghanta Ghar, in its timelessness, keeps adapting itself to emerging contemporary patterns. It's an experience to walk through these narrow lanes and passing through shops full of colourful, stacked clothes while watching the shopkeepers entertain their customers, displaying their goods on clean white sheets spread over mattresses. A sense of history and community mystifies this place, the magic of which is certain to make you fall in love with this Place - come on by to witness it for yourself!
Location | Ghanta Ghar, Ghaziabad