Delhi
An Ancient Monument Protected & Treasured, Here's All About Biran Ka Gumbad
Delhi as a city would take you by surprise any day! Being the capital of an economically emerging nation, you would think this city to be modelled along the lines of a typical metropolitan, full of corporate offices and huge buildings catering to MNCs. Of course they're there, but you'd be surprised to discover the rich cultural heritage Delhi's immersed in. 
The number of old monuments and cultural archetypes remaining of the previously ruling dynasties is ridiculously high. You could be roaming through a developed locality, and chances are that maybe, bang in the middle of such urban settlements, you would run into an ancient monument or memorial, which surely would also be accompanied by a board claiming the site to be protected under the 'Ancient Monuments and Archaeological Sites and Remains Act'. 
Biran Ka Gumbad falls right in this category, an ancient monument maintained by the Government of India bent on preserving every single monument left as a legacy by our ruling ancestors.
Getting There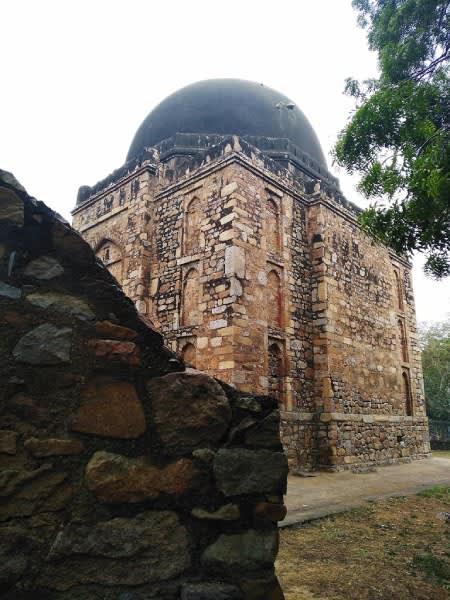 Picture Credits: Anish Chakravarty
We all know our way into Hauz Khas village, right? Well, this does not strictly fall within the boundaries of Hauz Khas Village, but that's the easiest landmark if one needs to remember where to go. Metro commuters should probably get down at Green Park Metro Station, and from there they'd need to take an auto.  
Enter the Hauz Khas Village road and make the first right turn into the Green Park locality. The road which leads you towards Biran Ka Gumbad is pretty narrow and therefore easy to miss. It would fall on your right if you've come via the Hauz Khas Village road. Although not visible from the main road, you can see the top of the Gumbad, which is a tomb from across a park where children play once you enter into the street in question.
Unclaimed Legacy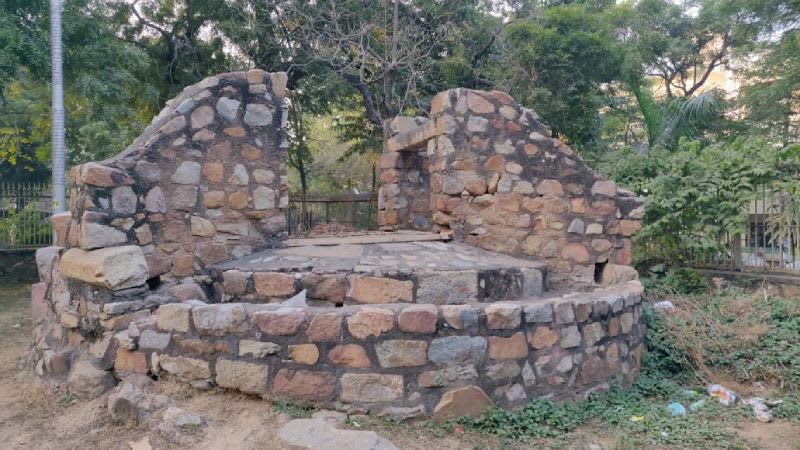 Picture Credits: Vipul Khattar
There's nothing standout about the features of the tomb, except of course, for the fact that even after being hundreds of years old, the monument still stands tall and strong, with perhaps only a few signs of wear and tear. The arched niches arranged in rows outside the structure of the building give the monument an impression of being multi-storeyed, a feature which marks it as belonging to the Lodi dynasty. 
 
Uninscribed and of course unclaimed (for who from the Lodi dynasty would come and claim this monument?), not much is known about this tomb. The ruined remains of a cenotaph inside suggest that this was definitely erected as a tomb. The name which literally translates to 'the domed building of the brother' was perhaps coined in a light attempt to complement the 'Dadi Poti' tombs nearby. There was also a dried-up well inside the area in which the tomb was erected, whose depth, it seemed, was around 10-15 feet.
One For The Government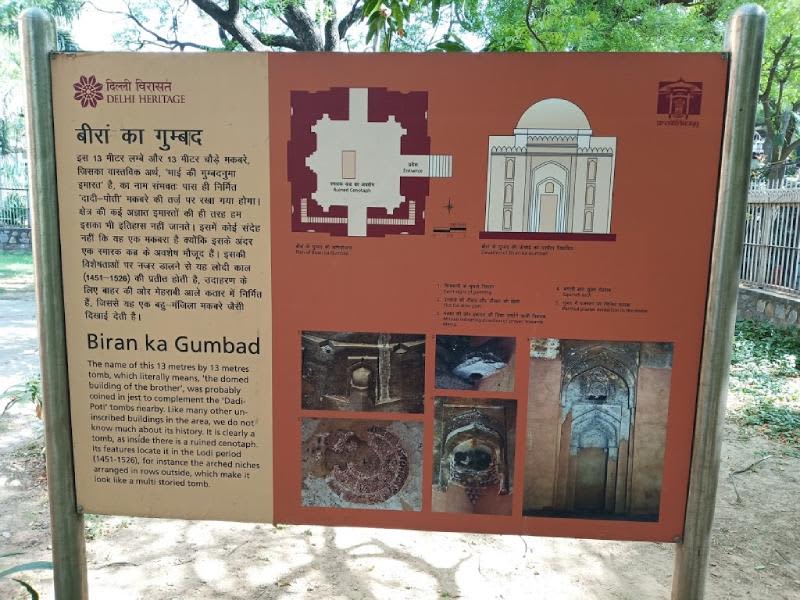 Picture Credits: Sunny Grawal
Being in the midst of these ancient remains of a building, you cannot help but wonder at the irony which the Gumbad reflected - the Lodian period which barely lasted a century is remembered today through these tombs, several centuries after their dynasty perished. Such is the power of establishing one's roots. An urban settlement is now built around Biran Ka Gumbad, with houses and parks surrounding it. 
Upon entering the perimeter of this ancient monument, we found the area deserted, except for a couple of local lads sitting at the entrance and talking animatedly to one another. Located in the midst of this urban haze, yet so untouched by any of the changes happening around it, Biran Ka Gumbad speaks volumes of our government's attempt in keeping these archaeologically significant sites preserved and intact. Compliments should be given where they're due; kudos to our government for preserving this rich heritage inherited by our ancestors! 
We're definitely intrigued, but hey only step out once the situation gets better, till then stay home and stay safe.
Where | Biran Ka Gumbad - Aggrasen Park, Opposite Main Market, Block S, Green Park Extension, Green Park