Delhi
Alcohol Bar Exchange & Yummy Entrees - Here's What We Think of Cafe Dalal Street in CP
The new kid on the block in M Block, CP with its subtle referencing to the Dalal Street, Mumbai is a hoot with its unconventional ways, beautiful, multi-section dining area and delectable dishes. Cafe Dalal Street has brought to Delhi the new and unseen alcohol bar exchange where the prices of drinks are guided by the demand. So folks bring out your inner bulls and bears to order up!
 
Add to the pleasing ambience delightful food and the place is a winner!
Butter Chicken Golgappas

These are surely a combination you won't find anywhere else! The crisp fried puris served with warm gravy and dry, spice-laced butter chicken is a different experience altogether and is a must try when here.
Wasabi Prawns

One of the highlights of the restaurant, this zesty dish is served with wasabi mayo and togarashi dip, made with oriental spices and complement the soft and crispy prawns very well. 
Jalapeno Poppers

Comfort food at its best, this sizzling dish is a vegetarian's delight with their slightly cheesy, slightly tangy and slightly spicy flavours, playing in your mouth! A must have when here.
Khao Suey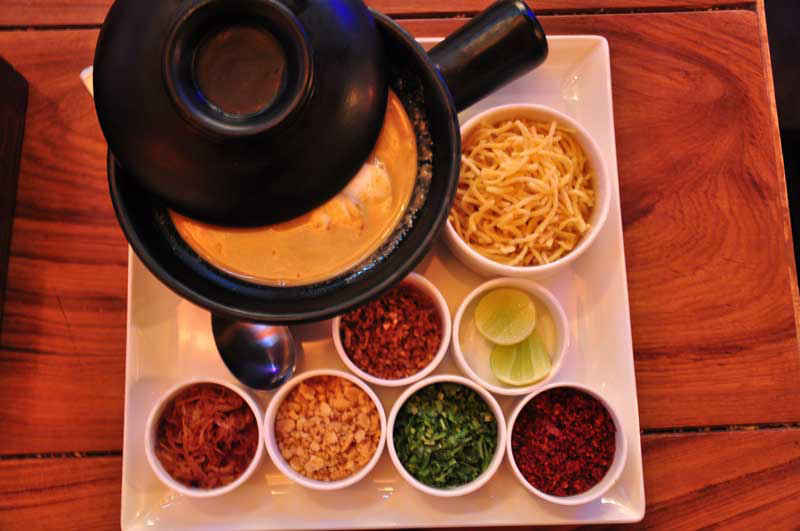 This is a Burmese delicacy with aesthetically pleasing beauty. The colors on your plate do half the work and the first bite does the next half. Missing this will be equivalent to sinning if you're a fan of East Asian cuisines!
Dalal Street Keema Pie

Another invention they take credit for is this particular pie beautifully layered with cheese and sliced potatoes, embellished with cherry and olives served with masala papdi to add the Mumbaiya jazz to the dish. 
Mango & Bird Chilli Shrimps Tacos
We were excited about this starter from the name itself; a wonderland in your mouth, the crispy tacos are laced with tasteful and fresh shrimps and is served with mayonnaise and mustard sauce. 
Lamb Kafta
We devoured this dish and you'll love it if your taste buds have an appreciation for soft and succulent kebabs. Clubbed with a dip made of Lebanese spices, the kaftas are a pleasure to sample.
Tiramisu and Kesar Phirni

We had this creamy thick and tasty dessert, which was every bit boozy and bittersweet, providing the required sweet ending and upping the taste ante at the same time!
Pro Tip #1 :  Don't miss out on their Tequila Rose, strawberry flavoured drinks served in the cutest little shot glasses are amazing. 
 
Pro Tip #2 : Use application BC Jukebox to make the DJ play a song of your choice. (Oh and they also have free WiFi!)
 
Pro Tip #3 : You can look at the screens constantly reflecting the changing prices or you can download their app (Cafe Dalal Street) to order the drinks.
 
Visit the place if you have a casual meeting, if you're on a date or if you're catching up on your social life. Basically, just visit whatever be scene!