Delhi
10 Mesmerising Reasons Why You MUST Visit Akshardham Temple At Least Once!
Dreams never die! The dreamer may, but the dream lives on to be fulfilled one day or the other. 
This is so very true in the saga of Akshardham Temple, conceived by the Swaminarayan Sect Pramukh or spiritual head in the 60s which could not be realized until his death. His wish was finally granted in the year 2005 after prolonged and drawn-out battles over government permissions, land allotments and red-tapism. And the end result is a stunning masterpiece, so we're here to give you 9 reasons why you should defo visit the Akshardham Temple. Read on!
1. To Marvel At The Magnificent Architecture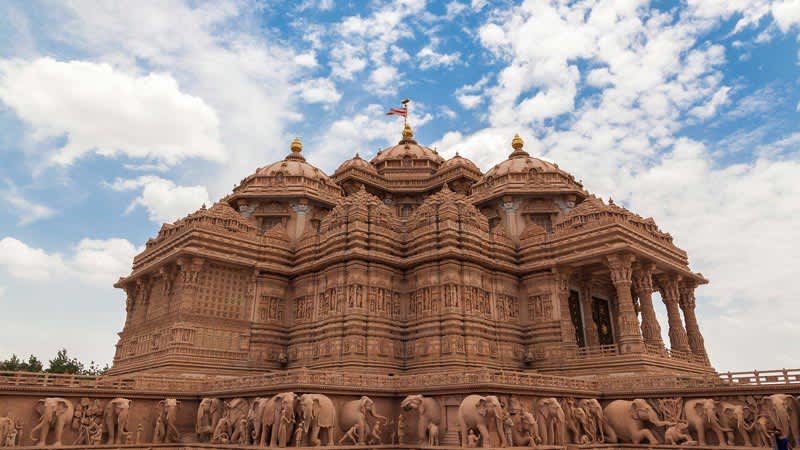 The architectural excellence achieved by this temple is not a hidden fact. And one must definitely drop by to marvel at the sheer craftsmanship and skills that have taken to make this one-of-a-kind structure. The temple architecture is like a marriage of two distinct stones, pink and white. The pink stone mined from the deserts of Rajasthan and the white marble carried in from Carrara, Italy. Both have been used in a fusion to build one of the most massive structures without reinforcing steel anywhere, much like the ancient Vaastu science of India, followed rigorously for temple architecture. 
2. To Explore What's Touted To Be The Largest Hindu Temple In The World!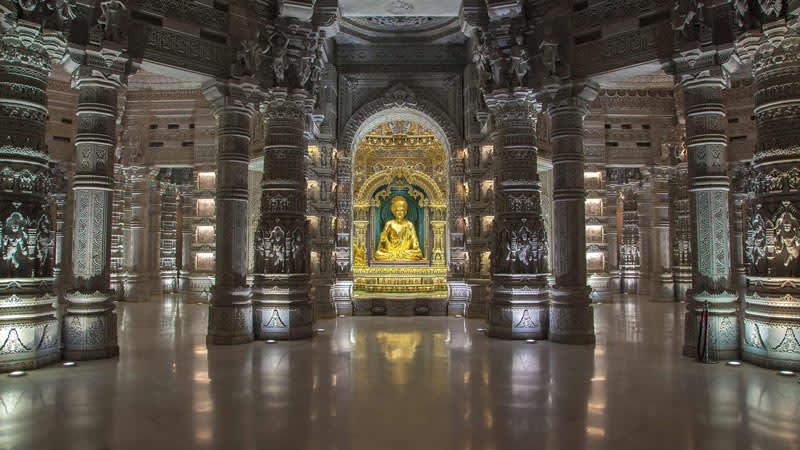 The temple, within shouting distance of the sacred river the Yamuna, occupies a whopping 60 acres of land. It took more than five years, millions of hours of hard work and thousands of tonnes of stone and building material before it emerged like a magical piece of architecture that soon attracted more visitors within its hallowed grounds than any other site in Delhi.
3. For A Dose Of Peace & Tranquility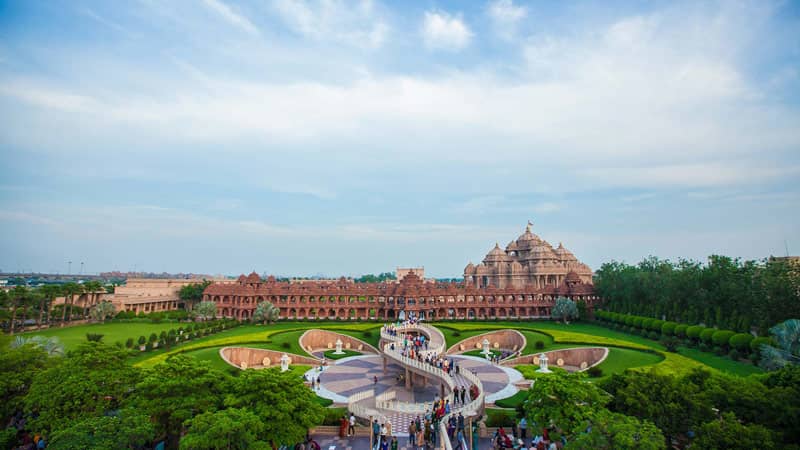 The thematic gardens here are a sprawling lawn that's spread across a vast area. If you plan to visit this temple during winters, then you should definitely plan your day in such a manner that you get to spend time under the winter sun at the lush garden. A place where one can find peace, one can walk or maybe just take some rest soaking in on the glorious winter sun after the tour of the main temple area. 
4. To Admire 100s Of Carved Pillars & 20,000 Idols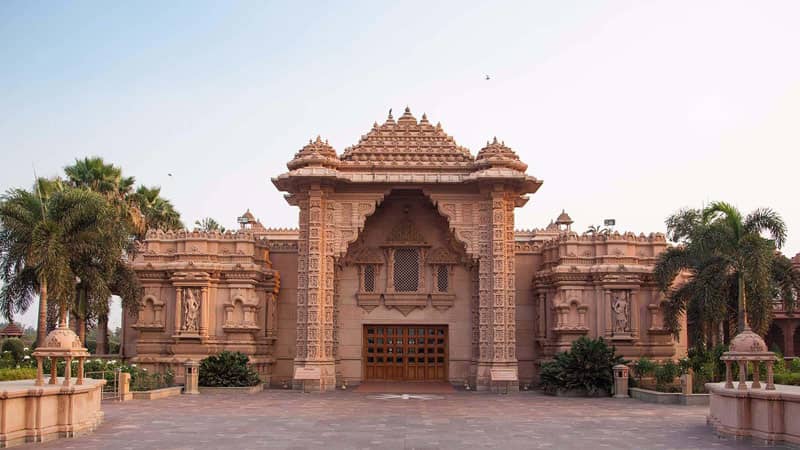 A spectacular sight for the sore eyes, you will be left in awe by the sheer brilliance of every individual pillar and idol. The nine domes include the central dome known as the Gurvgruh or the inner sanctum rising 141 feet in the air and the whole temple structure is supported by hundreds of carved pillars, 20,000 idols and sculptures of Gods, Gurus and spiritual greats. 
5. To Enjoy The Ethereal Water & Light Show
The highlight of the temple is a colourful, musical fountain show which takes place towards the evening in a setting which is the largest Yagna Kund in India. More than 2,000 steps lead down into a step-well where a lotus-shaped Yagna Kund is situated and a spectacular display is put up which is a must-watch!
6. For The IMAX Experience Showcasing The Story Of Neelkanth Verni

The theatre here is a large format IMAX screen measuring 85 x 65 feet showing a 40-minute feature on Neelkanth Verni, an 11-year old Yogi. The movie is inspiring and showcases the journey of this young yogi. Did you know this movie was shot in 108 different locations and features cast of more than 45,000? Yep. 
7. To Experience The Boat Ride For A Glimpse Of India's Spiritual Journey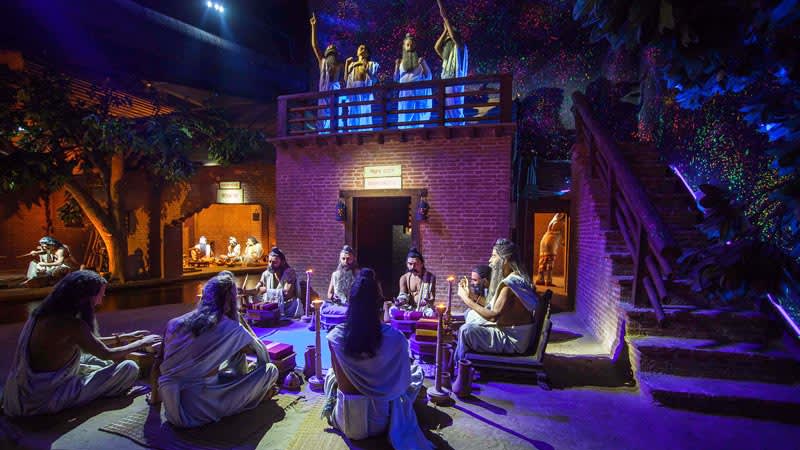 The 15-min boat ride gives a Sanskruti Darshan. You get to hop on the boat and sail through 100s of years of ancient cultures that were prevalent in India. From ancient eye surgery happening thousands of years ago to a Vedic market place, this ride is filled experiences that you will be left thinking about, long after you've exited the temple grounds. 
8. To Enjoy The Hour-Long Animation Show In The 'Hall Of Values'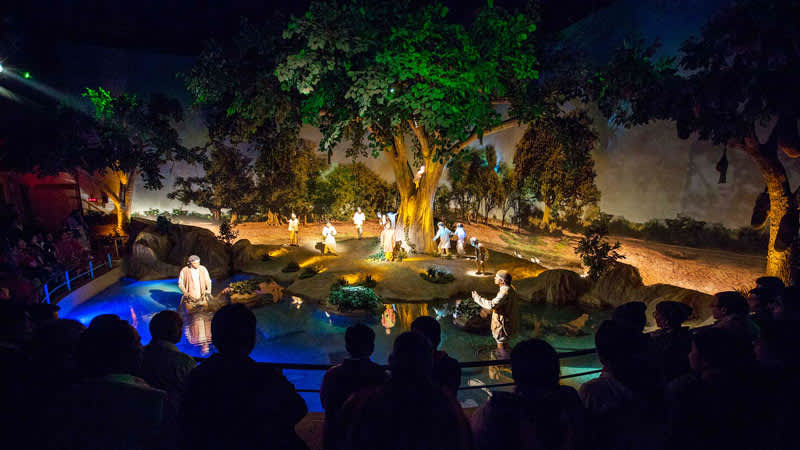 The sound show at the 'Hall of Values' is definitely a must-visit. This 1-hour long show contains a series of exhibits and each one relays a fresh experience. These exhibits portray values like non‐violence, perseverance, prayers, morality, and family harmony through various multimedia technologies like audio‐animatronic figures, immersive projections and 3‐D dioramas. Sounds interesting, doesn't it?
9. For The Large Food Court With Delectable Pure Vegetarian Snacks

Called the Premvati Food Court, it offers various snacks and drinks to the people who come in after a stroll through the temple grounds. Their menu is pretty vast and is all vegetarian! Yup, so, when you're done walking around all the gorgeous attractions here, you must totally land-up here for some good food, to replenish your energy.
10. For The Free Entry To The Temple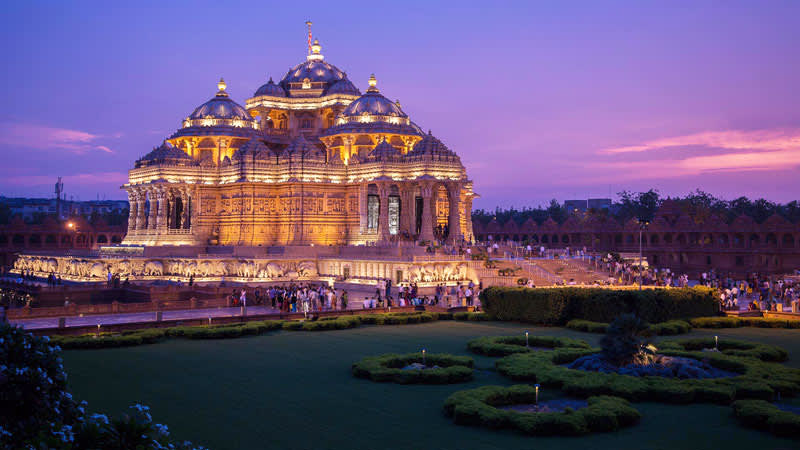 Yes, you read that absolutely correct. Entry to the Akshardham Temple is free for all for the temples and gardens; however, all exhibitions are paid ones and cost a nominal fee. One can easily spend an entire day here, so make sure you spare enough time, as there are usually long queues for all the exhibitions inside.
If you want to witness the admirable feats of magnificence man is able to achieve with the power of faith - then this marvel is not to be missed!
Where | Akshardham Temple - Noida Mor, Pandav Nagar
Timings | 10 AM  - 6:30 PM (Closed On Mondays)
Entry | Free
Call Them | +91 11 4344 2344
Check Out Their FB Page | https://www.facebook.com/Akshardhammandir 
Here's Their Website | https://akshardham.com/visitor-info/