Delhi
9 Best Zip-Lining Spots In India That'll Appease Your Adrenaline Rush Seeking Souls!
Disclaimer: Bearing in mind the current health crisis befalling the city and the world at large, we're tweaking our content policy and recommendations. Stay positive, keep hygiene levels up and don't fall prey to panic and misinformation.
It's a bird! It's a plane! No, it's you in a Superman suit whooshing away on a zip-line! Ever wanted to explore sights from a bird's eye view and feel the wind on your face? Then you must give zip-lining a shot. This adventure sport will have your adrenaline pumping, breath quivering and knees buckling. It's a lot like falling in love, the only thing is that zip-lining won't leave you hanging (wink wink). So, here are the coolest spots in India where you can enjoy this sport!
1. Zip Away At The Kikar Lodge!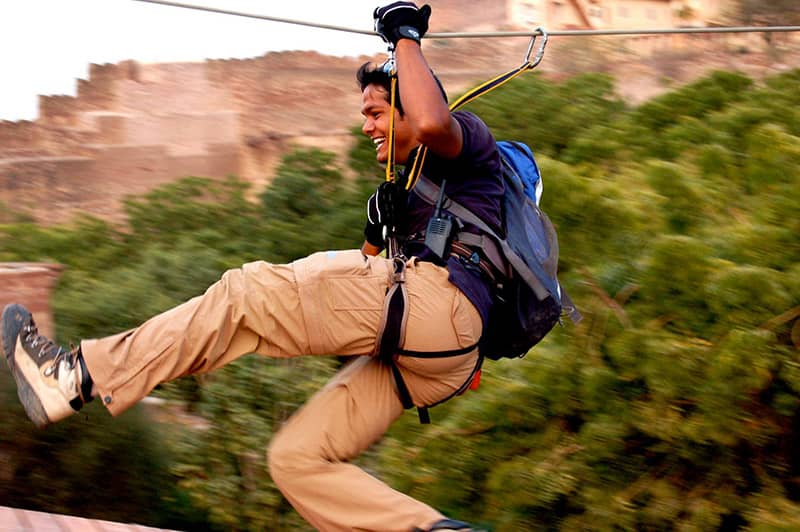 Supposedly the longest zip-line tour, not only in India but in all of South Asia, this is a MUST-DO for every adventure enthusiast. It's located near Chandigarh amidst the lush forests of Nurpur Bedi village with a view of the Shivalik hills. With 5 zip-lining tours spread throughout the day, starting from early morning and lasting till night, zips of various lengths from 180 metres to 400 metres with four sessions everyday except on Wednesdays are available. This place sounds awesome, doesn't it? And the best part? It's extremely accessible as well. Additionally, you can stay in this lodge and take part in other fun activities like quad-biking, rappelling, paintball and jungle jeep safari, too. So, when are you 'swinging' by?
Where | The Kikar Lodge - Village Kangar, Nurpur Bedi District Ropar, Punjab
Price | Rs 1,500 Onwards
Here's Their Website | ww.flyingfox.asia/Destination/Kikar.php
Check Out Their FB Page | https://www.facebook.com/FlyingFoxZip/
2. Challenge Yourself At Dhanaulti Now!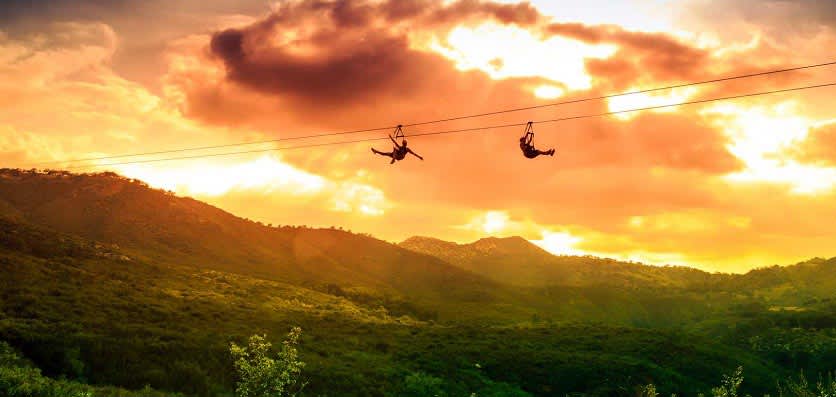 Are you up for a challenge? Well, say hello to the highest zip-line in the country which is accurately named Sky Ride (600 feet above sea level and 1,700 feet long). Not only this, it also happens to be the longest zip-line in the Himalayas AND is located in Mussoorie. (Chandler voice) Could it BE anymore perfect? Well, yes because apparently its speed can go upto around 90 kms/hr. There's one catch though, The Sky Ride Zip-line is available on demand, so you might want to call in before to plan accordingly. The 330 feet long zip-line available here will take you along the scenic views of dense Oaks and Deodar forests while on the tour, and they've also got some packages that you might want to look into!
Where | Apple Orchard Resort - Dhanaulti, On Mussoorie-Chamba Road
Price | Rs 1,500
Here's Their Website | http://www.ziplinemussoorie.com/
Check Out Their FB Page | https://www.facebook.com/Dhanaulti-Adventure-Park-Dhanaulti-
3. Say Hello To Adventure In Bhopal!

This one wins the twinning game and how! This Flying Fox's zip-line is 520 metres long and is not only the longest twin zip in Asia but is also the first of its kind course to be constructed in India. Starting from a 20 feet high hilltop, crossing the entire expanse of the Kerwa Lake and finishing off at the Piknik Café - this is basically an adventure all on its own! So grab your bestie and go to the Kerwa Dam, which is located just 15 kms from the city of Bhopal in Mendora. Surround yourselves with the panoramic views of the landscape and admire the flora and fauna of the place!
Where | Kerwa Dam Road - Kerwa Dam, Bhopal, Madhya Pradesh
Price | Rs 2,000
Here's Their Website | https://www.flyingfox.asia/
Check Out Their FB Page | https://www.facebook.com/FlyingFoxZip/
4. Go 'Oh My God!' At Mawkdok!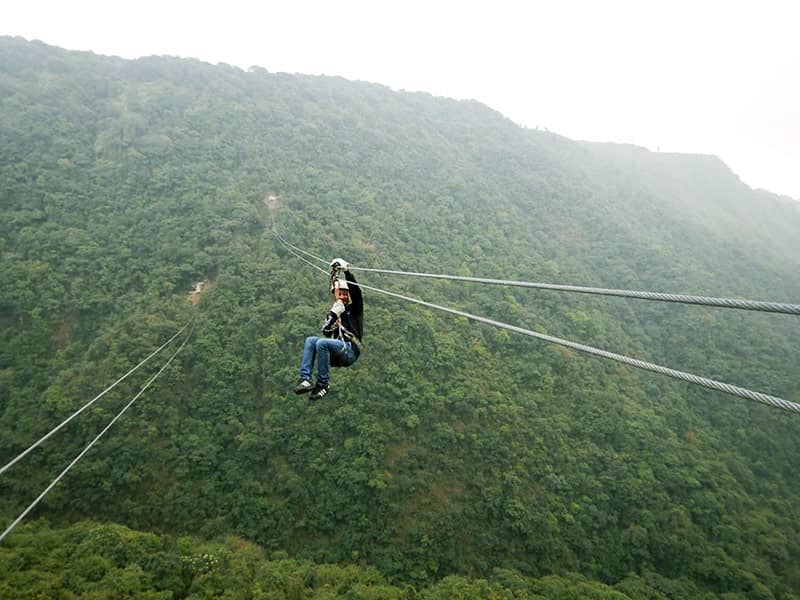 This unexplored valley in Meghalaya is home to a number of adventure activities. Untouched by commercialization, its lush green surroundings will certainly call to you and if that isn't enough, the adventure activities here certainly will. This sport here is operated by Pioneer Adventure, a group from Shillong which has in its kitty plenty more activities as well. With a gravity-propelled system, there are two zip-lines of two lengths, 1089 feet and 2,600 feet, which will take you through the beautiful valleys at unimaginable speeds. Have fun, kids!
Where | Jarman Villa - Lower Lachumiere, Hopkinson Road, Shillong
Price | Rs 500
Here's Their Website | http://www.pioneeradventuretour.com/
Check Out Their FB Page | https://www.facebook.com/Pioneer-Adventure-Tours-Shillong
5. Channel Your Inner Superman At Rishikesh!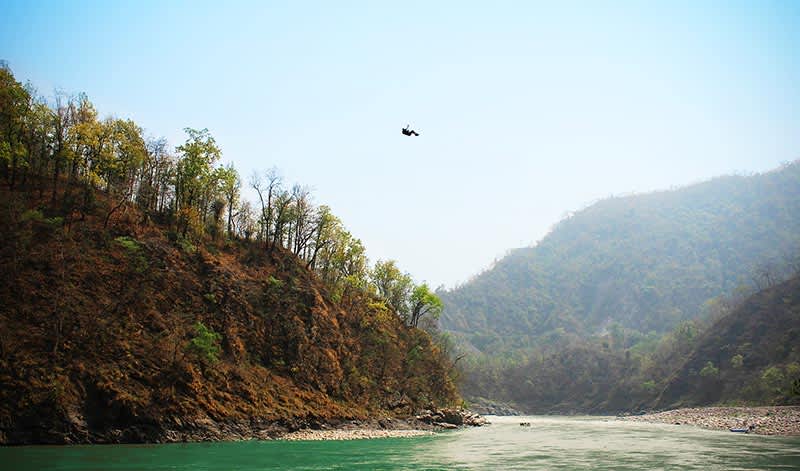 Superman suit + Ganges = An odd combo for sure but heck, we're up for it! The only zip tour above the mighty waters of river Ganges, the unique offering is the flying suit which literally helps you zoom across like a superhero. How cool is that? With two zip-lines of 350 metres and 400 metres in length, breeze through and capture the view of the Himalayan foothills, the beautiful Ganga and the many rafting crews beneath you. Sounds oh-so wonderful, doesn't it?
Where | Snow Leopard's Camp Panther - Shivpuri Village, Rishikesh
Price | Rs 1,250 Onwards
Here's Their Website | https://www.flyingfox.asia/Destination/Rishikesh.php
Check Out Their FB Page | https://www.facebook.com/FlyingFoxZip/
6. Gujarat Does Adventure Now!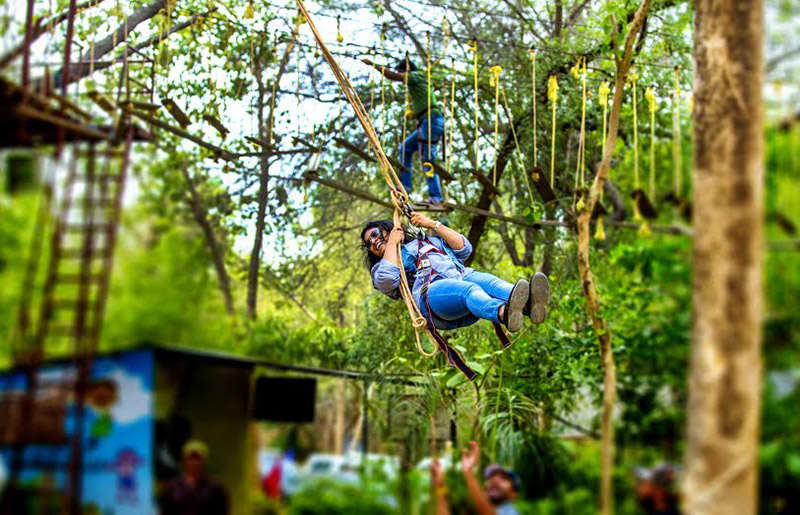 When an escapade comes knocking, you must answer and seize the opportunity! If you're in Gujarat and looking for a rush-inducing activity, then The Orsang Resort in Chanod is the ultimate fodder for your adventure hungry soul. Located on the riverside Chanod, some 58 kms from Vadodara, this resort has six zip-lines. The longest one passes over the forest & river Narmada and promises a great time! Besides this, the adventure centric getaway offers activities like ATV rides, jungle trekking, Burma bridge, river crossing and many more. So, start making your plans already, folks!
Where | Orsang Camp - Orsang Gamdi, Near Chanod Tal, Dabhoi, Gujarat
Here's Their Website | http://www.theorsangresort.com/
Check Out Their FB Page | https://www.facebook.com/Orsangcamp/
7. Time For Some Wild Adventure In Kolad!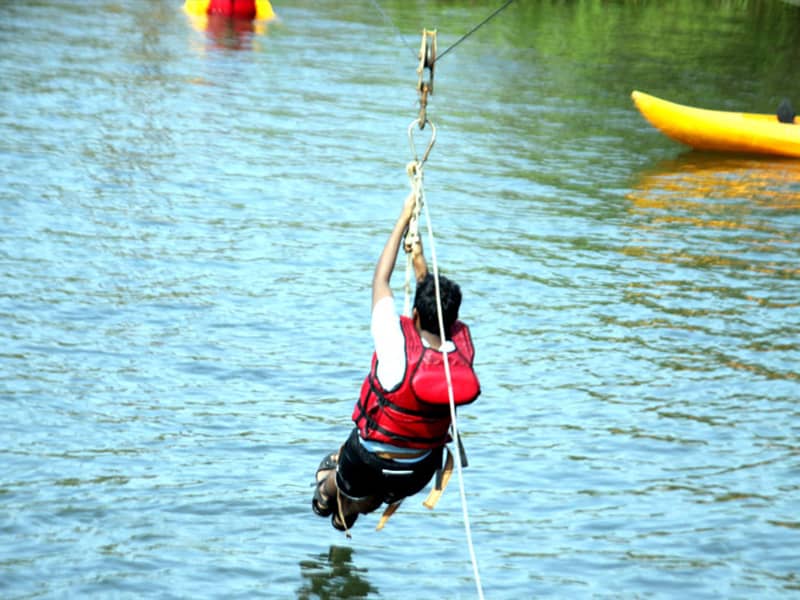 If you thought that Maharashtra was all about Marine Drive, Juhu Chowpatty and the Bandra–Worli Sea Link, then you've prolly missed out on some really interesting things, one of which is the Wilder West Adventures. They're well known for various water sports activities across Kundalika river which includes white water rafting, kayaking, bumper ride, zip-lining and tons more. So, head over and experience the adrenaline rush like never before!
Where | Wilder West Adventures - Village Sambhe, Roha-Kolad Road, Raigad, Maharashtra
Price | Rs 150 Onwards
Here's Their Website | http://wilderwestadventures.com/index.html
Check Out Their FB Page | https://www.facebook.com/wilderwestadventure/
8. Go 'Wohoo' In Munnar
Beautiful tea gardens, breathtaking landscapes and a peaceful atmosphere is how we'd been defining Munnar until we came across this super cool adventure park that offers activities like zip-lining, mountain climbing, trekking and loads more. Their zip-line is 180 meters long and you'd be taking your downwards flight from a height of 15 feet, say whaaaaat! Aren't you already excited 'cause we surely are!
Where | Munnar Adventures - New Colony, Munnar, Kerala
Price | Rs 600
Here's Their Website | http://www.munnaradventures.com/#home
Check Out Their FB Page | https://www.facebook.com/munnaradventuresandsports/
9. Last But Not The Least, Neemrana Fort!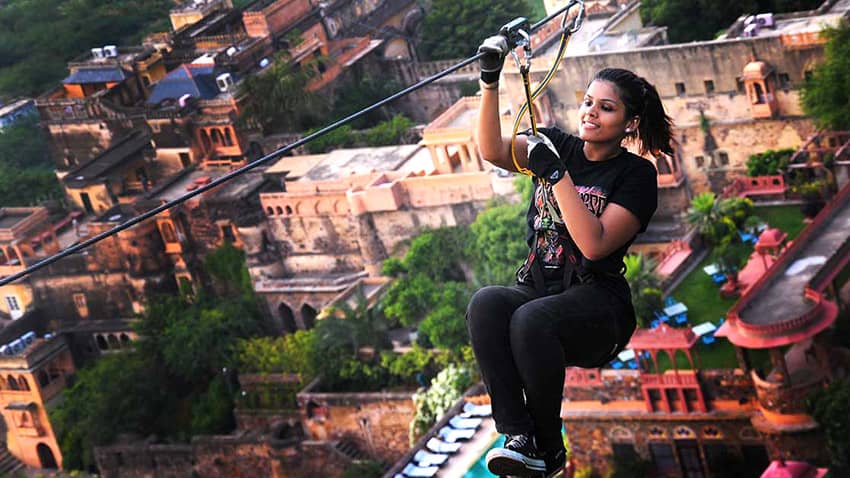 Ending it with a timeless classic, if you haven't heard of Neemrana then you must've been living under a rock. Neemrana Fort is not only a sight to behold but also one of the first places to introduce zip-lining in India. Not only this, it was also the first permanent multi zip-course in the country. One of the most popular destinations for this sport, you can see the monuments, heritage hotels and forts while gliding through the skies here. There are a total of five zip-lines out of which 'Where Eagles Dare' is the longest line at 400 metres. 6 sessions are held daily, so, swing by with your buddies for 2 hours of unadulterated fun!
Where | Neemrana Fort Palace - Rajasthan
Price | Rs 1,700 Onwards
Here's Their Website | https://www.flyingfox.asia/Destination/Neemrana.php
Check Out Their FB Page | https://www.facebook.com/FlyingFoxZip/
So, go ahead, take that leave, grab your friends and go on an adventure that will be an interesting chapter in your daredevil journeys. Carpe diem!